Superhero Bits: Punisher Gets A New Logo, New Andrew Garfield Spider-Man Rumors & More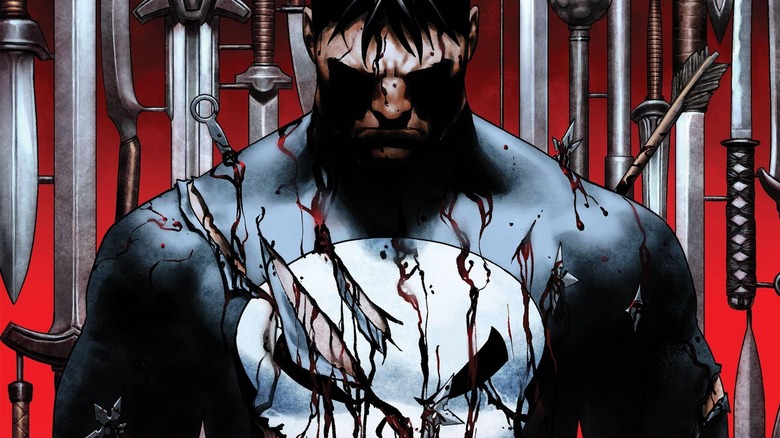 Marvel
(Superhero Bits is a collection of stories, updates, and videos about anything and everything inspired by the comics of Marvel, DC, and more. For comic book movies, TV shows, merchandise, events, and whatever catches our eye, this is the place to find anything that falls through the cracks.)
In this edition of Superhero Bits:
Black Widow gets the "Old Man Logan" treatment in a new podcast.
Andrew Garfield Spider-Man rumors abound.
The Punisher gets a major shake-up.
A new trailer for "The Batman" is seemingly imminent.
Legends of Tomorrow Promo
DC's "Legends of Tomorrow" is currently taking a little break, but The CW series will be back in the new year for more wild shenanigans. The network has released a brief teaser showcasing a little of what we can expect from the Arrowverse show when it returns on January 12. Check it out for yourself above.
New Gambit Series Coming from Chris Claremont
While precious few details are available, Marvel Comics has teased that the legendary Chris Claremont and artist Sid Kotian are bringing a new "Gambit" series to shelves in 2022. It appears this is going to be set in the '90s, much like many recent books Marvel has been publishing, taking place in classic eras. All we have to go on right now is the above artwork, but the publisher promises more details are coming soon. Stay tuned.
Marvel's Wastelanders: Black Widow Trailer
Marvel has released a teaser trailer for "Marvel's Wastelanders: Black Widow." The scripted podcast is the latest in a series of podcasts in partnership wit SiriusXM that feature Marvel heroes in their older days. It picks up in the footsteps of the "Hawkeye" podcast, which features Stephen Lang as old man Clint Barton. This time, they've got Susan Sarandon leading the way. The synopsis reads as follows:
The story begins almost 30 years after The Day the Villains Won (aka V-Day), when Helen Black arrives at her new apartment in The Onar, a 161-story apartment complex in what used to be Midtown Manhattan. Owned and operated by S.H.I.E.L.D., The Onar has become the very embodiment of the dystopic wealth and inequality that's engulfed New York City ever since V-Day. A collection of uber-rich families – including the media magnate Burge family – occupy the opulent penthouses in the DecaDomes, The Onar's highest ten stories. Helen Black's apartment is located in the much more humble "100 Block". When her nosy neighbor Dr. Brian Mizuno asks Helen (through the paper-thin walls) what brought her here, she cryptically alludes to "problems with an ex...".

On the same day that Helen moves into her apartment, Lisa Cartwright reports for her first day as a Junior Residential Security Analyst for Panopticog Solutions, a private security company hired by S.H.I.E.L.D. to monitor the residents of The Onar (without their knowledge or consent). Lisa is assigned to surveil Helen's corner of The 100 Block, and quickly discovers that Helen Black is not at all who she says she is.
The 10-episode series is written by Alex Delyle ("Fear the Walking Dead"), directed by Timothy Busfield ("The West Wing"), with sound design and original music by Daniel Brunelle (The Two Princes, Sandra). The show premieres on Monday, January 10.
Doctor Strange Director Is Happy About the Character's Influence in the MCU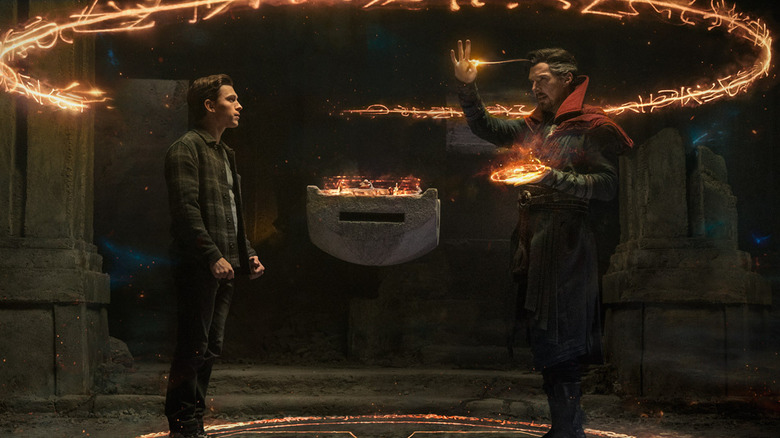 Sony Pictures
Scott Derrickson directed "Doctor Strange" which, in hindsight, has proved to be a monumentally important movie within the MCU. The character returned yet again in this weekend's "Spider-Man: No Way Home," truly paving the way for the Marvel multiverse to break wide open. 
Genuinely happy to see the visual language of Doctor Strange permeating the ongoing MCU.

— N O S ⋊ Ɔ I ᴚ ᴚ Ǝ ᗡ ⊥ ⊥ O Ɔ S (@scottderrickson) December 20, 2021
As we can see in the above tweet, even though Derrickson isn't returning for "Doctor Strange in the Multiverse of Madness," he is happy to see the visual language that he established in his movie continuing on in the MCU more than five years later. Indeed, that visual language has permeated movies like "Avengers: Infinity War," "Avengers: Endgame," and "No Way Home." It's become a big part of this universe, and Derrickson did a lot in laying that groundwork. 
Yelena Belova Hawkeye Poster
As we rapidly approach the "Hawkeye" season 1 finale, we've got at least one major character left who hadn't yet received a poster, but that has been amended. As we can see above, Florence Pugh's Yelena Belova now has a character poster, as she entered the fold in a big way in the past couple of episodes. How will her arc play out this week? That remains to be seen, but we can at least get a look at Yelena in her purple-lipsticked glory for now.
Is Andrew Garfield's Spider-Man Making a Comeback?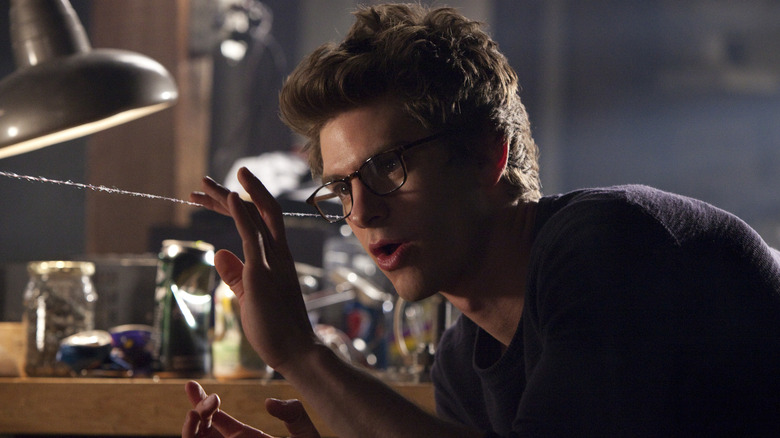 Sony Pictures
What's the time? It's rumor time! Also, these rumors relate to "Spider-Man: No Way Home" so if you haven't seen it yet (though the box office suggests you probably have) then turn back now as there will be spoilers. Yes, despite all of the denial, Garfield did indeed return as Spider-Man/Peter Parker in "No Way Home." But that may not be the end of it, or so the rumor mill would have us believe. As reported by The Direct, several sources, such as known scooper Daniel Richtman, have suggested that Garfield may return for multiple future projects. Would these be in the MCU? Or Sony's ever-expanding Spider-Verse? That remains to be seen, but the door has at least been cracked open for that to happen. The great Garfield redemption tour may just be getting started. Emphasis on may.
A New Trailer for The Batman Likely Incoming
As we can see here, director Matt Reeves recently shared a new motion poster for "The Batman," which is finally hitting theaters in March. And with "The Matrix Resurrections" also hitting theaters this week, another Warner Bros. release, it stands to reason that we're getting a new trailer any day now. Be on the lookout and plan accordingly, DC fans.
Punisher Series Announced By Marvel, With Major Changes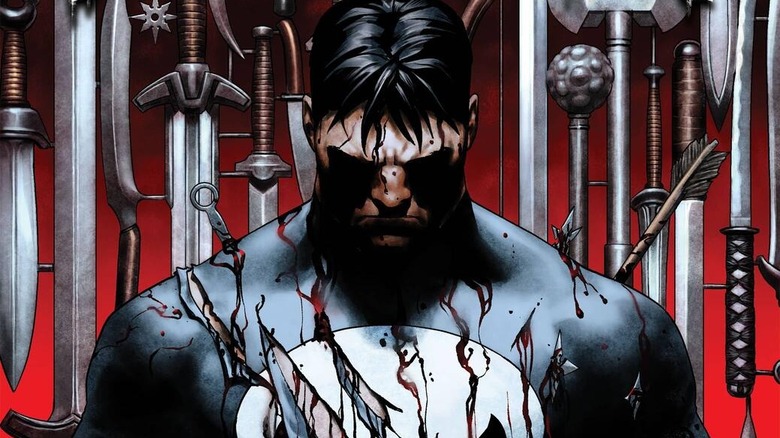 Marvel
Lastly, today brings a big shake-up to the Marvel Comics universe, as the publisher has announced a new prestige "Punisher" series from Jason Arron, with Jesús Saiz and Paul Azaceta handling the artwork. The 13-issue series will feature oversized issues serving as "the definitive culmination of Frank Castle's journey in the Marvel Universe to date." Also of note, Saiz and Azaceta will each be "taking on Castle's present day and Castle's past through flashbacks." Marvel also included a logline for the series, which reads as follows:
As the Punisher, Frank Castle has become the most accomplished killer the world has ever seen. After a shocking secret pushes him to become the warlord of the Hand, he now serves the Beast, a role he's been fated to fulfill. Tragedy, war, and rage come together as he takes up his sword and his new armor with the most notorious clan of assassins in the Marvel Universe. Will it mean an end for the Punisher? Or a whole new bloody beginning?
However, the biggest shake-up comes in some preview artwork released for the book, which sees Frank Castle rocking a brand new logo, as opposed to his classic skull.
There has been some appropriation and controversy around the Punisher logo, and this could be viewed as a way for Marvel and/or Disney to give Frank some new iconography. Or, this could be a temporary change. Either way, this is significant and should be paid attention to as this series unfolds. "Punisher" #1 hits shelves in March 2022.