1883 Review: Journey Northwest With The Ancestors Of Yellowstone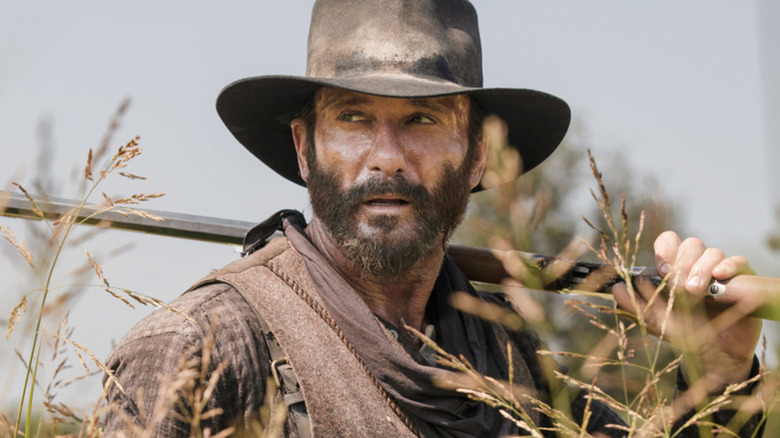 Paramount+
The Paramount+ series 1883 premieres its first two episodes today and I got a chance to see them in advance. I've also seen the third one, and let me tell you, folks, I'm absolutely hooked. Here is the official info for the show:
Created by Academy Award Nominee Taylor Sheridan, "1883" is the highly anticipated prequel to the Emmy nominated series "Yellowstone." Premiering December 19th on Paramount+, the original series stars Academy Award nominee legend Sam Elliott, Grammy Award Winner Tim McGraw, Grammy Award Winner Faith Hill, Academy Award winner Billy Bob Thornton, Isabel May and LaMonica Garrett.

"1883" follows the Dutton family as they embark on a journey west through the Great Plains toward the last bastion of untamed America. It is a stark retelling of Western expansion, and an intense study of one family fleeing poverty to seek a better future in America's promised land – Montana.

Produced by MTV Entertainment Studios and 101 Studios, "1883" is executive produced by Sheridan, John Linson, Art Linson, David Glasser, Ron Burkle and Bob Yari.
Setting the Scene
Right off the bat, I want to tell you that you do not have to watch "Yellowstone" to get everything about "1883." Though it is connected (and little Audie Rick, who is just the cutest, plays John Dutton Sr.), you don't have to know a single thing about any of the characters or the locations. We're starting off in Texas and heading to Montana, and that's all you need to know. 
The show starts off (and there are very mild spoilers here, but mostly things you'll see in the trailer) with a rough scene in which some of the settlers, including Elsa Dutton (relative newcomer Isabel May), are attacked by a group of Native American fighters. It's dark, but what you take away from it is Elsa's absolute determination to fight for everything she loves. The next scene has what can only be described as an acting tour de force by the beloved Sam Elliott's character, Shea Brennan. I won't tell you what happens, but if you think you loved him before, you'd better prepare yourself. The Elsa scene is a flashforward, and the Shea scene is a flashback. 
We have a full character guide for you from the "1883" actors themselves, but let me lay it out for you. Shea is a veteran of the Civil War, and he's been through absolute hell. He's got severe PTSD, something no one had a name for back then. He and LaMonica Garrett's Thomas (a former Buffalo Soldier who served with Shea) are now Pinkerton agents who are hired to accompany a wagon train Northwest to find new places to settle. 
'That's No Man's Land and That's Where We're Heading'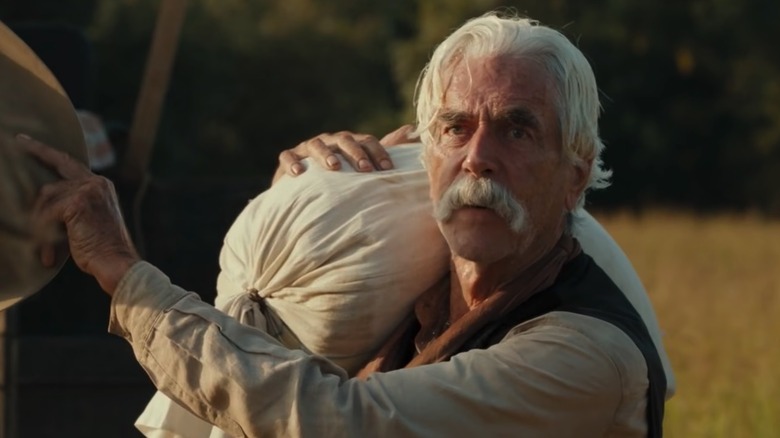 Paramount+
The wagon train's group includes Tim McGraw's James Dutton, his wife Margaret Dutton (Faith Hill), his daughter Elsa, son John, hired cowboys including Eric Nelsen's Ennis, and a group of Austrian/German immigrants who don't yet have the skills to survive. Among their number are some of the Roma people, who are dealing with prejudice from their fellow immigrants. This is a rough land, and "1883" really makes that clear. From having the group inspected naked for smallpox, to an attempted assault, to bandits and sudden deaths, a journey like this can break you, and it often did. One moment stands out, when a couple in the group is discovered with smallpox sores and told to go lie down by a river and die. No one has time or energy for compassion. And yet...
What's so beautiful about "1883" so far is, despite the harsh life these travelers are leading, there are relationships that are quite beautiful. James has taken his family on this trip because things are rough in the South. He fought at the Battle of Antietam, and it all but broke him. (Just a note: that link has a spoiler for a guest star, so only look if you want to know who it is.) He wants a better life, and unlike many stories like this that we've seen in the past, his family is absolutely on board. (His immediate family, anyway.) 
That relationship I mentioned? It's so lovely. We're seeing a loving and all but equal marriage with James and Margaret. They support each other. Margaret is a powerhouse. She doesn't resent being here, outside of cities and civilization. She's absolutely on board. Even more surprising, though is the relationship between James and his daughter, Elsa. 
Daddy's Girl In the Best Way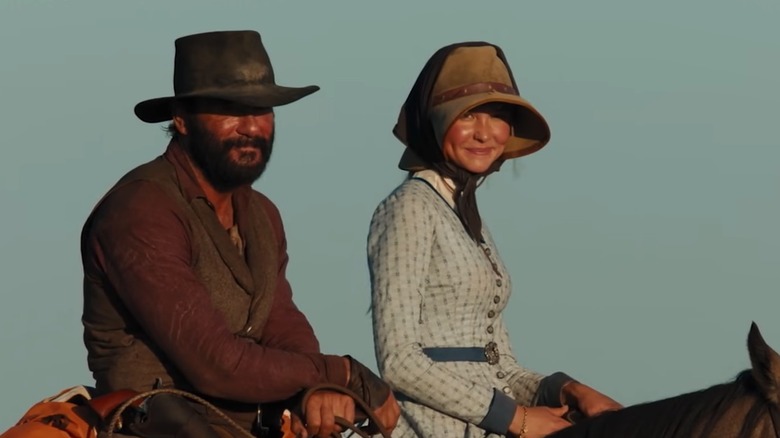 Paramount+
The picture above says it all. James is proud of Elsa. He relies on her. He doesn't flinch when someone he might not have approved of before they left wants to court her. (That character completely defied my expectations. I won't say who it is or how, but you'll know when you see it.) He knows she can ride and shoot, and he believes in her. So does her mother. It's not something you see in period pieces, and it's even rare in modern ones. He knows her worth and so does she. 
Those conditions were rough, and not just for men. In fact, the cast had to go to Cowboy Camp. All of them. I'm reminded, as I often am, of the quote from Ginger Rogers where she says she did everything Fred Astaire did, but backwards and in heels. A lot of the rules for women from polite society go out the window when what you're trying to do is survive. Yet women face dangers that the men often don't. I'm sure I don't need to spell that out for you. 
A word about Isabel May. She absolutely shines in "1883." Elsa is probably our most modern character in the series. She is absolutely undeterred by the hardships of travel. She breathes in joy with every mile they pass. I think watching that family, and in particular Elsa, is what keeps this from being too dark. Through her eyes, you understand what sort of person settled the West of America, and it comes through authentically. I cannot wait to see what she does next. 
A Friendship for the Ages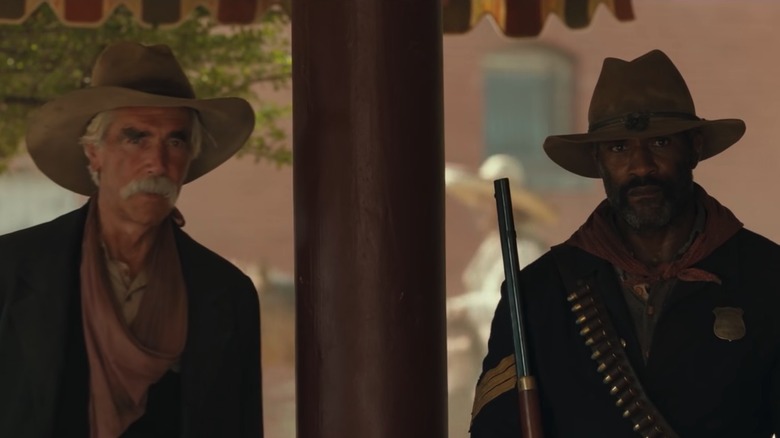 Paramount+
Tim McGraw and Faith Hill are phenomenal here, giving nuanced performances when it would be easy to get away with stock characters. I'm sure Taylor Sheridan's writing and direction were a huge part of that, but they are both a joy to watch. Sam Elliott — do I have to tell you how powerful his performances are? Shea's relationship with Thomas is one of deep understanding, and the ability to know what they other one is thinking. I'm putting a quote in here from my press junket interview with Elliott, because he sums it up better than I ever could:
"Well, number one, it's one of my favorite relationships in the show. I love LaMonica. We've become very close in a very short period of time. Maybe a long period, but it's a short period ... In terms of the backstory, the one common thing, right off the top, that they have is the fact that they're both veterans of the Civil War and what that brings. I think that Thomas's character dealt with that reality a lot better than Shea did. Shea's pretty tormented about it. I think his PTSD is a little more serious, I think, than what Thomas carries. And a lot of that probably ... there's reference to slavery or the treatment that Black people had in those days. Maybe not slavery directly, but there's mention of it, in some of the dialogue that Thomas and I have throughout this thing."
LaMonica Garrett gives a beautifully understated performance as Thomas. This is a character that I'm dying to learn more about. We're only really starting to get stories about Black cowboys, and it's powerful to watch. His interaction with Shea and the kindness he shows to the wagon train, even when he has to be harsh, is intriguing.
'The Road West was Paved with Blood'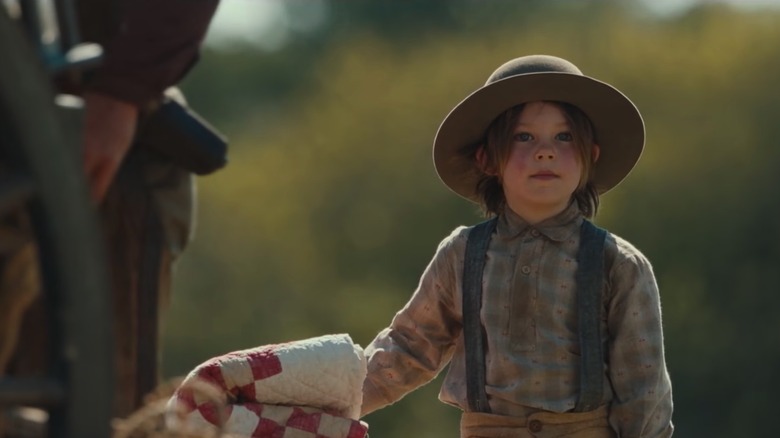 Paramount+
A few things to watch for here include the adorable performance from little Audie Rick, who came to the red carpet in a pinstriped suit and shiny shoes. He's got a great scene in the third episode, and that's all I'll say. Another is the plight of immigrants moving West. This isn't a story I've heard a lot. Most of the immigrant stories from that time period are centered in New York City, or somewhere on the East coast. It's something that should be talked about, particularly these days, as many try to vilify the people who built this country, even though they weren't born here. I do want to warn you that there are a few upsetting moments, particularly in the first and second episodes, so if you're trying to avoid scenes of attempted assault and depression that has reached its zenith, you might want to read a recap before you watch.
That said, I am absolutely blown away by what Taylor Sheridan and his cast and crew have given us here. "1883" is a must-watch.
"1883" premieres Sunday, December 19, 2021 on Paramount+.