It's Always Sunny In Philadelphia Takes Its Special Brand Of Sunshine To The Emerald Isle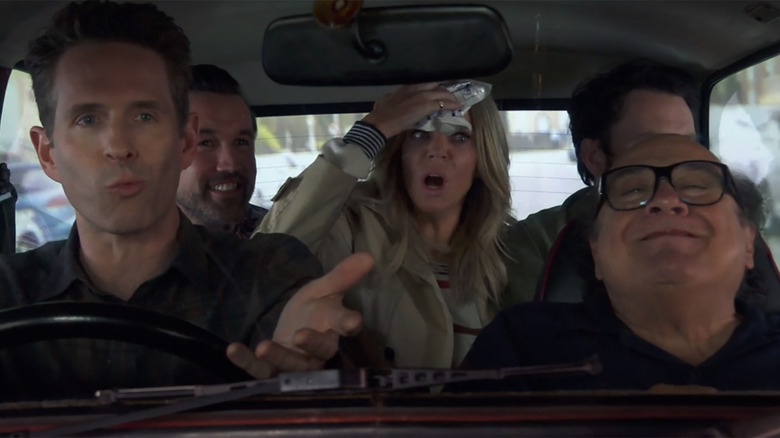 FXX
The gang from "It's Always Sunny in Philadelphia" have made lots of jokes about the Irish over the years as the proud proprietors of an Irish Philly dive bar called "Paddy's Pub." Ronald "Mac" MacDonald (Rob McElhenney) and Charlie Kelly (Charlie Day) also have their fair share of Irish pride due to their heritage, so this season's promised trip to Ireland feels like it's been years in the making. Just like the past two weeks, "It's Always Sunny" dropped double episodes, so I'll be giving you two episodes paired with them to make the perfect "Sunny" shot and chaser. If you need to know where to stream or buy the rest of the seasons, I've got you covered. 
This season has been all about looking back at the gang's inability to change despite having 14 seasons of madcap adventures. The first two episodes filled viewers in on how the world-shaking events of 2020 did very little to change the gang, though they did plenty of event-making of their own. Episode 3 showed us how Dee got so mean and the gang ended up buying Paddy's in the first place, while episode 4 showed us that trained monkeys could theoretically replace the gang and Paddy's wouldn't be much different. With the gang finally headed to Ireland this week after teasing the trip in the marketing for months, it's time for the characters to do a bit of soul-searching in an unfamiliar land. 
Spoilers ahead for season 15 of "It's Always Sunny in Philadelphia."
The Gang are Awful American Tourists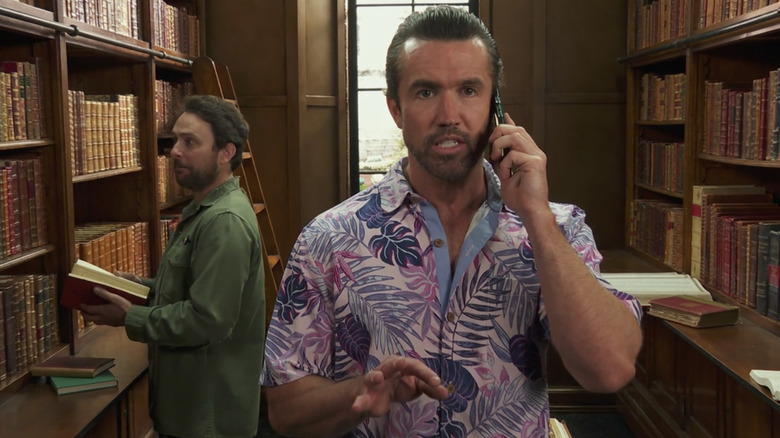 FXX
The first Ireland-based episode for the gang starts with Dee (Kaitlin Olson) waking up to a bowl of stew in her face because the guys think it has some sort of restorative properties. She realizes she's late for her acting gig and the gang must rush her to her destination, with lots of grumbling about her eating up their precious vacation time, of course. They talk about what they want to see and do in Ireland, and they all agree that they want to try to avoid any annoying American tourist stereotypes. Dennis (Glenn Howerton) even rents a teeny tiny European car in an attempt to fit in, though before the episode's out he's driving on the wrong side of the road and yelling at oncoming traffic to swerve out of the way. 
Each of the gang is seeking something different in Ireland. Dee wants to finally succeed as an actress. Mac wants to find his ancestral home and Irish roots. Charlie wants to find his longtime pen pal, a man he believes to be his brother named Shelley Kelly (Colm Meaney). Dennis wants to try and find out something creepy about women with red hair having a distinct scent. And Frank (Danny DeVito)? He needs the gang to help him do a "shred and spread" with some documents that tie him to business dealings with deceased criminal/sexual deviant Jeffrey Epstein. 
By the episode's end, Dee has been replaced by the Waitress (Mary Elizabeth Ellis), who happened to be backpacking across Europe and was cast off of the street when Dee didn't show up on time, while Dennis can't quite get his scent thing figured out because he's lost his sense of smell. Mac has discovered that he isn't Irish at all, as his mother reveals that his father's real last name is Vandross. (That's right, Ronald MacDonald's dad is Luther Vandross. I'll let that one sit for a second.) Pretty much the only positive news is that Charlie has discovered that he can read Irish Gaelic, the language the gang thought was imaginary when Charlie wrote it with his pen pal for decades. Now they're headed to the countryside to help Dennis clear his head and help Charlie find his pen pal. Frank, Mac, and Dee are sort of all just along for the ride, though Frank's fine that he's at least getting a bit of distance on his shred-and-spread operation. 
Chaser: Charlie Catches a Leprechaun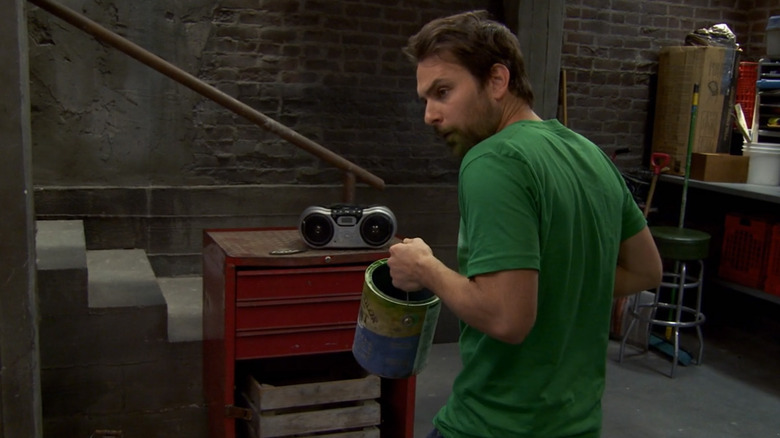 FXX
While there are a handful of episodes about the gang traveling that might work as decent pairings with "The Gang Goes to Ireland," including "The Gang Hits the Road," "The Gang Gets Stranded in the Woods," and the eternally entertaining "The Gang Goes to Hell" parts 1 and 2, instead I urge you to watch the season 11 episode, "Charlie Catches a Leprechaun." In one of the series' few episodes that takes place on a specific date instead of a random day of the week, the gang try to celebrate Saint Patrick's Day in typical "Sunny" fashion: by ruining the holiday for a bunch of other people. Charlie catches a pickpocket dressed as a leprechaun and believes he's an actual leprechaun, torturing him in a "Reservoir Dogs"-inspired sequence where he drinks from a gallon of green paint. Mac decides to go look for a pot of gold at The Rainbow, a local gay bar, probably just because he's still closeted and wants an excuse to go to a gay bar.
Meanwhile, Frank, Dennis, and Dee are trying to offer an Irish ride-share experience, complete with onboard booze and light entertainment. There are multiple problems with their harebrained business plan, but the worst of it is Dee's desire to play "authentic" Irish characters that are crass stereotypes taken to extremes. By the end of the episode, they've stranded around a half-dozen people off on the side of the road after taking their wallets and Charlie nearly kills a man trying to get his non-existent pot of gold. The episode highlights the various falsehoods that the gang believe about Ireland: much like everything else in the world, their understanding is mostly based in pop culture. This might actually be a good one to put on first, because it makes the attempts at looking like the locals in "The Gang Goes to Ireland" that much funnier. 
Charlie and Mac Do Some Soul-Searching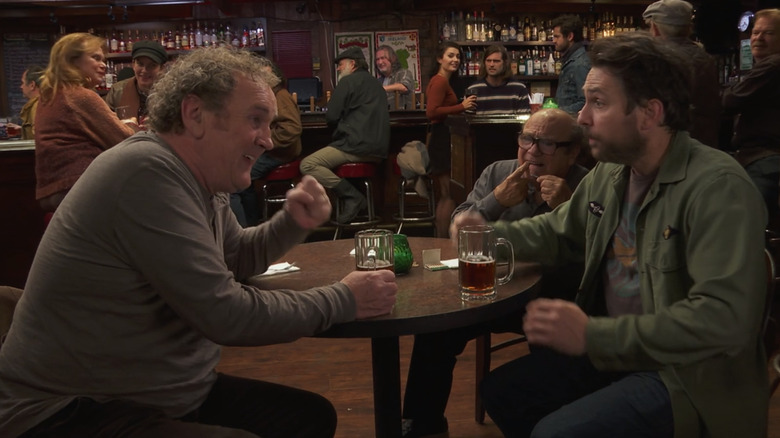 FXX
This week's second episode, "The Gang's Still in Ireland," splits the gang into three separate plots. Charlie and Frank go find Charlie's pen pal, who turns out to actually be his father. For years, Charlie has assumed that Frank is his father due to the latter's affair with Charlie's mother. Now, he's discovered that his biological father is in fact Shelley Kelly, a cheesemonger in rural Ireland who smashes rats, loves ghouls, and breaks into song much like Charlie. As they bond, Frank is pushed to the side, leaving a rift between the gruesome twosome like we've never seen. These are two grown men who share a pullout bed in a one-room apartment, were married for a time, and are as close as two people could ever possibly be. As exciting as it is seeing Charlie finally feel at home, Frank's abandonment makes it bittersweet.
While Charlie's digging deep into his Irish roots, Mac is trying to figure out his identity. He's struggled throughout the years, bouncing in and out of the metaphorical closet for multiple seasons before finally coming out as a gay man for good in the season 12 episode "Hero or Hate Crime?" He has struggled to reconcile his Catholicism and his homosexuality, so his Irish identity always won out. With that gone, the battle for his soul has begun, and Mac's decided to embrace the Catholic side. He attempts to join a seminary, in the hopes that God will give him some answers.
Dee and Dennis get a bit less to do this week, though Dennis makes a fool of himself while trying to hide his COVID symptoms from a travel agent and Dee gets a rare upper hand on him. That bit of sibling schadenfreude doesn't last long, however, as they end up staying in a haunted rental castle and Dennis has gone a bit psychotic in the wake of his fever. The episode ends on kind of a cliffhanger: will Mac become a man of God? Will Dennis finally put Dee's head in a box? Will Charlie and Frank's friendship ever be the same? 
Chaser: Mac Finds His Pride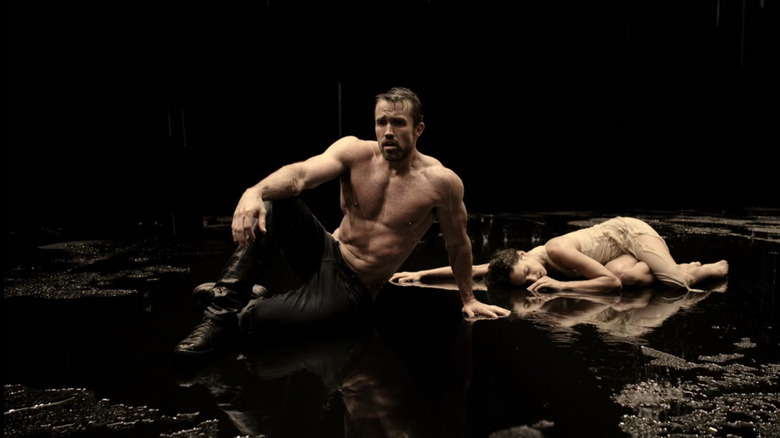 FXX
"The Gang's Still in Ireland" only served to set up future wackiness for Dee and Dennis, but there's some real meat to everything going on with Charlie, Mac, and Frank. Frank has served as a surrogate father to both Charlie and Mac for 13 years. He was a terrible father to the two children he raised, Dee and Dennis, but he's made several big efforts to help both Mac and Charlie deal with their lack of a good paternal figure. The most poignant example of this is in "Mac Finds His Pride," a season 13 episode that follows Mac as he tries to figure out a gay identity for himself. Frank drags him to leather daddy clubs, drag queen brunches, and more, but Mac decides he's going to explain himself in his own way. He puts on a performance for his father and the rest of the inmates in prison with him. It's a complicated and emotional dance number with a female partner, and Luther walks out halfway through. 
The episode ends with one of the most emotionally resonant moments in series history, closing in on Frank's reaction to Mac's dance. "Oh my god. I get it. I get it," he says, tears welling in his eyes. Even though the gang are terrible at showing each other love or kindness, they do genuinely care for one another. Though their own familial connections are tenuous, the gang have become a kind of found family all of their own. "Mac Finds His Pride" is one of the series' best episodes, and one that highlights the special connection between even its two most disparate characters. It also serves as a reminder that though Frank may be a horrible, terrible human being, he does have a heart.
Only Two Episodes Left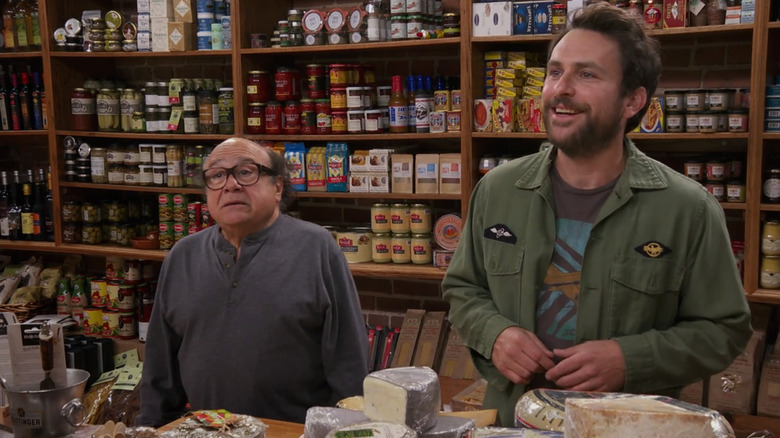 FXX
There are only two episodes left in the 15th season of "It's Always Sunny in Philadelphia," and it's looking like the gang won't return to U.S. soil before the season ends. Next week are "Dee Gets Stuck in a Bog" and "The Gang Carries a Corpse Up a Mountain." The former will probably focus on Dennis and Dee in their nightmarish lodgings, while the latter is probably going to involve a funeral for Shelley Kelly, the only person in Ireland whom I could possibly imagine the gang willingly carrying up a mountain. Maybe his death and the subsequent misadventures of the gang will help reunite Frank and Charlie, but if the trailers for this season are any indication, it's going to be a long and painful road. 
"It's Always Sunny in Philadelphia" debuts new episodes Wednesdays at 10 P.M. EST on FXX and streams the next day on FX on Hulu.