Here's Where You Can Stream Or Buy Every Season Of It's Always Sunny In Philadelphia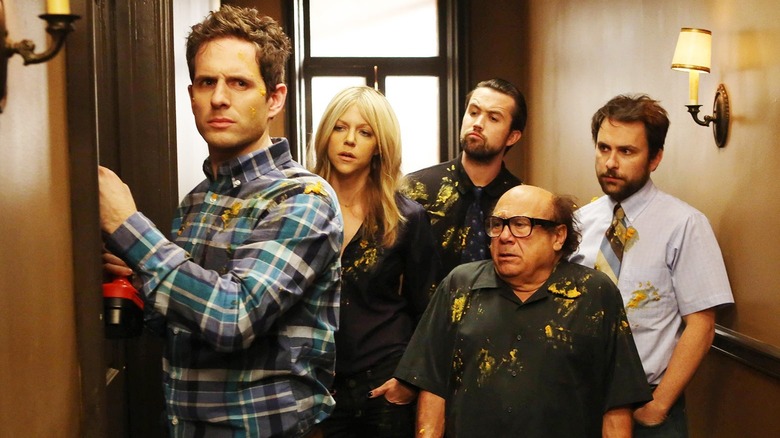 FX
We may receive a commission on purchases made from links.
Season 15 of "It's Always Sunny in Philadelphia" just debuted, and this season looks like it will reflect heavily on the series' past. Fans who haven't seen all of the fourteen previous seasons might want to catch up and learn the history of some of the gang's best gags, so we've put together a little primer on everywhere you can watch the entirety of "It's Always Sunny in Philadelphia," save the newest episodes. Those will debut every Wednesday on FXX and on FX on Hulu the following day. 
Where to Stream It's Always Sunny in Philadelphia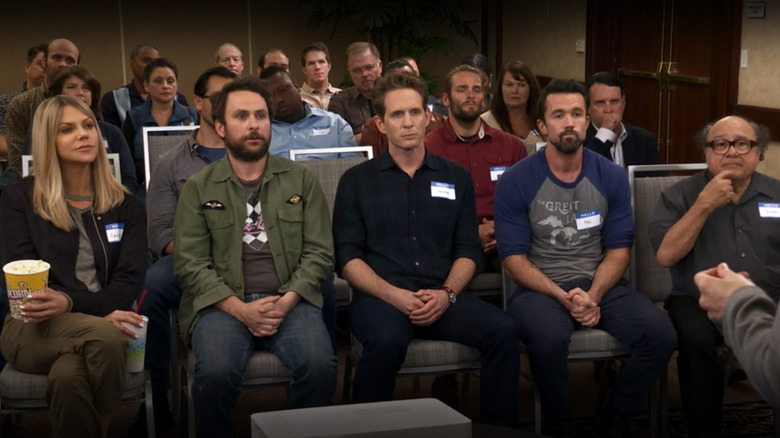 FXX
The streaming home of "It's Always Sunny in Philadelphia" is Hulu, through the streamer's deal with FX Networks. The only place to stream all fourteen seasons and the new episodes as they debut is through the service, though there are a few seasons available to stream on DirectTV, Spectrum OnDemand, and the FXNow app. The ones on FXNow tend to rotate out, so you could theoretically watch the entire series if you wait long enough, but it could be a while. If you want to stream "It's Always Sunny in Philadelphia" without paying for it separately, your best bet is going to be Hulu. 
Where to Buy It's Always Sunny in Philadelphia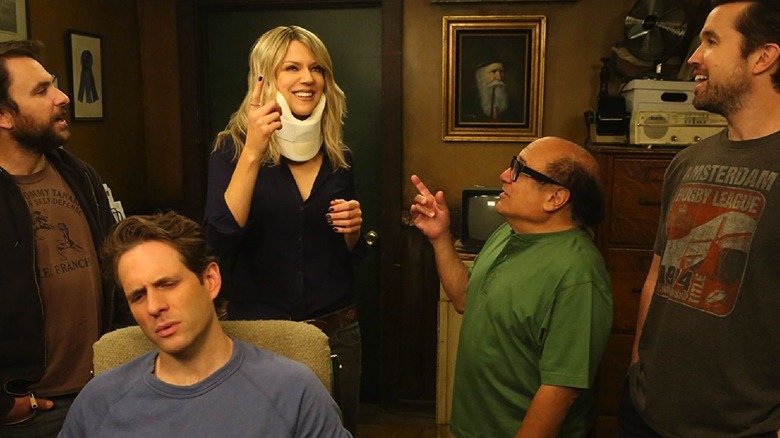 FXX
If for some reason you're avoiding Hulu or just can't sign up for another streaming service, there are two places where you can by digital versions of all 14 seasons. Both Apple TV and Amazon Prime have the episodes available for sale individually or as packaged seasons, and they run from $9.99 to $14.99 per season, with the newer seasons being slightly more expensive than the older, standard definition-only seasons. It should be noted that, much like the streaming options above, the episodes "The Gang Makes Lethal Weapon 5," "The Gang Makes Lethal Weapon 6," and "Dee Day" will not be available for purchase. These have been removed from all streaming platforms on account of cultural insensitivity, because several characters wear blackface in these episodes. The gang recently riffed on the episodes being pulled in the season 15 episode "The Gang Makes Lethal Weapon 7."
If you're a completionist, the only way to see all of the episodes is to buy the seasons on DVD and/or Blu ray, but that could set you back a pretty penny. DVD sets with the first 14 seasons retail online for anywhere between $150 and $200, and upgrading to Blu-ray from season 6 onward (when the show moved to HD) can nearly double that price. Hopefully they'll release a special collection containing the first 15 seasons after the latest season finishes, and they can bring that cost down just a bit. 
You can catch new episodes of "It's Always Sunny in Philadelphia" on Wednesdays on the cable network FXX and streaming the next day on FX on Hulu.