Hawkeye Episode 5 Sets The Stage For The Echo Spin-Off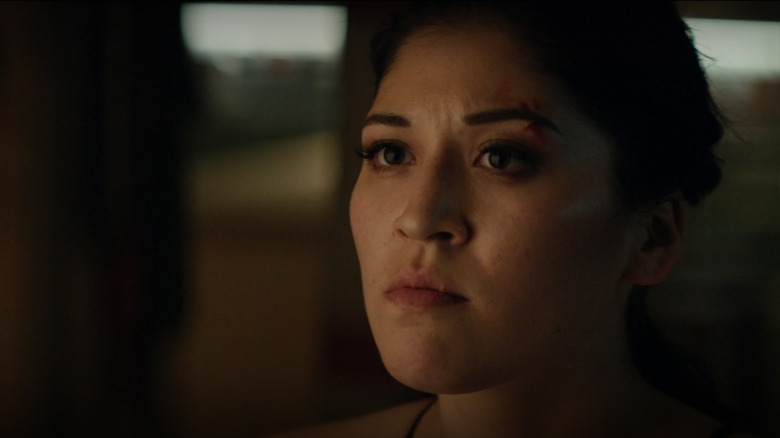 Marvel Studios
Spoilers ahead for "Hawkeye" episode 5, "Ronin."
The fifth episode of the Marvel Studios series "Hawkeye" had loads of surprises in store for its characters, setting the next phase of the Marvel TV shows into motion. In the penultimate episode, viewers were finally given some answers about Yelena (Florence Pugh), and there were two major reveals about the series' villains. But it's Maya's (Alaqua Cox) arc that has me hooked, and this week's episode, "Ronin," pulled back the curtain a bit more about her past and potential future. While the "Echo" spin-off series is still in development, there are several key moments in the episode that share what path that series might take. 
Seeds of Doubt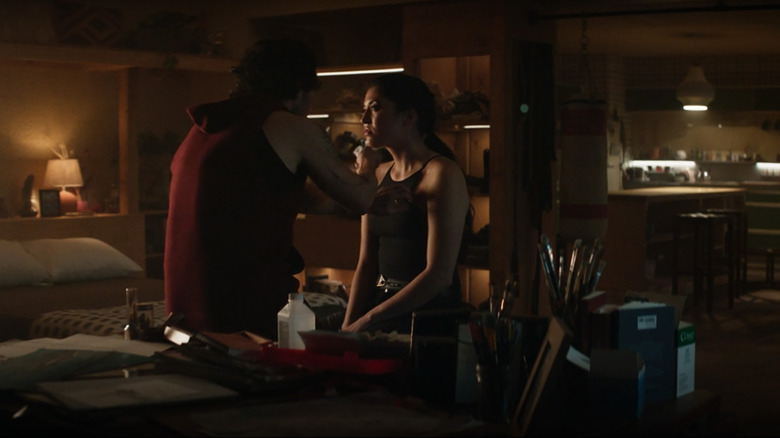 Marvel Studios
When we first see Maya in episode 5, she's having Tracksuit Mafia buddy Kazi (Fra Fee) help her dress her wounds from the previous episode's rooftop fight with Yelena, Clint Barton (Jeremy Renner), and Kate Bishop (Hailee Steinfeld). He teases her about not having to pretend her injuries don't hurt, but instead of being comforted by his gesture, she seems frustrated. She explains that they do hurt and then dives into what's really bothering her: the presence of an unknown attacker (Yelena) that complicates her hunt for Ronin. Kazi tells her that he wants her hunt for her father's killer to stop, and she is furious because she knows she's getting close. He agrees to help her, but insists that once Ronin is dead, Maya has to abandon any other ideas of revenge. 
For the first time, there seems to be distrust between Kazi and Maya. She's realizing that there is much more at play than just her own desire for revenge, and she's stumbled into a tangled web of betrayal, lies, and murder. When an arrow shot through one of the Tracksuit Mafia's windshields invites her to rendezvous with Ronin at the used car dealership where they first met, she jumps at the chance. She doesn't follow his instructions to meet her alone, however, and brings a whole slew of tracksuit-clad goons as backup. After Clint in his Ronin getup disables each of them one by one, he manages to disarm and corner Maya and pull off his mask to reveal some interesting truths of his own.
From One Ronin to Another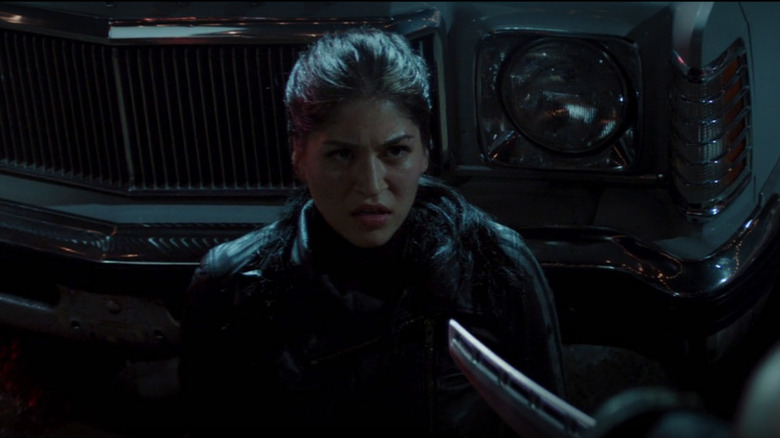 Marvel Studios
Clint explains to Maya that he doesn't want to kill her, and that he was hired by someone to kill her father (played in flashbacks by Zahn McClarnon). This confirms that he really was the Ronin we saw in flashback sequences, and that he was in fact the one who killed Maya's dad, but what he says next blows her mind: He was hired by the very man Maya takes orders from herself. She doesn't believe him and tries to kill him for even saying such a thing, but Kate shows up at the last minute to save the day and Clint manages to escape into the night. 
After reuniting with Kazi, Maya starts asking him some tough questions. Why wasn't he at the meeting the night her father was killed? After all, Kazi was her dad's second-in-command, and should have been there that night. Though she has no real reason to trust Clint, she knows there's some truth in what he said, and now she's questioning everything. 
It's worth noting that in the comics continuity, Maya was the first Ronin, joining the Avengers under a secret moniker after finally getting her revenge, but she later passes on the torch to Clint. Is the series looking to do a total swap, with Clint handing over the lone warrior mantle to Maya when he decides to retire from superhero-dom for good? It's possible, as Clint tells Maya in the episode: "You and I, we're the same. We're weapons. When you're filled with rage, it makes you blind." 
Looking Forward to Echo's Future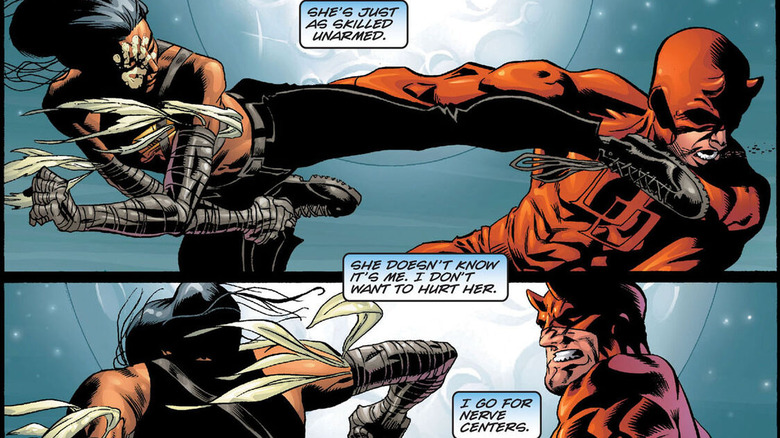 Marvel
In the comics, Maya is raised by Wilson Fisk (also known as the Kingpin) after he kills her father. This happens when she's much younger, and she grows very close to her foster father, not knowing he's responsible for her dad's death. In "Hawkeye," her father's death comes in adulthood, but she still seems to have a connection to Fisk, whom she refers to as "Uncle." Maya, who becomes the vigilante Echo in her search for vengeance, will stop at nothing to find the truth in both the comics and television series. 
Unfortunately for Maya, the truth in this situation hurts.
In the comics, Fisk tells Maya that Daredevil is responsible for her father's death. Marvel president Kevin Feige has strongly hinted that actor Charlie Cox will reprise his role as Matt Murdock/Daredevil in the Marvel Cinematic Universe, and this episode confirms that Vincent D'Onofrio's Fisk is officially back. That means we could be looking at an interpretation of the "Parts of a Hole" comic, which sees Maya and Matt in a complicated romance in which neither knows the other's superhero identity. The run served as Maya's origin story, and it's one of my favorites in all of Marvel history. With the reveals in episode 5 of "Hawkeye," it's looking more and more likely that the "Echo" series will be taking Maya on her way toward Murdock, an eventual face-off with Fisk, and maybe even some time beneath the Ronin mask. 
"Hawkeye" streams new episodes Wednesdays on Disney+.