Let's Talk About That Hawkeye Episode 5 Bathroom Scene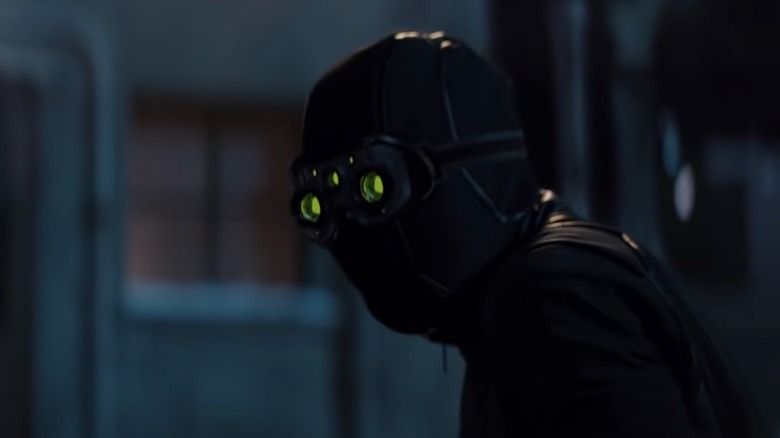 Disney+
The MCU's latest series may be titled "Hawkeye," and even named its fifth episode after the archer's alter-ego "Ronin," but that doesn't change the reality of Clint Barton's (Jeremy Renner) situation: his show is full of characters slipping onstage and seamlessly stealing his spotlight. Without a doubt, this is the best opportunity that the bow-wielding Avenger has found to shine and he's made great use of it, finally getting more of the fanbase over into his trick-arrow cluttered corner. Even so, it's notable that scene-stealers like Kate Bishop (Hailee Steinfeld) and Maya Lopez (Alaqua Cox) have been in the MCU for a fraction of Clint's time and have already won over the masses.
I for one was ready to sacrifice it all for Kate by the end of episode 1: something about seeing her decimate a university bell tower was so gloriously promising. Maya caused massive hype even before her proper introduction, and despite being a literal mafiosa, it's hard not to understand her side of the story. Watching her face off against Clint in battle is a thrill, bolstered when Kate jumps in to have her mentor's back. What could possibly make this trio more compelling? A fourth character of course — another wild card poised to win our affections. In fact, this particular player earned a direct line to our hearts even before she arrived in episode four. Thankfully, "Ronin" lets us spend more time with this mysterious visitor and in true Marvel fashion, it's wonderful, hilarious, and just a tad bit heartbreaking.
This post contains spoilers through episode 5 of "Hawkeye."
Yelena Belova's Grand Entrance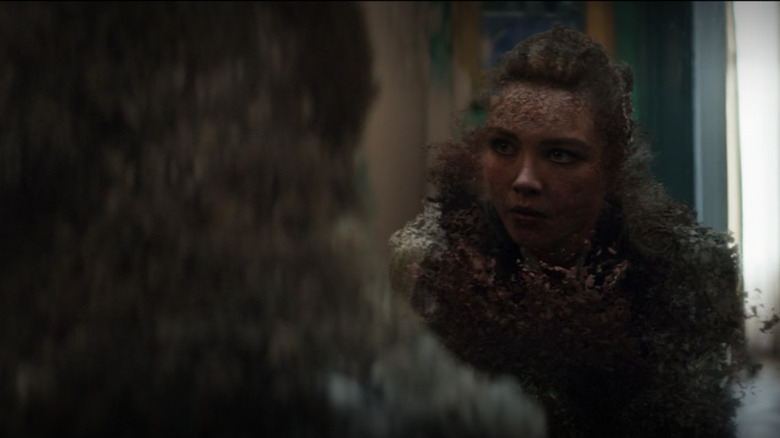 Disney+
Yelena Belova (Florence Pugh) has officially arrived on the scene in all her ass-kicking, macaroni-and-cheese-making glory. But before she can seize another opportunity to square off against Clint, and even before she breaks into Kate's house for a semi-friendly gab sesh, Yelena gives MCU fans a painful blast from the past. In case you've forgotten the great big Infinity Saga conclusion, there was a brief point in time when the franchise did the unthinkable and let its villain walk away as the victor. Thanos ended "Avengers: Infinity War" with the snap heard around the world, causing fan-favorite heroes to drift away with the wind as half the universe turned to dust. All of this was later reversed of course, in suitably epic fashion, but the effects of The Blip still ripple throughout the universe.
When "Ronin" kicks off, it's the year 2018 — meaning that somewhere far far away, the Avengers are fighting a losing battle to Thanos and the Titan is moments away from snapping his fingers. But not quite yet. First we need to catch up with Yelena: two years after the events of "Black Widow," she's continuing her mission to set her fellow sisters free from Dreykov's control. Thanks to Natasha (Scarlett Johansson) downloading the contents of the Red Room console, Yelena is able to locate the many Widows stationed throughout the world and uses the mind control antidote to set them free. One of the Widows she encounters and sprays with the red gas is Ana who, it turns out, isn't killing because of Dreykov's control — she's already freed herself and become a hired assassin.
Once the weapons are put away, they come to understand each other and Ana tells her sisters how she turned their unfortunate path into a lucrative lifestyle, and encourages them to do the same. Talk of the future — especially when it includes Natasha's name — leads Yelena to excuse herself to the bathroom, to splash some water onto her face. And very quickly, a throwaway moment becomes utterly harrowing, as Yelena turns to dust — and just as quickly snaps back into existence.
Another One Bites The Dust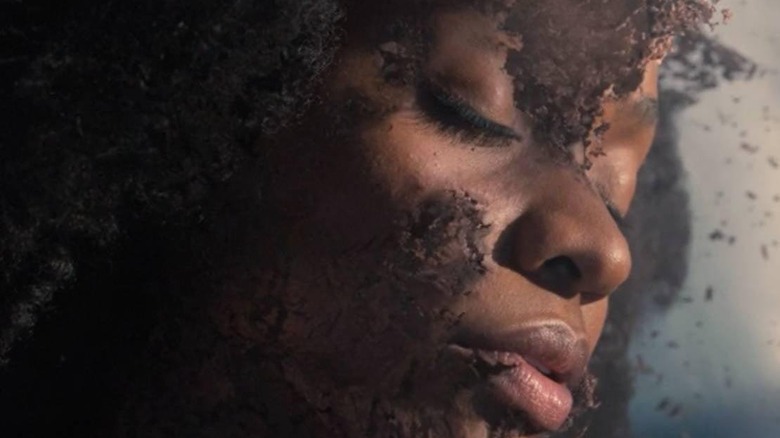 Disney+
This is not the first Blip tragedy we've borne witness to in our post-"Avengers: Endgame" world. The fourth episode of "WandaVision " opened in similarly dramatic fashion, with a cloud of dust soon revealed to be Monica Rambeau (Teyonah Parris), asleep beside the empty hospital bed that once held her mother. Monica awoke to discover that she — and half the world's population — had disappeared for five years, a bizarre reality that was only the second most disturbing fact revealed to her. Much more painful was the realization that her mother passed away in her absence.
The sharp gut punch of loss returns to the MCU each time we revisit the impact of the Blip. For Monica, it fueled the rest of her story in "WandaVision," as she was able to understand Wanda's pain while other S.W.O.R.D. agents were preoccupied seeing the Scarlet Witch as a villain. Monica used their shared pain to get through to Wanda — but Yelena is taking her story in a different direction. When Yelena arrives back in Ana's mansion, five years after she turned to dust, her new reality sends her spiraling. Five years of her life lost? Half the world dusted away? But before lingering too long on the details, one thought jumps to the top of her mind: "I need to find Natasha," she realizes. "Can you help me find Natasha? I need to tell her I'm okay."
By this point, news probably hasn't reached the public, but will soon become common enough knowledge to be included in a high school tribute video: Natasha Romanov is dead. Yelena may have spent some time searching, but would eventually come upon the painful truth that brings her to Natasha's grave in the "Black Widow" end credits scene. Their sisterly bond was the crux of that film, meaning more to Yelena than she was initially able to admit. Though they went their separate ways at the end of the movie, and Yelena seemed somewhat hurt by Natasha returning to her Avengers family, their connection still trumped any lingering tension. They'd finally come to terms with how much they meant to one another — only to have that reunion be their last.
What's Yelena's Next Move?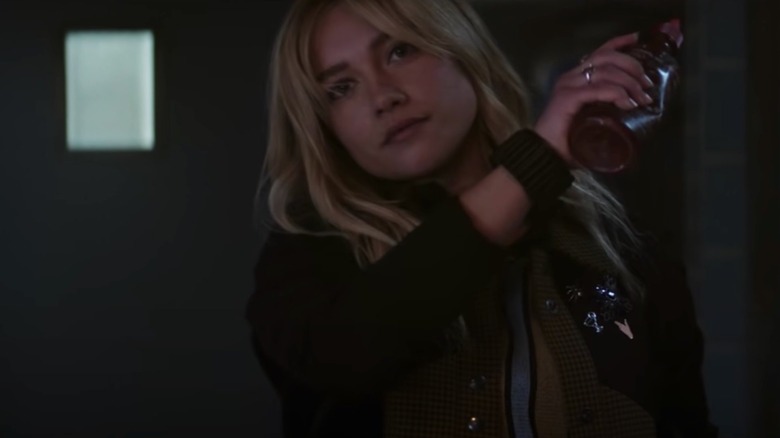 Disney+
Thanks to this cold open, we've finally come to understand why Yelena is working for the mysterious Contessa Allegra de Fontaine: she's become a hired killer. Yelena took Ana's advice and decided to build a life for herself by putting her Widow skills to use, on her own terms. Sure enough, going after Clint is the epitome of that: the assignment will get her paid, but also blends professional and personal as she tracks him down for revenge. In talking to Kate, Yelena once again gives voice to the philosophy she explained to Natasha back in "Black Widow": "We are defined by what we do."
She poked fun at Natasha for calling herself an "Avenger," and considering herself a killer, still haunted by all the blood marking their Black Widow past. Aware of his history as Ronin, Yelena makes the same point about Clint. Though she takes a break from hunting him to discover the truth behind the woman who hired her, Yelena still seems determined to complete her mission. Perhaps her shared loss with Clint will lead her to mirror Monica's "WandaVision" story — or better yet, maybe their shared guilt will bridge the gap. Either way, Clint will surely get another visit from Yelena and it seems inevitable that guns, knives, and arrows will take precedence over kind words.
New episodes of "Hawkeye" release on Disney+ on Wednesdays.