Kevin Feige Confirms Charlie Cox Is The MCU's Daredevil
Disney/Marvel
It's hard to deny that a lot of the actors who play our favorite Marvel superheroes are just synonymous with their characters at this point. Chris Evans, Robert Downey Jr., Scarlett Johansson. Who else would play those roles? In the same way, actor Charlie Cox has also become known for his turn as Matt Murdock, AKA the tortured, strong, and religiously inclined Hell's Kitchen hero known as Daredevil — and though Cox has yet to show up in the MCU, it appears Marvel boss Kevin Feige is interested in having him join the ranks at some point. Feige told CinemaBlend in an interview published on Sunday:
"If you were to see Daredevil in upcoming things, Charlie Cox, yes, would be the actor playing Daredevil. Where we see that, how we see that, when we see that, remains to be seen."
Cox first joined the MCU lite, AKA the Marvel TV Universe, in 2015 when "Daredevil" premiered on Netflix. The show ran for three seasons and ended in 2018. The "Boardwalk Empire" alum starred opposite Vincent D'onofrio, Deborah Ann Woll, and Elden Hensen on the series, which was highly regarded for its style and faithfulness to the source material. It was certainly my favorite of the Marvel TV installments to date, and when it comes to confident darkness and grit, I don't think the studio has topped the effort since. In fact, they should bring it back. You know you'd watch.
Wait, Does That Mean Charlie Cox Is in No Way Home?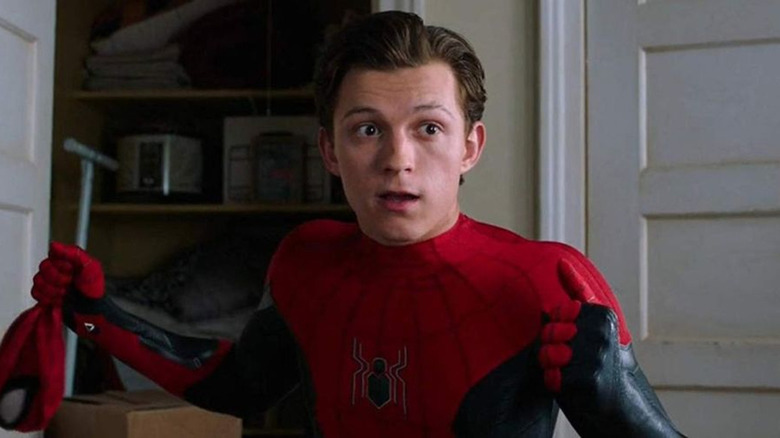 Disney/Marvel
Unfortunately, it doesn't necessarily mean that — but, of course, anything is possible. Hell, Marvel and their folks aren't half bad at keeping casting secrets when they want to. In October, a long-dormant rumor that One Direction alum and "Dunkirk" star Harry Styles would appear as Starfox in the latest MCU installment, "Eternals," turned out to be true. So it certainly isn't out of the realm of possibility for the powers that be to be hiding a fun Matt Murdock cameo.
"No Way Home" is already set to be chock full of crazy cameos from past "Spider-Man" installments, with appearances from several past Spidey villains — including Willem Dafoe's Green Goblin and Alfred Molina's Doc Ock — and rumored roles for Andrew Garfield and Toby Maguire's Peter Parkers.
While it seems unlikely that Cox's Murdock will show up in "No Way Home," a girl can dream, right? When the film arrives in theaters on December 17, 2021 I just hope they let me down easy.