Harry Potter 20th Anniversary: Return To Hogwarts Trailer: A Proper Class Reunion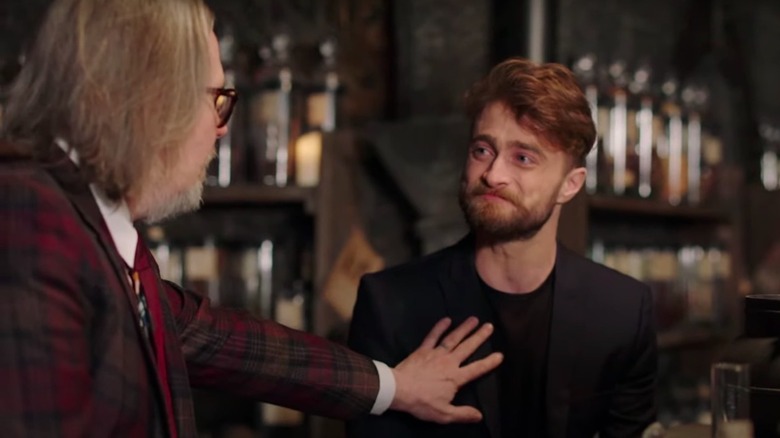 HBO Max
Hogwarts School of Witchcraft and Wizardry has sent out the invitations and is getting ready to welcome back some of its famous alumni this New Year's Day on HBO Max. "Harry Potter 20th Anniversary: Return to Hogwarts" is ringing in 2022 by gathering franchise stars Daniel Radcliffe, Rupert Grint, and Emma Watson, along with a whole host of famous supporting cast members, for a streaming special in the vein of "Friends: The Reunion." Now, a full-length trailer for it is here.
The movie that started it all, "Harry Potter and the Sorcerer's Stone" (known as "Harry Potter and the Philosopher's Stone" most places outside the U.S.), turned 20 in November. The week of its anniversary, director Chris Columbus said that he would love to reassemble the original cast and make a "Harry Potter and the Cursed Child" movie, based on the two-part stage play. The play is set almost 20 years after "Harry Potter and the Deathly Hallows" and the second part of the film adaptation of that book came out in 2011, which means we're already halfway there.
Columbus also confessed that he's never seen the "Fantastic Beasts" prequels, which means he's probably not counting down the days until "Fantastic Beasts: The Secrets of Dumbledore." If you're like him and would like to see adult versions of Harry, Ron Weasley, and Hermione Granger — and you favor the "Harry Potter" series over "Fantastic Beasts" — then "Return to Hogwarts" might be just what the doctor ordered. Check out the trailer below.
Harry Potter 20th Anniversary: Return to Hogwarts Trailer
As we noted when the teaser for "Return to Hogwarts" posted, this special has rounded up a long list of franchise veterans, including Helena Bonham Carter, Robbie Coltrane, Ralph Fiennes, Jason Isaacs, Gary Oldman, Tom Felton, James Phelps, Oliver Phelps, Mark Williams, Bonnie Wright, Alfred Enoch, Matthew Lewis, Evanna Lynch, and many more. One name not being advertised was that of author and "Harry Potter" creator, J.K. Rowling.
"The Secrets of Dumbledore," the first new Wizarding World movie in four years, also comes out in 2022. We recently saw the first trailer for it, too, and no sooner did it drop than Rowling stirred controversy again with a new tweet that some fans deemed transphobic (via The Independent).
Cards on the table: I've seen all the Wizarding World movies but could only ever be described as a casual fan, at best. I know fans and the transgender community have been upset with Rowling, but beyond this latest very ill-timed tweet, I don't know enough about the full history of her comments or transgender social mores to really comment intelligently. I do know, however, that this has been an ongoing issue with Rowling, and when you add Johnny Depp's name to the mix, it's not the only controversy that the Wizarding World franchise has endured in recent years.
Will these controversies cast too great a cloud over "Return to Hogwarts," or will viewers still be able to enjoy the reunion without a tinge of guilt? The answer to that will arrive on January 1, 2022, when "Harry Potter 20th Anniversary: Return to Hogwarts" starts streaming on HBO Max.