Harry Potter: Return To Hogwarts Teaser Gets The Wizards Back Together For 20th Anniversary Reunion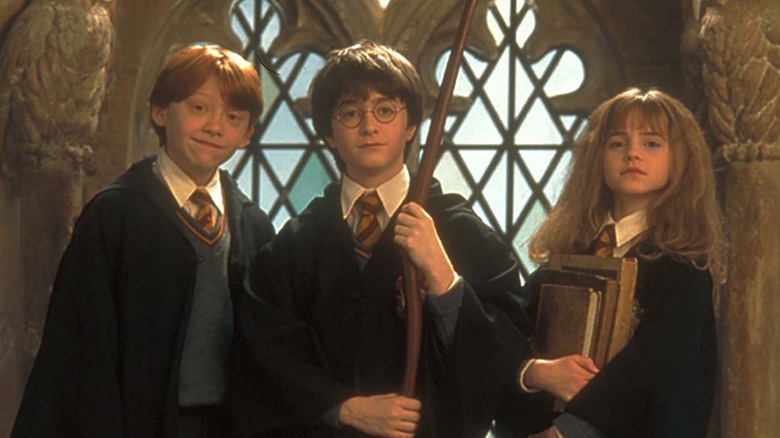 Warner Bros. Pictures
We're going back to Hogwarts, again. HBO Max saw a ton of success with their "Friends" reunion special earlier this year, so they're trying their hand at bringing the "Harry Potter" cast back together for a 20th anniversary special on New Year's Day. The streamer released the first teaser trailer for the event — and it doesn't give us too much, to be fair. Teaser, indeed.
The "Return to Hogwarts" teaser opens with a mysterious individual reading a copy of the Wizarding World newspaper The Daily Prophet, which features the leading headline, "Special Edition: Hogwarts Welcomes Back Alumni." From there, we get glimpses of a few iconic supporting characters — Matthew Lewis, who played Neville Longbottom, and Robbie Coltrane, aka Hagrid — picking up letters akin to those that 10-year-old children get upon their acceptance to Hogwarts. Naturally, though, the letters have the actors' names on them.
Keeping Hate Out of Harry Potter's Memory
The trailer lists a myriad of actors who will be present for the historic night, and that list does include the three pinnacle stars, Daniel Radcliffe, Emma Watson, and Rupert Grint. But one name that doesn't show up on the list of attendees is J.K. Rowling, who wrote the book series upon which the film series was based.
If you've been living above ground for the last few years, then you probably at least heard in passing about Rowling's loud-and-proud anti-transgender stance, upon which she has doubled down on multiple occasions. It seems those comments have finally led to some consequences for her — and, at the same time, an opportunity for hurt fans to celebrate the series without the painful presence of hatred.
Rowling has made her TERF stance known since 2019, when she was called out for supporting a British woman who was fired over transphobia in the workplace. A year later, the author penned a nearly 4,000 word essay citing that trans people are allegedly a danger to women and children and thus should be identified strictly by their biological sex. Thankfully, the film's three leads quickly rebuffed the writer's derogatory statements.
"Transgender women are women," Radcliffe wrote in a statement via The Trevor Project. "Any statement to the contrary erases the identity and dignity of transgender people and goes against all advice given by professional health care associations who have far more expertise on this subject matter than [Rowling] or I."
Grint echoed Radcliffe's statements, "I firmly stand with the trans community and echo the sentiments expressed by many of my peers. Trans women are women. Trans men are men. We should all be entitled to live with love and without judgment."
Watson also made supportive comments via Twitter at the time. "Trans people are who they say they are and deserve to live their lives without being constantly questioned or told they aren't who they say they are," she wrote. "I want my trans followers to know that I and so many other people around the world see you, respect you and love you for who you are."