Daniel Radcliffe, Rupert Grint, Emma Watson Reuniting For Harry Potter 20th Anniversary: Return To Hogwarts On HBO Max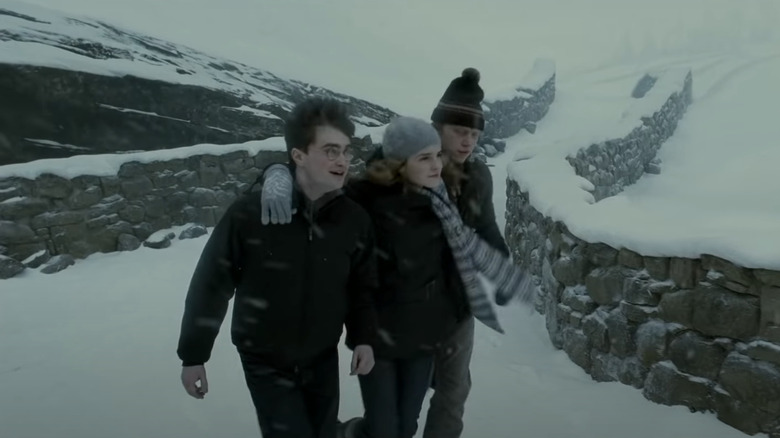 Warner Bros. Pictures
Great news, Potterheads! For the first time ever, the cast from all eight "Harry Potter" films will reunite for a special 20th anniversary retrospective. 
"Harry Potter 20th Anniversary: Return to Hogwarts" will feature the beloved trio Daniel Radcliffe, Emma Watson, and Rupert Grint who first ventured to the magical school of wizardry on the big screen back in 2001. Other iconic stars include Helena Bonham Carter, Robbie Coltrane, Ralph Fiennes, Jason Isaacs, Gary Oldman, Imelda Staunton, Tom Felton, James Phelps, Oliver Phelps, Mark Williams, Bonnie Wright, Alfred Enoch, Matthew Lewis, Evanna Lynch, Ian Hart, Filmmaker Chris Columbus, and more. 
The retrospective event will honor the behind-the-scenes movie magic that went into creating the "Harry Potter" universe as well as celebrate the franchise's impressive legacy that is still held in the hearts of millions around the world. Check out the teaser trailer for the special below:
It's sort of surreal that it's already been two decades since J.K. Rowling's book came to life on the silver screen. It will be exciting to see the extensive cast gather to celebrate the anniversary of the first film, "Harry Potter and the Sorcerer's Stone," which premiered 20 years ago on November 16. 
The special will also feature all-new in-depth interviews and cast conversations. Tom Ascheim, President of Warner Bros. Global Kids, Young Adults, and Classics had this to say: 
"It has been an incredible journey since the debut of the 'Harry Potter and the Sorcerer's Stone' film, and witnessing how it has evolved into this remarkable interconnected universe has been magical to say the least. This retrospective is a tribute to everyone whose lives were touched by this cultural phenomenon — from the talented cast and crew who poured their heart and soul into this extraordinary film franchise to the passionate fans who continue to keep the Wizarding World spirit alive 20 years later."
20 Years of Magic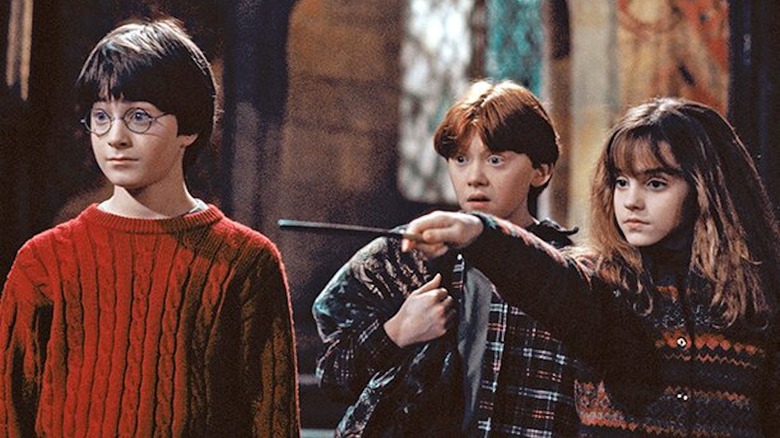 Warner Bros. Pictures
"Harry Potter and the Sorcerer's Stone" had a budget of $125 million and grossed over $1 billion worldwide. Everything from the special effects, costume design, relatable characters, and themes of bravery in the face of evil made it an instant hit. The film captivated audiences around the globe and continues to enchant kids and adults alike. It was nominated for numerous awards including three Academy Awards and seven BAFTAs. Millions continued to read the books as quickly as Rowling was able to release them, and the world of Harry Potter grew larger and larger. Today, people identify with certain houses and cosplay the characters on a regular basis. Fans can also visit The Wizarding World of Harry Potter – Diagon Alley at Universal Studios and enjoy a cup of butterbeer, purchase a wand, or engage in a game of Quidditch. 
Kids of the '90s and early 2000s grew up with this franchise and its stars.  And yet, "Harry Potter" has solidified itself as a monumental franchise that has captivated generations multiple times over. For many, the books and films represent childhood and the allure of otherworldly magic. As the characters aged, so did their fans and the life lessons began to get more complex. Harry, Hermione, and Ron all brought relatable aspects to being a kid and young adult that transcend time, as well as worlds. So, it's no wonder we are celebrating such an iconic film all these years later.
Before the retrospective premiere, fans can check out 20th anniversary content on WizardingWorld.com. An exclusive first look at the special will debut during the premiere of "Harry Potter: Hogwarts Tournament of Houses" on November 28 at 8:00 p.m. ET on TBS and Cartoon Network. There's also a bracket-style quiz competition where Potterheads can compete to take home the Tournament of Houses championship trophy. This friendly competition will feature cameos by Tom Felton, Simon Fisher-Becker, Shirley Henderson, and Luke Youngblood, as well as stars Pete Davidson and Jay Leno. This four-part competition event will also begin streaming on HBO Max on January 1, 2022.
"Harry Potter 20th Anniversary: Return to Hogwarts" premieres as the clock strikes midnight on New Year's Day, January 1, 2022, on HBO Max.