The 20 Best Netflix Original Movies Of 2021 Ranked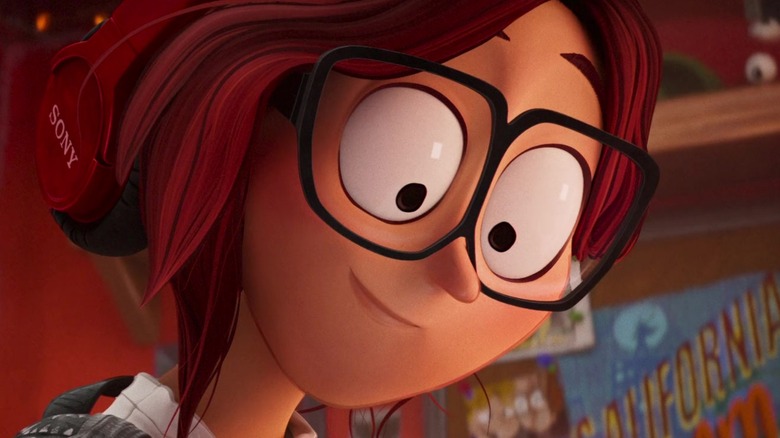 Netflix
Over the past few years, Netflix has slowly been building its reputation as a production company to take seriously during awards season. And since the pandemic took a bite out of theater attendance, the streaming service has taken every opportunity to further flesh out its already formidable slate of original content. In 2021, Netflix received an impressive 36 Academy Award nominations, the most of any distributor, and would go on to win seven of those (two for "Mank" and "Ma Rainey's Black Bottom," and one each for "My Octopus Teacher," "Two Distant Strangers," and "If Anything Happens I Love You").
But although Netflix clearly has its eye on prestige and clout, it has taken special care to diversify its offerings beyond traditional Oscar bait. In 2021, the service has put together a respectable slate of original productions that spans various genres, bringing us charming animated features, cozy Christmas romances, and moving historical dramas in equal measure. Here are Netflix's best 2021 films, ranked from worst to best.
20. Malcolm & Marie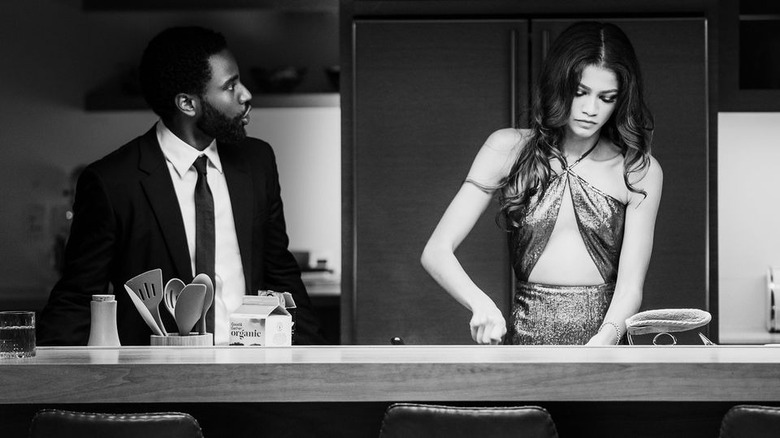 Netflix
Filmed during the early days of the pandemic, "Malcolm & Marie" was one of the first high-profile productions that had to cope with COVID-19 restrictions, a fact that is immediately evident while watching. It's unusually pared down, with only two actors (John David Washington and Zendaya) and one location, and it unfolds over the course of a single night. The two portray a couple in a frequently rancorous relationship, returning home one evening after Malcolm's film premiere. 
At its best, "Malcolm & Marie" is a searing depiction of two individuals stripped bare as they snipe at each other and expose one another's insecurities. It's fast paced, and with its laser focus on the dynamic between Malcolm and Marie, it harks back to the relationship dramas of the 1960s and 1970s. 
There are moments where writer-director Sam Levinson becomes a little self-indulgent, especially with the words that he puts into Malcolm's mouth, which seem to air Levinson's own personal grievances as a filmmaker. But for the most part, "Malcolm & Marie" is an impressive film starring two talented young actors, as well as a testament to the ingenuity of a production crew who made the movie under complicated circumstances.
19. Love Hard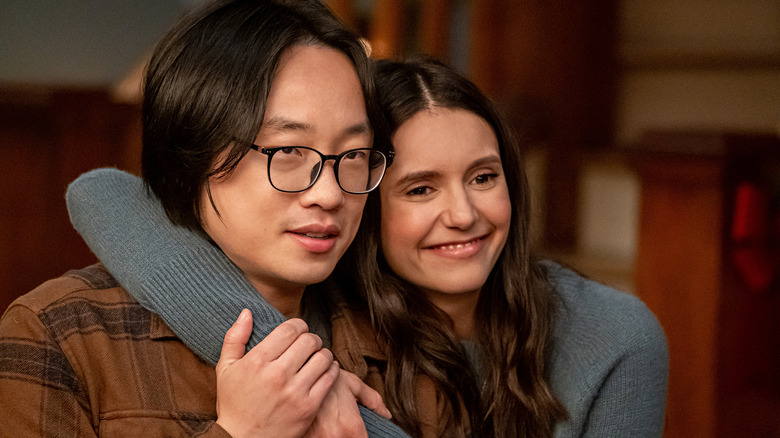 Netflix
Over the past few years, Netflix has emerged as a major player in the Christmas rom-com game. Some are better than others, but every once in a while, Netflix ends up with a real winner (the only challenge at that point is not creating a bunch of pointless sequels until they've run the franchise into the ground — "The Princess Switch," we're looking at you). "Love Hard" received very little publicity leading up to its release, but has emerged as a surprisingly endearing holiday film. 
Nina Dobrev stars as Natalie, a writer from Los Angeles whose love life is so tragic that she has been able to parlay her romantic misadventures into a regular column. She meets Josh (Jimmy O. Yang) on a dating app, and they instantly connect. There's just one problem: When she turns up on his doorstep to surprise him for Christmas, she learns that he's been catfishing her. "Love Hard" uses the two actors' natural chemistry to build a surprisingly sweet romance that overcomes the limitations of the made-for-TV Christmas movie genre to become genuinely charming.
18. The Guilty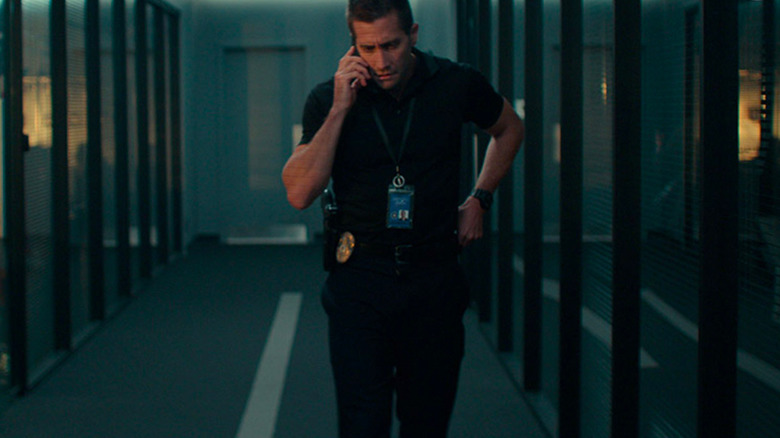 Netflix
Based on a superb Danish film of the same name, "The Guilty" is essentially a shot-for-shot remake of a superior movie. It has a bigger budget, a bigger name with Jake Gyllenhaal in the lead role, and it's in English, but other than that it's the same (just a tiny bit worse — the Danish version has a 98% score on Rotten Tomatoes, while the American version has a 74%). 
Gyllenhaal stars as a police officer who is working as a 911 operator while awaiting a hearing after shooting an unarmed teenager in the line of duty. He is bored and demoralized by his demotion, but his day becomes considerably more complicated when he receives a call from a woman that he believes to be in an active kidnapping situation. He springs into action, determined to help track this woman down and save her life, but the longer he stays on the line, the less things are what they seem. Gripping and tense, "The Guilty" is a heart-pounding thriller that will keep you on the edge of your seat.
17. A Castle for Christmas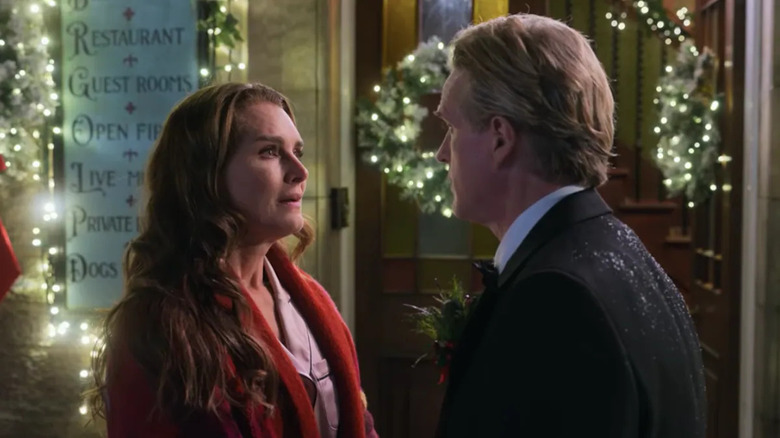 Netflix
Truly, what's not to like about "A Castle for Christmas?" It has everything that a holiday movie needs: a sweet romantic storyline, a gorgeous European location, and a pair of dreamy leads. (Refreshingly, our heroes in "A Castle for Christmas" are a little bit older than we traditionally see in these types of films; at the same time, they're still the wildly attractive Brooke Shields and Cary Elwes, so it's still a Hollywoodized version of middle age.) 
Shields plays a famous American author who travels to her remote ancestral village after her latest book elicits significant controversy. She is immediately drawn to a picturesque castle there, but there's just one problem: It happens to be owned by a curmudgeonly duke. Inevitably, the two begin to catch feelings for each other, and their onscreen chemistry imbues "A Castle for Christmas" with incredible charm, making it a Christmas film full of warmth and holiday cheer.
16. Bruised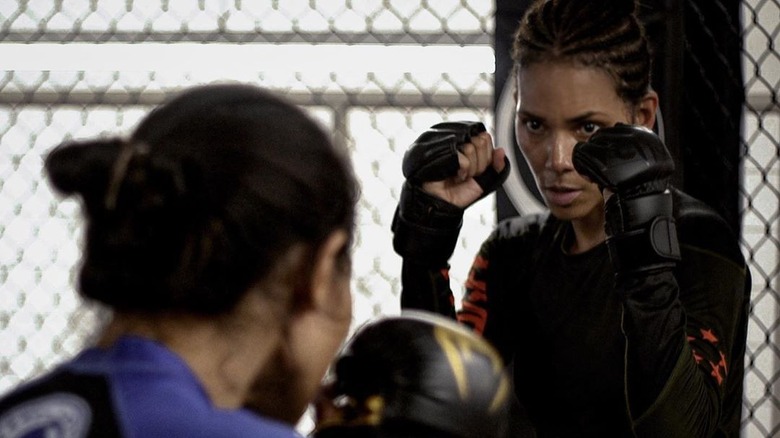 Netflix
A rough-and-tumble boxing movie, "Bruised" took more than a few hits early on in its production process. Initially slated to be directed by Nick Cassavetes and star Blake Lively, Halle Berry would eventually take over, in her directorial debut, and replace Lively in the leading role with herself. She plays Jackie "Pretty Bull" Justice, a boxer who fights to get herself back in peak condition after she gains custody of her estranged son, whose father has recently died. 
Objectively, "Bruised" is a bit of a mixed bag — although the performances (especially Berry as Jackie, who pushes herself to the breaking point) are all beyond reproach, and Berry's directing leaves nothing to complain about, "Bruised" suffers from a subpar script. Still, it's an engaging sports drama that marks Berry as an actor-turned-director to watch, since it's clear that she brings a strong sense of empathy to her work behind the camera.
15. Pray Away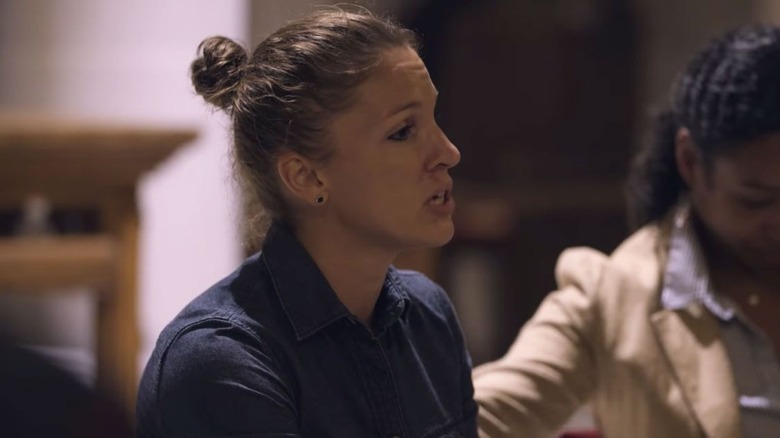 Netflix
For generations, Christian churches have spent a significant amount of time trying to convince gay people that their sexuality is a sin that will send them to Hell, and that they can change their orientation if they just pray hard enough. The damage inflicted by this mindset is exposed in the documentary "Pray Away," which interviews both the survivors who spent years convincing themselves that they could become straight, as well as some of the church leaders who advocated for conversion therapy. 
It's fascinating to watch the officials who promote such a harmful practice, and to see how so many of them are harboring secret identities of their own while touting the efficacy of "praying the gay away." The prevalence of allegedly ex-gay advocates who would later admit that they consistently hide their true sexual identity highlights a seemingly endless cycle of victims victimizing victims, all because of the overwhelming shame imparted by the church.
14. The Dig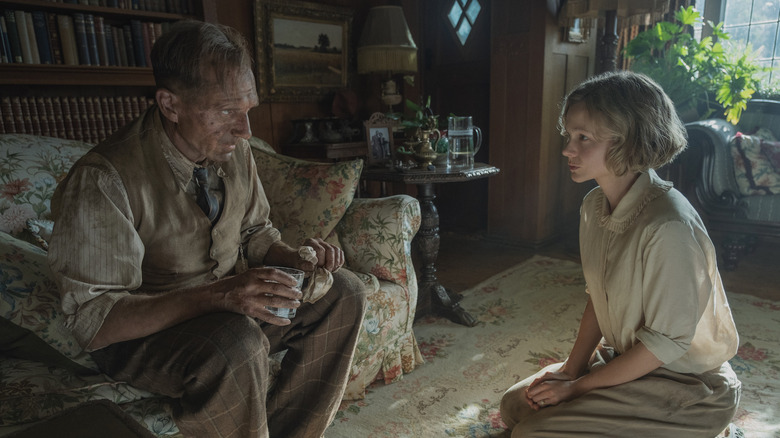 Netflix
Set amidst a dreamy Suffolk landscape in the period immediately before World War II, "The Dig" is the story of the widow Edith (Carey Mulligan), who hires a self-taught excavator, Basil Brown (Ralph Fiennes), to investigate the ancient burial mounds on her property. No one expects them to find anything of note; even when Brown begins to suspect that the site may actually be Anglo-Saxon, not Viking, in origin, his opinions are disregarded by more prestigious archeologists. 
Based on the true story of the Sutton Hoo excavations, "The Dig" makes the discovery of an ancient burial ship fascinating, showing the awe and majesty that come with being able to touch centuries-old history, as though one is reaching out a hand to those long-dead. Fiennes especially brings a reverence to the proceedings, his warmth and excitement about the incredible find he's stumbled upon radiating off the screen.
13. Don't Look Up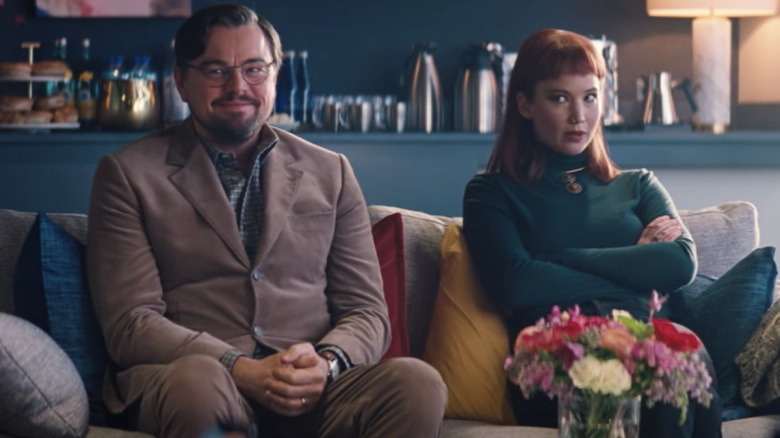 Netflix
When you have Adam McKay behind the camera, you may not get subtlety, but you'll usually get an engaging and slyly humorous exploration of some maddening sociopolitical issue. "Don't Look Up" is his latest feature, and he's assembled an all-star cast of A-listers to bring it to life: Leonardo DiCaprio, Jennifer Lawrence, Timothee Chalamet, Meryl Streep, and Cate Blanchett are just a few of the actors who are on board. DiCaprio and Lawrence play a pair of astronomers who sound the alarm that there is a comet on a collision course with Earth, and their attempts to warn both the public and government officials play out as a comedy of errors.
McKay never makes this kind of movie for no reason, and DiCaprio and Lawrence's comedic struggles to get anyone to take them seriously are a clear satire of the current climate change conversation. It may not be understated, but it's undoubtedly effective.
12. 7 Prisoners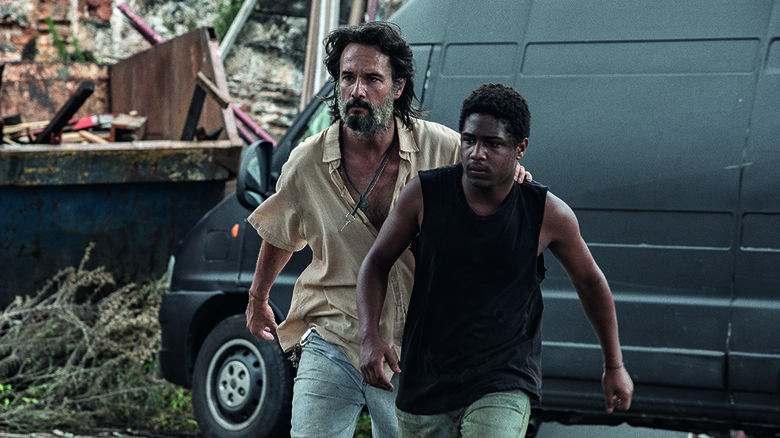 Netflix
An import from Brazil, "7 Prisoners" is a story of survival. It stars Christian Malheiros as Mateus, an 18-year-old boy who leaves his home in the countryside to work at a junkyard in São Paolo, only to become embroiled in the dangerous and heartbreaking world of human trafficking. A devastating piece of social commentary, "7 Prisoners" represents the efforts of director Alexandre Moratto to address the issues of modern slavery that currently plague Brazil and many other countries. 
The film presents Mateus with an incredibly difficult choice: He can make a bid for his own freedom with an escape attempt, but only at the cost of his family's financial wellbeing. With powerful performances from both Malheiros and Rodrigo Santoro (who "Westworld" fans may recognize as Hector) as his cruel junkyard boss, "7 Prisoners" is a timely, searing indictment of illegal and immoral working conditions in many parts of the world.
11. The White Tiger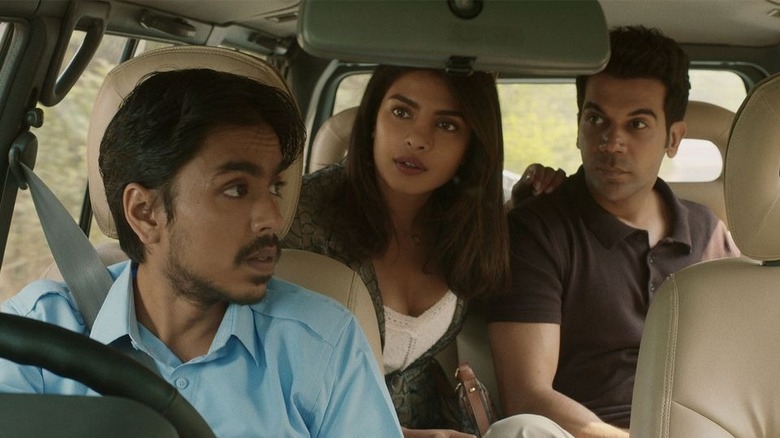 Netflix
Everyone loves a good rags-to-riches story, and "The White Tiger," set against an Indian landscape where the divide between the wealthy and the poor is a gaping chasm, certainly delivers on that. Based on a 2008 novel by Aravind Adiga, "The White Tiger" follows the life of Balram (Adarsh Gourav), an intelligent and ambitious young man who rises out of poverty via his wits alone. 
Balram begins working as a chauffeur for a wealthy family, but his Machiavellian streak quickly becomes apparent, and it isn't long before he's made himself indispensable to them. But still, Balram is never allowed to forget his place. No matter how loyal he is, it's clear that he will always be viewed as just a servant. If he wants to escape his fate, extreme measures are in order. A perfect companion piece to "Parasite," "The White Tiger" is a fascinating study of the subtle nuances of class in modern India, one that was rewarded with an Academy Award nomination for best adapted screenplay.
10. The Hand of God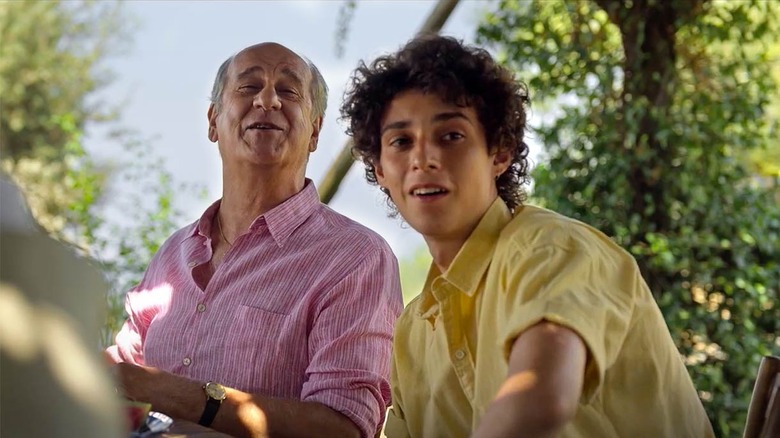 Netflix
Diego Maradona may not love "The Hand of God": It does, after all, use his name and image without asking for his permission. But for everyone else, the film is utterly charming, an introspective reflection from director Paolo Sorrentino on his own childhood. Fabie (Filippo Scotti) grows up amidst a dysfunctional but loving family in 1980s Naples, and his life is consumed by thoughts of sex, independence, and his football hero, Maradona, who is rumored to be joining their local team. 
It's a refreshing teen dramedy that doesn't feel moody or brooding, even when our lead character faces emotional turmoil. "The Hand of God" is a wistful coming-of-age story; since it draws so heavily not on the facts but the feelings of Sorrentino's teen experiences, it is unconcerned with developing a tightly-constructed narrative. This one, filmed in the warm Italian sun, is all about cultivating a breezy, laidback, yet thoughtful atmosphere.
9. Fear Street Part One: 1994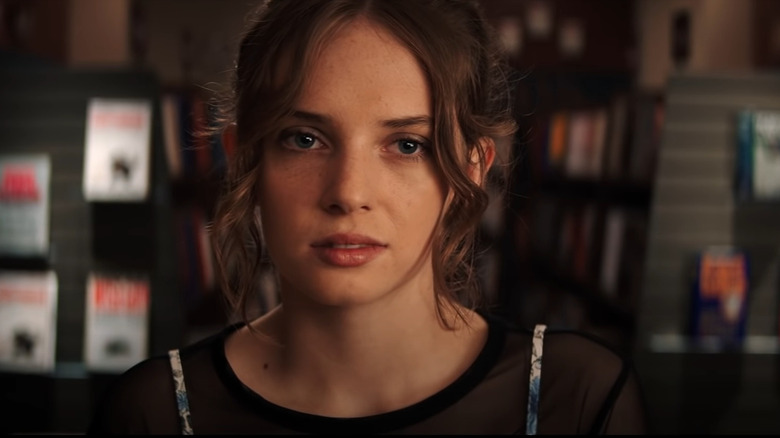 Netflix
Right in the middle of the summer, Netflix created, almost without warning, one of their most successful franchises: It released three slasher films over the course of just a few weeks, all an extension of the beloved teen novel series "Fear Street" from R. L. Stine. "Fear Street Part One: 1994" is pure 1990s nostalgia, not just for the fashions or the music, but the types of scary movies that were popular at the time. 
Our heroes live in a town called Shadyside, where bad things have been happening for centuries, and where it's pretty much a given that bad things will continue to happen into the future. After a vigil for a group of recently murdered teens and an all-out brawl with kids from the wealthy neighboring community, Sunnyvale, things only get worse. A group of teens find themselves tormented and hunted by Sarah Fier, a 17th-century witch who they believe has the power to possess people in the present and force them to do her murderous bidding. Genuine scares and some creatively violent death scenes abound, neatly setting up the stage for the next two films in the series.
8. Moxie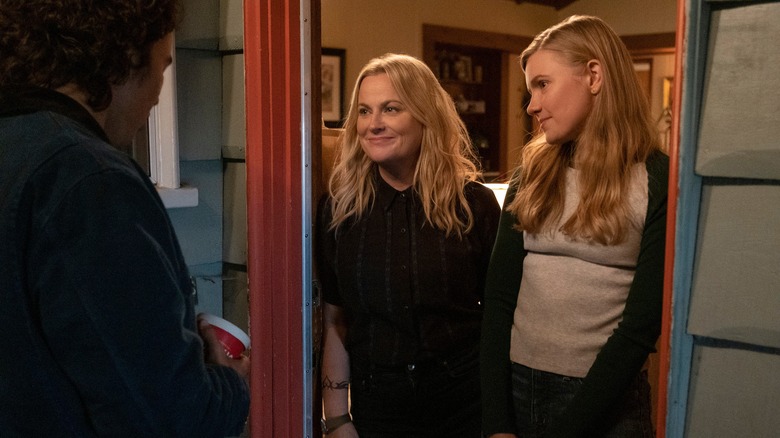 Netflix
When Amy Poehler decided to make "Moxie" her sophomore directorial effort, she was interested in a film that would explore youthful activism across multiple generations. In an interview with Vogue, she said, "As a gen-X-er, I was drawn to the nostalgia [of this story]. There's a lot here that people my age or older will remember when it comes to what activism looked like in the 1990s, and what we got right and wrong. My dream is that women watch it with their daughters."
"Moxie" stars Hadley Robinson as Vivian, a reserved high school student who slowly becomes aware of the unfair treatment of the girls at her school, and sets out to do something about it. Inspired by her mother's collection of '90s feminist zines, she decides to start Moxie, an anonymous publication that will call out the misogyny at her school. The film has its heart in the right place, and makes an effort to bridge the bonds of sisterhood so that they're not just intersectional, but intergenerational.
7. Procession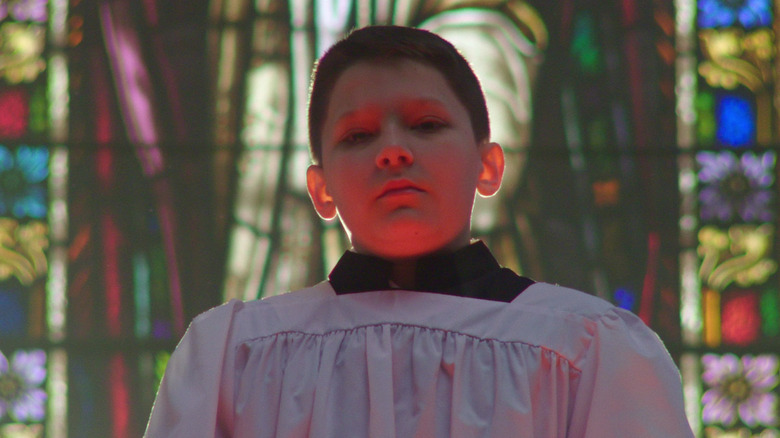 Netflix
Stories of sexual abuse within the Catholic Church have been emerging from the shadows, after decades (and probably centuries) of institutional concealment. Back in 2016, "Spotlight" won best picture at the Academy Awards for its depiction of the Boston Globe's investigation into the systemic issue of the abuse of children at the hands of Roman Catholic priests in Massachusetts. "Procession" picks up that mantle and runs with it. 
This documentary is a harrowing look at the lives of six men who were sexually abused by priests as children, and their ongoing search for some semblance of peace as adults. But rather than simply interviewing these men and having them talk about their experiences, "Procession" gives them agency and authorship over their own stories. Each man scripts a short film that speaks to his trauma; "Procession" merely weaves them together, serving as a conduit for the message rather than the message itself.
6. The Harder They Fall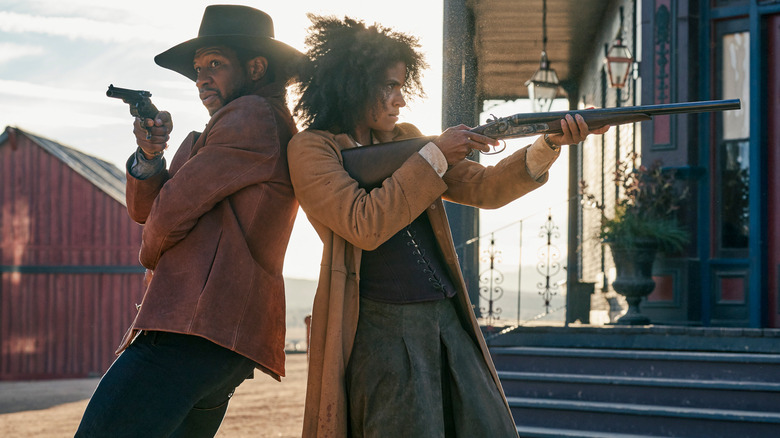 Netflix
In 2021, Netflix put quite a lot of chips on the western genre, and it seems as though it paid off. "The Harder They Fall" is one of its best, with director Jeymes Samuel creating a narrative that subverts many of the expectations we have for the typical wild west cowboy film. One of the few westerns to feature an all-Black cast, "The Harder They Fall" stars Jonathan Majors, Regina King, Delroy Lindo, Lakeith Stanfield, and Idris Elba (amongst others). 
Together, they construct a story of a jaded outlaw on a journey of revenge, determined to confront the man who killed his parents when he was a child. Grief and vengeance are not exactly uncommon themes in the traditional western, but with a remarkably talented ensemble cast who are all intensely committed to their performances, "The Harder They Fall" breathes new life into the genre.
5. Fear Street Part Two: 1978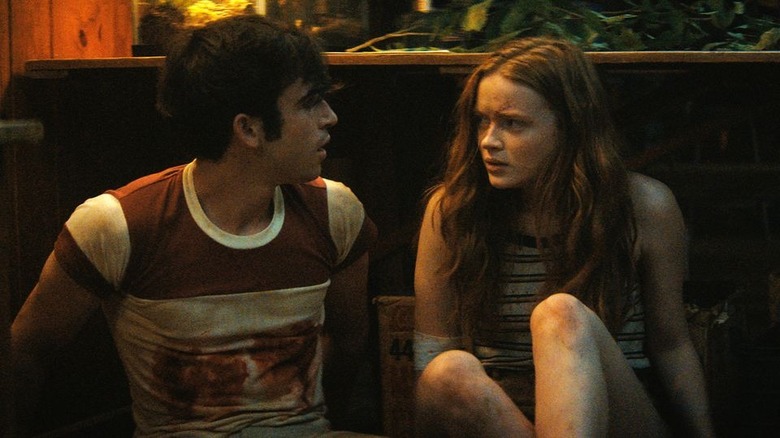 Netflix
The second in the Fear Street trilogy, "Fear Street Part Two: 1978" takes a jump back in time, exploring the tragic events at a Shadyside summer camp during the previous generation. Where "Part One: 1994" was inspired by slasher films from the 1990s, "Part Two: 1978" is a clear sendup of classic horror movies like "Friday the 13th." The twist here is that we know how this is all going to end, but we're powerless to stop the tragedy from unfolding. (Is this a reflection of the endless cycle of violence in Shadyside that perpetuates itself no matter what its residents do? Food for thought.)
Sadie Sink of "Stranger Things" fame is an incredibly competent leading lady, full of grit and determination as she fights to stay alive while a nameless terror goes on a hunting spree, cutting down counselors and campers alike. It's a genuine triumph that "Part Two: 1978" manages to maintain so much narrative tension when you think of how familiar its story is, and the fact that, since this is a flashback, the audience already has a general idea of how the violence will unfold.
4. Passing
Netflix
Throughout most of American history, light-skinned Black people were faced with a difficult decision: endure the prejudice and discrimination in a country that made life incredibly dangerous for them, or attempt to "pass" as white. This is the subject of "Passing," the directorial debut of Rebecca Hall, based on a novel by Nella Larsen. In it, Tessa Thompson stars as a Black woman in 1920s New York City who encounters a childhood friend who is not only living life as a white woman, but is married to an unabashedly bigoted white man with whom she has a child. 
Both women are convinced that their decisions reflect empowerment. Clare (Ruth Negga) has found a way to lead a life free of the racial bias that has followed her since childhood, albeit at the high cost of secrecy and the fear of being found out, while Irene (Thompson) is a pillar of the thriving Harlem community, attempting to uplift her people by improving their prospects on a wider scale. It's a nuanced, melancholy production filmed with empathy by Hall and brought to life by powerhouse performances from Thompson and Negga.
3. The Mitchells vs. the Machines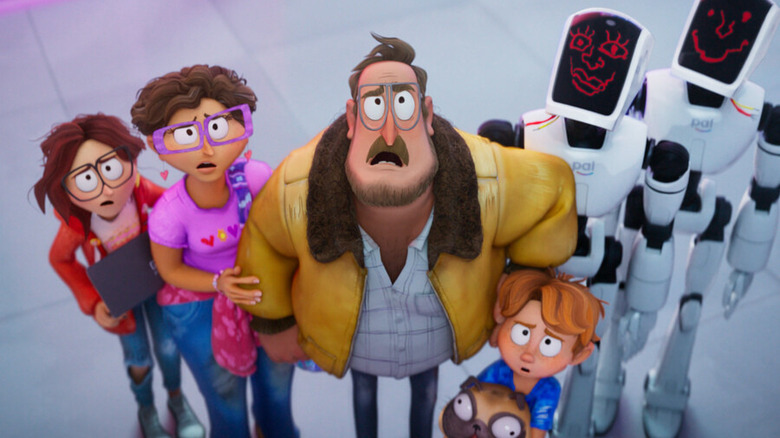 Netflix
An ode to the endlessly evolving world of technology, "The Mitchells vs. the Machines" is a frenetic lightning bolt of an animated film. The imagery is constantly in motion, including hand-drawn doodles by the lead character that are layered on top of the traditional 3D artwork, and has an eccentric style all its own.
Katie Mitchell is a budding movie director on the verge of heading off to film school when her dad, desperate for one last chance to heal their crumbling father-daughter relationship, decides to take an impromptu family road trip to drop her off at university. His plan is potentially misjudged, but gets an unexpected boost when a rogue piece of software hastens the coming of an all-out robot war, and the Mitchells must band together to stay alive. An action-packed adventure that somehow manages to feel as though it has real stakes despite its inherent silliness, "The Mitchells vs. the Machines" is a pure delight.
2. tick, tick... Boom!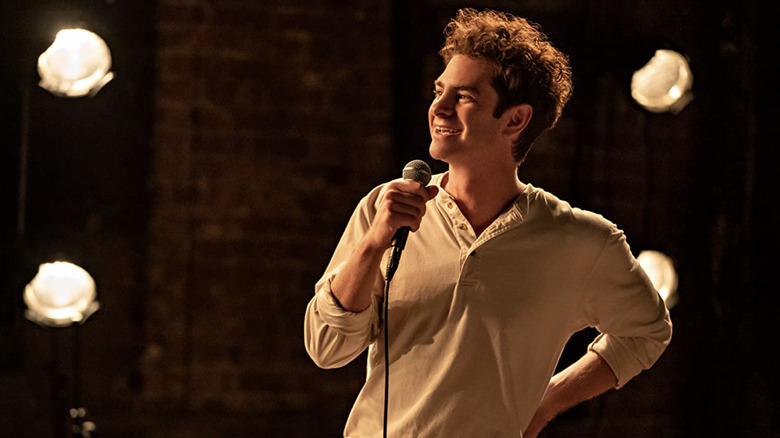 Netflix
In a year filled with movie musicals, many of which fell somewhat short of the mark, "tick, tick... Boom!" is an unexpected triumph. It stars Andrew Garfield as the famous, ill-fated playwright and composer Jonathan Larson, whose rock musical "Rent" would serve as a defining piece of American theater. But at the time that "tick, tick...Boom!" takes place, Larson hasn't written "Rent" or anything else of note. He's been working on a high-concept science-fiction musical for eight years, and is acutely aware of time slipping away as he careens closer to his 30th birthday. 
Garfield gives the performance of his career, bringing a wry sense of humor and a manic energy to Jonathan, along with vocal chops that have to be one of the more pleasant surprises of the year. The film features an incredible supporting cast that includes Robin de Jesús, Vanessa Hudgens, and Alexandra Shipp, as well as cameos from every single Broadway legend that first-time director Lin-Manuel Miranda could coerce into turning up. (Poignantly, "tick, tick... Boom!" even has brief audio of Stephen Sondheim playing himself in an answering machine message; the famous musical theater composer died just a few short weeks after the film's release.)
1. Power of the Dog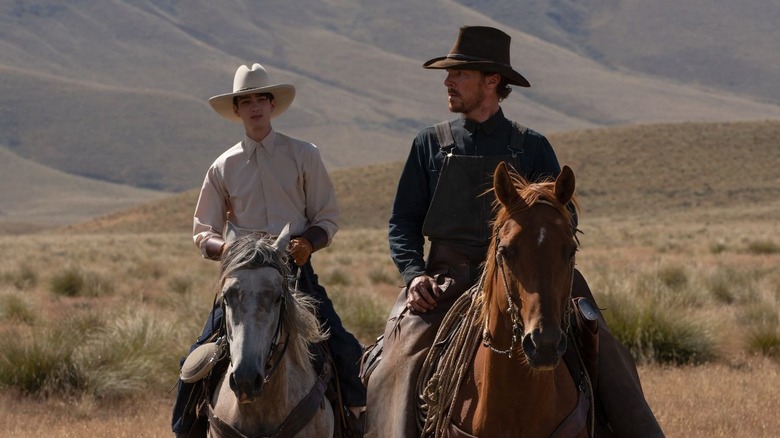 Netflix
Adapted from a novel by Thomas Savage, "Power of the Dog" is acclaimed New Zealand director Jane Campion's first film since "Bright Star" in 2009. But, if anything, Campion has been saving up her talent for "Power of the Dog," which is one of the most complex and visually arresting movies of the year. Benedict Cumberbatch and Jesse Plemons star as a pair of brothers in 1920s Montana who own a ranch together. Their relationship is tested when the mild-mannered George (Plemons) suddenly decides to get married. His new bride, Rose (Kirsten Dunst), and her teenage son, Peter (Kodi Smit-McPhee), move in, but both are made uneasy in different ways by Phil's menacing presence. 
"Power of the Dog" features Benedict Cumberbatch's best performance in quite some time. It's a rich, complex exploration of masculinity. With his dominating presence, the film is poised to be Campion's best received since "The Piano."