West Side Story Songwriter & Broadway Legend Stephen Sondheim Dies At 91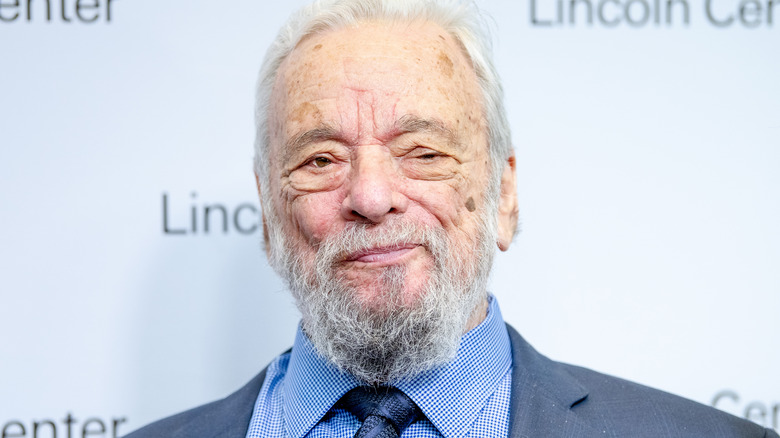 Roy Rochlin/Getty Images
The illumination of ghost lights shine a bit brighter but the sounds of a little night music play a bit quieter today, as at 91 years old, Broadway legend Stephen Sondheim has passed away. One of the most important figures of 20th-century musical theater, Sondheim is considered by many to have reinvented the American musical. He provided the lyrics for iconic shows like "West Side Story" and "Gypsy," as well as the music and lyrics for a slew of classics like "A Funny Thing Happened on the Way to the Forum," "Company," "Sweeney Todd," Merrily We Roll Along," Sunday in the Park with George," "Into the Woods," and "Assassins."
Sondheim has won a total of nine Tony Awards, including his Lifetime Achievement Tony from 2008, an Academy Award for his work on "Dick Tracy," eight Grammy Awards, a Pulitzer Prize, a Laurence Olivier Award, and a 2015 Presidential Medal of Freedom. Sondheim's name also lives on not only through his work, but also with the two theatres named for him on Broadway and the West End in London.
Trying to put into words just how important Sondheim's work has been on American culture feels like an impossible effort. How do you measure the life of the immeasurable? How do you encompass an impact larger than scale? How do you say goodbye to someone who feels omnipresent? As Sondheim himself wrote in "Anyone Can Whistle," "Sometimes you have to start small, climbing the tiniest wall. Maybe you're going to fall—but it is better than not starting at all."
'Someone Who, Like it or Not Will Want You to Share'
Stephen Sondheim's auteur work is so precise, he's become a subgenre of musical theatre unto himself. His work may not become crossover pop hits on the Top 40 charts, but they're songs that encompass Hans Christian Andersen's famous quote, "When words fail, music speaks." Sondheim's work pulls out the deeply emotional and human responses to the world around us, in all of their complicated glory. Sondheim wasn't interested in giving an entertaining distraction filled with spectacle for a few hours, but a way to tip-toe the audience into learning how to transcend the difficulties of everyday existence.
The characters and songs of Stephen Sondheim are as complicated and conflicting as the reality he's reflecting, embracing the truth that the world exists on a spectrum and not a binary, regardless if that's the easier reality to accept. His work completely changed the landscape of what was possible in American musicals, and just as his mentor Oscar Hammerstein II encouraged him to write in his own, unique style, Sondheim did the same for fellow game-changers Jonathan Larson, of "Rent" and "Tick...Tick...BOOM!" fame, and the groundbreaking Lin-Manuel Miranda. Sondheim even had a hidden voice cameo at the end of Miranda's film adaptation of "Tick...Tick...BOOM!" — a moment that now feels like a beautiful passing of the torch connecting the three legacies of musical theatre greats.
'No One Leaves For Good'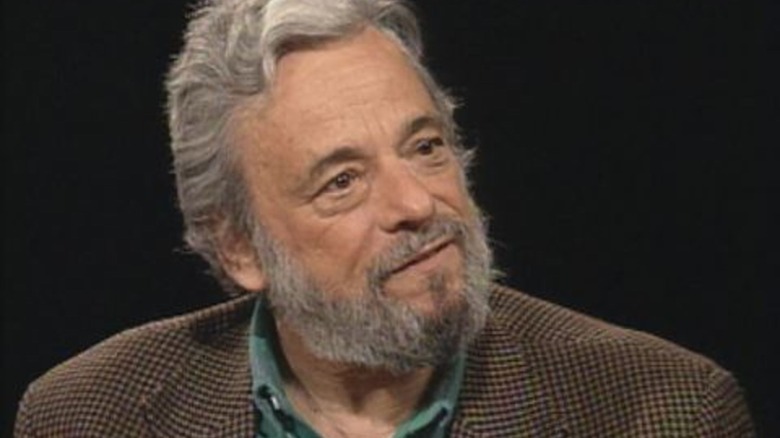 PBS
Sondheim may have left the mortal plane, but his impact, work, and brilliance remains. It's safe to assume that there will never be a mind quite like Sondheim, and the world is a genuinely better, more honest place because of his impact. Because of Stephen Sondheim, we are better at accepting the hard realities of life, and remembering to celebrate the moments that make life worth living. Because of Sondheim, we have language to help us be more empathetic, and able to view one another as whole people instead of defined by single moments. Attempting to find the appropriate words to eulogize this loss feels futile, as Sondheim's own lyrics express our communal grief better than any of us could ever attempt to explain on our own: 
"Sometimes people leave you halfway through the wood, do not let it grieve you, no one leaves for good."
Thank you, Stephen Sondheim, you giant in the sky, for being alive.