That Foo Fighters Horror Movie Studio 666 Is Definitely Real, And Here's A Sneak Peek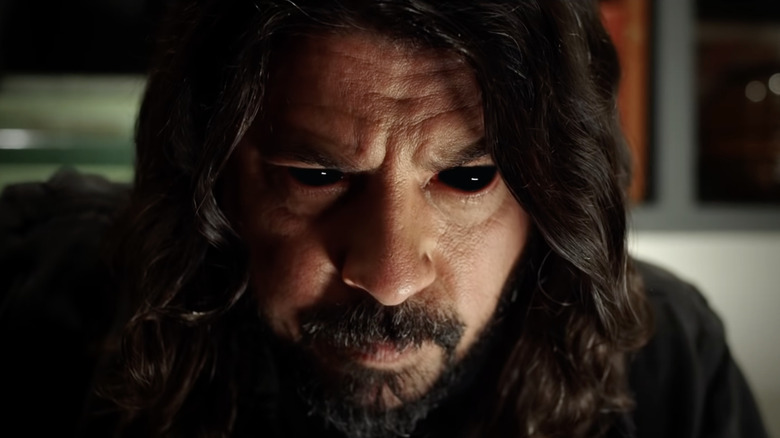 Open Road Films
If you thought Dave Grohl made a great "Beelzeboss" in "Tenacious D in the Pick of Destiny," just wait till you see his eyes go black in "Studio 666." The Foo Fighters frontman, his bandmates, and a few other familiar faces are coming your way early next year with their own horror-comedy, which sees the rockers encounter some "hilarious gore" after they move into a haunted house to record their tenth album, "Medicine at Midnight."
We've been tracking "Studio 666" for a bit, but the production of it was, in Grohl's own words, the band's "best-kept secret for two years." The Foo Fighters started recording "Medicine at Midnight" in October 2019 and the album dropped back in February of this year.
We saw a poster for "Studio 666" and heard plenty of quotes about it from Grohl and director BJ McDonnell, but now, the Foo Fighters have released a sneak peek of the movie on their official YouTube channel. The Foo Fighters accompanied the release of their eighth album, "Sonic Highways," with an HBO documentary series, but as you can see from the clip below, "Studio 666" looks to be a more goofball affair, with one part even channeling the finding of the "Book of the Dead" in Sam Raimi's "The Evil Dead."
Making a Killer Record
Yes, that's Will Forte in there, who's about to make his return to TV this month as "MacGruber." Forte is a member of the "Studio 666" cast, along with Jeff Garlin ("Curb Your Enthusiasm"), Whitney Cummings, Leslie Grossman, Jenna Ortega, and of course, Grohl and the other Foo Fighters themselves: Taylor Hawkins, Nate Mendel, Pat Smear, Chris Shiflett and Rami Jaffee.
I stood next to Hawkins, the band's drummer, backstage at a Red Hot Chili Peppers concert once, and the only reason I mention that is that there's some haunted-house lore surrounding the recording of the Chili Peppers classic 1991 album, "Blood Sugar Sex Magik." To make the music for that album, they moved into producer Rick Rubin's mansion in L.A., where there were allegedly strange goings-on, not only for them but for other artists who recorded there later like System of a Down. Radiohead also recorded their watershed 1997 album, "OK Computer," in a house that was supposedly haunted (via NME), so the Foo Fighters are drawing not only from the tradition of horror comedies — and band movies like the Beatles "Help!"— but also from the established tradition of ghostly rock and roll folklore.
Will there be the obligatory reference to Robert Johnson selling his soul to the devil at the crossroads? We'll have to wait until February to find out. Here's the synopsis for "Studio 666":
In "Studio 666," the legendary rock band Foo Fighters move into an Encino mansion steeped in grisly rock and roll history to record their much anticipated 10th album. Once in the house, Dave Grohl finds himself grappling with supernatural forces that threaten both the completion of the album and the lives of the band.
"Studio 666" is coming to theaters on February 25, 2022.