The 5 Best Stephen Sondheim Musicals Ranked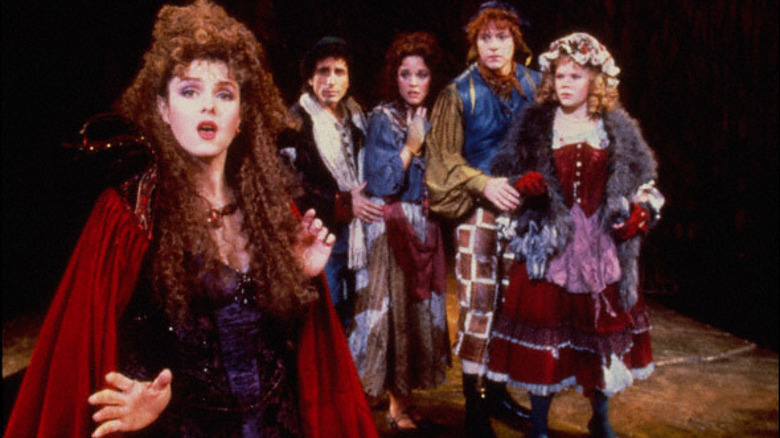 Disney
This week we said farewell to the most remarkable musical theatre composer of the 20th century, Stephen Sondheim. At 91 years old, Sondheim completely changed the landscape of what was possible to see on a Broadway stage, and enjoyed a varied career earning him eight Tony Awards (including his Lifetime Achievement Tony from 2008), an Academy Award for his work on "Dick Tracy," eight Grammy Awards, a Pulitzer Prize, a Laurence Olivier Award, and a 2015 Presidential Medal of Freedom. Sondheim's career is untouchable, but anything blessed by his hands is better because of his influence.
Trying to narrow down the monumental achievements of Stephen Sondheim into a ranked list of five musicals feels sacrilegious and downright criminal, as the correct answer to "What's the best Stephen Sondheim musical?" is "all of them." However, it is my duty as a civil servant to the world of musical theatre to present arguably his five best. To qualify, the musical has to have both music and lyrics provided by Sondheim, which excludes "West Side Story," which to be fair, is in its own category of greatness anyway. With all of that said, we humbly present Sondheim's 5 best musicals, ranked.
5. A Little Night Music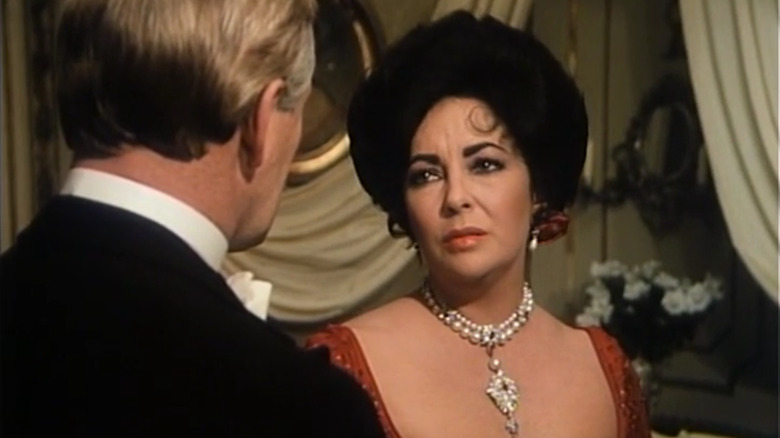 New World Pictures
Inspired by the 1955 Ingmar Bergman film "Smiles of a Summer Night," Stephen Sondheim's "A Little Night Music" is a romantic farce about the lives of several upper middle-class couples in early 20th-century Sweden, spinning a web of affairs, jealousy, suspicion, and an elegant game of sexual musical chairs. A score of three-quarter time melodies and home to "Send in the Clowns," which would become one of his most popular songs, "A Little Night Music" earned him his record-setting fourth consecutive Tony Award in 1973 for the season's best score. "A Little Night Music" is one of Sondheim's most vocally difficult productions, utilizing counterpoint and polyphony with multiple performers simultaneously singing entirely different songs. The musical was given a film adaptation in 1977 starring Elizabeth Taylor, Diana Rigg, and Lesley-Anne Down. Despite the film's less-than-stellar reviews, Sondheim wrote an entirely new version of "The Glamorous Life," which has since been incorporated into several subsequent productions of the stage musical.
4. Merrily We Roll Along
Based on the 1934 play of the same name by George S. Kaufman and Moss Hart, "Merrily We Roll Along" was for many years, one of Sondheim's most misunderstood works. Upon release, the show opened to widely negative reviews, and eventually closed after a run of 16 performances and 52 previews. After extensive rewrites, "Merrily" is now appreciated as the home of one of Sondheim's most stunning scores, with its pop sensibilities and non-linear storytelling finally acknowledged for its brilliance. The show follows Franklin Shepard, a rich, famous, and influential songwriter and film producer. Throughout the course of the musical, we watch in reverse chronological order the last 20 years of his life, and see how he went from penniless composer to wealthy producer, and the friendships of Charley and Mary that he tossed aside in favor of a career. Following the achievement of "Boyhood," Richard Linklater has dedicated the next 20 years to directing a film adaptation featuring Blake Jenner, Ben Platt, and Beanie Feldstein.
3. Company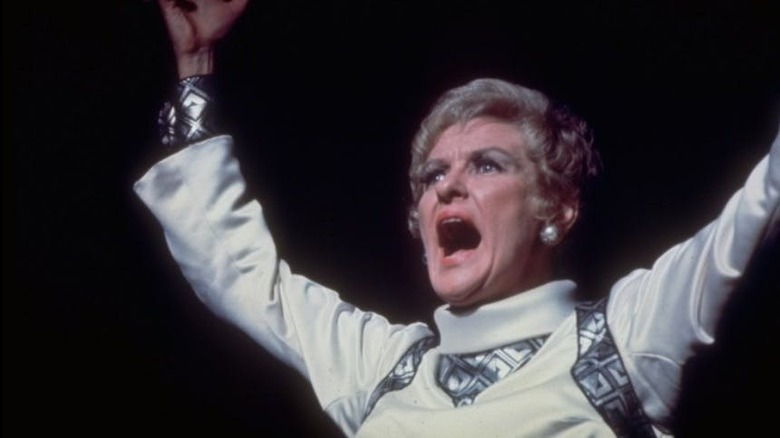 Criterion
Nominated for an at the time record-setting 14 Tony Awards and winning six, "Company" is one of Sondheim's most enduring works, and the song "Being Alive" has become synonymous with Sondheim's legacy. The show itself is minimal in plot, but incorporates incredible songs and stories about a single man, his five married friends and their spouses, and his three girlfriends. "Company" is what solidified Sondheim's legacy, and Criterion recently restored and released D. A. Pennebaker's "Original Cast Recording: Company," a behind-the-scenes look at the recording of the original Broadway cast album featuring Elaine Stritch's show-stopping rendition of "Ladies Who Lunch" and moments of Sondheim offering music direction which now feel invaluable and will absolutely make you cry.
2. Into The Woods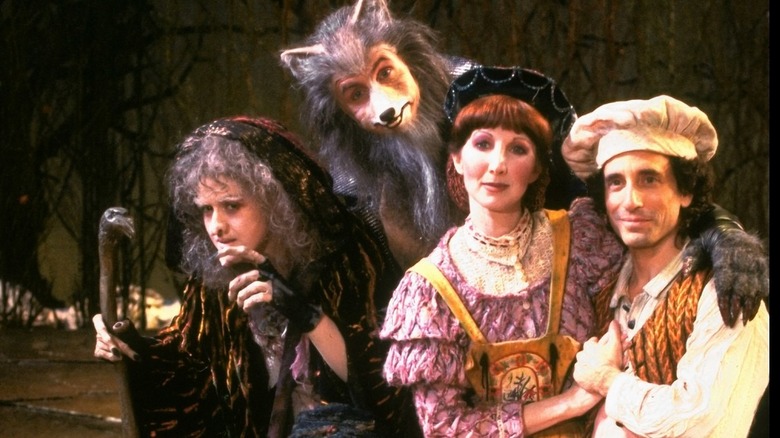 Disney
Fairy tales have been omnipresent since we began writing our stories down, which is probably why "Into The Woods" is one of his biggest commercial success stories, and one of his most beloved. A collection of popular characters like Cinderella, Little Red Riding Hood, Prince Charming, Jack (of the beanstalk), and the Witch, "Into The Woods" provides some of Sondheim's most accessible music, and some of his deepest. The song "No One is Alone," in particular, the rendition from Bernadette Peters, is on the shortlist of songs that will instantly make me cry no matter what. The 2014 film is a crime against Sondheim's work (sorry, Meryl) if only for putting James Corden in as The Baker, but we somehow appeased the musical theater gods enough to get a filmed recording of the 1987 Broadway production, and we are forever grateful.
1. Sweeney Todd: The Demon Barber of Fleet Street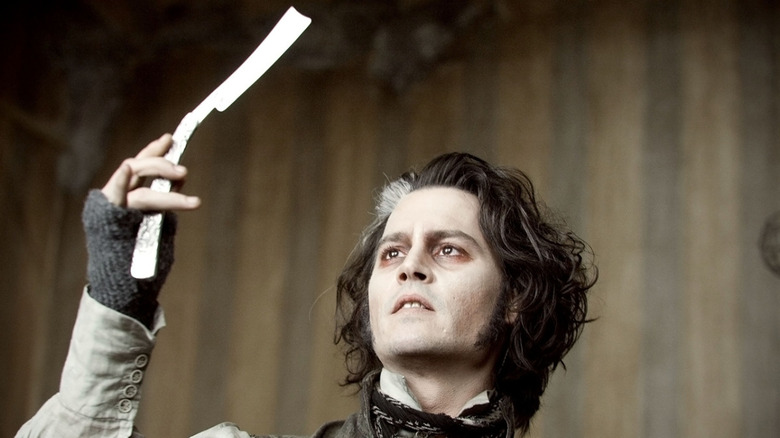 Paramount Pictures
Most people are only aware of "Sweeney Todd: The Demon Barber of Fleet Street" thanks to Tim Burton's 2007 film of the same name with Johnny Depp and Helena Bonham Carter, but the music is Sondheim's greatest production. The music is dark, bold, melodic, and breathtaking. The original 1979 Broadway production won eight Tony Awards including Best Musical, and the show has continually proved to be one of the most popular productions across the globe. Eighty percent of the show is sung, and Sondheim's music underscores almost every single moment in an homage to 20th-century composer Bernard Herrmann's who composed underscores for melodramatic films in the 1940s and 1950s. Complicated and beautiful as it swirls around the darkest themes of his career (except for maybe "Assassins"), "Sweeney Todd" is Sondheim's masterpiece.