Daily Podcast: Eternals Spoiler Discussion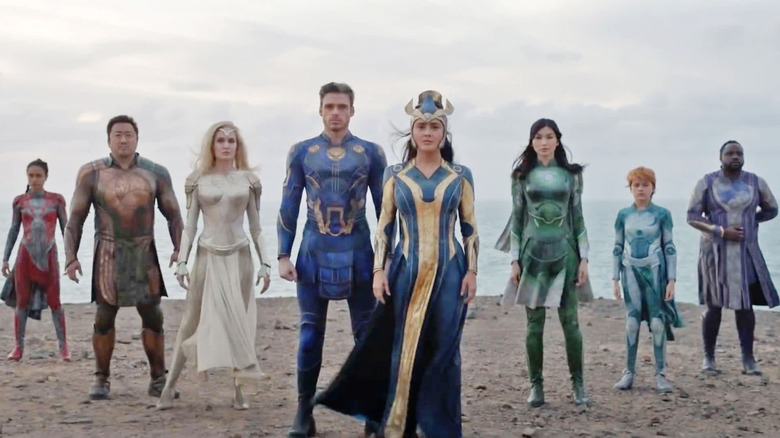 Marvel
On the November 10, 2021 episode of /Film Daily, /Film editorial director Peter Sciretta is joined by senior writer Brad Oman to have a spoiler discussion about Marvel's Eternals.
Opening Banter:
In The Spoiler Room: Eternals
Reactions:
The Twist:

"the Eternals have learned that they're actually humanoid creations used by the Celestials to harvest the population of planets by keeping Deviants (also created by Celestials) at bay to allow enough energy to be created in order for a Celestial to be born out of a planet's destruction."

War -> Tech

Why didn't they try to stop thanos? / Thanos was actually saving humanity

The Ending:

"Sersi, Kingo, and Phastos will stay on Earth to protect it, and Sprite has been granted mortality by Sersi's newfound abilities. But at the end of the film, Arishem appears above Earth and summons Sersi, Kingo, and Phastos to answer for their betrayal. Meanwhile, Thena, Makkari, and Druig head off in their ship, the Domo, to spread the word to the other Eternals"

Mid Credits Scene

Who is Pip The Troll?

But Isn't Patton Oswalt already MODOK?

Who is Starfox?

Danielle: This Is How Thanos Is Connected To The Eternals

Post Credits Scene :

Brad: Marvel's Eternals Post-Credits Scene Almost Featured An Avenger

Who is Black Knight?

What is the Ebony Blade?

Why Blade?

Sequels:
Also mentioned:
All the other stuff you need to know:
You can find more about all the stories we mentioned on today's show at slashfilm.com, and linked inside the show notes.
/Film Daily is published every weekday, bringing you the most exciting news from the world of movies and television as well as deeper dives into the great features from slashfilm.com.

You can subscribe to /Film Daily on Apple Podcasts, Google Podcasts, Overcast, Spotify and all the popular podcast apps (RSS).

Send your feedback, questions, comments and concerns to us at peter@slashfilm.com. Please leave your name and general geographic location in case we mention the e-mail on the air.

Please rate and review the podcast on Apple Podcasts, tell your friends and spread the word!

Thanks to Sam Hume for our logo.