Eternals Star Salma Hayek Reveals She's Signed On For Multiple Marvel Movies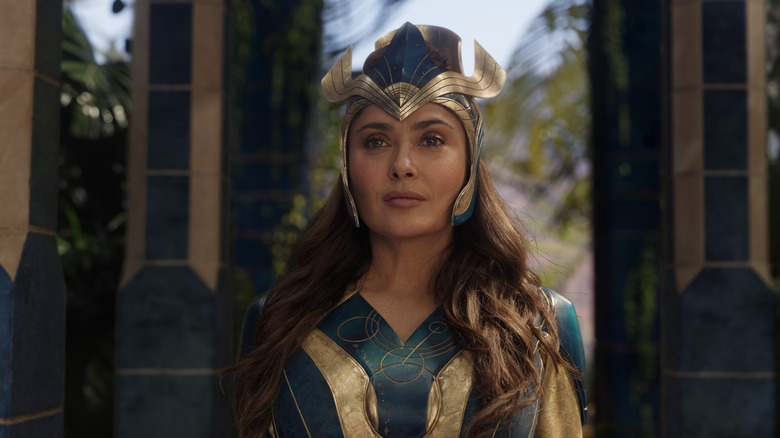 Marvel Studios
Whether or not "Eternals" gets a sequel seems to be irrelevant, as Salma Hayek has revealed that she has signed on for multiple movies. Hayek, who plays Ajak in the latest Marvel Cinematic Universe adventure, has confirmed that, much like most other stars who join the franchise, she signed a multi-picture deal. As for when we'll see Ajak next? That's the big question.
The "Hitman's Bodyguard" and "Beatriz at Dinner" star recently guested on the "Smallzy's Celebrity Small Talk" podcast while promoting "Eternals," which finally hit theaters over the weekend. During the conversation, Hayek revealed that she's signed on for more than one movie, though the exact number is left mysterious. Says Hayek:
"I did sign multiple movie deals! It was kind of fun being part of this... secret society that you have to protect so fearlessly!"
This is indeed an interesting development, for various reasons. For one, it's no secret that director Chloe Zhao's MCU entry has been critically divisive. What that means for a possible "Eternals 2," especially given the reasonably strong early box office numbers, is anyone's guess at this point. But the MCU is a unique beast and the lack of a sequel in a specific franchise does not preclude heroes or villains from appearing elsewhere.
Ajak's MCU Future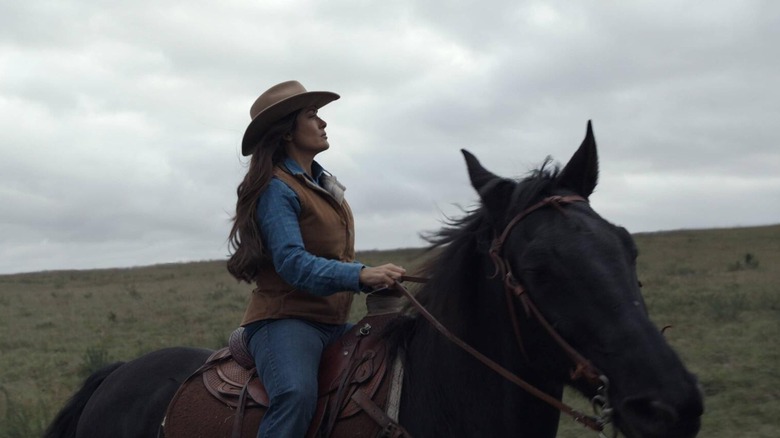 Marvel Studios
The MCU is predicated on the idea of crossovers between individual franchises. So we could well see Ajak — or any other members of Marvel's latest superhero team — show up in other movies. As for where or when that might happen? "Eternals" offered some big clues as it relates to this character, specifically.
This will involve talking about major spoilers for "Eternals." That's your warning. 
Early in the movie, we discover that Ajak is dead, and almost all of her scenes in the movie are flashbacks. Given that the Eternals have been around for thousands of years, this leads us to believe that if Hayek returns in another movie, it will be in the distant past. That could serve as an opportunity to explore much of the MCU history that has been left mysterious up to this point. Will we see more of ancient Earth? More history of the cosmic side of the MCU through Ajak's eyes? It's certainly possible.
There are plenty of places Ajak or other characters from this could show up, given how packed Phase 4 of the MCU is. "Spider-Man: No Way Home," "Doctor Strange In the Multiverse of Madness," "Thor: Love and Thunder," "Black Panther: Wakanda Forever," "The Marvels," "Blade," "Ant-Man and the Wasp: Quantumania," and "Fantastic Four" are all on deck. Not to mention the many MCU shows currently in the works for Disney+. Place your bets.
"Eternals" is in theaters now.
Marvel Studios' Eternals features an exciting new team of Super Heroes in the Marvel Cinematic Universe, ancient aliens who have been living on Earth in secret for thousands of years. Following the events of Avengers: Endgame, an unexpected tragedy forces them out of the shadows to reunite against mankind's most ancient enemy, the Deviants.