Chloe Zhao Pitched That Eternals Credits Character Reveal With The Actor Already In Mind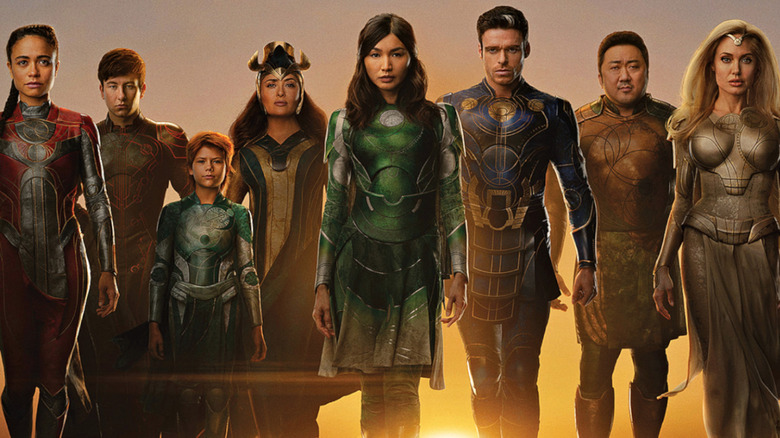 Walt Disney Pictures / Marvel Studios
Chloe Zhao was tapped to helm Marvel's "Eternals" weeks before she began production on "Nomadland," the film that would win her an Academy Award. The director behind the tender 2017 Western "The Rider" won acclaim when that film premiered at the Cannes Film Festival, and the buzz followed through on her next projects. So from the onset, we knew the significance of Zhao's involvement. Sure enough, she created a wildly ambitious and thoroughly divisive Marvel film, where cosmic madness and intimate stylings collide. However you feel about "Eternals," Zhao's influence on the final product is undeniable and more than a little intriguing.
With the film finally playing in theaters, she has the chance to share some insight on the process behind some of her major decisions. And what tends to dominate conversation when a Marvel movie finally arrives? The question of what comes next. With her mid-credits scene, Zhao hints towards the next chapter in the MCU and invites a big star along for the ride. So what prompted this casting choice? Thankfully, she's happy to share the answer.
Thai is your warning — massive spoilers for "Eternals" lie ahead.
Eros and Harry Styles, A Package Deal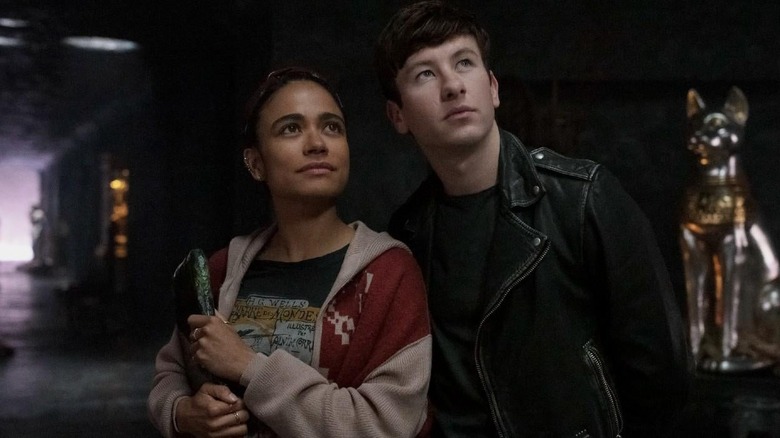 Walt Disney Pictures / Marvel Studios
The "Eternals" mid-credits scene directly follows up on the ending of the film. Thena (Angelina Jolie), Makkari (Lauren Ridloff), and Druig (Barry Keoghan) are on their way to alert other Eternals of the Celestials' deception and free them from the monstrous cycle of destroying worlds. But before pursuing that mission, they wonder what's become of the other Eternals back on earth. And then a new Eternal emerges from a mysterious portal.
Alongside Pip the Troll (voiced by Patton Oswalt) is newcomer Starfox, aka Eros, aka One Direction alum Harry Styles. What an inspired choice this was — having the massively popular pop star play a comic character known for being an easygoing ladies man. So where did this genius idea come from, you ask? None other than the visionary herself, Chloe Zhao.
For Zhao, the character of Eros and Harry Styles were a package deal. She told Variety, "The idea of Eros and Harry came to me at the same time." She pitched the idea of Eros with Styles already in mind, the perfect embodiment of the character. "It wasn't like I created this character and I think about different people [to cast]." Without Styles onboard, Eros simply wouldn't be in the film.
Styles has been on her radar since making his feature film debut in Christopher Nolan"s "Dunkirk," with Zhao adding:
"I kept tabs on Harry since Dunkirk, I thought he was very interesting. After meeting him I realized that he is the character — the same way I cast the rest of my cast."
Welcome Eros to the MCU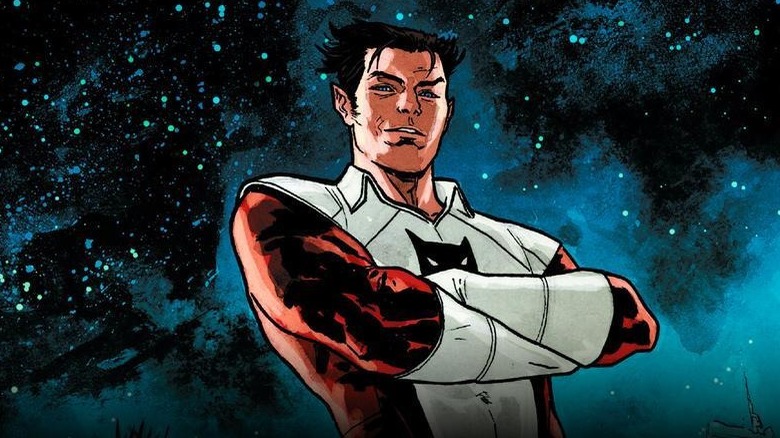 Marvel Comics
According to Zhao, it didn't take much convincing to get Styles onboard. He was even game to play along with all the required Marvel secret measures: his scene was filmed in a single day, and Styles had to hide his face in a hoodie while walking to and from set. Given his days in one of the world's most popular boybands, and his current status as a worldwide heartthrob, this probably doesn't even make his top 10 wildest stories of hiding from paparazzi. And though rumors of Styles as Starfox have been around since 2019, it's pretty impressive that the secret remained kept for so long.
Given his intriguing introduction, Eros has an exciting future in the MCU. Three cheers for more Harry Styles on the big screen! In addition to whatever he does next with the Marvel, Styles has a number of other big roles in the works. He's a major player in Olivia Wilde's psychological thriller, "Don't Worry Darling" and he also stars in the upcoming romantic drama from Michel Grandage titled "My Policeman." Zhao said:
"Seeing his career, where he's going, what he's representing, him as an individual — he's very interesting, unique. And I thought that is Eros. That's that character. He just happened to be Thanos' brother. I had this whole thing made up in my head, what their backstory is. I just was very, very excited when Kevin [went], 'Let's do it.'"
Eros is a pretty chill dude in the comics. Contrary to everything we know about his brother, he's a nonchalant, easygoing ladies man with no aspirations of mass genocide. Now, he's made some very powerful friends in the Eternals and hasn't even gotten the chance to show off his own powers. So we'll have to keep our eyes peeled for the next MCU Styles appearance, lest he find a thicker hoodie to hide behind.
"Eternals" is now playing in theaters.