Anya Taylor-Joy Landed The Role Of Furiosa By Auditioning With An Iconic Movie Monologue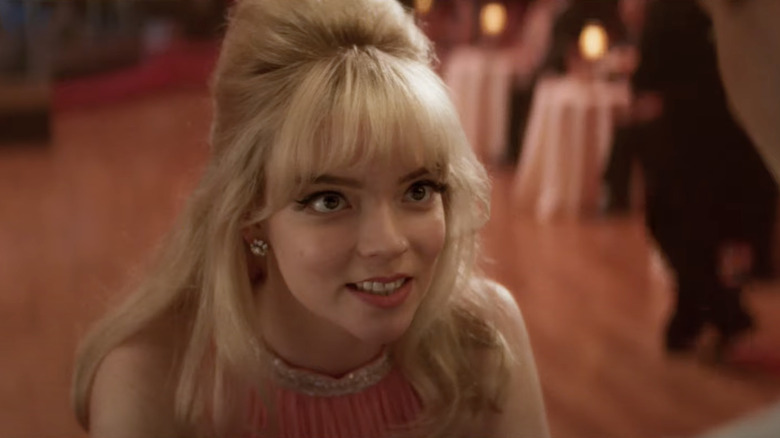 Focus Features
Ana Taylor-Joy has a new movie opening in theaters this weekend, "Last Night in Soho," directed and co-written by Edgar Wright. "Mad Max: Fury Road" director George Miller had a chance to view an early cut of the film before the general public, and apparently he was so impressed by Taylor-Joy's performance (the first of hers he had ever seen) that he decided to approach her for the role of Furiosa in his "Fury Road" prequel.
She still had to audition for the part remotely, and that's where things get interesting. In an interview with Empire (by way of Indiewire), Miller revealed that he tasked Taylor-Joy with performing the famous "I'm mad as hell" speech from Sidney Lumet's "Network" for her audition. He explained:
"I said to her, 'I'd like you to do a very simple test, which is read something to camera.' And it was the speech from 'Network.' The 'I'm mad as hell' speech. Apart from the brilliance of the writing, it's a piece that can be done to camera. It doesn't need an acting partner. Anya did one version, which was really good. Then I gave her just a couple of simple notes about intention and she just absolutely nailed [it]. I think it was done on an iPhone. 

"I sent it to the studio. I explained why I thought she was right for the role. I said I was really happy to talk about it but it was so persuasive that we didn't need to talk. The studio said, 'Tick.' "
Mad as Max
In the clip above, you can see the scene that Miller asked Taylor-Joy to perform. It features Peter Finch in character as anchorman Howard Beale, giving an extended monologue on camera in front of a live studio audience. Finch died shortly after the release of "Network," but his performance was so strong that it earned him a posthumous Oscar for best actor.
Bryan Cranston also played the role of Howard Beale in a London stage adaptation of "Network," so other actors have taken a stab at the same material before, but it speaks to Taylor's talent that she was able to adjust her performance to Miller's direction and nail such an iconic scene — on an iPhone, no less — thereby winning the role of Furiosa.
Charlize Theron obviously leaves some big shoes to fill, too. As the older version of Furiosa, she was arguably the real star of "Fury Road" — a one-armed Imperator who was as mad as Max and not going to take it anymore, so to speak. It will be interesting to see how Taylor-Joy approaches the character and whether she will align her performance with Theron's in any way to keep up Furiosa's established movie personality.
"Furiosa" recently has its release date postponed and is scheduled to go into production next year.