Last Night In Soho Review: Edgar Wright Evolves, If Not Improves, His Familiar Form [Venice 2021]
Take the anti-nostalgic magical realism of "Midnight in Paris," fuse it with the feminine psychodrama of Ingmar Bergman's "Persona," then dip it in a giallo horror color palette. The result would be something like Edgar Wright's new action thriller "Last Night in Soho."
The British filmmaker tends to riff on the conventions of a single genre or style for each film, exploding and subverting them with his boundless creativity and vast knowledge of the form. Here, Wright pushes his own craft by hybridizing formats and delving more profoundly into thematic territory than any film since "Hot Fuzz." He's out of his comfort zone but not out of his range. "Last Night in Soho" might lack some of the polish and pizzaz that made the director shoot to cult stardom, but it's undeniably exciting and encouraging to see Wright taking a calculated risk away from his established brand.
Wright's First Female-Led Story
Beyond the style and into the substance, "Last Night in Soho" features a big first for Wright – a female lead character. (For anyone worried about that dynamic, it certainly helps that he brought along Krysty Wilson-Cairns (1917) to help adapt his story into a screenplay.) Thomasin McKenzie's small-town girl Eloise pursues her dreams as a fashion designer in the big city of London. She instantly feels out-of-step with her contemporaries in university, instead finding inspiration in the city's Soho region – a bastion of high culture in the chic '60s.
The connection grows even stronger when, mysteriously, she's able to access the time period as a mirror image of Anya Taylor-Joy's bombshell ingenue Sandy. Thankfully , Wright does not waste any energy delving into the mechanics of the story's central conceit. He trusts the audience to see and then feel it before needing to understand the nuts and bolts. The device works just as potently in a thematic way, too, literalizing the feedback loop that is seeing oneself in cultural imagery. People both observe their reflections in this portal and shape their sense of self in order to more closely approximate the image they see fed back to them.
Eloise, ever an observer of surfaces and textures, begins to emulate what she sees in the alluring figure on the other side of the mirror. Even as Sandy disappears into a dreamlike state when she tries to make contact, Eloise does her best to bring her into the present day by appropriating her hair, wardrobe, and demeanor. But things start to get really interesting when she burrows deeper into Sandy's milieu beyond the shiny surfaces of London's swinging sixties. Eloise discovers a seedier side of the city, one driven by submerged sexual exploitation represented most visibly by Matt Smith's slick Jack. Unfortunately for her, she can no longer compartmentalize this behind the mirror as it begins to bleed indistinguishably into her own experience of thinly veiled predatory and unsolicited advances.
A Challenge to Nostalgia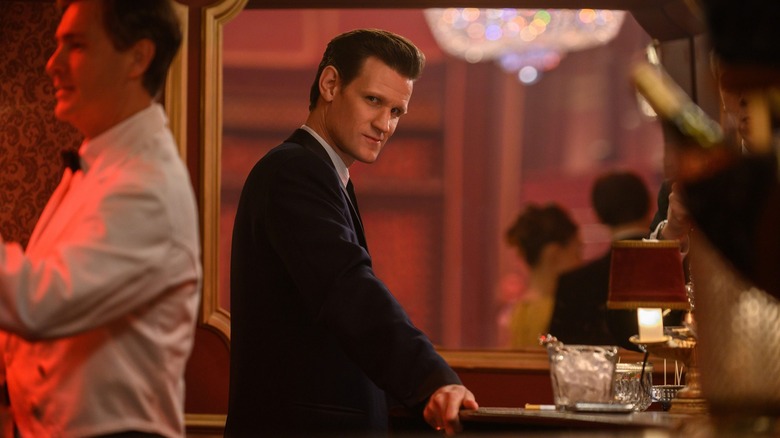 Edgar Wright is hardly a notorious nostalgist; his appreciation of culture high and low serves as a source of reference, not a fountain of reverence. "Last Night in Soho" features no shortage of allusions to his cinematic inspirations, yet they prove far more muted than usual. Whereas kinetic callbacks to other movies often are the story of Wright's other works, they exist more in the background here to help set the mood for the story.
The decision is not just an artistic straightjacket for Wright. Instead, it helps match the form of "Last Night in Soho" to its content. Wright does not wow the audience with his usually conspicuous deployment of stylistic signifiers because he's interrogating the impulse behind drawing meaning from those sources in the first place. Nevermind that he's often positioning himself ironically distant from his points of reference – Wright makes a powerful messenger for the need to recalibrate one's relationship to culture. Visions of the past, be they cultural or historical, must encourage one toward a positive present rather than subsuming reality altogether.
A Bit Uneven, But Still Uniquely Edgar Wright
The film does get a little dicey on execution as it takes some turns in later acts, ones that Wright warned early viewers not to remotely spoil for future audiences. (Nevermind that such an insistence makes it easier to spot the twists given how it puts viewers on even higher alert.) Yet one area where it does stay quite riveting and relevant throughout is as a ghost story. Literally, to some extent, but also figuratively. Wright recognizes the way in which the past continues its stranglehold over the present not through the undead but via the living – both those who survive without heeding any lessons and those who came of age internalizing a retrograde logic.
The film does sputter a bit when it's playing solely on Eloise's psychological terrain. It's wading in some uneasy waters when the driving question of the story is whether the protagonist is or isn't crazy. Wright doesn't demonstrate the same comfort in grappling with the thorniness of mental health as he does with the eccentricities of culture. The same also applies to the film's depiction of gender politics and rape culture.
It's a bit unfortunate that Thomasin McKenzie is so constrained by the conventions of the genre — namely, hysterics — that Wright cannot utilize her real strengths as a performer. (Unlike Anya Taylor-Joy, who gets to sizzle and smolder in the way that has made her one of the most exciting rising stars in the business.) In films as disparate as "Leave No Trace" and "The King," she dazzled with a stunning command of interiority for such a young performer. While always a believable and compelling presence in "Last Night in Soho," this over-the-top emoting is significantly less effective than roles where she's given the chance to quietly slip into the skin of a character.
But then again, Wright's movies have never really placed characters and their psychology at the center. Arguably, Edgar Wright is the pivotal figure in the films he directs, given the way he makes his presence unavoidable with ever-present visual flourishes. There's still some room to grow on character development, although he shows remarkable artistic development by subsuming himself within sleight-of-hand and other sly cinematic tricks.
"Last Night in Soho," with all its warts and wonders, shows you can teach an old dog some new tricks. Wright shows he still hasn't hit his ceiling as a filmmaker, but's heartening to see him stretch and reach rather than just keeping his artistic ambitions planted on the floor.
/Film rating: 7.5 out of 10