Daily Podcast: Spoiler Etiquette For Movie Critics/Journalists, Rust's Accidental On-Set Death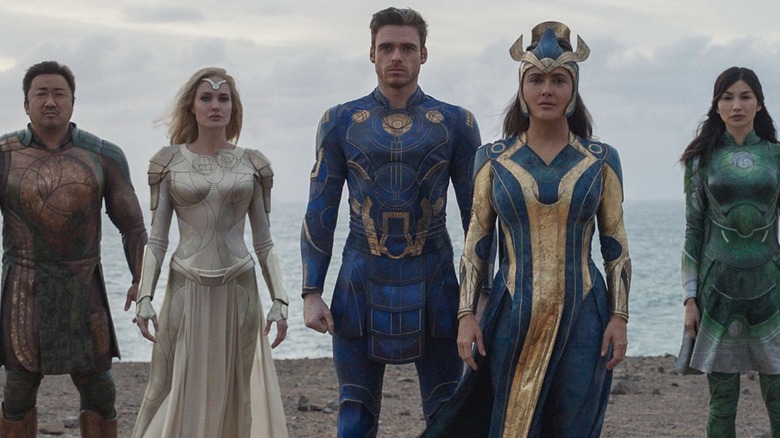 Marvel
On the October 22, 2021 episode of /Film Daily, /Film editorial director Peter Sciretta is joined by senior writer Ben Pearson to talk about the latest film and TV news, including Rust's on-set accidental death, "Nightmare on Elm Street," and spoiler etiquette for movie critics.
In the News:
In The Mailbag:
Michael O from Nashville TN writes in "Hey Peter! Big fan of the podcast. I was kinda shocked yesterday that you guys didn't cover what I thought to be the biggest story coming out of the Eternals premiere. And no, I'm not talking about the spoiler, but I'm talking about the ones who spoiled! I couldn't believe that some reporters were openly talking about the events of the post credits scene. Is this... allowed? Based on your lack of comment, I have to assume there's either some journalistic loyalty or maybe this is more normal than I would expect. Will there be consequences for the spoilers? Doesn't that hurt his job? Or am I over blowing everything!! I don't know what to think but I'm still frustrated and I'm hoping you guys can break this down for me."
All the other stuff you need to know:
You can find more about all the stories we mentioned on today's show at slashfilm.com, and linked inside the show notes.
/Film Daily is published every weekday, bringing you the most exciting news from the world of movies and television as well as deeper dives into the great features from slashfilm.com.

You can subscribe to /Film Daily on Apple Podcasts, Google Podcasts, Overcast, Spotify and all the popular podcast apps (RSS).

Send your feedback, questions, comments and concerns to us at peter@slashfilm.com. Please leave your name and general geographic location in case we mention the e-mail on the air.

Please rate and review the podcast on Apple Podcasts, tell your friends and spread the word!

Thanks to Sam Hume for our logo.