Cowboy Bebop Season 1: Release Date, Cast, And More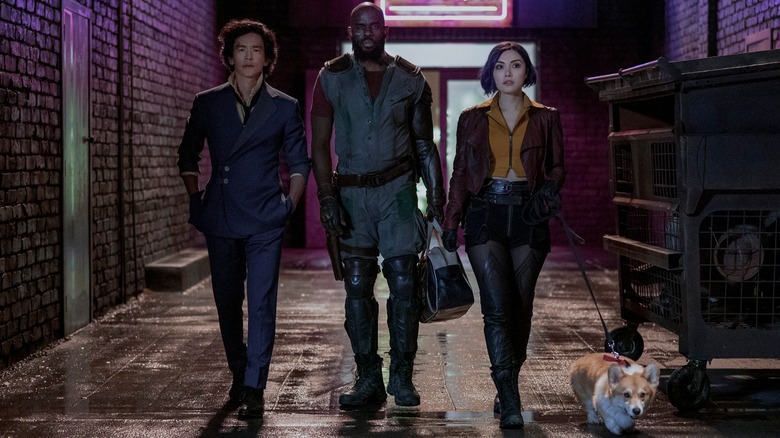 Netflix
(Welcome to ...And More, our no-frills, zero B.S. guide to when and where you can watch upcoming movies and shows, and everything else you could possibly stand to know.)
Anime fans, rejoice! "Cowboy Bebop," the classic science-fiction neo-noir anime series, has garnered worldwide acclaim in the years since its initial run from 1998 to 1999. The property's legion of admirers have made it clear that any live-action adaptation would have a tall task ahead of it, but Netflix is tackling that challenge head-on. So far, the talent involved and the obvious care put into this project have made the results look promising. With the newest adaptation set to release in the coming weeks, we've rounded up every relevant detail for your reading pleasure. Check out everything you need to know about "Cowboy Bebop" below.
Cowboy Bebop Release Date and Where To Watch It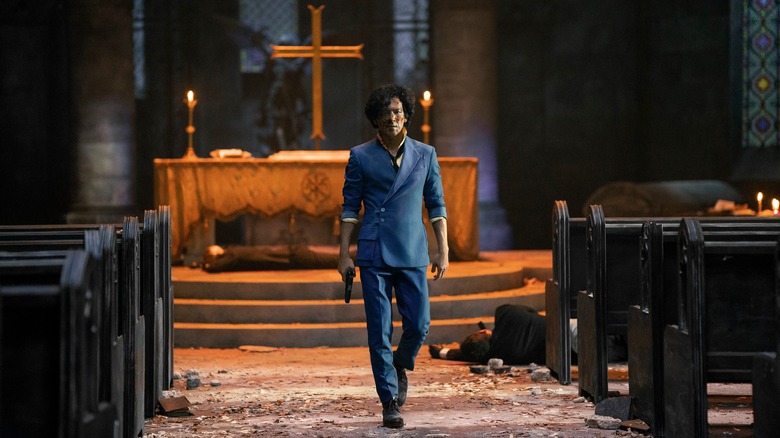 Netflix
"Cowboy Bebop" streams on Netflix on November 19, 2021. The live action series was first announced in June of 2017, at which point Tomorrow Studios was first set to develop the project through a partnership with ITV Studios and Marty Adelstein. It is also executive produced by Sunrise Inc., the Japanese animation studio that was behind the original anime series. A little over a year later, Netflix announced that it would distribute the highly-anticipated series through its streaming service.
What Is Cowboy Bebop?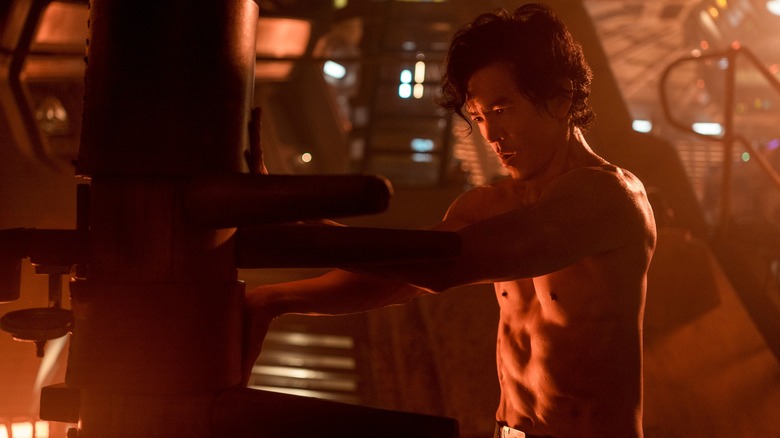 Netflix
I'll go ahead and assume this question comes with a disclaimer of "besides an excuse for John Cho to remove his shirt." Netflix's "Cowboy Bebop" is a live-action adaptation of the beloved anime series of the same name. It originally ran for 26 total episodes in the late '90a and almost singlehandedly introduced anime to a whole new generation of Western audiences. Previous adaptations include two manga series, as well as a feature film. The Netflix series will consist of 10 episodes overall, though we previously reported that plans for a second season were already in early stages of development.
Cowboy Bebop Showrunner, Crew, and More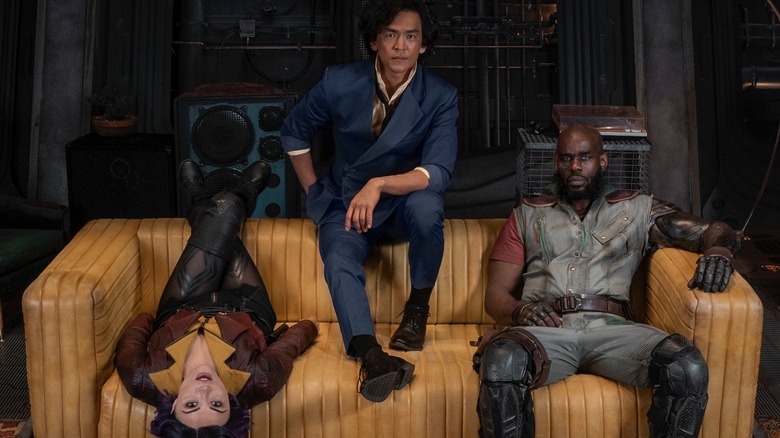 Netflix
The live-action "Cowboy Bebop" series was developed by André Nemec ("Alias," "Mission: Impossible – Ghost Protocol," "Teenage Mutant Ninja Turtles"), who also serves as showrunner and executive producer. He previously talked about staying true to the spirit of the original while adding new elements as he dug deeper into the characters. As he put it,
"I promise we will never take the original anime away from the purists. It will always exist out there. But I'm very excited about the stories that we're telling. I believe we've done a really nice job of not violating the canon in any direction but merely offering some extra glimpses into the world that was already created."
"We got under the skin of who the live-action characters were going to be. I think that the poetic nature of the anime absolutely allowed for us to mine the archetypal nature of the characters and dig out deeper histories that we wanted to explore — and answer some of the questions that the anime leaves you with. I think to just redo the anime will leave an audience hungry for something that they already saw. The anime did an amazing job. We don't need to serve the exact same meal. I think it would have been disappointing if we did."
The series is also written by film, animation, and comic book writer Christopher Yost, who is known for his previous work on the TV series "Teenage Mutant Ninja Turtles" and "Iron Man: Armored Adventures," "Thor: Ragnarok," and "Star Wars Rebels." In terms of familiar faces, original series director Shinichiro Watanabe has joined as a consultant and original anime composer Yoko Kanno will also return to work on the soundtrack.
Cowboy Bebop Cast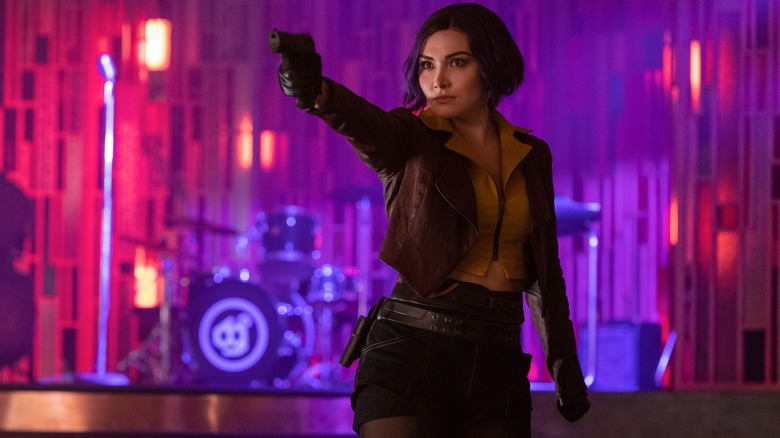 Netflix
John Cho leads the cast of "Cowboy Bebop" as Spike Spiegel, the bounty hunter protagonist of the original series. Netflix has described the character as "an impossibly cool 'cowboy' (bounty hunter) with a deadly smile, a wry wit, and style to spare. He travels the solar system with his ex-cop partner, Jet, pursuing the future's most dangerous bounties with a combination of charm, charisma — and deadly Jeet Kune Do."
Mustafa Shakir plays Jet Black, "one of the few honest cops in the solar system before an ultimate betrayal robbed him of all that he loved, forcing him into a vagabond life of hunting bounties to put food on the table. Jet is an inveterate jazz enthusiast and Captain of the Bebop." Danielle Pineda portrays Faye Valentine, "a bold, brash and unpredictable bounty hunter. Suffering from amnesia after years of being cryogenically frozen, Faye does whatever it takes to survive. Whether she's lying, stealing, or just being a thorn in Spike and Jet's side." Alex Hassell rounds out the main quartet as Vicious, "a man who thoroughly enjoys a good kill, Vicious is the Syndicate's most notorious hitman. He's also Spike Spiegel's ex-partner and arch-enemy."
Also joining them are Elena Satine as Julia, Blessing Mokgohloa as Santiago, Molly Moriarty as Kimmie Black, and Lucy Currey as Judy.
Most important of all, the show's fluffiest cast member Harry is Ein, the beloved Pembroke Welsh corgi and "data dog" of the crew.
Cowboy Bebop Opening Credits
In lieu of an actual trailer, Netflix recently released a look at the opening credits for "Cowboy Bebop." The synopsis of the series is as follows:
COWBOY BEBOP is an action-packed space Western about three bounty hunters, aka "cowboys," all trying to outrun the past. As different as they are deadly, Spike Spiegel (John Cho), Jet Black (Mustafa Shakir), and Faye Valentine (Daniella Pineda) form a scrappy, snarky crew ready to hunt down the solar system's most dangerous criminals — for the right price. But they can only kick and quip their way out of so many scuffles before their pasts finally catch up with them.