Creed III: Release Date, Cast, And More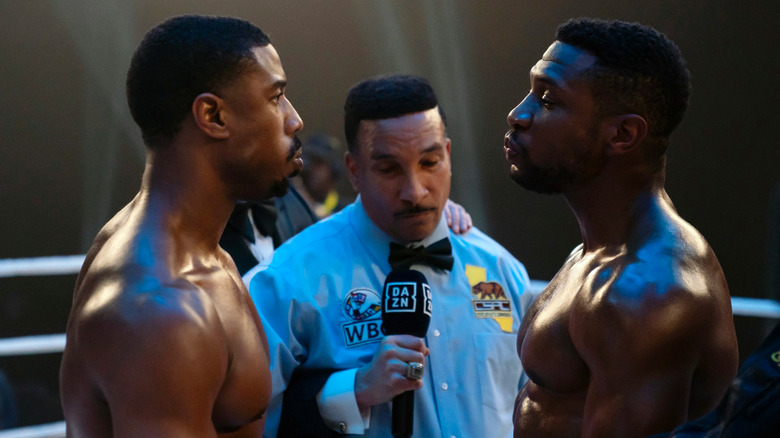 Warner Bros.
(Welcome to ...And More, our no-frills, zero B.S. guide to when and where you can watch upcoming movies and shows, and everything else you could possibly stand to know.)
The "Rocky" films made up one of the biggest franchises in the '70s and '80s, and Ryan Coogler's "Creed" followed up that legacy in a major way. The first two films acted as a passing of the torch from the "Rocky" movies of yore, and focused on the next generation of boxers in the "Rocky" universe. Now, the third installment in the "Creed" story is set to hit theaters in 2023.
Read on to learn all we know so far about "Creed III," including when it will release and who we'll see in the boxing ring.
Creed III release date and where to watch it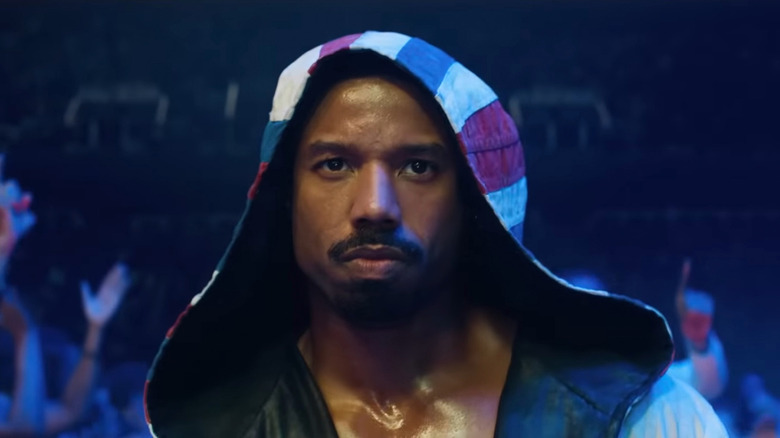 Warner Bros.
"Creed III" is slated for a theatrical release on March 3, 2023. The film was previously set to enter the ring November 2022, following the holiday release schedule that the two "Creed" films — and most of the "Rocky" franchise — usually stuck to. The film is rated PG-13 for intense sports action, violence, and some strong language. There's no news yet on whether it will eventually make it to streaming, but there's a chance that it may find its way onto MGM's burgeoning streaming platform, along with "Creed" and "Creed II."
Where can you watch the other Creed movies?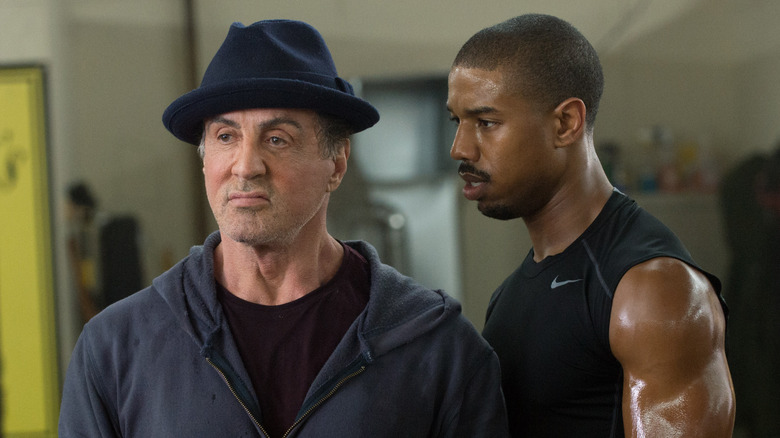 Warner Bros.
With "Creed III" coming to theaters in March, you probably want to catch up on the rest of the franchise, or maybe just refresh your memory. Both are available to buy digitally, as well as on 4K UHD, Blu-ray, and DVD. 
When it comes to streaming, neither of the "Creed" movies are on any of the major streaming services, but they are available on live TV and VOD through DirecTV, Sling, TNT, TBS, and TruTV. 
Otherwise, both "Creed" and "Creed II" are available to rent through Amazon Prime, Google Play, YouTube and Apple TV.
Where Creed II left off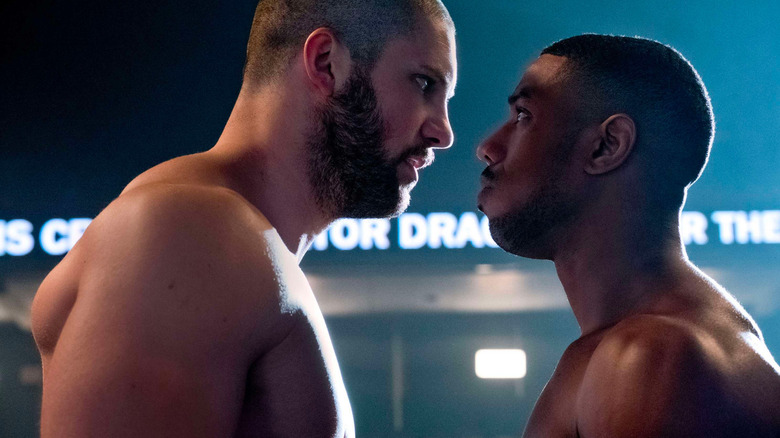 Warner Bros.
"Creed II" saw the return of its titular fighter, Adonis Creed (Michael B. Jordan), and his mentor Rocky (Sylvester Stallone), but also of an old rival: Ivan Drago. Drago famously killed Adonis' father, Apollo (Carl Weathers) during a fight in "Rocky IV." Now his son, Viktor (Florian Munteanu), has taken up his legacy as a champion fighter, and has surfaced to challenge Adonis — now the World Heavyweight Champion — for his title. Naturally, Adonis will eventually beat Viktor and hold onto his heavyweight title, but not without a huge physical and emotional toll.
Outside of the ring, Adonis and his long-time girlfriend Bianca (Tessa Thompson) marry and have a child. Their daughter, Amara, is born deaf, an effect of Bianca's own progressive hearing loss. Adonis' relationship with Rocky also faces its own share of struggle, but they eventually reconcile, prompting Rocky to patch things up with his estranged son Robert (Milo Ventimiglia) and meet his grandson for the first time.
Who's in the cast of Creed III?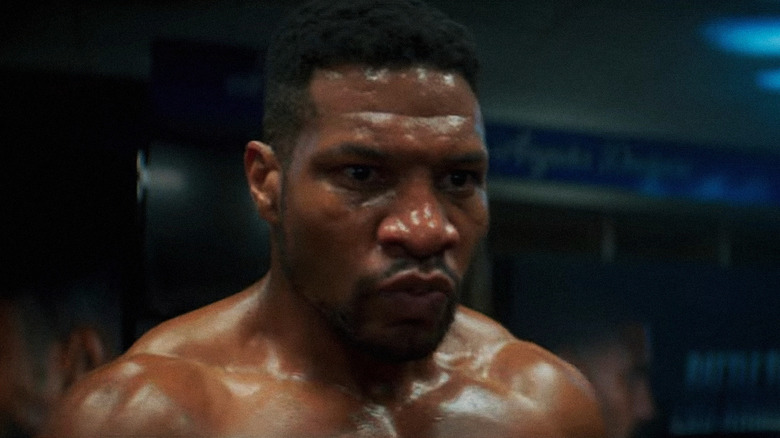 Warner Bros.
Michael B. Jordan is back playing Adonis Creed along with Tessa Thompson as Adonis' wife, Bianca. Other returning players include Phylicia Rashad (as Adonis' adoptive mother, Mary Anne Creed), Wood Davis (as Tony "Little Duke" Evers, the manager of Delphi Boxing Academy) and Florian Muntneau (as former rival Viktor Drago).
Jonathan Majors ("Lovecraft Country," "Loki") is the newcomer to the franchise, and is set to play Adonis' major boxing opponent, Damian Anderson. Damian resurfaces after spending 18 years in prison — likely for a crime that both he and Adonis were implicated in. Jordan called Damian "a pillar in Adonis's life" at a 2022 press conference, which makes his role as an antagonist all the more personal for our hero.
One character who is not returning to "Creed II" is Rocky himself, Sylvester Stallone. The actor reprised the role for the first two "Creed" movies, but bowed out of the third in 2018, sharing his farewell on social media:
"This is probably my last rodeo because what I thought happened, it has happened, I never expected. I thought Rocky was over in 2006, and I was very happy with that. Then all of a sudden this young man presented himself, and the whole story changed. It went on to a new generation, new problems, new adventures. And I couldn't be happier because as I step back, as my story has been told, there's a whole new world that's gonna be opening up for the audience, for this generation. Thank you very much, Stephen. And definitely you, Michael, for making that possible. Now you have to carry the mantle."
Who's directing Creed III?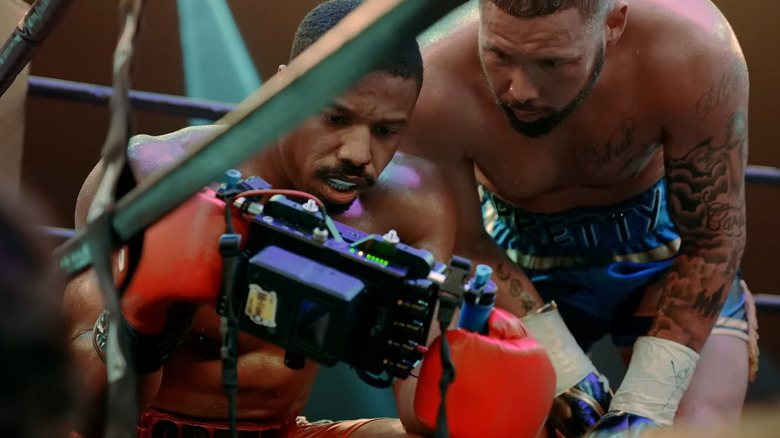 Warner Bros.
"Creed III" will be actor Michael B. Jordan's directorial debut. He takes the reins from Steven Caple Jr., director of "Creed II," and director-turned-writer-producer Ryan Coogler. Here's what Jordan had to say about his work on the project:
"Directing has always been an aspiration, but the timing had to be right. 'Creed III' is that moment — a time in my life where I've grown more sure of who I am, holding agency in my own story, maturing personally, growing professionally, and learning from the greats like Ryan Coogler, most recently Denzel Washington, and other top tier directors I respect.

"This franchise and in particular the themes of 'Creed III' are deeply personal to me. I look forward to sharing the next chapter of Adonis Creed's story with the awesome responsibility of being its director and namesake."
Creed III writer, producers and more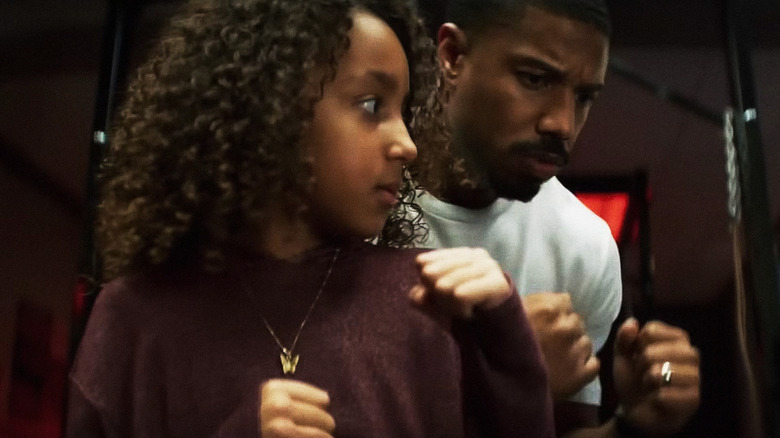 Warner Bros.
Keenan Coogler (brother of Ryan Coogler and the director of "Space Jam: A New Legacy") co-wrote the "Creed III" screenplay with Zach Baylin ("King Richard"). The script was based on a story by Ryan Coogler, and will be produced by Coogler with Sev Ohanian and Zinzi Coogler of Proximity Media. Jordan and Stallone also serve as producers.
"Creed III" was shot by cinematographer Kramer Morgenthau, who returns from "Creed II." The "Creed III" score was composed by Joseph Shirley, taking the reins from frequent collaborator Ludwig Göransson. He and Göransson have worked together on a number of projects, the previous "Creed" film, "Tenet," "Black Panther" and "The Book of Boba Fett" included.
Creed III was filmed on IMAX cameras
"Creed III" is the first sports film shot on IMAX cameras. The IMAX experience has become par the course for spectacle-heavy films like "Avengers: Endgame," "Tenet," "Dune" and "Nope," all of which have leaned into the rapidly-evolving business. Director Michael B. Jordan promised an effective, immersive experience for "Creed III" audiences. "With the IMAX experience, you can take in that environment in a way that you normally wouldn't," Jordan explained in a behind-the-scenes first look. "We're able to see every bead of sweat, every impact, the ripples in the skin, the sounds of the footsteps, the punches, the music, the lack of sound, and really immerse yourself in the entire world."
Watch the Creed III trailer
With Rocky's story coming to a satisfying conclusion in "Creed II," "Creed III" is all about Adonis. Several years have passed between the two films, and Donnie has since carved out a fulfilling career and life with Bianca and Amara. His plush new life, however, will soon be interrupted by the appearance of a childhood friend, played by Jonathan Majors.
The official trailer for "Creed III" dropped in October 2022. Here's the film's official synopsis:
After dominating the boxing world, Adonis Creed (Michael B. Jordan) has been thriving in both his career and family life. When a childhood friend and former boxing prodigy, Damian (Jonathan Majors), resurfaces after serving a long sentence in prison, he is eager to prove that he deserves his shot in the ring. The face- off between former friends is more than just a fight. To settle the score, Adonis must put his future on the line to battle Damian — a fighter who has nothing to lose.