The Morning Watch: 2021 Emmys Highlights: Opening Number, Best Speeches & Memorable Moments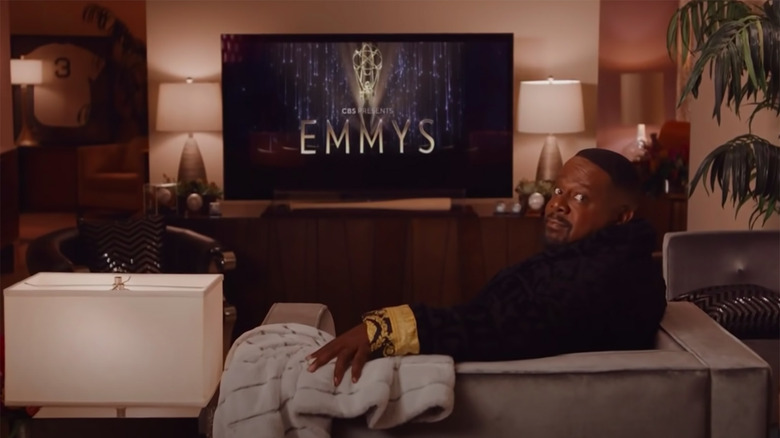 CBS
(The Morning Watch is a recurring feature that highlights a handful of noteworthy videos from around the web. They could be video essays, fan-made productions, featurettes, short films, hilarious sketches, or just anything that has to do with our favorite movies and TV shows.)
In this edition, let's take a look at some of the video highlights from the 73rd Primetime Emmy Awards. Cedric the Entertainer kicked off the show with a rap number, featuring some familiar faces. Unfortunately, that was pretty much where the host's success ended, and the only other remarkable moments came from the winners' speeches and a couple memorable appearances from presenters throughout the evening. So let's save you some time by digging into the 2021 Emmys video highlights.
The Opening Number
Cedric the Entertainer opened the show with a bang by doing a rendition of "Just a Friend" by Biz Markie. But Cedric wasn't alone, because he also got help from LL Cool J, Lil Dicky, and ... Rita Wilson? That's right, the "Jingle All the Way" co-star (and Tom Hanks' wife) popped up to throw down a verse from the song, and she was joined by a bunch of the Emmy nominees and other TV stars who were in the crowd, including the impeccably dressed Brendan Hunt (AKA Coach Beard from "Ted Lasso"). 
Hannah Waddingham Wins for Ted Lasso
Preceded by some solid comedy work by Seth Rogen, the night kicked off rather joyously with a win for Hannah Waddingham, named Best Supporting Actress in a Comedy for her performance in "Ted Lasso." It's crazy that in just a few years she went from having a bit part on "Game of Thrones" to winning an Emmy in a comedy series. Her speech was heartfelt, touching, and made for a lovely way to begin the evening. 
Hacks Takes a Surprising Victory
Since the Emmys began with two wins for "Ted Lasso" in the comedy category, everyone assumed it would be a big night for the series with a sweep across the comedy category. However, HBO Max's "Hacks" had something to say about that, because the series came out of nowhere to win both Best Writing for a Comedy Series (seen in the speech above) and Best Directing for a Comedy Series. Though some might consider it an upset, it's not one that we're particularly mad about, and you should probably give the series a shot as soon as you can.
The Only Funny Sketch
Aside from the entertaining opening hip-hop number, the Emmys wasn't full of a lot of great comedy. In fact, there was only one sketch created for the 2021 Emmys that is worth your time, and it's a support group for actors who haven't won an Emmys. Watch as Scott Bakula, Jason Alexander, Alyson Hannigan, Zooey Deschanel, and Fred Savage try to deal with their bad luck by working through their issues together.
Jean Smart Wins for Hacks
Hang on a minute! "Hacks" wasn't done taking home awards yet. Jean Smart ("Watchmen") walked away with the award for Best Actress in a Comedy Series, and the crowd couldn't have been happier with the results. And the good news is that she didn't have to beat out anyone at "Ted Lasso" to win in. If there was any doubt that "Hacks" is a show you should be seeking out on HBO Max, this big win for the series should do the trick. 
Jason Sudeikis is Victorious
Don't worry, "Ted Lasso" fans, because victory returned to the series with Jason Sudeikis winning Best Actor in a Comedy Series. Not only was this a well-deserved win, but the speech took a hilarious turn when Sudeikis went out of his way to thank his former boss, "Saturday Night Live" creator Lorne Michaels, and he was nowhere to be seen. Sudeikis joked about how he was off "taking a dump" but that the "SNL" executive would see it when he watched the Emmys again at home. It's a lot funnier if you just watch it happen. 
Debbie Allen Makes Emmys History
Debbie Allen, the legendary dancer, choreographer, actor and TV director made history by being the first Black woman to receive The Governors Award at the Emmys. Since this was such a historic moment, one that took years of dedication and hard work, Allen wasn't about to let the show's orchestra play her off. Not only did she hold off the orchestra by shutting down their countdown clock, but she gave an inspiring and wonderful speech that deserves your full attention.
Scott Frank vs The Clock
When Debbie Allen turned down the speech clock during her acceptance speech for The Governors Award, it was rather charming. But when "The Queen's Gambit" director Scott Frank did it, things got a little awkward when he shut down the orchestra no less than three times. Don't get us wrong, we're all for sticking it to the orchestra for cutting off speeches during such a milestone moment in the careers of TV's finest. But no matter how much we loved "The Queen's Gambit," this felt a little excessive.
Michaela Coel Takes Home a Trophy
After the evening mostly resulted in a lot of bright, white faces taking home Emmys, one of the trophies that shifted the conversation landed in the hands of Michaela Coel, who won for Best Writing for a Limited or Anthology Series or Movie on the Netflix series "I May Destroy You." It was nice to finally see some diversity among the winners, which took far too long when you consider the diversity among the nominees, so this was a welcome win, and a well-deserved one, for Michaela Coel.
Ted Lasso Wins Best Comedy Series
For one of the biggest awards of the evening, "Ted Lasso" executive producer Bill Lawrence gave one of the more entertaining speeches of the night, even going so far as to give Apple's CEO Tim Cook a new nickname. You can see why there's so much heart and hilarity in "Ted Lasso" from this speech alone, and we're just glad that the show was able to ride this wave all the way to victory. "The Crown" crew also rejoiced quite a bit in London when they won Best Drama Series, but it was also around 4 A.M. over there, so the speech was pretty average.
In Memoriam
Finally, we'd like to close with the In Memoriam segment where the Television Academy remembers all those talents we've lost over the past year. Though this segment is still a touching tribute, I can't help but point out how frustrating most of the presentation was. For some reason, the show's director opted to keep Jon Batiste and Leon Bridges in the shot as they performed "River," and it made the slides with each of the late actors and actresses that much harder to see. The focus should have been on those we lost, not those performing the song. Bad form, CBS. Between this and the Paramount+ streaming debacle, not to mention the fact that the show was pretty bad, this was not a great night for the Emmys. Better luck next year.