Dune Is Off To The Races At The Box Office, Let's Set Some Expectations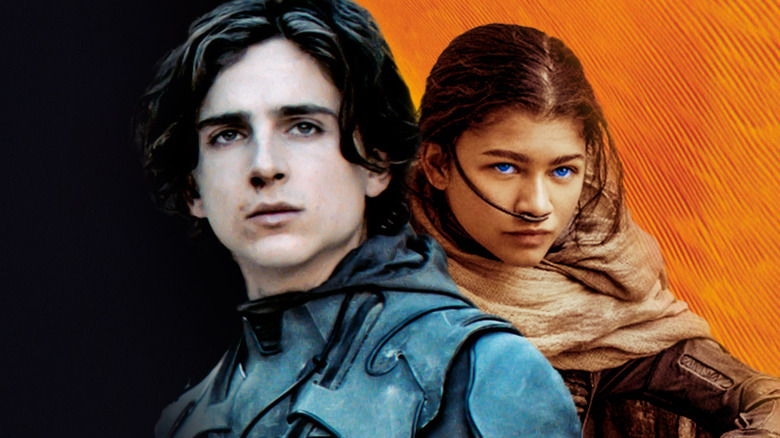 Warner Bros.
A certain section of film folks have been looking forward to one movie above all others over the last couple of years, and that movie is "Dune." It has so much going for it: beloved source material, Denis Villeneuve ("Sicario," "Prisoners") in the director's chair, and a stacked A-list cast. Now, after a long wait, "Dune" is finally making its way into theaters overseas this weekend, which means it's off to the races at the box office.
The box office tally for every theatrically-released movie is important, to say the very least. But "Dune" is a special case even under ideal circumstances, let alone being released during a global pandemic. The movie is also being released on HBO Max on the same day as its theatrical rollout in the U.S., which is sure to impact ticket sales. With all of that in mind, it might be a good time to look at these very early numbers and set some expectations for the film as it navigates the financial waters toward potential franchise territory.
The Hard Numbers for Dune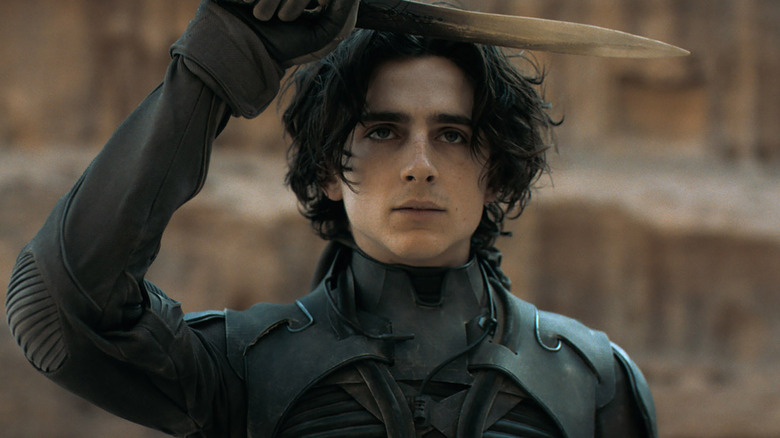 Warner Bros.
According to Deadline, "Dune" will begin its international rollout this weekend in 24 markets. Some of the relatively major countries include France, Germany, Russia, Italy, and Spain. Projections currently have it launching in the mid-$20 million range. We will get into exact comparisons here in a minute, but that is a decent start. The question on everyone's mind is, will it be enough in the end?
"Dune" is said to carry a budget in the $165 million range. That's pretty high. As a very basic rule of thumb, double that number to account for marketing. Even if we shave a little off to be generous, we're looking at, give or take, $300 million spent. That's what it needs to earn (roughly) before it can break even. Again, these are rough, rule of thumb numbers to set some expectations. 
Also important to keep in mind is that only about half of the box office dollars earned are returned to the studio. In China, the second-largest moviegoing market in the world, it's only about 25 percent. So hey, $20 million isn't bad. But we've got a long way to go and 195 countries in the world. We're in the early stages of this important marathon.
The Basis for Comparison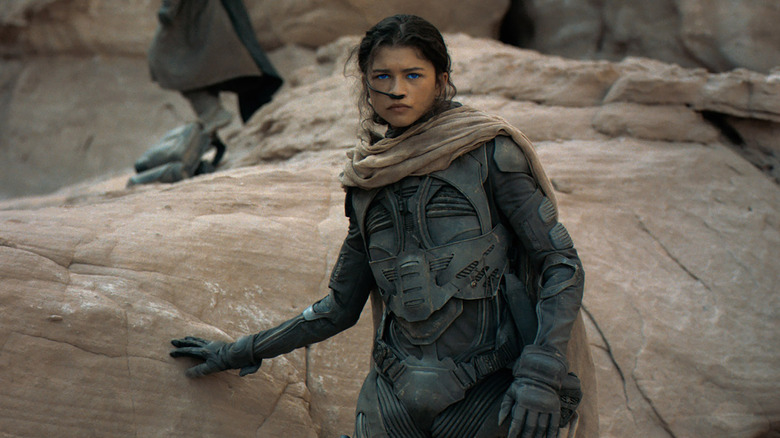 Warner Bros.
While the pandemic has upended expectations about movie box office prospects, the studio's bottom line cares not about those tempered expectations. It takes what it takes to get a movie into profits. And "Dune" was given the green light long before Warner Bros. knew this was going to happen, so it was financed and produced with a traditional mindset in place. So, what does success for a movie of this size look like?
"Black Widow" is one of the biggest earners at the box office in the pandemic era, and it also works as a nice comparison since it also had a (rather messy) hybrid release on Disney+ Premier Access. That movie started its run with $22.8 million, in the same territories "Dune" is opening in this weekend. To date, "Black Widow" has earned $372 million worldwide. 
Let's say "Dune" can get to $400 million worldwide — would that be enough? Granted, it is a little tough to imagine a high-concept sci-fi movie without the Marvel brand earning $180 million or more domestically. Then again, this could become yet another example of international markets bailing out a big movie.
"Warcraft" is a good example of that. Though the fantasy-heavy video game flick earned just $47 million domestic against a massive $160 million budget, it earned a huge $391.6 million internationally for a $439 million total. It wasn't enough to justify a sequel, but it was probably enough to prevent it from being an outright disaster.
Denis Villeneuve's own work may provide the best forecast for "Dune." While comparisons have been made to "Lord of the Rings" in terms of scope and spectacle, commercially, a sci-fi property with a loyal fanbase that might still be a tough sell to the masses, like "Blade Runner 2049," seems closer to reality. That movie, a big-budget sequel to Ridley Scott's beloved '80s (eventual) classic "Blade Runner," was a huge gamble. It did not pay off.
As has been well-documented, "Blade Runner 2049" — despite earning rave reviews, Oscars, and a respectable amount of money — simply couldn't make enough to be considered successful. $259 million, on paper, is a huge global gross for a nearly three-hour, heady sci-fi sequel to a movie that came out in the early '80s. But with a $150 million budget, it was fighting a huge uphill battle to the promised land of profitability. Not to say that "Dune" will suffer the same fate, but it is fighting the same battle (albeit under radically different circumstances).
Warner Bros. Wants a Franchise, Damn It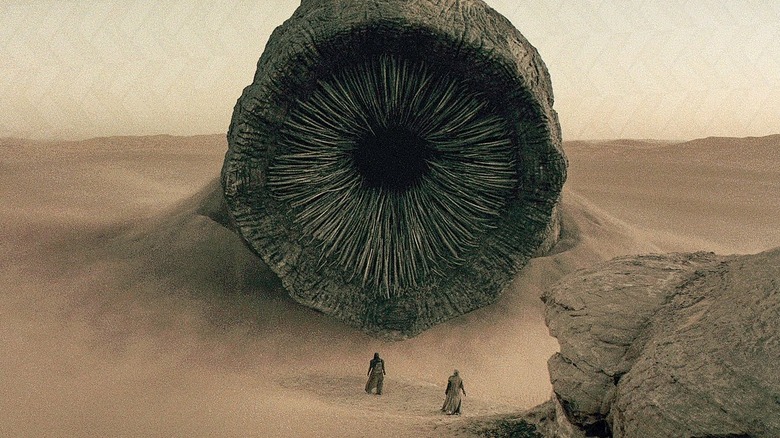 Warner Bros.
From the moment this new iteration of "Dune" got the green light, Warner Bros. saw it as a franchise play. Denis Villeneuve saw it as a franchise play. So much so that this first movie is really just a "Part I," and there has been a great deal of talk about a sequel. There's also a spin-off series, Dune: The Sisterhood, in the works for HBO Max. Are they putting the cart before the horse? Maybe. But in an age where franchises are everything, and big franchise IP is hard to come by, the work of Frank Herbert represents a chance to find the next Middle Earth in the spice mines of Arrakis.
That being the case, Warner Bros. may write off the final box office numbers as good enough under the circumstances to keep these franchise plans on the tracks. There is so much star power. So much talent. So much at stake. Similar to what Disney seems to be doing with "Jungle Cruise 2," it may be worth keeping A-list stars and a big idea in play, even if it wasn't profitable on the first go-around due to extenuating circumstances. Thanks, COVID.
Some Tension With a Twist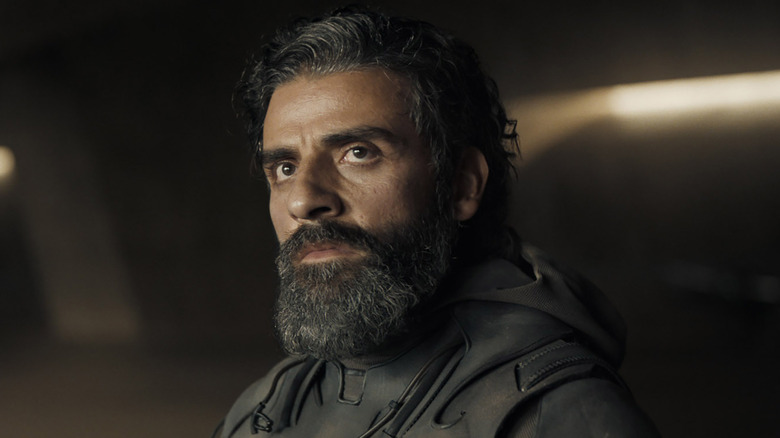 Warner Bros.
To button this up, we need to mention that Villeneuve has been adamant about people seeing "Dune" on the big screen. He is not happy that it is going to be on HBO Max. He is not happy about the box office that might be taking off the table. He has already been talking a lot about the "Dune" sequel. He wants this movie to happen. Yet, because Warner Bros. shelled out millions to filmmakers and stars so that it could release every single one of its 2021 movies on HBO Max and in theaters, the hybrid release is happening whether Villeneuve likes it or not.
The interesting twist to all of this is that Warner Bros. is reportedly not going to hold diminished box office returns against "Dune." Apparently, if the HBO Max numbers are there, the sequel will still happen. It is, to say the least of it, a unique situation — especially since there isn't often all that much transparency with streaming numbers like there is with box office.
"Dune" is set to arrive in theaters and on HBO Max in the U.S. on October 22.