Halloween Ends: Release Date, Cast, And More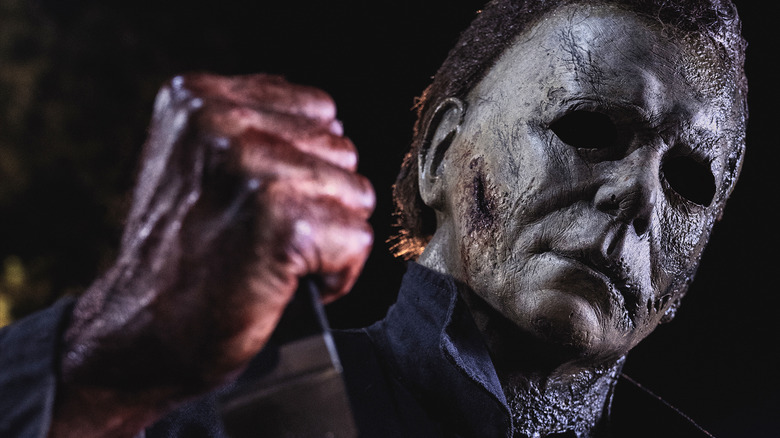 Universal Pictures
(Welcome to ...And More, our no-frills, zero B.S. guide to when and where you can watch upcoming movies and shows, and everything else you could possibly stand to know.)
Lock your doors and get back in the panic room — Michael Myers is on the loose! Of course, if you've seen even one "Halloween" movie, then you already know that escape isn't possible ... unless you happen to be Jamie Lee Curtis. Sequel after sequel, Laurie Strode has continued to defy the odds and fend off her knife-wielding nemesis. But all good things must come to an end and apparently, the time has come for their final showdown. The upcoming conclusion to the reboot trilogy is set to arrive later this year, with Laurie and Michael duking it out for (allegedly) the last time so get ready to be on the edge of your seat. 
Here's everything you need to know about the upcoming slasher, "Halloween Ends."
Halloween Ends release date and where you can watch it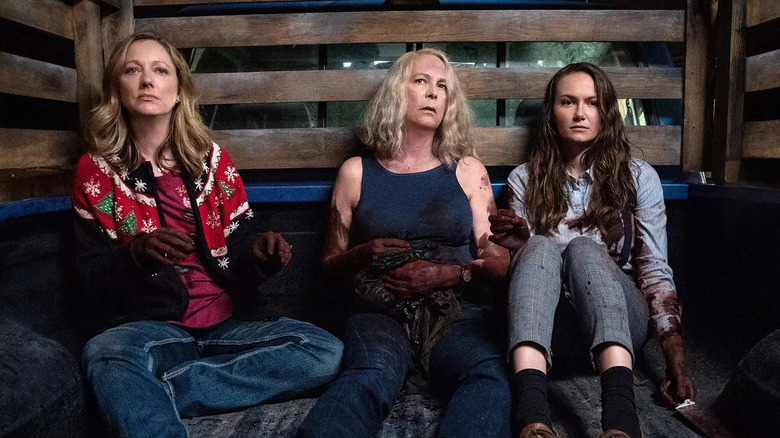 Universal Pictures
The title of the movie is a big hint at the release date: "Halloween Ends" is slated to arrive just in time for the haunted holiday season, on October 14, 2022. Most of the movies in the franchise have followed the Halloween release tradition, starting with the original "Halloween" in 1978. The sequels from the '90s through the '00s went for blockbuster-style summer releases, but the 2018 reboot set things back on track. These movies were made for watching on Halloween night — or at least, as close as we can get. It's probably for the best because if you actually watched it on Halloween, you'd never sleep again (lest Michael sneaks up on you).
"Halloween Ends" is following in the footsteps of its predecessor: the film will be available both in theaters and on Peacock, simultaneously. This day-and-date release means you can choose between cowering with a crowd in the theater or streaming the film from the comfort of your own home. While Laurie Strode herself has taken to Twitter to justify this release plan, it remains a controversial move with fans of the franchise.
What is Halloween Ends?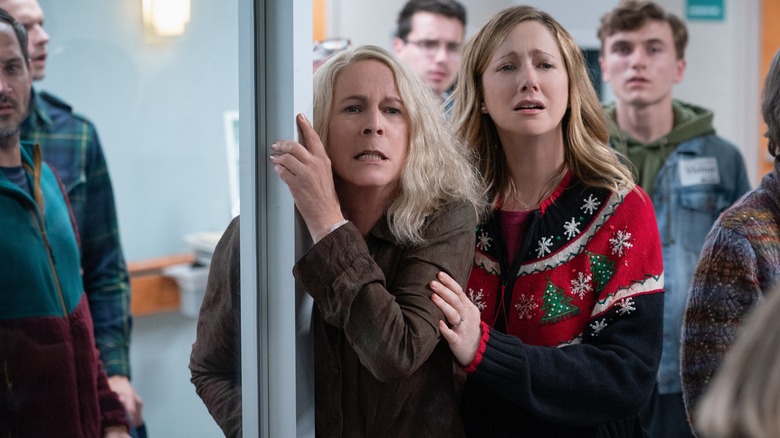 Universal Pictures
"Halloween Ends" is a direct sequel to last year's "Halloween Kills." It will be the 13th installment in the franchise, so expect it to be extra spooky for being the unluckiest of numbers. This film also marks the end of director David Gordon Green's "Halloween" trilogy. 
According to producer Malek Akkad, "Halloween Ends" will be very different from the two that came before. Akkad told Total Film Magazine, "The last one is going to be way more contained." Green doubled down on this, saying that he wants each entry in the trilogy to stand apart.
"I get engaged by doing something different. If I was just going to be repetitive, I would hand the reins off to someone else. When you have that opportunity within an established franchise, it's really fun to think about how you can show different tones and perspectives and evolve."
The plot of Halloween Ends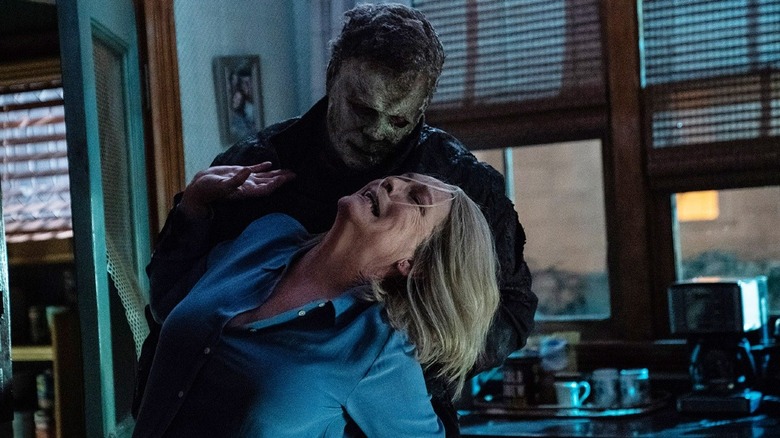 Universal Pictures
So what does the end of this new trilogy have in store for Laurie Strode? I'm guessing nothing good.
The story picks up four years after "Kills" left off — a major time jump that finds Laurie now living with her granddaughter Allyson (Andi Matichak) and finishing her memoir. After so many years of being haunted by Michael, Laurie has liberated herself from fear and begun to live life anew. It sure would be a shame if anything got in the way of that ... Enter the season of fear, when around Halloween, the murder of a young boy is connected back to his babysitter. Once again, Laurie must tangle with the demon that's haunted her life for decades and hopefully, take him out for good.
Halloween Ends cast
Universal Pictures
"Halloween Ends" will see the return of Jamie Lee Curtis as Laurie Strode, the sole survivor of Michael Myers' 1978 killing spree (and so many of his rampages that followed). Curtis has said that this will likely be the last time she reprises the role. She told Total Film Magazine:
"Given what I know about the next movie, I think it will be the last time that I will play her. And I'm not saying something like, 'Oh, because I die!' It's nothing to do with that. I'm talking about emotionally what they have constructed."
The film also marks the return of Andi Matichak as Laurie's granddaughter, Will Patton as Deputy Frank Hawkins (who arrested Michael after his initial killing spree), and Omar Dorsey as Sheriff Barker. Another notable returner is Kyle Richards as Lindsey Wallace, one of the kids that Laurie babysat during the first killing spree of 1978 — Richards is once again reprising the role that she originated n the 1978 film. Michael O'Leary is set to appear as Dr. Mathis (who was previously mentioned in "Halloween Kills"), and Rohan Campbell will play Corey Cunningham, a boy accrued of murdering the child he babysat. Last but certainly not least are James Jude Courtney and Nick Castle, both returning to play The Shape, the masked Michael Myers figure at the center of this slasher.
Halloween Ends director, writer, and more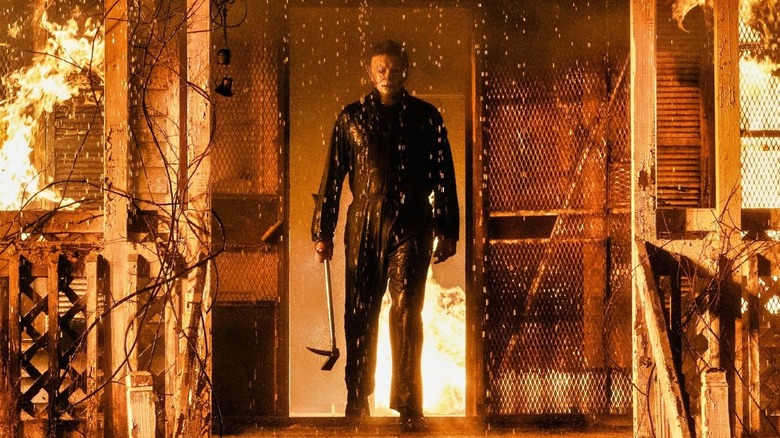 Universal Pictures
"Halloween Ends" comes from writer-director David Gordon Green, who helmed the entire new trilogy, starting with the 2018 reboot, "Halloween." He wrote the first entry with Danny McBride ("The Righteous Gemstones") and Jeff Fradley ("Vice Principals"). "Halloween Kills" saw the return of McBride, with the addition of Scott Teems ("The Quarry"). Teems has returned to pen the script for "Halloween Ends" alongside co-writers Paul Brad Logan and Chris Bernier.
Halloween Ends' rating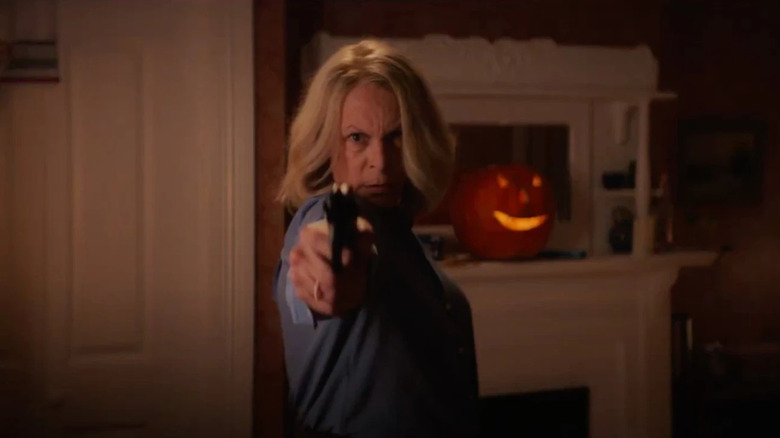 Universal Pictures
The nature of "Halloween" horror really speaks for itself: "Halloween Kills" featured several brutal murders from full-blown killing machine Michael Myers and there's absolutely no reason to believe that the third film in the trilogy will be lowering the death count. For that very reason, "Halloween Ends" has already earned an R-rating for "bloody horror violence and gore, language throughout, and some sexual references."
With Michael involved, we shouldn't expect anything less. While he racks up a body count and decimates the town of Haddonfield, Laurie Strode probably won't hold back when it comes to screaming some choice words at The Shape. And who could blame her?
The trailer for Halloween Ends
"Four years after the events of last year's Halloween Kills, Laurie is living with her granddaughter Allyson (Andi Matichak) and is finishing writing her memoir. Michael Myers hasn't been seen since. Laurie, after allowing the specter of Michael to determine and drive her reality for decades, has decided to liberate herself from fear and rage and embrace life. But when a young man, Corey Cunningham (Rohan Campbell; The Hardy Boys, Virgin River), is accused of killing a boy he was babysitting, it ignites a cascade of violence and terror that will force Laurie to finally confront the evil she can't control, once and for all."
Where to watch previous Halloween movies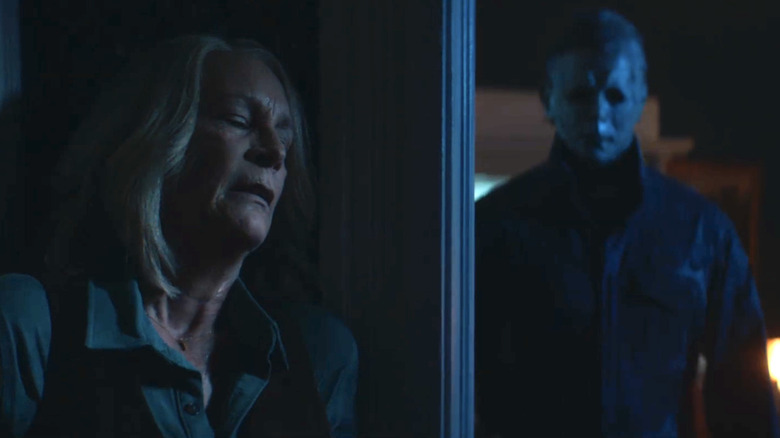 Universal Pictures
Before David Gordon Green's "Halloween" trilogy comes to a close, you might want to set aside a weekend to marathon all the previous movies in the franchise. You could also take the sane route and watch them one at a time, but where's the fun in that? Unfortunately, if you haven't been a dedicated DVD collector for this franchise, then this won't be easy. The "Halloween" movies are scattered across all sorts of different services, with only some available on subscription-based streamers while others must be rented or purchased. Here's a quick guide:
Halloween (1978) – The original John Carpenter slasher that introduced Michael Myers into our nightmares is available to stream with a subscription to AMC+ or Shudder.

Halloween II (1981) – Laurie Strode's second encounter with Michael Myers is only available for rent or purchase across streaming platforms.

Halloween III: Season of the Witch (1988) – aka the one without Michael Myers is available on Shudder or AMC+.

Halloween 4: The Return of Michael Myers (1988) – available on Shudder or AMC+.

Halloween 5: The Revenge of Michael Myers (1989) – available on Shudder or AMC+.

Halloween: The Curse of Michael Myers (1995) – available to rent or purchase across streaming platforms.

Halloween H20: 20 Years Later (1998) – available on Paramount+.

Halloween: Resurrection (2002) – available on Paramount+

Halloween (2007) – available on AMC+.

Halloween II (2009) – available on AMC or on Freevee via Prime Video.
Halloween (2018) – available to rent or purchase or with Hulu Live TV.

Halloween Kills (2021) – available on HBO Max.