Upcoming Horror Movies That Will Freak You Out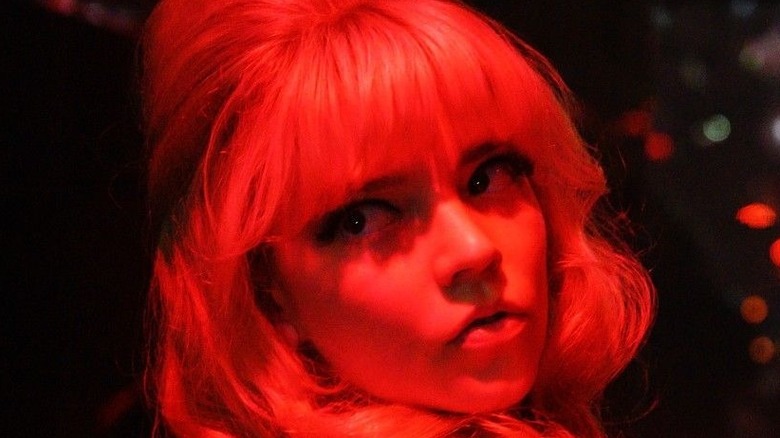 Focus Features
For many of us, spooky season starts earlier and earlier each year — it's now generally accepted that August is a perfectly normal time to start Halloween prep. This year more than ever we're looking forward to the horror movies coming out this fall, especially because we've been waiting for some of the most eagerly anticipated ones for so long; big titles like "Candyman," "Antlers," and "Last Night in Soho" were all originally slated for 2020, but ended up being delayed due to the global pandemic.
While some of these movies lean more towards dark psychological thrillers, noirs, or family-friendly horror-comedies than straight-up horror films, they all fit all under the general horror umbrella. With that in mind, here are the films that'll be sure to get you in the mood for gathering decorative gourds, arguing over candy corn, and finally committing to that 12-foot skeleton from Home Depot.
Malignant — September 10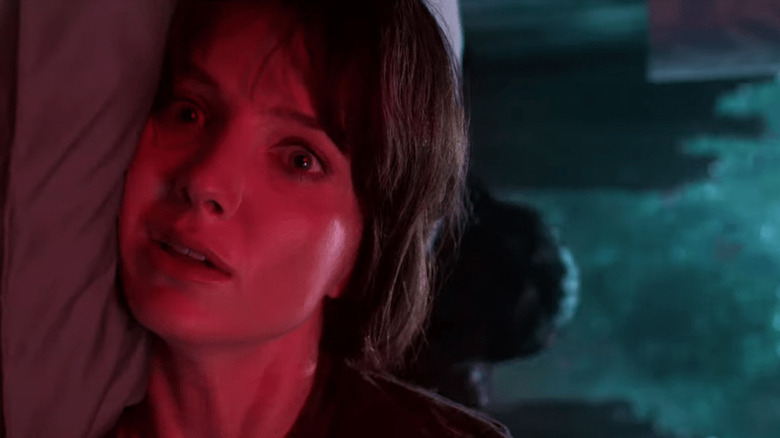 Warner Bros
"Malignant" sees "Aquaman" director James Wan returning to his horror roots with, thankfully, an original story, not yet another entry in the "Saw," "Insidious" or "Conjuring" franchises (all of which Wan helped create). British actress Annabelle Wallis (from "The Conjuring" universe's "Annabelle") stars as a woman who begins having terrifying nightmares about grisly murders that turn out to actually happen. There also seems to be some kind of imaginary childhood friend who may be behind the events.
McKenna Grace appears to be playing the young version of Wallis' character, and is well on her way to becoming a horror staple herself; she has also appeared in "Annabelle: Comes Home," "Amityville: The Awakening," "The Haunting of Hill House," and the upcoming "Ghostbusters: Afterlife." Written by Akela Cooper ("Luke Cage"), Ingrid Bisu, and Wan himself, "Malignant" could be a promising new story for horror fans. It's refreshing to see a film that's not part of an existing franchise.
Halloween Kills — October 15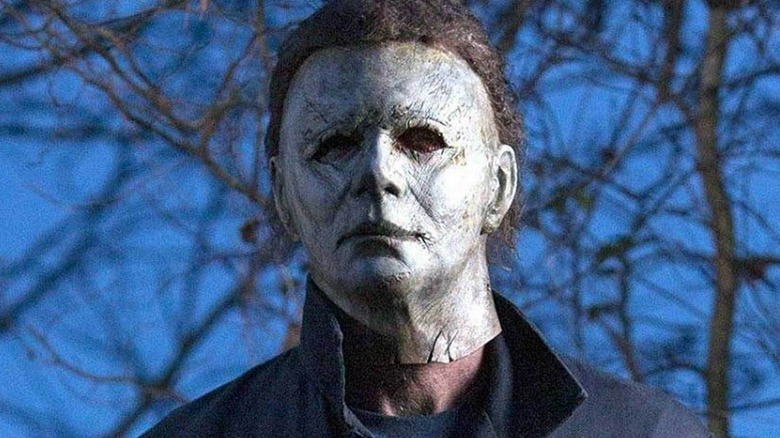 Universal Pictures
Speaking of horror franchises, we're also getting the 12th (!) entry in the Halloween series, "Halloween Kills," this October. A direct follow up to David Gordon Green's "Halloween" (2018), this is the middle film of a planned trilogy from the director. Picking up straight from the fire that ended the last film — you guessed it — Michael Myers is back, and Laurie Strode ain't having it.
There's only so many times you can hear phrases like "It's over. He can't hurt anyone ever again," and "Evil dies tonight" before thinking, "Really? There have been like 10 of these and it keeps happening." But at least with a continually up-for-it Jamie Lee Curtis, as well as actors like Judy Greer and Andi Matichak, on board, we know that the creative team is going to sell the hell out of it. Also, we cannot get enough of that score.
Once he's done with his "Halloween" trilogy, David Gordon Green is set to direct an "Exorcist" trilogy, which carries a whopping $400 million price tag; all in all, it looks like the hot horror properties of yesteryear aren't going anywhere.
Last Night in Soho — October 29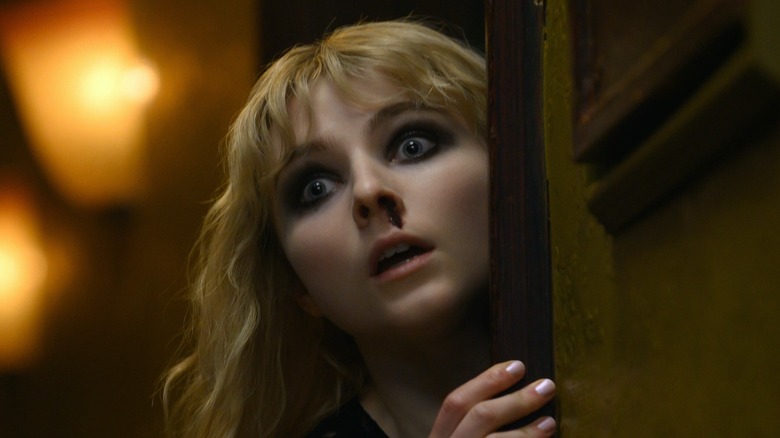 Focus Features
For those of us who have followed and loved Edgar Wright's work over the years, the prospect of him taking on a noir-ish psychological horror-thriller — one that doesn't appear to have any of the light-hearted humor that usually peppers his work — is hugely exciting. "Last Night in Soho" looks like a big change in direction and tone for the British director, and he's wearing his cinephile influences on his sleeve more than ever before. From what we can tell, "Last Night in Soho" lifts from "Peeping Tom" (1960), "Blood and Black Lace" (1964), "Blow-Up" (1966), and "Performance" (1970), just to name a few.
This partly '60s-set film stars Anya Taylor-Joy and Thomasin McKenzie in what appears to be the same role. Is it time travel? Is it a dream, fantasy, or wish fulfillment? The "Last Night in Soho" trailer mentions ghosts and raises many questions that we cannot wait to find out the answers to. Throw in Dame Diana Rigg's last role and as well as '60s legends Terence Stamp, Rita Tushingham, and Margaret Nolan, and this is easily one of the most hotly-anticipated films of the year. 
Antlers — October 29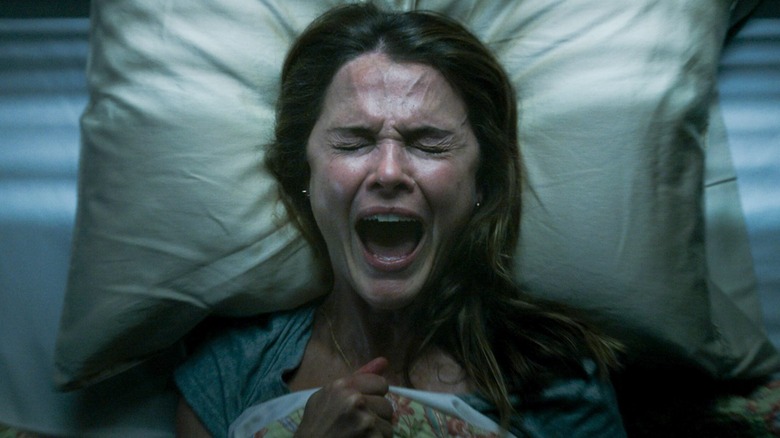 Searchlight Pictures
Like "Candyman," Scott Cooper's "Antlers" has been long-delayed; its first trailer came out in 2019. Starring Keri Russell, Jesse Plemons, and Graham Greene, "Antlers" is set in the Pacific Northwest and is based on the wendigo from Algonquian folklore. Guillermo del Toro is on board as a producer, meaning that a lot of thought has gone into the creature design. Scott Cooper's previous work has skewed more toward the Western, with the critically-acclaimed "Crazy Heart" and "Hostiles." 
It's always interesting to see what non-horror directors are going to bring to the table, and "Antlers" looks like it's part drama — Russell plays a teacher who is concerned about a troubled student — and part mythological horror. This has been a successful combination in films like "The Babadook" and del Toro's own "Pan's Labyrinth." "Last Night in Soho" and "Antlers" are the two horror films currently slated for release over the actual Halloween weekend, so it looks like we have an exciting spooky season to look forward to this year.
Ghostbusters: Afterlife — November 11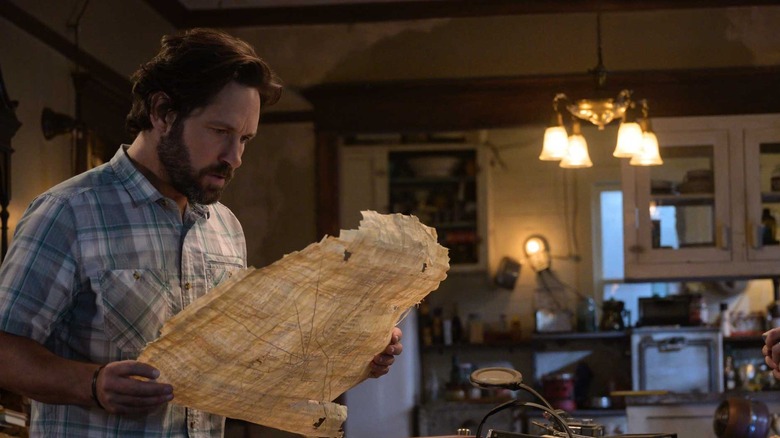 Sony Pictures
You may laugh at the inclusion of a "Ghostbusters" film in a horror film preview, but from the original 1984 classic through the 2016 reboot, the franchise has always included some genuinely creepy or even scary moments, especially if you were watching at an impressionable young age. For example, the basements of libraries have always been bone-chilling places, thanks to the opening of the first film.
From the look of its most recent trailer, "Ghostbusters: Afterlife" seems to be taking a darker tone, with fewer jokes than the previous films — although, why would you cast Paul Rudd if it isn't going to be a comedy? The influence of "Stranger Things" and "It" (2017) on the movie seems undeniable, especially with the presence of Finn Wolfhard, who leads the cast alongside McKenna Grace and Carrie Coon. All of the surviving original Ghostbusters appear to be on board as well, but whether they will have cameos (or maybe just voice overs) or more prominent roles remains to be seen.
Resident Evil: Welcome to Raccoon City — November 24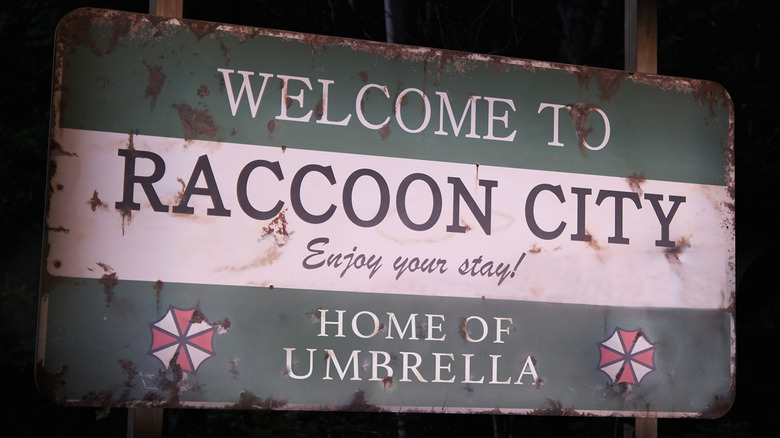 Sony Pictures
"Resident Evil: Raccoon City" is a reboot for the long-running franchise, set in 1998 and offering some backstory on the Spencer Mansion, the Umbrella Corporation, and the Raccoon City Police Department. Said to be returning to the "terrifying roots" of the video games on which it's based, the new "Resident Evil" looks like it'll emphasize horror over the sci-fi and action that previous "Resident Evil" films were known for.
Neither Paul WS Anderson or Milla Jovovich are returning for this installment, and a new cast that includes Kaya Scodelario, Robbie Amell, Hannah John-Kamen and Tom Hopper — none of whom are strangers to genre projects — is taking over. It's directed by Johannes Roberts.
The lack of any official stills or a trailer this close to release is a little concerning, especially given that, like many of the movies on this list, the release date has been pushed back. This new movie isn't the only fresh material based on "Resident Evil" being released this year, either. The eighth installment in the video game series debuted this spring, while Netflix released an animated series ("Infinite Darkness") in July, and has a live-action show on the way, too.
Nightmare Alley — December 3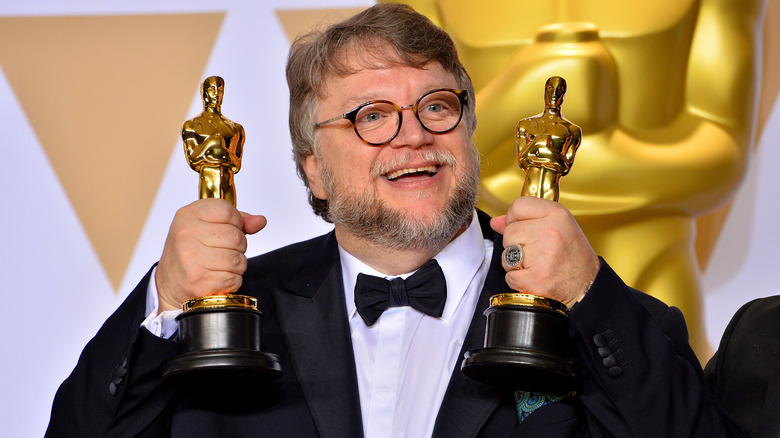 Shutterstock
More of a thriller than a horror movie, with none of the supernatural elements we've come to know and love from Mexican maestro Guillermo del Toro, "Nightmare Alley" will be a dark, psychological noir with a hard-R rating. Based on the book published in 1946, which was adapted into a film a year later, this updated take has a spectacular cast that includes Bradley Cooper, Cate Blanchett, Rooney Mara ("Carol" reunion!), and Willem Dafoe. It focuses on the seedy underbelly of society in the '40s, telling a story about a carnival full of grifters, including a manipulative carny (Cooper) who meets his match in Blanchett's psychiatrist. 
While del Toro has had his fingers in many pies since winning the Oscar for "The Shape of Water," this is his first time back in the director's chair since 2017. Production shut down literally halfway through filming when the pandemic started, meaning that we have been waiting for this one for a very long time. This is just one of many reasons why "Nightmare Alley" is one of the hotly-anticipated films (in any genre) of 2021.
Wolf — December 3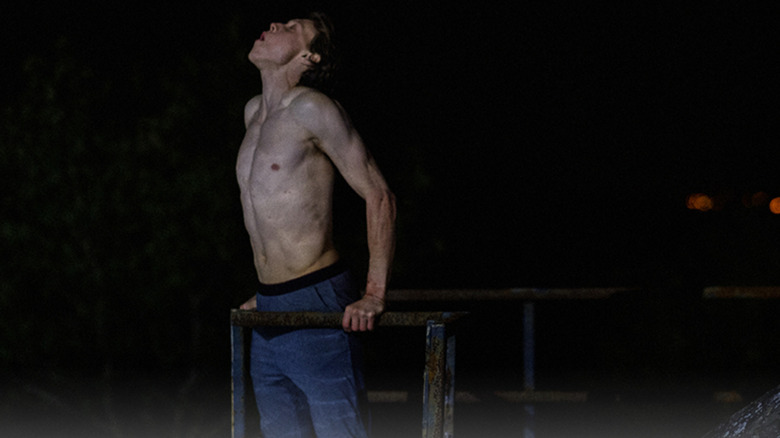 Focus Features
"Wolf" premieres at the Toronto International Film Festival in September, and again appears to be at the "dark and psychological" end of the horror-thriller spectrum. In it, George Mackay plays Jacob, a man who believes he is a wolf. He is sent to a clinic where he is forced to undergo increasingly extreme "curative therapies" by the Zookeeper (Paddy Considine). All of the other roles have animal names; Lily-Rose Depp plays Wildcat and Fionn O'Shea is German Shepherd. The cast appears to be mainly young Irish actors.
The spooky side of "Wolf" may come from the way that Jacob and Wildcat take to roaming the hospital in the dead of night. From writer-director Nathalie Biancheri, "Wolf" sounds like it contains a sprinkling of Yorgos Lanthimos' "The Lobster," as well as strong shades of the powerfully weird 1984 film "Birdy" starring Matthew Modine and Nicolas Cage. With "Pig," "Lamb," "Cow," and now "Wolf," this is quite the time for single-word animal titles at the movies.
The Texas Chainsaw Massacre — TBD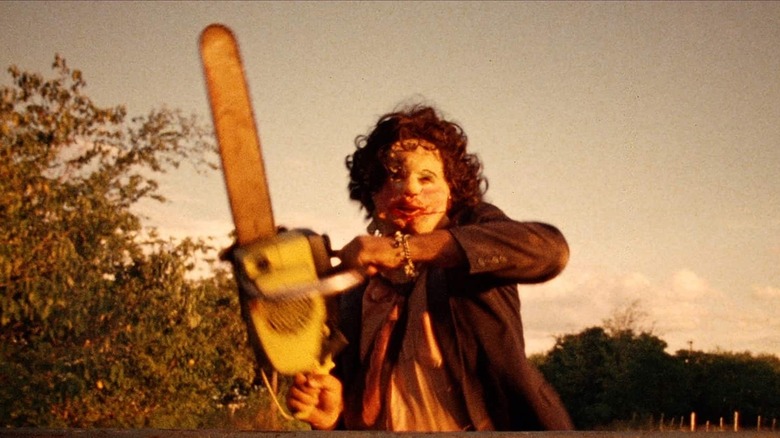 Lionsgate
"The Texas Chainsaw Massacre" is yet another sequel to the 1974 classic, focusing on a now-60-year-old Leatherface 47 years after the events of the original. The story revolves around two sisters — Melody (Sarah Yarkin) and Dreama ("Eighth Grade" star Elsie Fisher) — and sees Melody dragging her younger sister along when she takes a business trip to Texas. David Blue Garcia is directing (after the original directors were fired one week into shooting) and production is said to have wrapped in March 2021. It will come as no surprise that it has an R rating.
Mark Burnham plays Leatherface (replacing the late Gunnar Hansen) and Olwen Fouéré plays Sally Hardesty (replacing the late Marilyn Burns). French-Irish actress Olwen Fouéré is no stranger to spooky genre films, with roles in "Beast," "Mandy," and "Sea Fever." The same can also be said of cast-member Alice Krige, who was recently seen in the great "Gretel & Hansel." After all these decades, let's hope that we are finally getting a sequel worthy of the "Texas Chainsaw" name.