Tracy Morgan Narrates 'The Night Before' Opening Scene, Does Not Get It Pregnant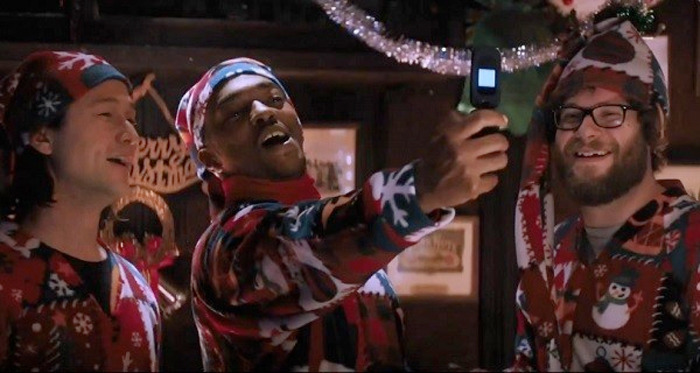 It's safe to say that we all need some laughs, and if this past weekend's fantastic episode of Saturday Night Live hosted by Elizabeth Banks wasn't enough, this week brings the R-rated holiday comedy The Night Before to help out.
And if the recent red-band trailer didn't convince you to see what looks like a truly hilarious flick for the holidays, the opening scene from the movie has been released, featuring touching narration by Tracy Morgan, not long after he hosted his own episode of SNL. However, it's NSFW (due to language, not nudity), so beware of where you are watching it.
Here's a red band The Night Before clip from MTV:
Taking a cue from the classic poem The Night Before Christmas, the opening voiceover rhymes as it tells the story of how Ethan (Joseph Gordon-Levitt), Isaac (Seth Rogen), and Chris (Anthony Mackie) came to spend each Christmas together after Ethan's parents passed away. And then it sets up the myth of the Nutcracka Ball, a party they can't seem to find. But if the trailer is any indication, they seem to up finding it, and Miley Cyrus is in attendance.
As a huge fan of what Seth Rogen and Evan Goldberg bring to the table, with 50/50 helmer Jonathan Levine directing, and Jillian Bell, Mindy Kaling, Ilana Glazer, Michael Shannon, and Lizzy Caplan also appearing, I'm definitely looking forward to seeing this comedy this weekend. The Night Before opens on November 20th – a little early for Christmas, but that's just how holiday movies work in Hollywood.
For more laughs, be sure to check out Nathan Fielder's hilariously awkward interview with the Rogen, Mackie and Gordon-Levitt right here, and watch the most recent red-band trailer for more from the movie. Plus, we also visited the set of this movie awhile back, and you can check out our full report on the holiday chaos that ensued over here.
Ethan (Joseph Gordon-Levitt), Isaac (Seth Rogen) and Chris (Anthony Mackie) have been friends since childhood, and for a decade, their yearly Christmas Eve reunion has been an annual night of debauchery and hilarity. Now that they're entering adulthood, the tradition is coming to an end, and to make it as memorable as possible, they set out to find the Nutcracka Ball – the Holy Grail of Christmas parties.