/Filmcast Ep. 31 - Frost/Nixon (GUESTS: Erik Davis And William Goss From Cinematical)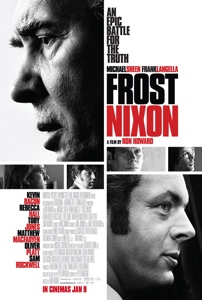 In this episode of the /Filmcast, Dave, Devindra, and Adam lament the removal of Stephen Chow from The Green Hornet, discuss whether or not a Schwarzenneger cameo would be a good idea for Terminator Salvation, and evaluate the early movie careers of Seth Gordon and Frank Miller. Special guests Erik Davis and William Goss join us from Cinematical.
Join us next Monday night at 9 PM EST / 6 PM PST as your favorite film podcast runs down their top films of 2008 and reviews The Curious Case of Benjamin Button.
Download or Play Now:
Subscribe:
Shownotes
Introduction
(00:35) Erik Davis from Cinematical
What Have We Watched
David Chen (02:27): Standard Operating Procedure, Downfall, Teeth
Erik Davis (12:55): MTV's True Life, Let The Right One In, Burn After Reading
Devindra (21:40): Seven Pounds
Adam (23:10): Yes Man
News Discussion
Featured Review
(1:01:40) Frost/Nixon review with William Goss from Cinematical
Credits
Our music comes from Point 22 courtesy of the Podsafe Network, and Brad Sucks
If you'd like advertise with us or sponsor us, please e-mail slashfilmcast@gmail.com.
Contact us at our new voicemail number: 781-583-1993
You can donate and support the /Filmcast by going to www.slashfilmcast.com and clicking on the right-hand side "Donate" links!