Disney Forced The Boogeyman Director To Rewrite Key Scenes To Avoid A Star Wars Fiasco [Exclusive]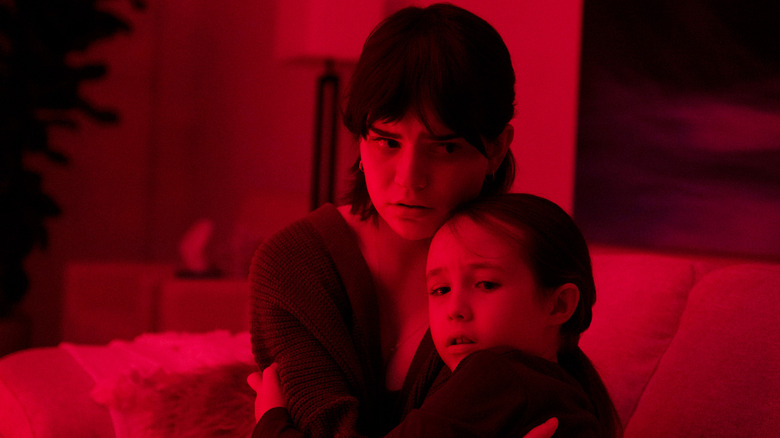 20th Century Studios
Remember when actors appearing in multiple giant franchises seemed like a huge deal? Now that IP rules Hollywood, hardly anyone even bats an eye anymore when a "Star Wars" fave joins the Marvel Cinematic Universe or a DC Universe actor plays the Big Bad in the latest "Fast & Furious" movie. That's doubly the case when it comes to Disney-owned projects, between the studio's live-action and animation divisions, Pixar, the MCU, Lucasfilm, and its former Fox studios. This can lead to some amusing coincidences though, like that time Ewan McGregor went from playing sad, older Christopher Robin in the live-action "Winnie the Pooh" sequel "Christopher Robin" to playing sad, older Obi-Wan Kenobi in the live-action "Star Wars" series "Obi-Wan Kenobi."
Surprisingly, of all things it's filmmaker Rob Savage's "The Boogeyman" that marks the latest crossing of the streams among Disney properties. The upcoming horror movie, adapted from Stephen King's 1973 short story of the same name, centers on a widower and therapist (Chris Messina) whose family is imperiled after one of his patients unleashes a malevolent entity upon their home. Joining Messina in the cast is not one but several Disney veterans, including "The Book of Boba Fett" alum Sophie Thatcher, "Ant-Man" actor David Dastmalchian, and Madison Hu (the star of the Disney Channel series "Bizaardvark").
That being said, it's their co-star Vivien Lyra Blair who's largely pertinent to today's discussion. Having already starred in films like "Bird Box" and "We Can Be Heroes" before she was even 10 years old, Blair came to fame in 2022 by playing the young Princess Leia in "Obi-Wan Kenobi." In an interview with /Film's Ben Pearson, Savage admitted he ended up having to rework some key scenes with Blair's character in the film, lest he incur the wrath of his Disney overlords.
That's no moon, it's a moon ball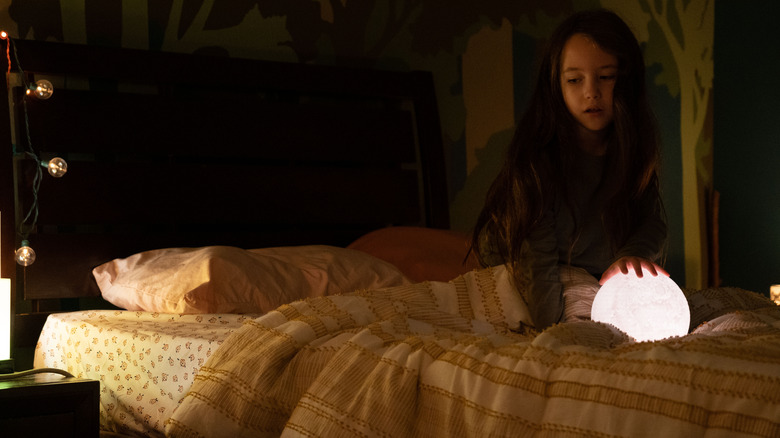 20th Century Studios
Easily the most striking image to emerge from the marketing for "The Boogeyman" is that of Vivien Lyra Blair's character, Sawyer, playing with a luminous moon ball in her bedroom at night (unaware of the terrifying creature lurking just underneath her bed). During our interview with him, Rob Savage revealed he had originally planned for Sawyer to use what he referred to as a "knockoff lightsaber" to light up her room. He explained:
"Because I had a toy lightsaber that was rubbish as a kid, a knockoff one, and the idea was that it was going to fritz and it was going to start sending these lighthouse beams of light up the hallway and then back. It was kind of like we were playing with that same idea of what's visible and what's not."
It sounds like a pretty cool visual concept, using light and darkness to create jump scares and suspense in similar ways to what David F. Sandberg did to great effect in his 2016 horror hit "Lights Out." The only problem was, Disney wasn't keen on the whole in-joke of Baby Princess Leia using a lightsaber in a Stephen King horror movie — an in-joke that, Savage admitted, was actually completely unintentional:
"Then of course, I had completely forgotten that we'd cast young Princess Leia and the idea of young Princess Leia holding a faulty lightsaber wasn't one that Disney wanted to go forward with, so we had to madly scramble to come up with something else."
Are you afraid of the dark?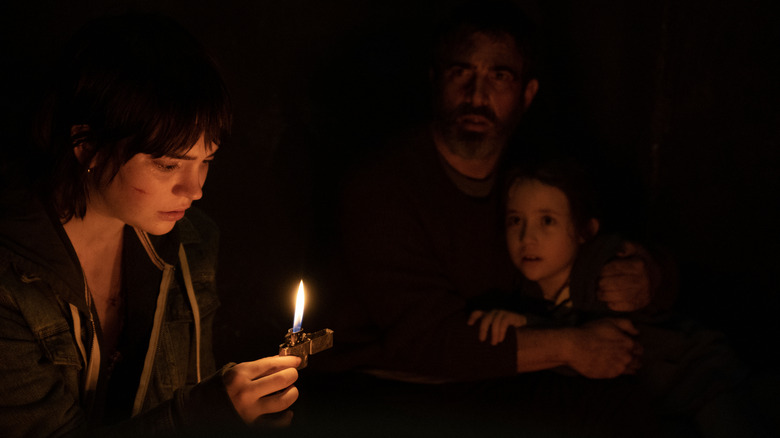 20th Century Studios
With little time to spare, Rob Savage and his collaborators scoured the internet in search of a fitting replacement for Sawyer's toy lightsaber. This led to the moon ball taking its place, which Savage felt was ultimately a benefit to the film. In his words:
"Me and the production team just spent a night Googling 'kids toys that make light,' and we found this moon ball and wrote these couple of scenes within a couple of hours and they ended up being the best scenes in the movie."
Time will tell if general audiences agree with him, but again, the visual of the moon ball has certainly made an impression with its appearances in the "Boogeyman" trailers. There's something almost preternatural about the way it illuminates Sawyer's room in contrast to its pitch-black surroundings. That and it still has that "Lights Out"-esque effect that Savage was initially going for, where it preys on our innate fears of the dark and the possibility that there's some terrible, invisible presence stalking us when we're alone in our homes at night. If nothing else, it's further proof Disney made the right call giving this one a splashy theatrical release rather than unceremoniously sending it direct-to-streaming.
"The Boogeyman" opens in theaters on June 2, 2023. Its official synopsis reads as follows:
High school student Sadie Harper and her little sister Sawyer are still reeling from the recent death of their mother. Devastated by his own pain, their father Will, a therapist by profession, gives them neither the support nor the affection that they try to claim from him. When a desperate patient shows up unexpectedly at their house asking for help, they bring in a terrifying entity that preys on the family and feeds on their greatest suffering.