The Pandemonium Movie Is Not Happening, Writers Say Vince McMahon Killed It [Exclusive]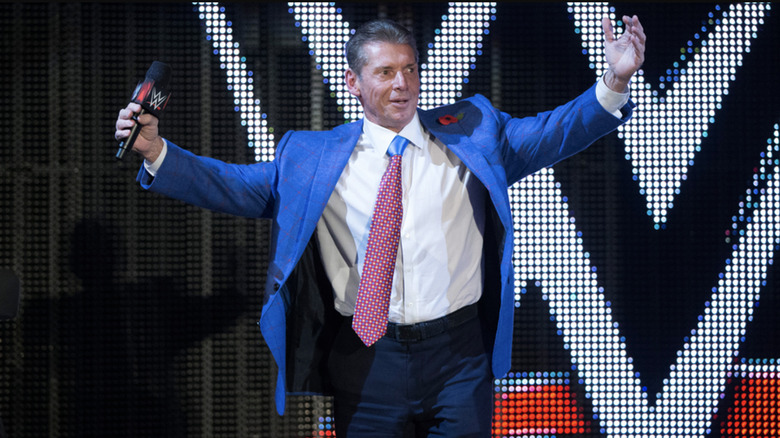 WWE
Thanks to readily accessible information at our fingertips, we don't really have folk heroes anymore, but kayfabe is still alive thanks to the world of professional wrestling ... err, I mean, "sports entertainment." Of those figures, there is no one quite as polarizing as Vincent Kennedy McMahon. For nearly half a century, Vince McMahon has been the most powerful presence in the world of professional wrestling, turning WWE into one of the most financially successful companies in all of entertainment.
His influence and importance cannot be overstated, which is why it's so difficult to grapple with his legacy. McMahon changed the landscape of wrestling, but he is also an unequivocally problematic figure. And yet, it's impossible for any of us to know the true story behind McMahon because he's been using his power for years to shape his narrative. He's spun himself into a folk hero in the eyes of many, because every documentary, behind-the-scenes video, interview, and dramatization has required the explicit approval of the man himself.
And heaven forbid anyone tells the truth about Vince McMahon's countless shortcomings.
For many years, John Requa and Glenn Ficarra have been attached to direct a Vince McMahon biopic called "Pandemonium." The project first picked up steam in 2017 with rumors that Bradley Cooper had been tapped to play the gruff-voiced businessman, but it's been all quiet on the cinematic squared circle for quite some time. In the years since, McMahon's public image has been irreparably tarnished, and he's currently treating the behind-the-scenes leadership struggles at WWE like an episode of "Succession" with suplexes. With a reputation in desperate need of redemption, we can officially say that "Pandemonium" is no more.
'Vince killed it'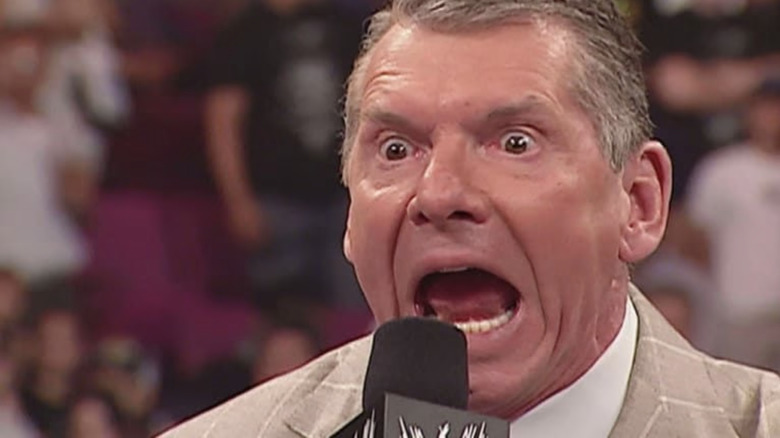 WWE
/Film's Vanessa Armstrong recently spoke with John Requa and Glenn Ficarra about their new streaming series "Rabbit Hole," and the conversation turned to a couple of other projects they've been attached to over the years, including "Pandemonium." Unfortunately, as Glenn Ficarra tells us, "Pandemonium is dead, sadly." And according to John Requa, "Vince killed it." Ficarra says the project is still one of their favorites but wasn't shy about naming McMahon as the major obstacle in bringing it to the big screen.
"We have never in our career had the studio, we had an actor, everybody was just like, 'Let's make this movie,' and Vince said, 'We're not making it,'" explains Requa. "Pandemonium" was only going to be made with the involvement and approval of WWE Studios, so even before McMahon counted out the project, we likely would have never gotten a truly authentic look at just how insidious McMahon has been for over 40 years. Compare the WWE-approved Ric Flair docuseries "Woooo! Becoming Ric Flair" to the Vice "Dark Side of the Ring" episode on "The Plane Ride from Hell" and you'll see what I mean. It's a shame the film isn't going to happen, but the duo knows that they're not alone. "So, yeah, we are on a very long list of people who got f***ed over by Vince," said Requa.
Brother, calling it a "long list" is the understatement of the century.