Rumor: Bradley Cooper Offered Role Of WWE Chairman Vince McMahon In Biopic 'Pandemonium'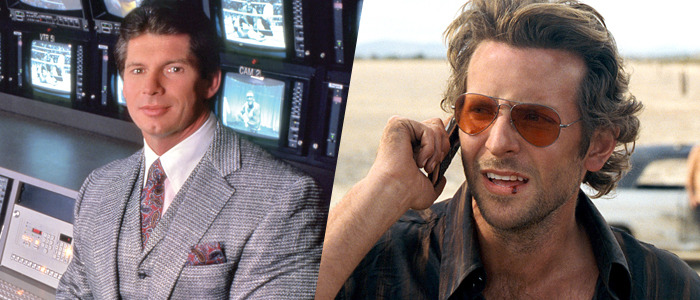 Crazy Stupid Love and Focus directors Glenn Ficarra and John Requa are currently developing Pandemonium, a biopic of WWE Chairman and CEO Vince McMahon, and a new rumor says that The Hangover and American Sniper star Bradley Cooper has been offered the role of the boisterous and media-savvy personality. Sounds like pretty great casting to us, but if Cooper's not interested, let's fan-cast this baby ourselves and come up with some alternate choices for who might make a good cinematic version of the wrestling impresario.
Word about Cooper's offer comes from PWInsider.com, a site dedicated to professional wrestling. We're not certain of the site's bona fides when it comes to breaking movie news, so it's best to treat this as a rumor until we hear confirmation elsewhere; that being said, the site was well-known as a reliable source for breaking accurate wrestling news the last time we checked (which was admittedly a few years ago), so it's not hard to imagine they have a source close to this production.
One more thing worth mentioning before we dig into the casting talk: Pandemonium was written by Craig A. Williams (Underdog) and is being made with the involvement of WWE Studios, meaning the final product will almost certainly be a more watered-down version of events than what actually happened since McMahon and his family will have a say in what makes it to the final cut. Bummer.
If you don't know much about McMahon, he's a brash, larger-than-life persona who is also a business visionary responsible for turning what was previously only a regional sport into a worldwide mega-hit enterprise. (He's also responsible for the short-lived XFL football league, which was covered in great detail in a recent ESPN 30 for 30 film.) He currently operates as the majority owner of the WWE, but he's also essentially played a heightened version of himself on television for years, going as far as getting in the ring to wrestle and incorporating himself into the sorts of long-running narratives that wrestling fans love.
Cooper is inspired casting. He sort of has the look of a younger McMahon with the slick hair and the flashy clothes, but there's an intelligence to him that would make you believe there's something deeper going on than just a hyped up public persona. But let's pretend he's not interested and he passes on the part. Who else could play this guy in Pandemonium?
It'd be a lot of fun to see Josh Brolin play a sleazy version of McMahon, and I feel like Hugh Jackman's natural showmanship might give him a leg up on the competition. James Franco could do it because that guy can do just about anything, and this may be a weird choice, but I kind of feel like James Marsden could disappear in a role like this and really sink his teeth into it.
Are you looking forward to this biopic? Who do you think should play the cinematic version of McMahon?