Brett Goldstein Says Ted Lasso Dies At The End Of Season 3, Could Return As 'Ghost Lasso'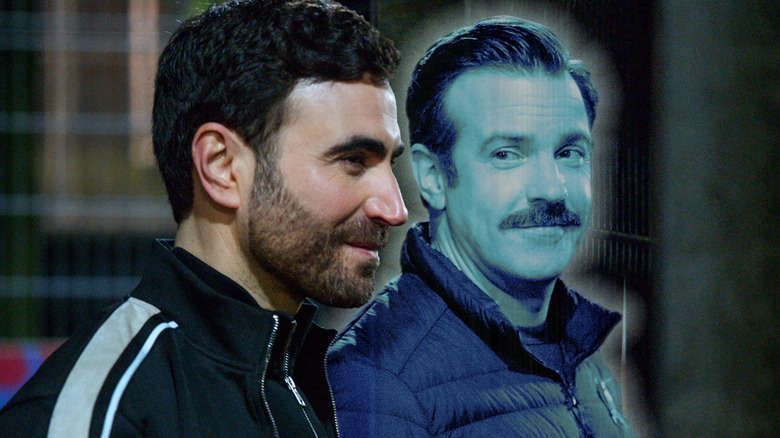 Apple TV+
Two-time Emmy winner and normal human man Brett Goldstein made a joke (we hope) about Ted Lasso's imminent death.
The writer and actor, who plays the irritable Roy Kent on the Apple TV+ comedy series, has been throwing out some ideas about how season 3 might end ahead of its premiere. Goldstein, "Ted Lasso" star Jason Sudeikis, and his co-executive producer, Brendan Hunt (who plays Coach Beard) have all spoken previously about the three-season plan for the series. Coach Lasso himself is expected to leave the field after season 3, though he could always do an about-face, and the Lasso-verse could continue with other characters, perhaps even Roy himself.
In the meantime, Goldstein has ideas for how Ted Lasso could come back for season 4, even if he dies at the end of season 3. He recently told The Hollywood Reporter:
"Season 3 ends with the death of some major characters. I keep saying– I have said to Jason, season 4 could be 'Ghost Lasso,' where we carry on but Ted Lasso is now haunting the locker rooms and trying to inspire the players from the other side."
We can probably safely dismiss that as a bit of facetiousness on Goldstein's part, but you never know. Maybe Ted Lasso will become the locker-room equivalent of Moaning Myrtle, the toilet ghost in the Harry Potter series.
Goldstein wasn't the only actor on hand to tease where season 3 of "Ted Lasso" is headed. Hunt told THR that "Ted's feeling of separation from his son is definitely something that we'll continue to look at as the season goes on." As Ted's son continues to grow up apart from him and his ex-wife continues to "get on with her life," Hunt said, "it creates new complications in Ted's heart, for sure."
The status of Rebecca and Nate in season 3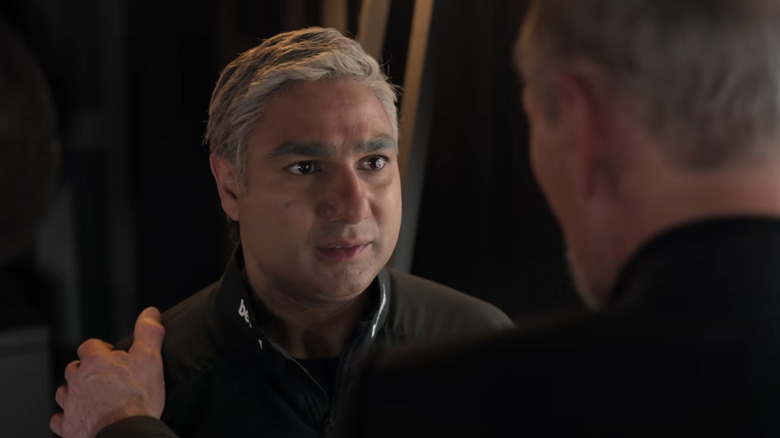 Apple TV+
Emmy winner (and future "Mission: Impossible" star) Hannah Waddingham said that her character, AFC Richmond owner Rebecca Welton, will try to "nurture herself" in "Ted Lasso" season 3, but her ex-husband, Rupert Mannion (Anthony Head), "is the thorn in her side, and sometimes it pricks her more than usual."
Nick Mohammed also addressed Nate Shelley's heel turn from assistant coach of AFC Richmond to the rival head coach of West Ham United. It's a character arc that had been building for some time, with little hints of Nate's propensity for jerky behavior leaking in until he finally exploded on Ted in the locker room and departed the team, going to work for Rupert at the end of season 2. Mohammed acknowledged that some fans weren't happy to see the former humble kit man break bad, saying:
"The extent of the outpouring of grief for Nate having turned to the dark side did surprise me, actually, because I feel like — not that I felt like people should have predicted that was going to happen as much as it was sort of seeded from early on. It was, you know, it's slowly drip fed and it was a gradual decline. But yeah, people were angry, like people took it really personally, and I can only think it's because, you know, season 1 was, I guess, that story, that arc was 'underdog empowered by Ted does good, gets promoted,' and it's something that we could all cling on to because we love those stories. So I think because we were rooting for Nate it felt like an even bigger gut punch."
"Ted Lasso" season 3 premieres March 15, 2023, on Apple TV+.