Ted Lasso Star Jason Sudeikis Says The Lasso-Verse Could Continue After The Series Ends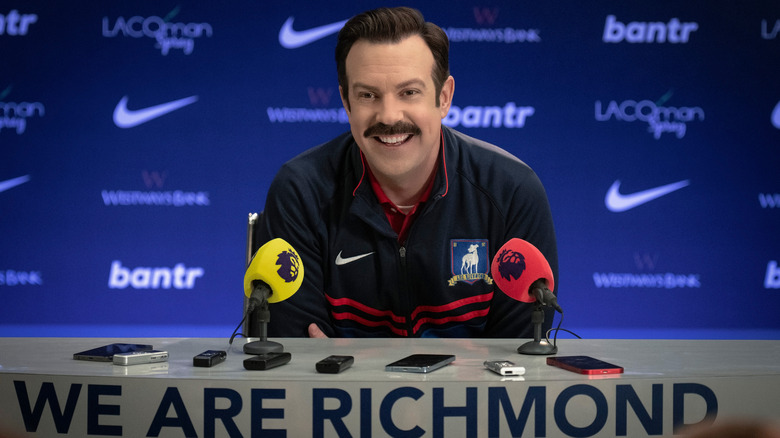 Apple TV+
We've known for a while that season 3 of "Ted Lasso" may be its last, but if and when the popular Apple TV+ series does end, it's possible the Lasso-verse could continue on in another form.
Back in June 2021, before "Ted Lasso" season 2 had even premiered, executive producer and star Jason Sudeikis told Entertainment Weekly about the "three-season arc" he envisioned for the series. His costar and fellow executive producer, Brendan Hunt, who plays Coach Beard, said it was always meant "to be three seasons." A year later, another honorary Diamond Dog, Brett Goldstein, who plays Roy Kent and doubles as a writer for the show, reiterated that "Ted Lasso" was being written and "planned as three" seasons.
Fast forward to 2023, and now Sudeikis, Goldstein, and "Ted Lasso" are all two-time Emmy Award winners (the latter for Outstanding Comedy Series), while the March 15 premiere date of season 3 is almost upon us. (Watch the trailer here.) When asked again if season 3 would really conclude the series, Sudeikis stated once more that "this is the end," but he also acknowledged the demand for more "Ted Lasso," telling Deadline:
"This is the end of this story that we wanted to tell, that we were hoping to tell, that we loved to tell. The fact that folks will want more and are curious beyond more than what they don't even know yet — that being season 3 — it's flattering. Maybe by May 31, once all 12 episodes of the season [have been released], they're like, 'Man, you know what, we get it, we're fine. We don't need anymore, we got it.' But until that time comes, I will appreciate the curiosity beyond what we've come up with so far."
'We've set the table for all sorts of folks'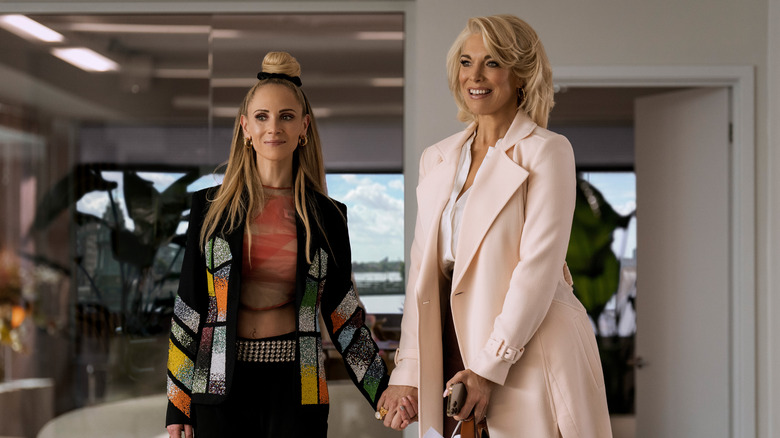 Apple TV+
Last year, both Brett Goldstein and co-creator Bill Lawrence signed an exclusive new deal with Warner Bros. Television, which co-produces and co-distributes "Ted Lasso." At the time, there was already talk of potential "Ted Lasso" spin-offs, and we speculated, based on Goldstein's deal, that Roy Kent might be a viable candidate for one. Roy's girlfriend, Keeley Jones (Juno Temple) has already started her own PR firm in new office surroundings, so that could possibly set her up for a spin-off, too, not to mention her best friend and the AFC Richmond team's owner, Rebecca Welton (Emmy winner Hannah Waddingham).
"Ted Lasso" has already flirted with the idea of a Lasso-verse show without Lasso himself. The season 2 episode, "Beard After Hours," showed us what one might look like by centering on Coach Beard's solo adventures one night after AFC Richmond's loss to Manchester City. Reaction to the episode was mixed, but Brendan Hunt told The Los Angeles Times that it was devised as something outside the original writing plan after "Ted Lasso" was picked up for an additional two episodes in season 2. In his comments to Deadline, Jason Sudeikis hinted that other characters could likewise carry the Lasso-verse forward beyond his three-season plan:
"I think that we've set the table for all sorts of folks ... to get to watch the further telling of these stories. Again, I can't help but take the question as flattery for what all of us that were working on the show has tried to do. It's really kind of folks to even consider that because you never know what's gonna happen when you make things. The fact that people want more, even if it's a different avenue is lovely."
"Ted Lasso" season 3 premieres on Apple TV+ on March 15, 2023.