Creed III Sets A Rocky Franchise Record With $58 Million Opening Weekend [Update]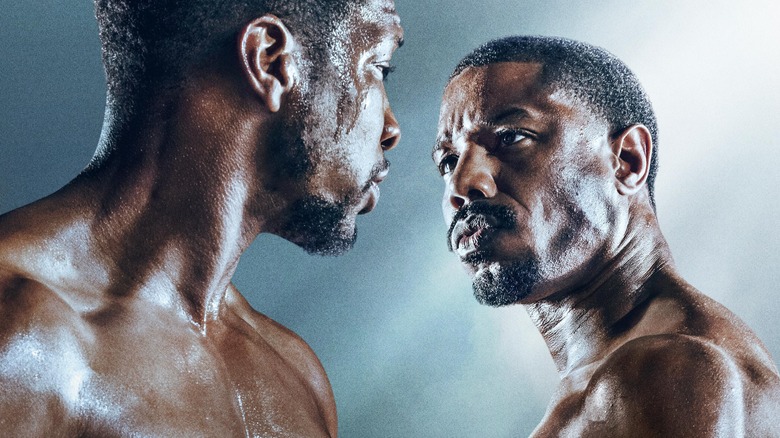 MGM
Update — Sunday 5 March, 2023: On Saturday, "Creed III" was projected for an opening weekend north of $50 million, but it has landed very far north of that estimate. Per The Wrap, the movie has now raced ahead of earlier expectations with an outstanding $58.6 million debut. MGM (via The Hollywood Reporter) claims that this is the biggest opening ever for a sports movie; whether or not that's true depends on whether you count the animated "Cars" franchise and the later "Fast & Furious" sequels as belonging to the sports genre. It is, however, the biggest debut for any movie in the "Rocky" franchise so far, by a considerable margin, as well as setting a new opening weekend record for MGM's new parent company, Amazon Studios.
"Creed III" was originally set for release on Thanksgiving weekend in 2022, which would have been unwise for at least one key reason: with the release of "Black Panther: Wakanda Forever" just two weeks previously, there would have been fewer IMAX screens available to launch this movie on. As it is, Variety reports that 38 percent of the opening weekend box office for "Creed III" came from premium format ticket sales. IMAX CEO Rich Gelfond commented that "Michael [B. Jordan] did an excellent job launching this film," and cites the movie's success as "further proof that the box office is back and ready to support this year's strong, diversified slate."
A diversified slate has indeed proven key to the resurgence of the box office in 2023. The typically dead month of January managed to draw audiences in by offering a range of genres, from James Cameron's blockbuster sci-fi "Avatar: The Way of Water," to viral horror hit "M3GAN," and animated sleeper hit "Puss in Boots: The Last Wish." It will be interesting to see how well "Creed III" holds up against "Shazam: Fury of the Gods," "Scream VI," and "John Wick: Chapter 4" in the coming weeks.
Original article follows.
Michael B. Jordan has the eye of the tiger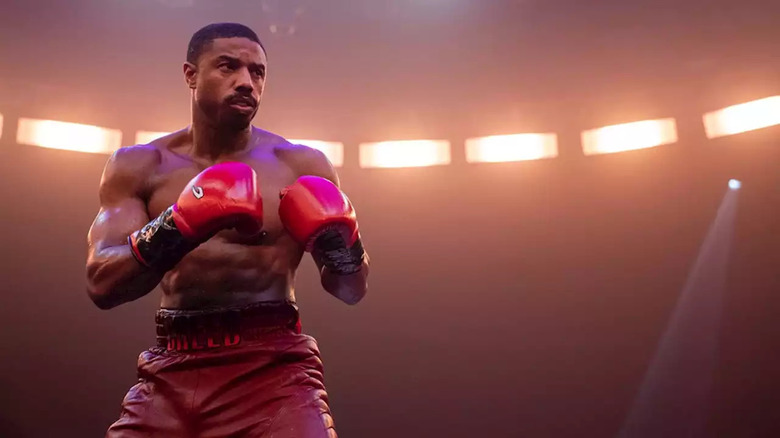 Eli Ade / MGM
In the wake of a recent act of Cameron-on-Cameron violence at the box office, this weekend brings a clash between "Ant-Man and the Wasp: Quantumania" star Jonathan Majors and Jonathan Majors, star of "Creed III." Playing the antagonist role in both movies — multiverse-traveling despot Kang the Conqueror in "Quantumania" and an old acquaintance with a grudge to settle in "Creed III" — Majors is now enjoying back-to-back turns at the box office No. 1 spot. Per Variety, the third chapter in the "Creed" story is projected to gross at least $50 million in its opening weekend, surpassing earlier predictions of a debut somewhere in the $30-40 million range.
"Creed III" is the feature directorial debut of Michael B. Jordan, who also plays the titular lead in a reprisal of his role from "Creed" and "Creed II." Despite being the first movie in the overarching "Rocky" franchise not to feature Sylvester Stallone as Rocky Balboa (who mentored Jordan's Adonis "Donnie" Creed in the previous two movies), "Creed III" has significantly outstripped its predecessors, which opened at $29.6 million and $35.5 million, respectively. It's also the highest opening weekend for any movie in the "Rocky" franchise so far.
This was a true trial by fire for Jordan. Directing one's first feature film is hard enough when you're working solely from behind the camera, but he had to pull double duty with an emotionally and physically exhausting lead role, and even had to direct some scenes with a mouth guard in — a pretty rare obstacle for a filmmaker. Like Adonis Creed, and Rocky Balboa before him, Jordan has risen to the challenge and triumphed. In addition to these strong early box office numbers, "Creed III" holds a "Certified Fresh" score of 87% on Rotten Tomatoes as of this writing, and an A- CinemaScore from direct audience polling.
Operation Who? Ruse de What?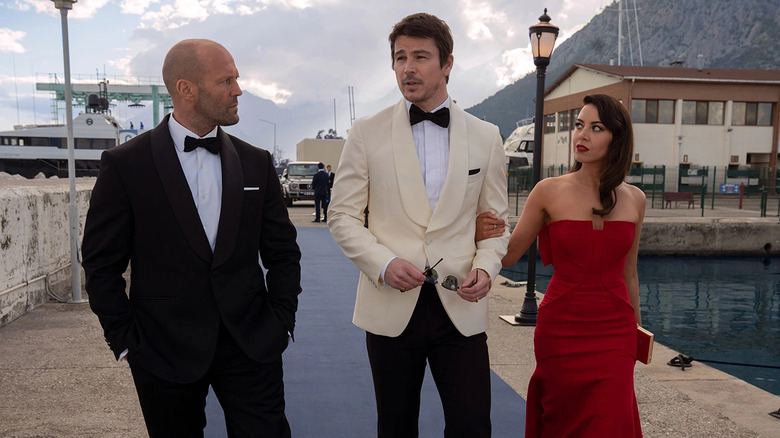 Lionsgate
In the boxing ring, triumph is seen side-by-side with defeat, and such is the case with this weekend's box office. Guy Ritchie's spy action/comedy film "Operation Fortune: Ruse de Guerre" is expected to open outside of the box office top five after grossing just $1.073 million from 2,168 locations on its opening day (compared to $22 million across 4,007 locations for "Creed III." The Wrap estimates that "Operation Fortune" will end the weekend with just $3 million.
That's a disastrous result for a movie with a reported budget of $50 million. Ritchie isn't to blame here, though; this particular project has had just about everything go wrong. First, the title was changed from "Five Eyes" (after the international intelligence alliance) to the frankly terrible "Operation Fortune: Ruse de Guerre." According to Deadline, the change was due to concerns over how "Five Eyes" would play in China. The film was supposed to be released last year, but the villains include Ukrainian gangsters, which became a rather awkward plot point following Russia's invasion of Ukraine. 
The final nail in the coffin came when U.S. distributor STX became tangled up in financial restructuring, with "Operation Fortune: Ruse de Guerre" among the assets being held as lien. The distribution rights were sold to Lionsgate, which announced the movie's March 3 release date with just two weeks' notice. Add in the fact that it was sent up against a highly-anticipated, male-skewing, action-adjacent movie like "Creed III," and it's easy to see why Ritchie's latest is bombing so hard in the U.S. It did open in some international markets back in January, and so far has grossed $30.7 million from overseas, but at this point it looks unlikely to even make back its production budget.
Spare a thought for "65," another movie with a truly awful title, which is set to release next weekend.