The Best TV Shows And Movies Coming To Netflix In March 2023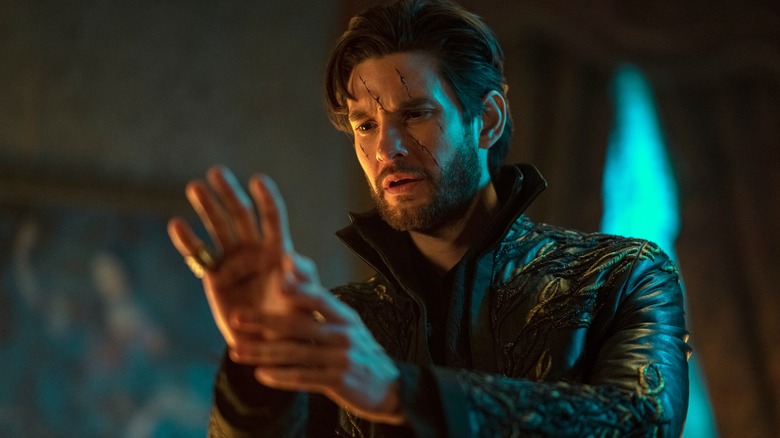 Netflix
With the sleepy release months of January and February behind us, the time has come to enter March, where a deluge of exciting titles await. Prepare for the much-anticipated return of fan-favorite TV series: everything from "The Mandalorian" and "Ted Lasso" to "Succession" and "Yellowjackets." Even "Riverdale" is on the way back, if that's the kind of chaos that you're into! But enough about other streaming services — what's going on over at Netflix, the OG spot for a weekend binge?
The streamer has recently revealed their release slate, detailing everything to come in March 2023 and there's a lot going on. For one thing, they've somehow managed to produce yet another season of "Love Is Blind," an often painful-to-watch dating reality series where terrible decisions are made and basically nothing good ever happens. Netflix has been going hard on the reality front for a while now, something that certainly isn't slowing down, based on the addition of "Cheat," "Oulast," "Next in Fashion," "The Law of the Jungle," and "Dance 100." But that's just one corner of what the streamer has to offer.
There's also "Sky High: The Series," which has nothing to do with superheroes and their sidekicks; Jennifer Anniston and Adam Sandler are back for "Murder Mystery 2," a sequel that the Netflix metrics apparently demanded; and March also marks the return of popular series like "Sex/Life," "The Kingdom" and more. All the upcoming titles are listed below, including a couple that deserve top placement on your personal "must-watch" list.
Agent Elvis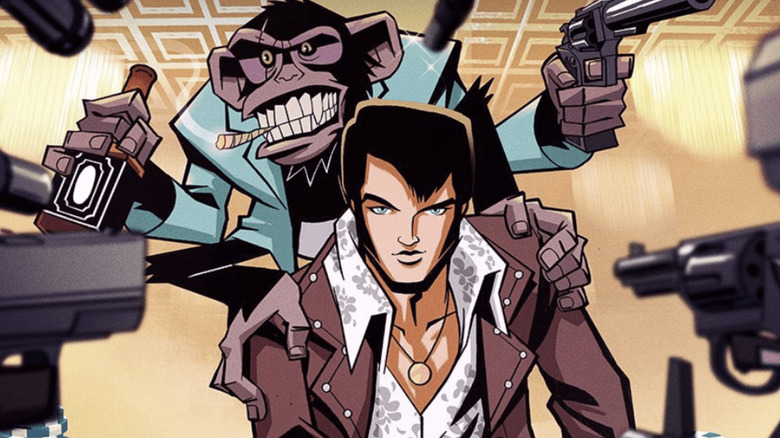 Netflix
The King of Rock and Roll by day, a secret agent by night — Elvis is adding a jetpack to his jumpsuit getup, to defend the country from all things evil in "Agent Elvis." Need I say more? Probably not — chances are, you saw the title, processed the image, and are already 100% obsessed with this show — but allow me to sweeten the deal. Elvis is voiced by Matthew McConaughey in this gorgeous animated series from the studio behind "Spider-Man: Into The Spider-verse." He's also got a chimp sidekick.
Netflix, you had us at "Agent Elvis," but I still appreciate that the first trailer makes the case for lots of chaotic fun. Elvis can be seen taking a trip to the moon, punching Charles Manson, and displaying enough creativity to rival John Wick (let's just say he mistakes a regular ol' pen for a gadget, and still manages to brutally take down a criminal). And through it all, The King has a killer wardrobe befitting one of the world's biggest stars. The series also doesn't shy away from mature themes — expect lots of blood, guts, nudity, and foul language! Sure, it's not exactly taking the biographical approach to Elvis's life but that's already been covered. Anyway, according to co-creator Priscilla Presley, it does accomplish Elvis' lifelong dream of being a superhero, and that has to count for something!
Shadow and Bone (Season 2)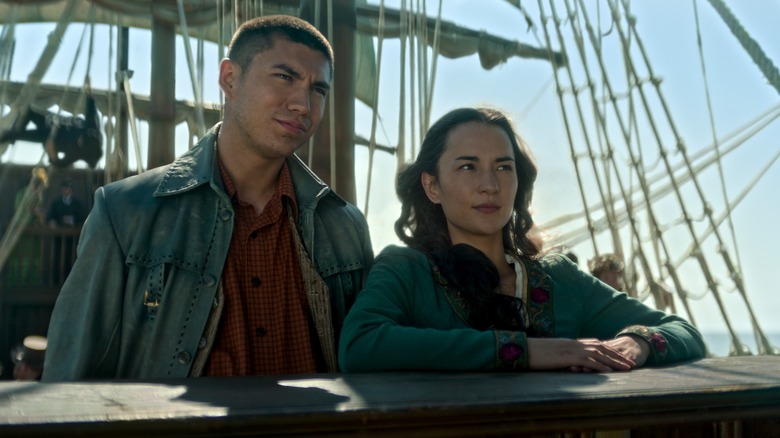 Netflix
For a hot sec, "Shadow and Bone" was the fantasy series of the moment. And then the zeitgeist died down and the slow road to the second season began. 2 years later, the series is bringing us back to its war-torn world where certain people, known as Grisha, have the magical ability to manipulate matter. The most dangerous among them is General Kirigan (Ben Barnes), the leader of the Grisha and a Shadow Summoner who believes that he can change the world with the help of orphan girl Alina Starkov (Jessie Mei Li), a fabled Grisha called the Sun Summoner. But in typical YA fantasy fashion, there's a lot more to the story than meets the eye: like the fact that Kirigan's version of changing the world might not be for the better. Also, Alina's story intersects with another: that of a criminal gang of thieves trying to pull off a heist.
After a temporary win set Alina and her friends on a path towards defeating Kirigan, the Shadow summoner has returned with vengeance on the brain— which brings us to the second season, where the magic gets serious, the love triangles get more complicated and the stakes are higher than ever. Will these select few chosen ones actually manage to save the world from evil? It's YA fantasy so yeah, probably. But what will it cost them to win?
The series is based on Leigh Bardugo's bestselling Grishaverse books, with the upcoming season expected to follow the events "Storm and Siege." It will mark the introduction of Anna Leong Brophy and Lewis Tan as twin Grisha mercenaries, Tamar Kir-Bataar and Tolya Yul-Bataar; Jack Wolfe as the long-awaited sixth crow, Wylan Hendricks; and Patrick Gibson as Nikolai Lantsov, prince of Ravka.
The Magician's Elephant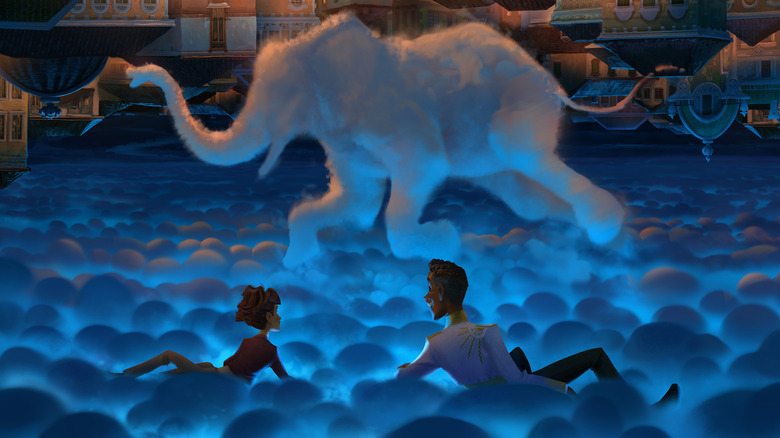 Netflix
Like so many youth-targeted protagonists before him, Peter (Noah Jupe) is a kindhearted orphan boy on a mission. With his parents out of the picture, it's fallen on him to find and protect his long-lost sister. So when he crosses paths with a fortune teller, he seizes on the opportunity to ask her what he must do to reunite with his sister. Her answer? "Follow the Magician't Elephant."
It's probably not the answer that Peter was hoping for. "Head down the street and take a left" would've been preferable. But Peter is not deterred, as he sets off on a harrowing journey to complete three impossible tasks, in exchange for the magical elephant and a chance to find his sister. The upcoming film takes its story and title from the Kate DiCamillo novel "The Magician's Elephant," a haunting fable about the power of hope. The much-beloved book is especially famous for its stunning illustrations by Yoko Tanaka, which paint an atmospheric portrait of Peter's fantastical world. The animated Netflix adaptation has much to live up to in that regard.
You (Season 4 — Part 2)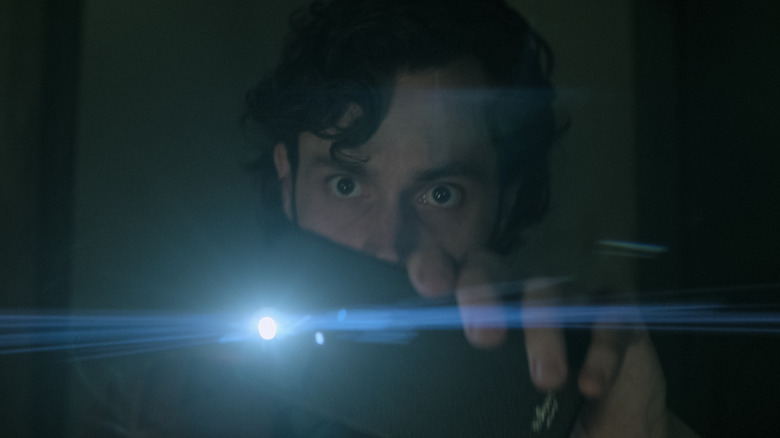 Netflix
Joe Goldberg (Penn Badgley) is back with his bloody Tupperware, his talent for severing limbs, and his perpetual identity crisis. Try as he might, this man never really changes and always returns to his old habits of stalking, killing, and trying to avoid getting caught. The first half of season 4 debuted in February, introducing us to the mysterious Eat The Rich Killer, a murderer who has uncovered Joe's bloody past. By episode 5, Joe manages to unmask the killer but is still trapped in their game. He doesn't want to play nice with the person threatening to blow up his life, but what choice does Joe have? Starting off his new life with yet another murder would probably be a bad omen ... not that morality has ever stopped Joe before.
All will be revealed when "You" returns in March, with five episodes that take the series to exciting new heights.
Easy A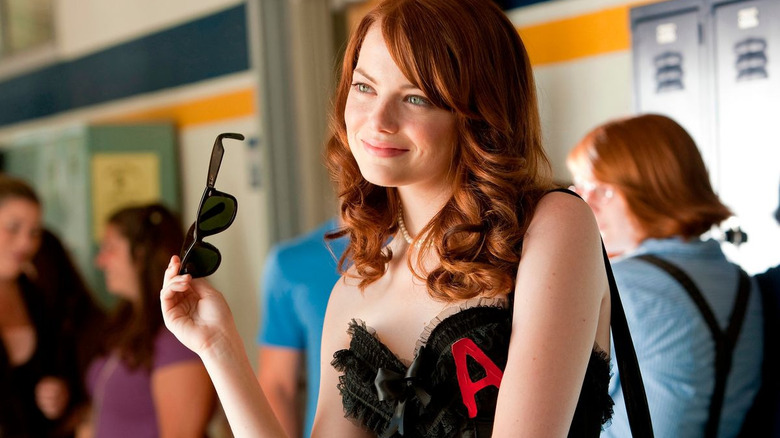 Sony Pictures
On the subject of Penn Badgley, long before he was playing a psycho, serial killing stalker, he was actually a pretty nice guy in "Easy A," one of the greatest teen movies in recent history. Either you've had the pleasure of meeting Woodchuck Todd or you immediately need to see Badgley chomp down on some wood. This film also showcases the true charms of Emma Stone, who stars as spiraling teen Olive Penderghast.
Like many traumatic teen experiences, Olive's story begins with one little white lie that grows so big, it nearly ruins her entire high school career. Because the teen gossip mill is insatiable, one small mistake catapults Olive into a firestorm that paints her as promiscuous. Inspired by her class's study of "The Scarlet Letter," Olive decides to lean into her new reputation with risqué clothes, a flashy red A, and lots of fuel for the gossip fire. Unsurprisingly, that does not have the desired effect of making her more popular.
The result is a top-tier performance from Stone, as a snappy smart, and self-assured teen who is still figuring things out. Plus, the rest of the ensemble more than holds their own: Lisa Kudrow is her hilarious principal; Amanda Bynes is a cheerily menacing antagonist; and the duo of Stanley Tucci and Patricia Clarkson are maybe the greatest tee comedy parents ever.
Movies and TV shows coming to Netflix in March 2023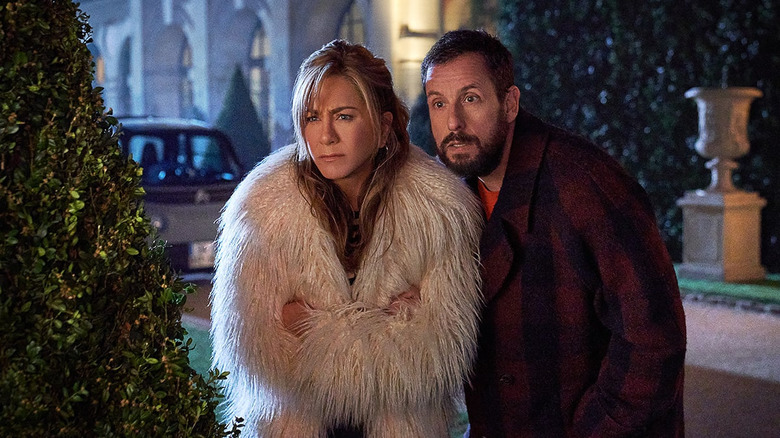 Netflix
Date TBA
Agent Elvis (Netflix Series)
Furies (Netflix Film)
I Am Georgina: Season 2 (Netflix Series)
Available March 1
Cheat (Netflix Series)
Tonight You're Sleeping with Me (Netflix Film)
Wrong Side of the Tracks: Season 2 (Netflix Series)
Big Daddy
Burlesque
Easy A
Forged in Fire: Knife or Death: Season 2
The Hangover
The Hangover: Part II
The Hangover: Part III
Little Angel: Volume 2
Magic Mike XXL
National Lampoon's Animal House
Open Season
Open Season 2
Out of Africa
Rango
Seven Years in Tibet
Sleepless in Seattle
Spirit: Stallion of the Cimarron
The Other Boleyn Girl
Available March 2
Framed! A Sicilian Murder Mystery: Season 2 (Netflix Series)
Karate Sheep (Netflix Family)
Masameer County: Season 2 (Netflix Series)
Monique Olivier: Accessory to Evil (Netflix Documentary)
Sex/Life: Season 2 (Netflix Series)
This Is Where I Leave You
Available March 3
Love at First Kiss (Netflix Film)
Next in Fashion: Season 2 (Netflix Series)
Split the Root
Available March 4
Chris Rock: Selective Outrage (Netflix Comedy)
Divorce Attorney Shin (Netflix Series)
Available March 6
Ridley Jones: Season 5 (Netflix Family)
Available March 7
Available March 8
Faraway (Netflix Film)
MH370: The Plane That Disappeared (Netflix Documentary)
Available March 9
You: Season 4 Part 2 (Netflix Series)
Available March 10
The Glory Part 2 (Netflix Series)
Have a nice day! (Netflix Film)
Luther: The Fallen Sun (Netflix Film)
Outlast (Netflix Series)
Rana Naidu (Netflix Series)
10 Minute Workouts: Volume 2
20 Minute Workouts: Volume 2
30 Minute Workouts: Volume 2
Abs & Core Volume 1
Bodyweight Burn: Volume 2
Fire & Flow with Tara & Xochilt Volume 1
Fitness for Runners Volume 1
High-Intensity Training: Volume 2
Ignite & Inspire: Volume 1
Kick Off with Betina Gozo: Volume 1
Lower-Body Workouts Volume 1
Upper-Body Workouts Volume 1
Yoga Volume 1
Yoga with Xochil: Volume 1
Available March 14
Ariyoshi Assists (Netflix Series)
Bert Kreischer: Razzle Dazzle (Netflix Comedy)
Available March 15
The Law of the Jungle (Netflix Series)
Money Shot: The Pornhub Story (Netflix Documentary)
Available March 16
The Chronicles of Riddick
Kick-Ass 2
Pitch Black
Riddick
Shadow and Bone: Season 2 (Netflix Series)
Still Time (Netflix Film)
Available March 17
Dance 100 (Netflix Series)
In His Shadow (Netflix Film)
Maestro in Blue (Netflix Series)
The Magician's Elephant (Netflix Film)
Noise (Netflix Film)
Sky High: The Series (Netflix Series)
Available March 20
Carol
Gabby's Dollhouse: Season 7 (Netflix Family)
Available March 21
We Lost Our Human (Netflix Family)
Available March 22
Invisible City: Season 2 (Netflix Series)
The Kingdom: Season 2 (Netflix Series)
Waco: American Apocalypse (Netflix Documentary)
Available March 23
Johnny (Netflix Film)
The Night Agent (Netflix Series)
Available March 24
Chor Nikal Ke Bhaga (Netflix Film)
Love Is Blind: Season 4 (Netflix Series)
Available March 28
InuYasha: Seasons 4-5
Mae Martin: SAP (Netflix Comedy)
Available March 29
Emergency: NYC (Netflix Documentary)
Unseen (Netflix Series)
Wellmania (Netflix Series)
Available March 30
Big Mäck: Gangsters and Gold (Netflix Documentary)
From Me to You: Kimi ni Todoke (Netflix Series)
Unstable (Netflix Series)
Available March 31
Copycat Killer (Netflix Series)
Diary of a Mad Black Woman
Henry Danger: Seasons 4-5
Kill Boksoon (Netflix Film)
Love Is Blind: Season 4 (Netflix Series, new episodes weekly)
Murder Mystery 2
Teenage Mutant Ninja Turtles: Season 2