Essential Movies About High School You Need To See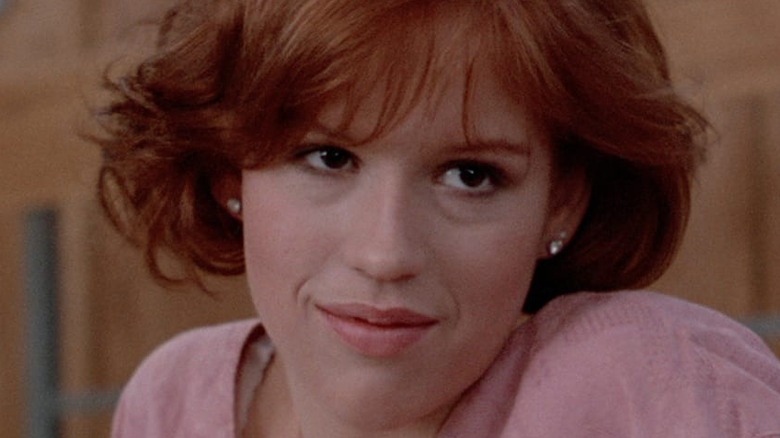 Universal Pictures
The high school experience is a fixture of coming-of-age films, as heightened emotional states and specific pressures give the transition from childhood to adulthood unlimited storytelling potential. Great high school movies cross many different genres, but always come down to the specific, yet somehow universal, challenges that teenagers face.
John Hughes is the filmmaker most closely associated with high school movies thanks to his groundbreaking work in the '80s to accurately depict these pivotal years. Hughes generated empathy for his characters by taking their fears and desires seriously, and his films launched the careers of many great young stars. While specifically catered towards teenagers who saw themselves in the characters, older viewers also were able to use Hughes' films to reminisce on their own youth. The genre has opened up in subsequent years to reflect diverse audiences, with recent hits such as "Booksmart," "The Edge of Seventeen," and "The Hate U Give." 
These are the movies about going to high school you need to see.
River's Edge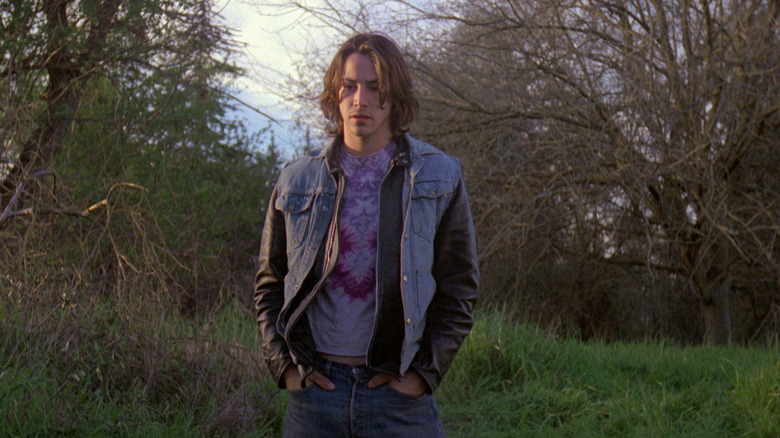 Island Pictures
"River's Edge" is one of the darkest high school films ever made. The film follows a group of Northern California teenagers who discover that their lifelong friend John (Daniel Roebuck) murdered his girlfriend Jamie (Danyi Deats), and they're forced to hide the secret. Watching the naïve characters wrestle with the violent crime and consider how they've misjudged their former friend makes "River's Edge" a shocking coming-of-age story about the loss of innocence.
The entire ensemble is terrific, but the film's breakout star was Keanu Reeves as the stoner Matt. Matt has a dour attitude towards his prospects for his future, but despite his clashes with law enforcement, he hides a sensitive side. Matt's romance with Clarissa (Ione Skye) is challenging, as despite their affection for each other, neither feels like they can walk among their classmates again. Matt develops responsibility as he learns to protect his brother Tim (Joshua John Miller) from heading down a violent path.
Palo Alto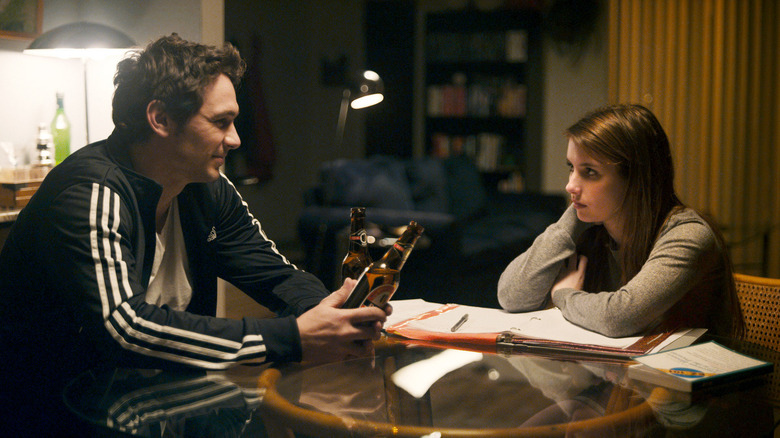 Tribeca Film
"Palo Alto" meditates on fleeting youthfulness through delicate reflection. The characters that populate a California high school are isolated by their struggles, and in her promising debut writer-director Gia Coppola reflects on the challenges young people have communicating their anxieties. Soccer star April (Emma Roberts) is flustered by the romantic advances of her coach Mr. B (James Franco), but nonetheless agrees to babysit his children. The stoner Teddy (Jack Kilmer) wreaks havoc on his community alongside his best friend Fred (Nat Wolff), but a shocking accident forces Teddy to face the consequences of their actions alone.
Coppola's hazy, dreamlike cinematography finds moments of beauty amidst the teens' lives, and the overtly poetic dialogue is well-suited for the naïve characters. The film depicts disturbing events, particularly as Fred descends deeper into addiction and Teddy is forced to end their relationship. However, as April and Teddy find each other amid the chaos, "Palo Alto" offers a window of hope.
Say Anything...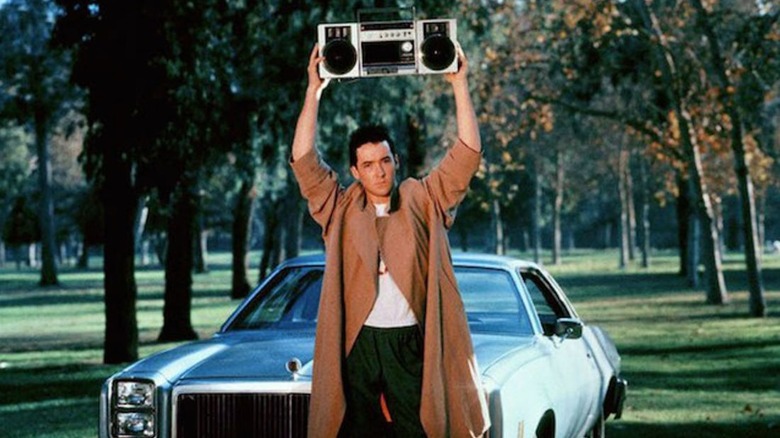 20th Century Fox
Cameron Crowe's directorial debut is a refreshingly earnest, uncynical depiction of a high school love story. Crowe reimagines a classic "Romeo and Juliet" story through the seemingly unlikely romance between underachiever Lloyd Dobler (John Cusack) and class valedictorian Diane Court (Ione Skye). These characters could have been stereotypes, but Crowe gives them unexpected depth; Dobler isn't malicious or lazy and Diane isn't a stuck-up, secluded princess, and both learn to understand each other.
Cusack would come to be known for his quick wit following "Say Anything...," and it's interesting to see him here as a character whose fast talking isn't driven by snark. He's the rare '80s male protagonist who supports his love interest whole-heartedly, encouraging Diane to pursue her internship in Britain and comforting her during the film's final moments. The scene of Cusack standing outside of Diane's window with a boombox blasting "In Your Eyes" is one of the great romantic moments in movies, high school or otherwise.
The Breakfast Club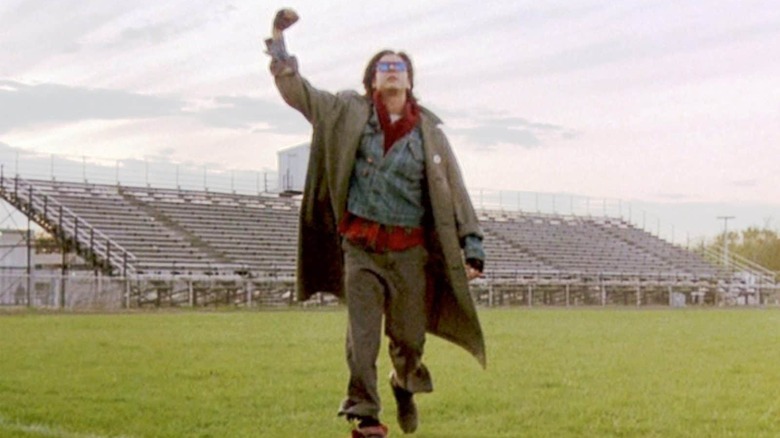 Universal Pictures
Hughes' most famous film builds off of the notion that every person is an individual, despite what stereotypes may indicate. Hughes took five familiar archetypes and created a situation in which they were forced to interact, with each character's empathy growing as they hear about someone else's experience.
The troublemaker Bender (Judd Nelson), spoiled rich girl Claire (Molly Ringwald), promising athlete Andrew (Emilio Estevez), geeky Brian (Anthony Michael Hall), and basket case Alison (Ally Sheedy) are kept in their school's library for an entire Saturday by their overbearing Vice Principal Vernon (Paul Gleason). Vernon assigns each of them the task of each writing a personal essay. While the five are aware of each other in passing, they've never taken the time to get to learn about one another and discover that they have a lot in common. While their situations are different, each one struggles with the burdens placed on them by their parents, and seeks to break out of the singular trait that they've become known for.
"The Breakfast Club" balances comedy and drama. There are plenty of laugh-out-loud moments as the group gets high and defaces school property, but in the film's most famous scene they sit down for an intimate conversation and share their secrets. The unlikely friendship empowers its adolescent audience, proving that there's more to a person than the social clique they belong to.
Me and Earl and the Dying Girl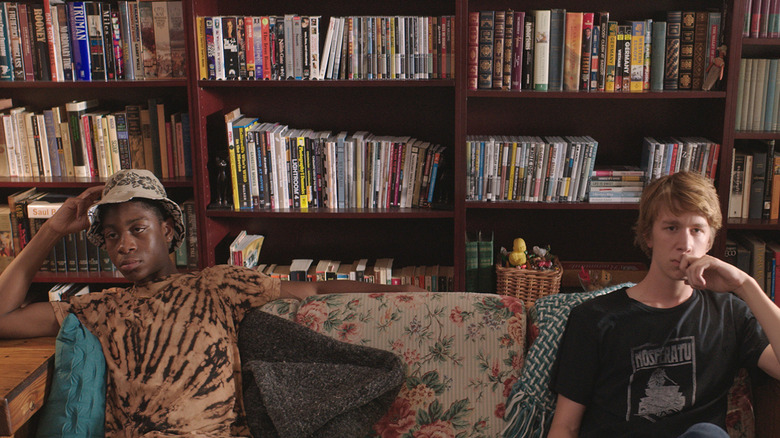 Fox Searchlight Pictures
Few films are better suited for a cinephile audience than "Me and Earl and the Dying Girl," which shows how filmmaking can drive creativity and offer solace during challenging times. Author Jesse Andrews adapted his own hit novel for a reference-laden story about high school outsiders bound by their love of movies.
Greg (Thomas Mann) and Earl (RJ Cycler) learn about cinematic classics from their unusual teacher Mr. McCarthy (Jon Bernthal), and work on a shoestring budget to remake their favorite movies — with a twist. "Apocalypse Now" becomes "A Box of Lips Now." "My Dinner With Andre" becomes "My Dinner With Andre The Giant." Greg and Earl's limited abilities produce terrible parodies. However, Greg and Earl take on a more serious endeavor when their classmate Rachel (Oliva Cooke) is diagnosed with terminal cancer; although Greg only talks to Rachel out of obligation at first, the trio become friends, and Greg and Earl decide to create a special film for Rachel before she dies.
While high school films about life with cancer like "The Fault in Our Stars" were popular when "Me and Earl and the Dying Girl" came out, the film's dark sense of humor allows Rachel to laugh at her situation. The voiceover from Greg satirizes clichés in high school movies, but the emotional conclusion shows the power movies have to heal.
Election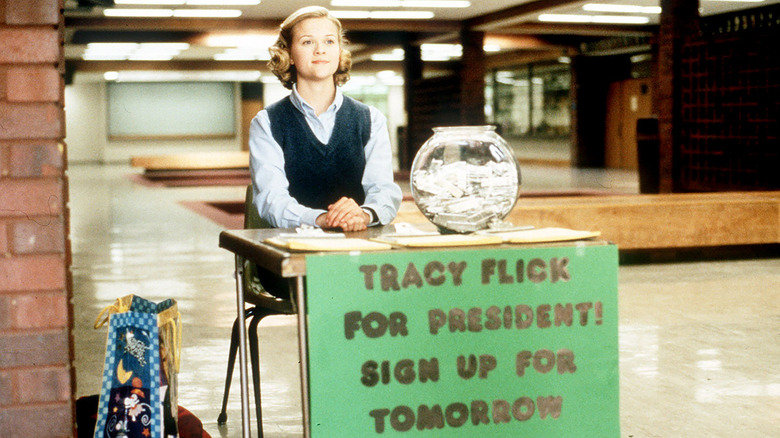 Paramount Pictures
"Election" is one of the quintessential movies about politics, but it's not about the Presidency. Alexander Payne's 1999 comedy depicts the fraught battle for the student body leadership role in a Nebraska high school. The process of building a campaign, courting voters with misleading promises, developing political alliances, and even vote tampering are all lampooned through a youthful perspective.
High-strung overachiever Tracy Flick (Reese Witherspoon) has been preparing for this election for her entire life, and is desperate to impress her teachers. Civics teacher Jim McAllister (Matthew Broderick) despises Tracy and is annoyed by her wealthy upbringing and plastic persona; Jim is also wary of Tracy's relationship with his best friend Dave (Matthew Novonty), which got Dave fired. Scheming to steal the election from Tracy, Jim inspires the unassuming doofus Paul Metzler (Chris Kein) to run as Tracy's rival. Despite having no ambition and being generally clueless, Paul amasses a big following.
"Election" examines the latent forces that influence politics, as Paul is only Jim's puppet, and the teen's minimal knowledge of policy is humorous. Witherspoon finds the right balance between irritating and hilarious, and Broderick's inherent awkwardness is well utilized as a devious character.
Rebel Without A Cause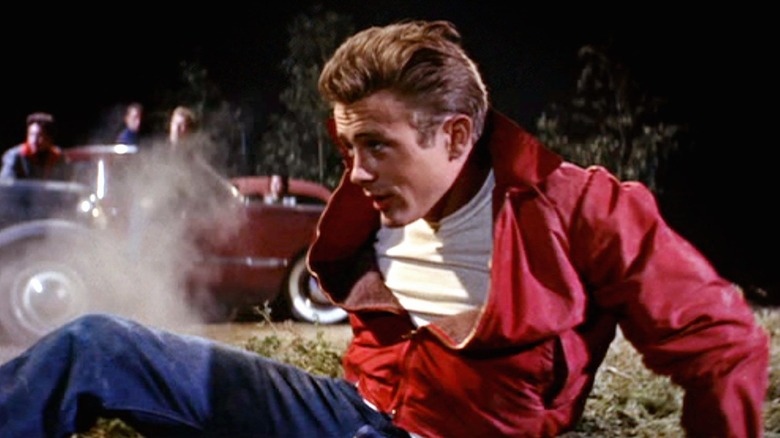 Warner Brothers
Despite only starring in three films before his tragic death at age 24, James Dean's rebellious attitude defined a generation. While he gave great performances in "East of Eden" and "Giant," it was Dean's performance in "Rebel Without A Cause" that made him the face of a social movement. Dean represented a youthful audience who felt misunderstood by older generations and limited by existing social structures. While it's easy to dismiss these feelings as teenage angst, Dean brought adolescents' inability to reach out for help to striking, moving life.
Dean stars in "Rebel Without a Cause" as Jim Stark, a teenager who moves to Los Angeles with his parents and is instantly arrested and placed in a youth detainment center for his rambunctious behavior. Jim bonds with Judy (Natalie Wood), who helps the quiet loner make it through his first few weeks of school. Jim is sensitive and cares for the similarly troubled boy Plato (Sal Mineo). However, his classmates goad him into violence, and Jim's teachers grow wary of him. In a breakthrough moment, Jim finally gains his parents' acceptance.
10 Things I Hate About You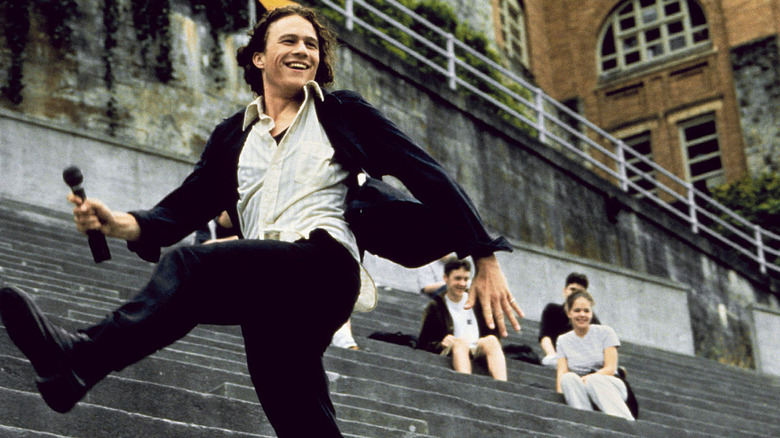 Buena Vista Pictures
Some high school students may complain about reading William Shakespeare plays in English class, but the 1999 comedy "10 Things I Hate About You" shows there's nothing old-fashioned about the Bard. This film takes the essential story beats of Shakespeare's "Taming of the Shrew" and reimagines them as the basis for a modern romantic comedy.
Cameron James (Joseph Gordon-Levitt) enters a new school and instantly falls in love with the young and popular Bianca Stratford (Larisa Oleynik). Cameron learns from his new friend Michael Eckman (David Krumholtz), a Shakespeare expert with an encyclopedic knowledge of their school's social classes, that Bianca will only be allowed to date if her standoffish sister Catherine (Julia Stiles) does so first. Catherine is fiercely independent, but Cameron decides to recruit the school's rebellious hooligan Patrick (Heath Ledger) to capture her heart. The situation grows complicated as Patrick and Catherine grow to start to care for each other, while the scheming Joey Donner (Andrew Keegan) attempts to steal Bianca from Cameron.
"10 Things I Hate About You" launched all of these young performers into stardom. It's fascinating to see the oddball comedy turn from Ledger, who would be known for his more serious roles.
Clueless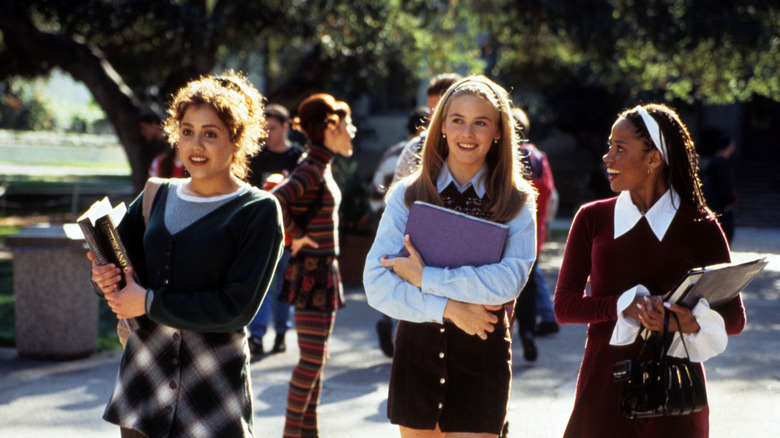 Paramount Pictures
Just like "10 Things I Hate About You" reimagined Shakespeare's story as a teen rom-com, 1995's "Clueless" was inspired by Jane Austen's "Emma." Austen's 1815 novel satirized the notions of romantic misunderstandings within high society in England, and "Clueless" took those themes and transported them to Beverly Hills. The language is similarly eloquent; Austen's novel meticulously captures era-specific phrases and grandiose romantic profusions, while "Clueless" uses Los Angeles slang to create an accurate depiction of '90s teen culture.
Beyond the Austen influence, "Clueless" is best known for Alicia Silverstone's star-making performance. Silverstone leads the film as Cher Horowitz, an affluent and wealthy teenager who enjoys playing matchmaker with her classmates and teachers. Cher looks down on her peers' superficial desires, and with her best friend Dionne Davenport (Stacey Dash) decides to take their school's awkward geek Tai Frasier (Brittany Murphy) and give her a makeover. Cher becomes jealous when Tai's popularity rivals her own, but she's comforted by the older Josh Lucas (Paul Rudd), an intern working for her father Melvin's (Dan Hedeya) law practice.
"Clueless" is hilarious thanks to Silverstone's witty performance, and she and Rudd have great chemistry. Despite thinking of Josh as a boring older brother, Cher discovers that he knows her much better than she thinks.
Dead Poets Society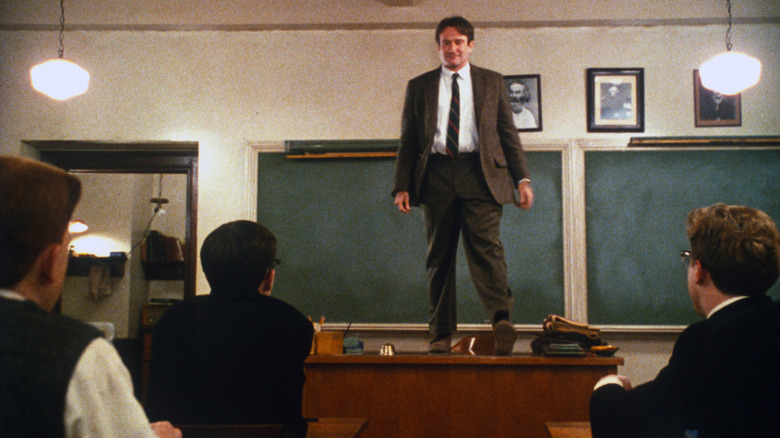 Buena Vista Pictures
Teachers are often cast as the villains in high school movies; while Hughes' films certainly flesh out their adolescent heroes, they rarely depict educational figures as three-dimensional characters. "Dead Poets Society" is an exception to this trend that shows the power of a great teacher to inspire, educate, and create a connection with their students. The film shows how social limitations diminish students' willingness to learn, and how discouraging it can be for teachers when they're forced to abide by a set curriculum.
In one of his most endearing performances of all time, Robin Williams stars as John Keating, an English teacher who is hired by an elitist male-only prep school in Vermont. The academy is highly conservative and discourages freedom of expression, but Keating contradicts their rules and assigns his students authors who he thinks will expose them to different perspectives. Inspired by their newfound appreciation of literature, Keating's top students Todd (Ethan Hawke), Neil (Robert Sean Leonard), Knox (Josh Charles), Richard (Dylan Kussman), Steven (Allelon Ruggiero), Gerard (James Waterston), and Charlie (Gale Hansen) form a secret society with Keating as their model. However, the boys' breakthroughs are condemned by the school's authority figures, who demonize Keating and threaten to dismiss him.
Superbad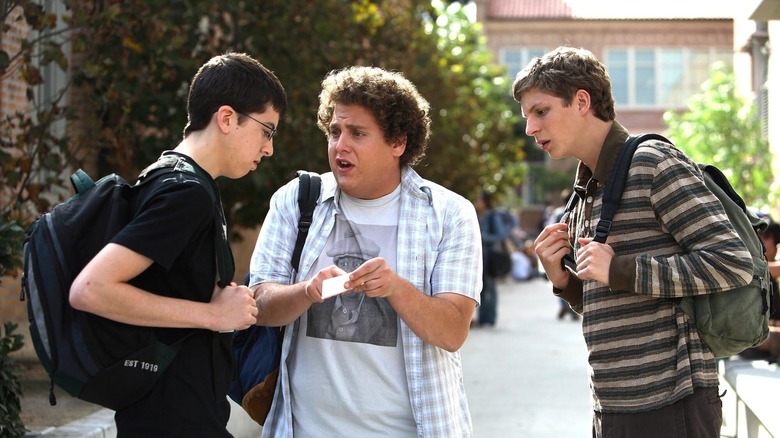 Sony Pictures
Seth Rogen and Evan Goldberg began outlining the story of "Superbad" when they were in high school themselves, and when the film finally made it to screen, its madcap hijinks shocked audiences. "Superbad" captures the 21st century high school experience and the superficial desires of teenage boys in hilariously accurate detail, but despite its raunchiness, the story is genuinely heartfelt. It's ultimately about two friends who don't want to leave each other behind.
Best friends Evan (Michael Cera) and Seth (Jonah Hill) spend nearly every moment together, but they're set to attend different colleges after graduation. Trying to make the most of the last days of their senior year, the boys see an opportunity to find love at an upcoming party. Evan has a longstanding crush on Becca (Martha MacIsaac), and, after a surprising school assignment, Seth falls for the popular girl, Jules (Emma Stone). The pair decide that the only way to distinguish themselves is to get alcohol for the party, so the boys enlist their friend Fogell (Christopher Mintz-Plasse) to get a fake ID card, which accidentally reads "McLovin."
"Superbad" gets even more wacky as Fogell is taken under the wing of two oddball police officers, Slater (Bill Hader) and Michaels (Rogen). However, "Superbad" never forgets its emotional undercurrent, and Evan and Seth's last conversation is quite touching.
The Virgin Suicides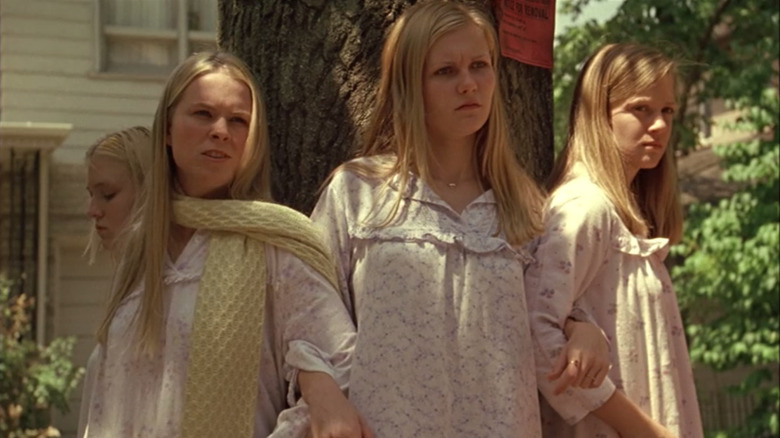 Paramount Pictures
Sofia Coppola is one of the best filmmakers working today. By this point, her name is synonymous with female-centric stories, a reputation that started with her adaptation of the seemingly unfilmable novel "The Virgin Suicides" by Jeffrey Eugendies. Eugendies' story about a series of shocking deaths that haunt an upper class Michigan high school doesn't unfold like a procedural mystery, but rather a dreamlike enigma as seen through the eyes of young men.
The five Lisbon sisters — Therese (Leslie Hayman), Mary (A.J. Cook), Bonnie (Chelse Swain), Lux (Kirsten Dunst), and Cecilia (Hannah R. Hall) — are almost completely confined to their suburban home by their conservative parents (James Woods and Kathleen Turner). Given their limited exposure to the outside world, the girls are fascinating to the town's teenage male population, who concoct elaborate fantasies about them. However, due to their antisocial home environment, the girls all end up taking their own lives, and their mystery infects the town's psyche.
Coppola doesn't focus on the violence in graphic detail, as the story unfolds in a dreamlike manner. It's a fascinating exploration of teenage male fantasies; the whole story is told from the perspective of the boys, who project their desires on the unknowable sisters.
Ferris Bueller's Day Off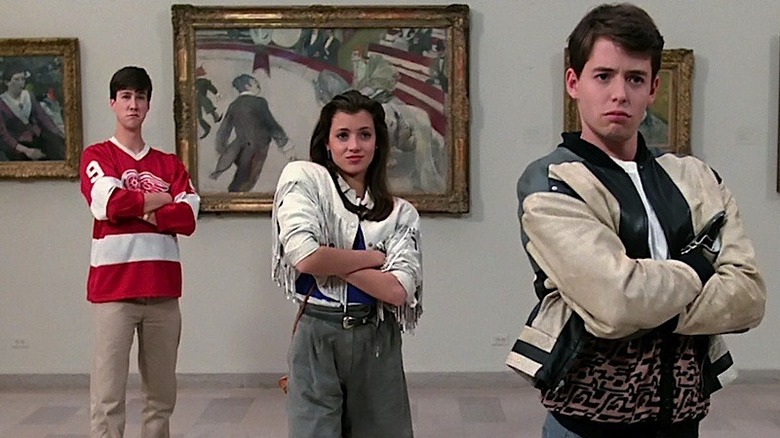 Paramount Pictures
While "The Breakfast Club" may be Hughes' most heartfelt high school movie, "Ferris Bueller's Day Off" is his funniest. Based partly on Hughes' actual adolescence, the film imagines the ultimate teenage fantasy — skipping school for a day of pleasure — and stars Matthew Broderick in his best-known role. Although its hijinks are hilarious, "Ferris Bueller's Day Off" also explores why these characters feel disillusioned, and how they are misunderstood by their teachers and their parents.
Ferris is a fiercely independent slacker at a suburban Illinois high school who invents an elaborate device that convinces his parents he is home sick, before dodging school for a day exploring the sites of Chicago. Convincing his reluctant best friend Cameron (Alan Ruck) to join him, Ferris infiltrates their school to bring his girlfriend Sloan (Mia Sara) along. Ferris' sister Jeannie (Jennifer Grey) can't believe that her popular brother is so beloved, but Ferris is targeted by the school's ill-tempered Dean of Students, Rooney (Jeffrey Jones). Rooney despises Ferris and aims to expose his deceit and expel him.
Rooney's pursuit adds tension to the story, but the central trio's exploits in the city are the real highlight. Ferris aims to open up shy Cameron to new experiences, bringing humor, while Cameron's reflections about poor his relationship with his father add some pathos
The Spectacular Now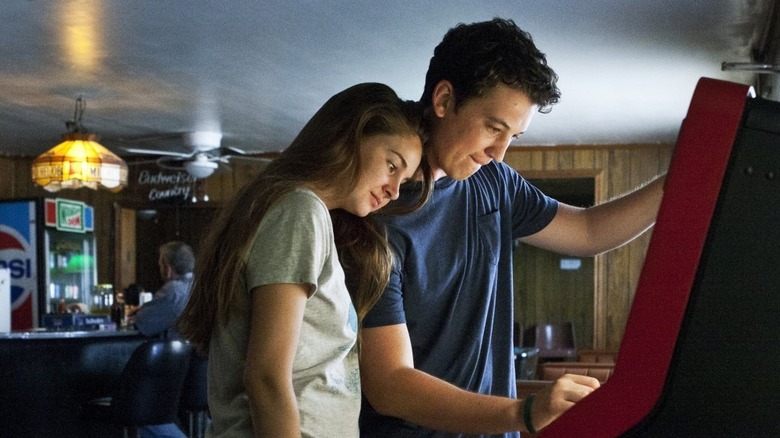 A24
A24 has released some of the most exciting independent films of the past decade, including a number of stunning coming-of-age stories. "The Spectacular Now" has a familiar premise, but its tender realism makes the story feel fresh again, and director James Ponsoldt doesn't shy away from showing the darker consequences of its characters' actions.
Sutter Keely (Miles Teller) is an irresponsible hooligan who doesn't see a future for himself after he graduates. After a night of hard partying, Sutter wakes up in a daze in the front yard of his shy neighbor Aimee (Shailene Woodley). Sutter has never taken the time to get to know Aimee, and he's surprised when hearing about her passion to become an artist and her difficult home situation. Similarly, Aimee learns that Sutter is more sensitive and caring than his wild persona lets on. They inspire each other; Sutter encourages Aimee to not let her familial responsibilities prevent her from leaving their small town, and she convinces him to start applying to schools.
While the romance begins earnestly, the story becomes more serious when Sutter's addiction issues grow destructive and he searches for his father (Kyle Chandler), who abandoned the family when Sutter was young. Teller and Woodley flesh out these archetypal roles; Roger Ebert praised their performances in his last four star review.
Lady Bird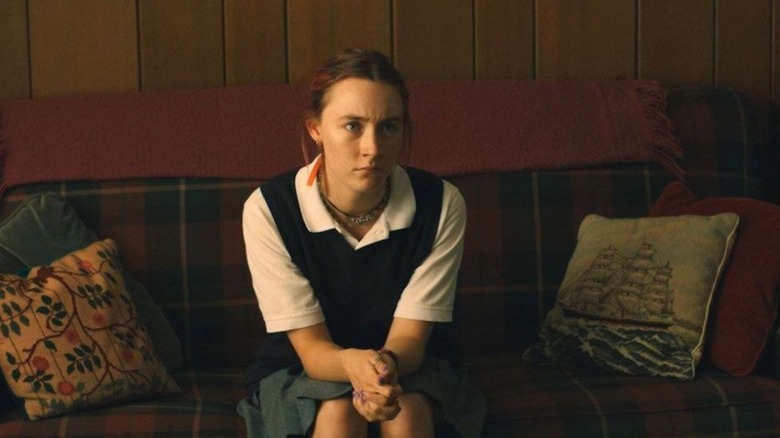 A24
Greta Gerwig's directorial debut is a touching story about a teenage girl who learns to become more sincere. Christine (Saoirse Ronan) has a defiant attitude that often ruffles feathers at her Catholic high school in Sacramento. Insisting that everyone refer to her as "Lady Bird," she spars with her overbearing mother (Laurie Metcalf) as the headstrong personalities debate the girl's future. Ronan and Metcalf do a great job hinting at the underlying affection between them, even when both are too proud to admit it.
Gerwig brilliantly elevates the supporting characters beyond clichés. Beanie Feldstein is charming as Christine's best friend Julie, and the two share sincere moments together in the final days before both leave for college. Lucas Hedges and Timothee Chalamet give fun performances as two of Christine's failed potential boyfriends. Hedges' Danny is friendly but secretly gay; Chalamet's Kyle is seems to be enigmatic, but is ultimately manipulative. Both bombed romances end hilariously, and Gerwig makes Christine's plight empathetic, even if her defiance irritates her friends.