'The Breakfast Club' Deleted Scene With Molly Ringwald And Ally Sheedy Surfaces After 32 Years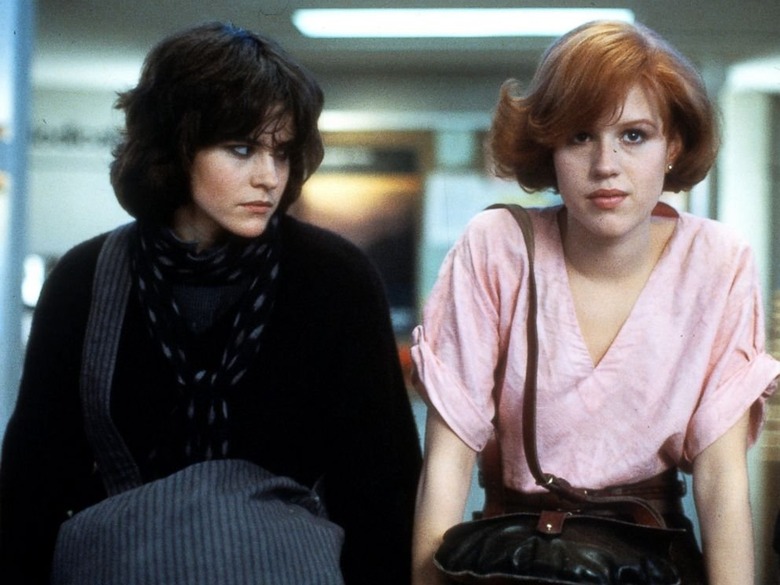 It's been more than 30 years since the release of John Hughes' seminal teen comedy classic The Breakfast Club, but the movie continues to surprise us.
Take the new Criterion Collection release of the film, for example. The new edition, out January 2, contains 50 minutes of previously unreleased material, providing all sorts of insights into the 1985 film that opened the door for authentic teen storytelling in the '80s. One minute of this new material is a never-before-seen deleted scene between Molly Ringwald's Claire and Ally Sheedy's Allison.
The Breakfast Club Deleted Scene
The deleted scene, debuted by Vulture, shows a failed bonding attempt between Ringwald's uptight popular girl and Sheedy's resident "basket case." In the bathroom while taking a break from their all-day library detention, Claire cringes at Allison's odd eating habits, calling her willingness to eat her chips near a "live" toilet "disgusting." An awkward pause ensues, and Claire quickly relents, saying, "Really, I was just reacting to something I consider a little out of the ordinary. If you'd like to talk, I think I could probably handle it."
But Allison merely reacts by daintily picking up a chip that had fallen in the sink with a paper towel, before stuffing it in her mouth. As Allison wordlessly leaves the bathroom, Claire sighs and says, "It's not correct."
It's a brief minute-long scene which probably would have taken place during the lunchtime scene, which contrasted the five archetypal students by their wildly different lunches: Jock Andrew (Emilio Estevez) pulls out a massive carb-heavy feast, Claire reveals a gourmet sushi dish, angsty bad boy John (Judd Nelson) steals geeky Brian's (Anthony Michael Hall) basic brown bag lunch, and Allison shocks everyone with her sugar and chips sandwich.
The Criterion Collection's release of The Breakfast Club hits shelves on January 2, 2018, and includes the following features:
4K digital restoration, with uncompressed monaural soundtrack on the Blu-ray
Alternate 5.1 surround 

DTS

-HD Master Audio soundtrack on the Blu-ray
Audio commentary from 2008 featuring actors Anthony Michael Hall and Judd Nelson
New interviews with actors Molly Ringwald and Ally Sheedy
New video essay featuring director John Hughes's production notes, read by Nelson
Documentary from 2008 featuring interviews with cast and crew
Fifty minutes of never-before-seen deleted and extended scenes
Rare promotional and archival interviews
Excerpts from a 1985 American Film Institute seminar with Hughes
1999 radio interview with Hughes
Segment from a 1985 episode of NBC's Today featuring the film's cast
Audio interview with Ringwald from a 2014 episode of This American Life
Trailer
PLUS

: An essay by author and critic David Kamp