Jerry Seinfeld's Leadership On Seinfeld Set A High Bar For Sonya Eddy
NBC
Sonya Eddy was a staple of television, from her long-running stint on "General Hospital" to her unforgettable guest appearances on shows like "Malcolm in the Middle" and "Young Sheldon." But possibly Eddy's most iconic recurring role was Rebecca De Mornay on "Seinfeld." Eddy managed to make a huge impression in only two episodes, but the show made an even bigger impression on her. In fact, she said that Jerry Seinfeld ran his series so effectively that no other show compared.
Rebecca De Mornay was a no-nonsense volunteer worker at charities like the homeless shelter and housing works thrift shop. She first appeared in the season 8 episode "The Muffin Tops" and was asked to return in season 9 for "The Bookstore." Eddy's first-ever appearance on the show was meant to be short and straightforward, but it was eventually rewritten to include more lines.
"In the middle of the second day [of shooting] we took an extra long lunch and came back to a whole different script," Eddy recalled in an interview with This Podcast Is Making Me Thirsty. "I was like, 'What happened?' [...] [My character] was the same kind of person, but they kind of changed it up a bit if memory serves."
Eddy delivered one of the fan-favorite "Seinfeld" quotes — equating muffin "stumps" to "chicken skins and lobster shells" — and her performance was a huge hit on set. The actress was actually told her character would return for another episode, but she thought it was too good to be true at first:
"If I remember correctly, Spike [Feresten, the show's supervising producer] said, 'We love what you're doing and we think we're gonna have you back. And I was like 'Well, that's great.' [...] It never happens. And then when it happened, I almost lost my mind."
'He made everybody feel important'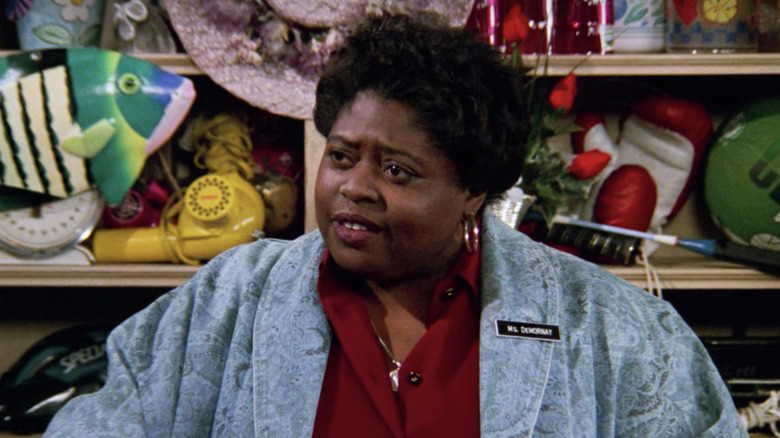 NBC
"Seinfeld" was the standard of comedy by the time it reached its final seasons — the same two seasons Eddy appeared in. For the actress, being on the show was like being officially indoctrinated into a club made up of the world's funniest people.
"To be on that set, I felt like I had been vetted in a way," she explained. "Like okay, now I know I'm funny." Eddy was certainly more than just funny — she was hilarious. She even managed to make Larry David laugh during her audition and improvised her own lines during the live taping of "The Bookstore," including her threat to punch George "in the brain."
"Seinfeld" was an all-around positive experience for Eddy, and it set a high standard for her other work. "I tell every single person the day that I get my own show, I'm going to run my show like Jerry Seinfeld did," Eddy said in praise of the comedian. "Because I have never and still have yet to be on a set where everybody was pulling equally hard to make it a great show." The cast and crew weren't just motivated by the success (and hilarity) of the series, Eddy explained:
"They all wanted to [work hard] because everybody loved Jerry, and Jerry knew everybody's names. I was — I was flabbergasted, because usually they know who they see everyday, but they don't know maybe the PAs that, you know, get turned out left, right and center, you know, just popping him in and swapping him out, but he was really good at that. [...] I thought he was a really good captain, because he made everybody feel important."
The other stars and co-creators made Eddy feel at home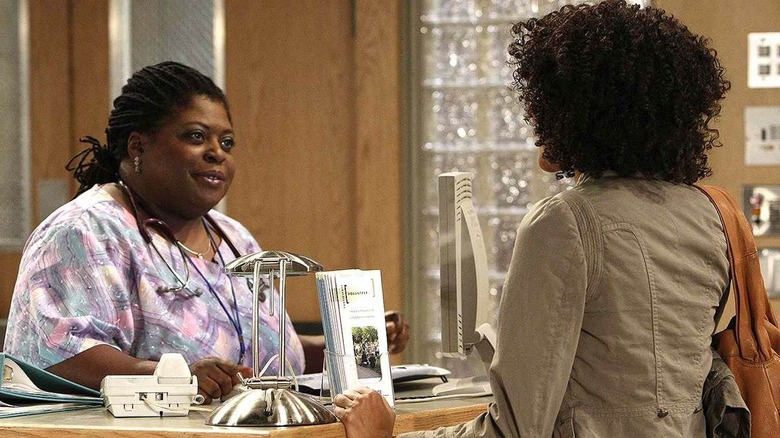 NBC
Seinfeld wasn't the only major player on set that made Eddy and other day players feel at home. Eddy also spoke very fondly of Julia Louis-Dreyfus, one of the show's stars. "I have not run into somebody that generous," the actress exclaimed. "Julia wrote that line about the chicken skins and lobster shells. She could have said it, but she wrote it and she gave it to me." 
Series co-creator Larry David also made a great impression on Eddy. He wasn't around much on the "Seinfeld" set by the final two seasons, but he did sit in for Eddy's audition, and she made him laugh. When she auditioned for his film "Sour Grapes" soon after, he remembered her immediately and hired her on the spot.
"When I went to go shoot 'Sour Grapes' my mother was with me — I brought her to set, they let me bring her to set — and he treated my mom like a queen that whole day," Eddy insisted. "It was amazing. And she got to sit next to him while he was directing — y'know, it was a big experience for her because she had never had that happen to her either."
The mark of a true leader is someone who lifts up those around them, even the smallest players on the team, and that's exactly what Seinfeld and David did. Eddy's testimony explains why the show was such a hit for so many years — it felt just as good behind the scenes as it did onscreen. Sonya Eddy was a true talent who will be missed.