Superhero Bits: James Gunn Sold Lots Of DC Comics, Emma Roberts Isn't A Superhero In Madame Web & More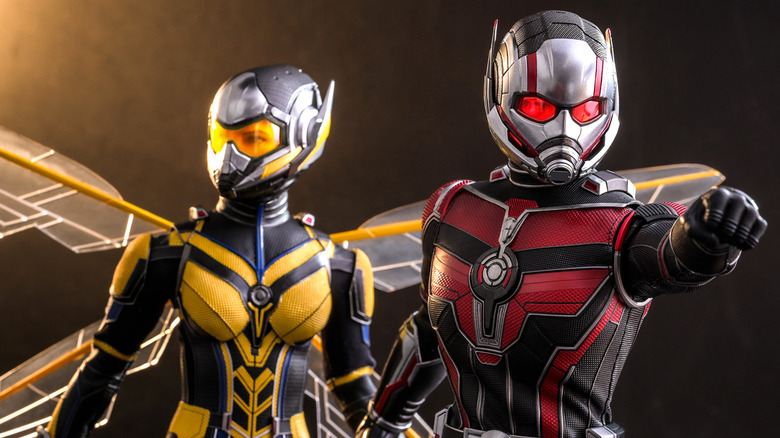 Hot Toys
We may receive a commission on purchases made from links.
(Superhero Bits is a collection of stories, updates, and videos about anything and everything inspired by the comics of Marvel, DC, and more. For comic book movies, TV shows, merchandise, events, and whatever catches our eye, this is the place to find anything that falls through the cracks.)
In this edition of Superhero Bits:
James Gunn's DC Universe announcements sold lots of comics.
Emma Roberts shares some details on the "Madame Web" movie.
We've got a new Hawkman and Hawkgirl.
"Ant-Man and the Wasp: Quantumania" Hot Toys figures.
Grant Gustin will always be The Flash for a certain generation, says showrunner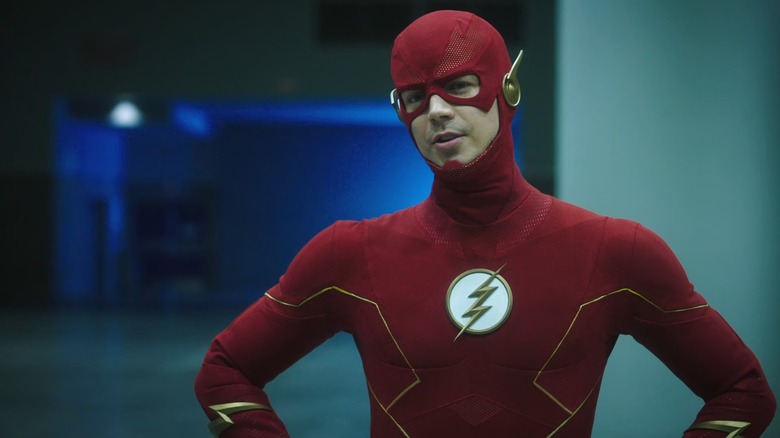 The CW
"The Flash" kicks off its final season this week on The CW, bringing an end to Grant Gustin's run as Barry Allen. Meanwhile, "The Flash" movie starring Ezra Miller is due to arrive in theaters this summer, and they may (or may not) be sticking around as our Scarlet Speedster in the new DCU. Be that as it may, series showrunner Eric Wallace, speaking to TVLine, had some kind words to say about Gustin as the show gears up to bring it in for a landing:
"I do believe there's a world for all things Flash — Elseworlds, TV, movie ... whatever. I just love the character so much. Grant [Gustin] will always be the Flash for a certain generation in the same way that for my generation Christopher Reeve was Superman. That doesn't mean I'm not excited to see Michael B. Jordan play a Black Superman — I can't wait for that — or for the other Supermans, like Henry Cavill or Brandon Routh. I love them all, but I grew up with Christopher Reeve. So there's a whole group of folks who are going to grow up saying, 'Grant was my Flash.' But then there'll be a new generation of folks that say, 'Ezra Miller, they are my Flash, too.'"
"The Flash" season 9 premiere airs Wednesday on The CW.
Landmark Fantastic Four #700 hits stands in May
Marvel's first family is getting ready to celebrate a major milestone this summer. The seventh issue of the current, ongoing "Fantastic Four" series will actually serve as the title's 700th issue overall. As such, Marvel is celebrating with an over-sized issue that will, indeed, feature Doctor Doom as the main villain. Could it be any other way? Ryan North is penning the issue, with Iban Coello handling the artwork. We've got a preview of the cover art above for you to check out as well. A logline for the issue reads as follows:
The over-sized spectacular will also see the Fantastic Four reach their new base of operations — not knowing that their greatest threat has made it there first! As their knowledge of LANGUAGE ITSELF begins to melt from their minds, the Four are in disarray as their existence hangs in the balance ... and the greatest villain of all time finally seals their DOOM.
"Fantastic Four" #700 hits stands on May 17, 2023.
Warren Ellis shares his thoughts on DC's The Authority movie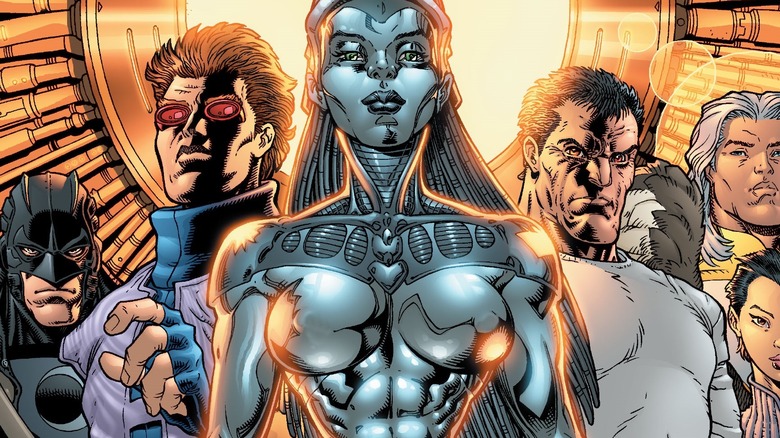 DC Comics
One of the most surprising projects announced as part of the new DC Universe by James Gunn and Peter Safran was "The Authority." Based on the Wildstorm comic book title of the same name, the superhero team is relatively obscure and, technically speaking, not even part of the main DC continuity. So, what does the book's co-creator Warren Ellis think of all this? In a newsletter, the comic book legend shared his thoughts, including the fact that he spoke briefly with Gunn about it:
"After that news broke, I briefly exchanged messages with James Gunn, during which I wished him luck and told him to have fun with it, and later that day Jim Lee phoned me to give a few more details. I know very little more than you do, at this point, and this is because James and Peter Safran are running a very tight ship with very high operational security, and I'm not about to mess with that. I'm very interested to see what happens next. As I said to James Gunn: if it gets made under his watch, I know that it will at least have good music ... Anyway. There are [plans] for DC Films to make a THE AUTHORITY film. Obviously, it may never happen. Plans change all the time. And I won't be saying any more about it until either I'm told I can or something gets properly reported out about it. But it's nice to know they really want to make it, and I wish them all the luck in the world."
"The Authority" does not yet have a release date set.
Legion of Super-Heroes clip has Brainiac 5 learning to fly
On the eve of the movie's release, Warner Bros. has released a new, brief clip from the DC animated feature, "Legion of Super-Heroes." In the footage, we see Supergirl helping Brainiac 5 with her ability to fly. Despite his intellect, that's something he hasn't managed to conquer just yet. If this is appealing to you, the film arrives tomorrow, Tuesday, February 7 on Digital, Blu-ray, and 4K Ultra HD. In the meantime, check out the clip for yourself above.
Meet your Hawkman and Hawkgirl in the Harley Quinn universe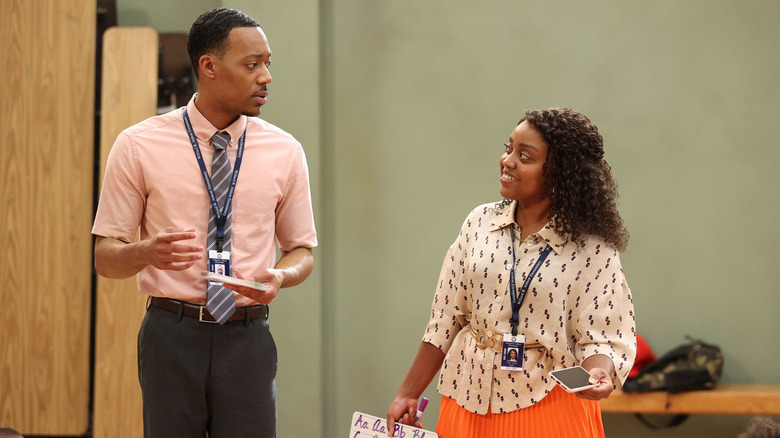 ABC
Fans of "Abbott Elementary" and "Harley Quinn" have something to look forward to very soon. As reported by Deadline, Quinta Brunson and Tyler James Williams are set to voice Hawkgirl and Hawkman in "Harley Quinn: A Very Problematic Valentine's Day Special." While their roles are said to be brief, it's a pretty remarkable bit of casting. "As a Harley Quinn fan, I'm thrilled to lend my voice to the special and to team up with my 'Abbott Elementary' creative partners, Justin Halpern and Patrick Schumacker and co-star Tyler James Williams for this fun episode," Brunson said. Williams had this to add:
"'Harley Quinn' is such a brilliant series and it is an honor to lend my voice to this special. I think the cameo is something both 'Abbott Elementary' and DC fans will enjoy."
"Harley Quinn: A Very Problematic Valentine's Day Special" is set to debut on HBO Max on February 9, 2023.
Wanna see little bits of Loki season 2 and Secret Invasion footage?
It may not be much, but Disney+ has revealed a new teaser showcasing some of what's to come on the streaming service in 2023. This includes both "Loki" season 2 and "Secret Invasion." That being the case, there are choice bits of footage from both shows in the above teaser. It cannot be stressed enough that these are, at best, little nuggets that don't show us much of anything. More than anything, it's a healthy reminder that these much-anticipated Phase 5 Marvel Cinematic Universe projects are in the pipeline and headed our way sooner rather than later. Check it out for yourself above.
Emma Roberts is not playing a superhero in the Madame Web movie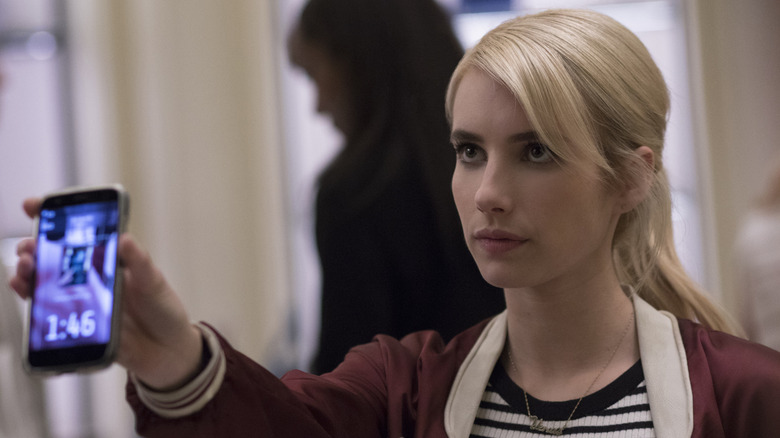 Lionsgate
Very little, by way of specifics, has been revealed about Sony's "Madame Web" movie. We know it is going to be based on the "Spider-Man" character of the same name, and that it has a pretty impressive cast led by Dakota Johnson. Beyond that? Right next to nothing. But one of its stars, Emma Roberts, recently appeared on the "Shut Up Evan" podcast to reveal one tidbit: she's not playing a superhero. That's right! If nothing else, we know here character doesn't have powers, or anything of the like. In Roberts' own words:
"What I can tell you is I'm not a superhero. Some people may think she's a superhero but not [...] like I don't have supernatural powers. So I can tell you that. [...] It's really different from any of the other Marvel movies, it's super grounded. I love that it has so many great actresses, it's really female-driven, and I just think it's not going to be what people expect."
So, where does that leave us? In a place to speculate wildly about who she could be playing, I suppose. Do so amongst yourselves, if you please. "Madame Web" is set to hit theaters on February 16, 2024.
Yet another new Ant-Man and the Wasp: Quantumania spot
Would you believe me if I told you that Marvel has released a new TV spot for "Ant-Man and the Wasp: Quantumania?" Just about every day last week brought with it a new teaser for the much-anticipated MCU film, which will kick off Phase 5 with a Kang-sized bang. With the world premiere set for tonight, we have yet another new look at the film. I say "new" loosely as it is, once again, lots of the same footage with very choice bits of new stuff. With about a week and a half until the release, one imagines we're probably getting to the end of the line with these. The movie hits theaters on February 17, 2023.
DC Comics titles tied to the DCU are selling like gangbusters on Amazon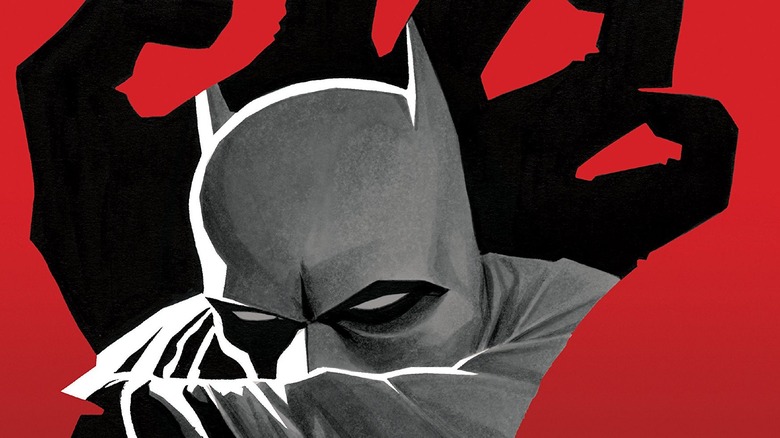 DC Comics
Perhaps not surprisingly, last week's announcement regarding the new DCU slate created a lot of excitement. One thing that DC Studios co-head James Gunn made sure to do was point out the DC Comics storylines that will be influencing many of these movies and TV shows. In doing so, Gunn has helped to sell a whole bunch of comics. As reported by Comicbook.com, Grant Morrison's "Batman" omnibus is out of Stock on Amazon, and one look through the retailer's sales charts reveals that "Supergirl: Woman of Tomorrow," Alan Moore's "Swamp Thing," "All Star Superman," and other books tied to the DCU are in high demand as well. Not to get personal about this, but I think it's pretty great that Gunn is getting people to buy (and presumably read) the source material that will inspire these movies and TV shows.
Ant-Man and the Wasp: Quantumania figures by Hot Toys
Lastly, the folks at Hot Toys have unveiled new figures inspired by "Ant-Man and the Wasp: Quantumania." Specifically, the title characters from the film are getting new figures inspired by their looks in the MCU sequel. Above, you can see what the Ant-Man 1/6 scale figure will bring to the table. Meanwhile, we've also got a look at Wasp's 1/6 scale figure below. No word yet on pricing for either figure, but they are expected to arrive between the third and fourth quarter of 2024. Full details on the Ant-Man figure can be found by clicking here, while details on the Wasp figure can be found by clicking here.