Pedro Pascal Can't Help But Crack Up In A Mostly Satisfying Episode Of Saturday Night Live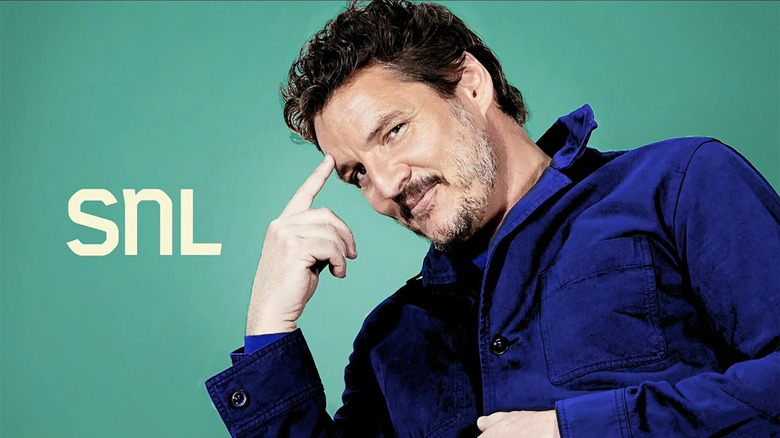 NBC
Pedro Pascal is the talk of the town right now. Not only has the actor skyrocketed in fame and admiration since taking on the title role in the "Star Wars" series "The Mandalorian," but he's garnering even more love and acclaim thanks to his leading role in HBO's adaptation of the beloved video game "The Last of Us." Whenever an actor is experiencing a moment like this, it's time for them to host "Saturday Night Live." 
However, based on the constant fluctuation in quality across each and every sketch in every single episode, it's never clear how good the late night sketch series is going to turn out, even when it has the most exciting of hosts. Thankfully, Pedro Pascal's episode of "SNL" turned out quite well for the most part. Even one of the more questionable sketches was saved by the live nature of the show adding a little impromptu breaking from Pascal and the rest of the "SNL" cast. So let's take a look at some of the highs and lows of Pedro Pascal's episode of "Saturday Night Live."
What was the best sketch of the night?
HBO Mario Kart Trailer – With "The Last of Us" being on the tip of everyone's tongue as the hottest new show on television right now, it only makes sense for "SNL" to deliver a sketch inspired by the series. However, no one expected them to give a post-apocalyptic take on a video game that couldn't be less serious. Before the "Super Mario Bros. Movie" hits the big screen, "SNL" has beaten Nintendo to the punch with a gritty, dystopian take on "Mario Kart." 
All your favorite characters are here, but they're bleak and bisexual, and they're stuck in a hellscape that's even more strange than the alternate universe take on Brooklyn from the maligned, live-action "Super Mario Bros." movie from 1993. Honestly, aside from the fact that it's hilarious to see Pedro Pascal as a grim version of Mario, the production design is incredibly impressive, especially when you consider the fact that episodes of "SNL" come together in a single week. Plus, there are great winks and nods to the video game itself. In particular, Marcello Hernandez accepting his fate as a red shell approaches his kart was a hilariously dramatic touch. Just an impressive sketch all around. 
How was the rest of the episode?
The rest of the episode wasn't one of the best of the season, but this is one of those cases where the playfulness of the host (not to mention some hilarious impromptu breaking of character) made for some hearty laughter throughout the night. This is the kind of thing that can be frustrating if it's done too often, or if it breaks the flow of a sketch. But Pascal's natural charm and dedication to the sketches kept it from being an annoying occurrence, despite how often it happened.
Waking Up – Close behind the pre-recorded "Mario Kart" sketch was this live bit featuring Pascal coming out of a coma after an accident laid him up in the hospital. But when Pascal comes out of the coma, he doesn't recognize anybody, and he's speaking with some kind of "LA mush-mouth" inflection in his speech. Pascal's voice is absolutely hilarious in this sketch, from the way he reacts to seeing himself in phone videos to reading the flashcards provided by Dr. Jim, this was one of the sketches where it was clear the actor was having so much fun being silly. Of course, towards the end, Pascal started to break a bit when he couldn't deliver a series of lines with a straight face. Even Heidi Gardner showed signs of laughing, especially when she had to put on the mush-mouth dialect. This was funny as a sketch, and it had the added bonus of some amusing character breaks.
Wing Pit - "SNL" has delivered countless commercial parodies over the years, and one of the staples is the super intense commercial that gets increasingly absurd. Taking a cue from Super Bowl-inspired food advertisements for wings, this faux commercial for the Wing Pit takes a twisted, sacrificial turn as the orders of wings and hot sauce getting even more gigantic and terrifying. The fear and confusion from the sports fans makes for some amusing juxtaposition, but it's the reveal of Chirax the Chicken God of Death that seals the deal here. Let us honor him. 
Protective Mom – This is a sketch that general audiences may not appreciate beyond Pedro Pascal appearing in motherly drag with too much blush and clearly visible facial stubble. But for anyone with Hispanic heritage like Pascal (who is Chilean American), this will hit very close to home in a charming way. The use of untranslated Spanish with English words between Pascal and Marcello Hernandez sprinkled in is funny for the sketch itself, but the attitude of Marcello's mother and the manner with which she responds to the proceedings is truly a Hispanic thing. The sketch itself wasn't exactly laugh out loud funny, but it was rather delightful. 
Italian Waiters – Not every sketch can be a winner, and this was certainly one of the duds this evening. Normally, Sarah Sherman knows how to sell a sketch like this, but something was off about her performance here. It felt like Sherman was hamming it up too much for her part of the bit, and that's before we get to the abysmal ending. More often than not, when a sketch turns into a surprise commercial in the last few seconds, it's a piss poor ending to a sub par or average sketch. This is one of those instances, and the closing moment before that just didn't make sense either. No thanks!
How was Pedro Pascal as an SNL host?
Pedro Pascal is exactly the kind of host you like to see on "Saturday Night Live," and it's especially a treat when it's done so well in their first time in Studio 8H. This follows another in a recent trend of hosts with amusing stories that mock their own public image, which is something that not every host is willing to do. And sometimes, even when they are, the host isn't always very good at making the delivery land with humor. But Pascal was clearly happy to be here, and he's got a natural charisma about him that made him shine both in the monologue and throughout the various sketches in this episode. Pascal is the kind of actor who deserves to come back every now and then to mess around with the "SNL" cast and crew. 
For those keeping track, we have yet another choked up conclusion to a monologue, where Pascal pays tribute to his parents, because without them he wouldn't be standing their on the "SNL" mainstage. These kind of moments have happened more and more frequently recently, with hosts like Austin Butler and Michael B. Jordan getting a little emotional on stage, and we're always going to love that.
Breaking and Groundhog Day
Lisa from Temecula - All right, I'll be the first to admit that on the merits of comedy as written, this sketch isn't all that funny. Furthermore, it's weird that the exact same set background from the Italian Waiters sketch was reused for another restaurant bit immediately afterward. However, it's the physical element of the bit and the reaction from Pedro Pascal and all the cast members within that make it worth some laughs. The demeanor and attitude of Ego Nwodim's character is worth a few light chuckles, but it's the intense shaking of the table as she cuts her meat and the chaos it creates with the food and drinks that adds another layer of comedy. 
However, it's not simply the sight of wine glasses spilling and peas rolling all over the table. It's the fact that Pedro Pascal, Ego Nwodim, Punkie Johnson, and Bowen Yang crack up on several occasions. Pascal in particular gives a couple of hearty, genuine laughs when he has some trouble getting out some of his lines. The only one who seems to be standing strong is Molly Kearney, so good for them. But honesty, if it wasn't for the breaking throughout this sketch, it would have been one of the worst. 
Punxsutawney Phil On Seeing His Shadow – Finally, I'd be remiss if I didn't share this breakout moment from the Weekend Update desk. Michael Longfellow has a dry sense of humor that quickly drew comparisons to Norm Macdonald. Of course, the greatness of the late comedian require a little more time to assess whether that was a worthy descriptor. As Longfellow's time on "SNL" has continue, this comparison feels more and more accurate. Macdonald wasn't always putting on a lot of makeup and costumes unless he was playing someone like Larry King or another well-known figure in pop culture. But it's not hard to imagine him doing something sarcastic and laid back like this. Longfellow's delivery is cool without being too smarmy, something that gives him a bit of a leg up on Macdonald. Combined with that groundhog suit and nose, this was a great bit at the Weekend Update desk.
"Saturday Night Live" is taking a few weeks off, but the show will return on February 25 with Woody Harrelson taking the stage as host, which will mark him joining the Five Timers Club. Be sure to come back and see how it turned out. In the meantime, for more on "SNL," be sure to check out "The Ten To One Podcast" wherever podcasts can be found.