Bruce Willis Was Woody Harrelson's Biggest Concern While Filming Indecent Proposal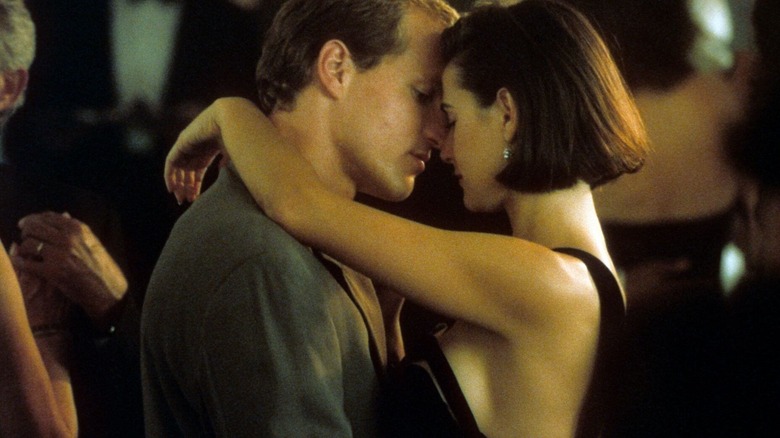 Paramount Pictures
It might have taken 100 years but since the Me Too movement, Hollywood has become more sensitive to the production of intimate scenes. Today you have intimacy coordinators on set to ensure that all parties feel comfortable with a scene, and in some cases improve them. And after you hear Woody Harrelson talk about his experiences in the 1993 film "Indecent Proposal" you understand why intimacy coordinators are needed on every set.
"Indecent Proposal" is an erotic thriller where a billionaire (Robert Redford) offers a struggling young architect (Harrelson) a million dollars to spend one night with his wife (Demi Moore). The movie quickly joined the pop culture lexicon as a proxy for the question, "What would you do for the right amount of money?" It also stands as a monument for a dying sub-genre, the erotic thriller, and what it often meant for female actors in Hollywood.
The movie was made long before the Harvey Weinstein arrest and the Me Too movement that prompted change in Hollywood. If you listen to the actors discuss their experiences in the film, it reveals a disparity of concern and empathy towards filming intimate scenes.
Harrelson and Moore had very different experiences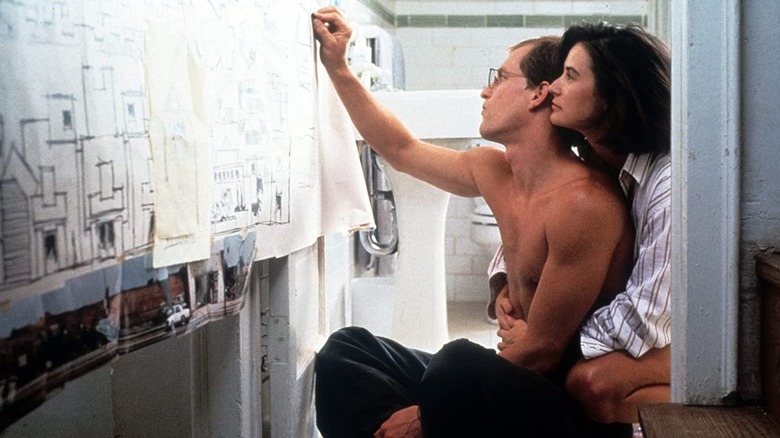 Paramount Pictures
A 1993 Baltimore Interview with Harrelson reveals that the pre-Me Too blasé approach to sex scenes in the film industry dates back far beyond this century. In the cringe-worthy chat, Harrelson revealed that his biggest concern wasn't how comfortable co-star Demi Moore was with their intimate scenes, but rather what her husband might think. The actor said:
"I'm close friends with Demi and with Demi's husband [Bruce Willis]. You have to draw the line at how far to go, and I'm not good at drawing lines. I like to be lineless, without boundaries. The scene was flesh and flesh coming together. I don't know if Demi was turned on, but me... But you have to think of what the repercussions will be. I don't want Bruce coming after me."
It seems that Moore had a different experience making the movie. In her 2019 memoir, Moore discussed her sex scene with Harrelson in "Indecent Proposal." Not only did she have to deal with a turned-on co-star, but an inappropriate director as well. Moore wrote, "[Director Adrian] Lyne would cry things like 'F**king raunchy!' and 'Oh god, got a boner on that!' Here was this guy getting all sweaty and worked up, yelling about boners."
Moore did note that because the director made so many loud, inappropriate comments, it "took the focus off my own awkwardness." Surely there's got to be a better way to assist actors with awkward intimate scenes, right? According to director Adrian Lyne, not only is there not a better way, but intimacy coordinators only get in his way.
Is a regression in Hollywood coming?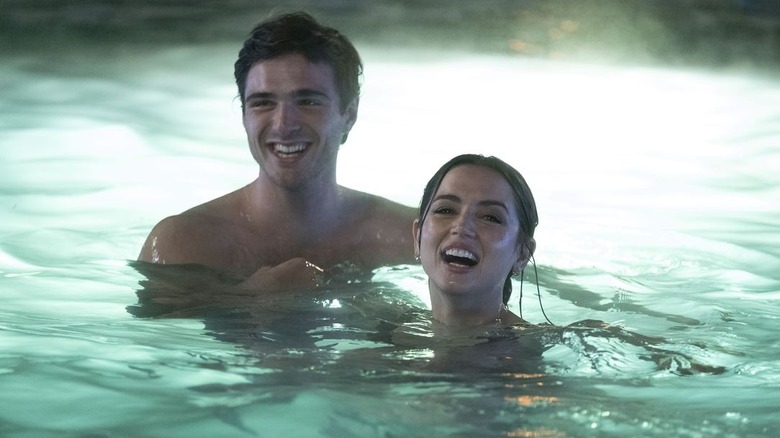 Hulu
In an interview with The Independent, Adrian Lyne said he doesn't want his actors to perform in silence so he acts as a "cheerleader" during sex scenes. Despite his unorthodox methods, Lyne developed a reputation as the "master of erotic thrillers" in the 1980s. He created the template for the sub-genre with films such as "9 ½ weeks" and "Fatal Attraction."
After a 20-year hiatus from filmmaking, Lyne recently returned to direct the open-marriage drama "Deep Water." He didn't miss a beat as we called the film a throwback to overheated nonsense. The film feels out of place in 2022 and frankly, Lyne seems out of place as a director. He lamented the use of an intimacy coordinator for the production, citing interference in the relationship with his actors.
That thinking seems shockingly insensitive today given what we know about the male-dominated film industry. Lyne has teased a full-time return and you have to wonder if it also signals a regression in Hollywood. It's a question asked by The New York Times this week while noting that "some of the men who were sidelined by misconduct accusations are working again."
Although Lyne hasn't changed much since "Indecent Proposal," it seems Harrelson has matured plenty. In 2018 he told The Guardian, "I want to see things clearly, to be aware and sensitive to what's going on in my life and in the world." When asked about the Me Too movement, the actor said:
"There are going to be predators across every profession. And, in a way, what's happening is great because, hopefully, the more people that come forward, the more people that deserve that kind of attention are weeded out."
Harrelson credits his wife and daughters, and not Bruce Willis, for helping change his mindset.