House Of The Dragon Proves Intimacy Coordinators Make Sex Scenes Better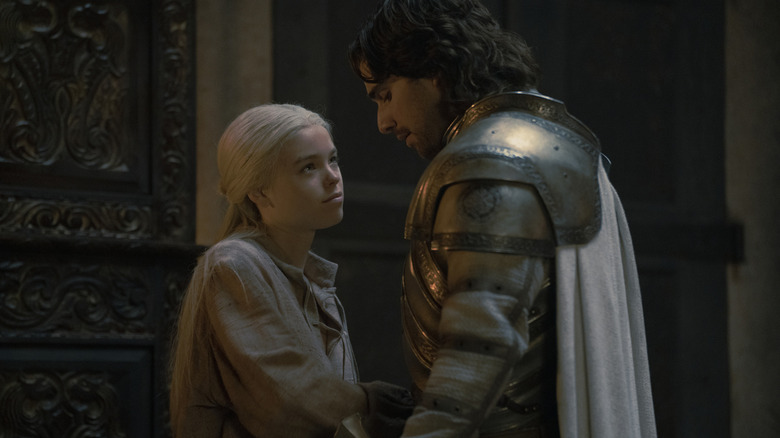 HBO
This post contains spoilers for all of "House of the Dragon" so far.
There was a lot of sex in "Game of Thrones," but most of it wasn't very sexy. The series became notorious for its depictions of sexual assault and regularly demeaning its female characters, but "House of the Dragon" seems to be trying to correct those issues. In the prequel series based on George R. R. Martin's "Fire & Blood," sex scenes have narrative purpose and are shot with real care. It's a huge step up from "Game of Thrones," where many sex scenes just involved a woman bent over with someone humping behind her. There was plenty of skin, and plenty of skin slapping against skin, but most of it just felt unnecessary. Even scenes in the books that were written to be sensual, like Cersei and Jaime in the Sept of Baelor after the death of Joffrey, became an excuse for sexual assault. 
Thankfully, "House of the Dragon" hired female writers and directors to come on board and offer perspective, and they hired an intimacy coordinator to help make sure everyone felt comfortable. There are stunt coordinators for whenever people are putting their bodies on the line, and sex scenes can offer their own risks. The actors were more involved in the process too, and Fabien Frankel, who plays Ser Criston Cole, apparently discussed his sex scene with his screen partner and director for seven months before filming even began. By takings steps behind-the-scenes to protect and support the performers, the sex scenes in "House of the Dragon" ended up being much, much hotter.
The power of perspective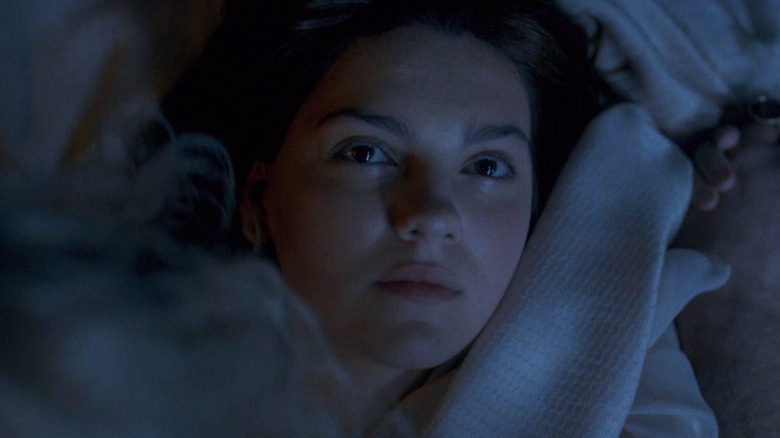 HBO
When Emily Carey, who plays the younger version of Queen Alicent Hightower, realized she was going to be performing a sex scene with the much-older Paddy Considine, the young performer was (understandably) nervous. Carey (who uses she/they pronouns) had watched some of "Game of Thrones" to prepare for the role and found herself wondering what she might be asked to do. She worked with the team to make sure that she felt comfortable, however, even if her character did not. In the scene, Alicent lies still as her husband Viserys (Considine) thrusts atop her. Showrunner Ryan Condal told Variety about his hesitance to show sex scenes in the series, and how working with intimacy coordinators and having female crew helped tremendously:
"Viserys married a much younger woman, essentially the childhood friend of his daughter. We felt it was important to see the outcome of that. We had female directors on the show; one of them directed that particular scene. Sara Hess is my writing partner on the show. There were lots of female voices involved in the decision-making there, and it was actually the women who were really pushing for it: 'No, we have to see it, because we have to make the audience feel the actual results of this kind of political scheming and what that actually means — but do it in a way that protects the actors and is, again, not titillating.'"
It's not supposed to be sexy, but thankfully doesn't go out of its way to embarrass either of them, either. It's easy to imagine the same scene in "Game of Thrones," with Viserys' bare butt exposed or Alicent weeping. Instead, the scene is kept simple, focused almost entirely on Carey's face as she submits to a life of "wifely duty."
The elements of desire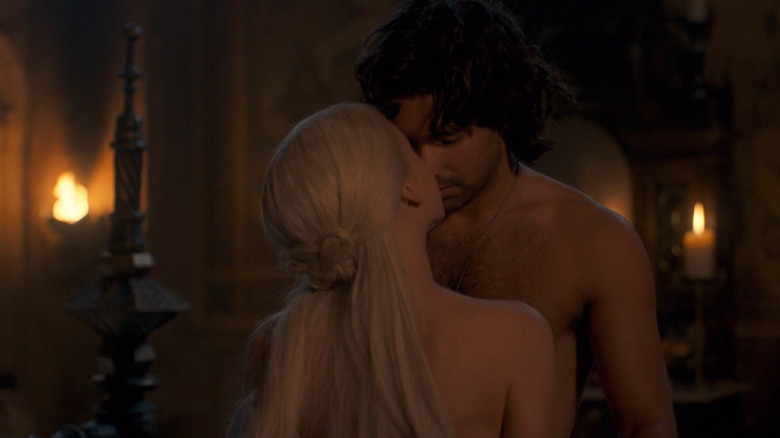 HBO
There are several sex scenes in episode four, and each is unique and gives some insight to the characters involved. The episode was directed by Clare Kilner, and her focus on the feminine perspective makes the scenes feel more than just an attempt at titillation or shock value. A female perspective behind the camera helps highlight the perspective of the characters on camera, and it makes these three sex scenes feel much more true-to-life.
The two sex scenes juxtaposed against Alicent's are entirely different beasts. Daemon (Matt Smith) takes Rhaenyra (Milly Alcock) to a brothel, where they see all manner of people having sex in the background. This feels a little more like "Game of Thrones," with writhing limbs askew in shadowy corners, but when it comes to the interaction between Daemon and Rhaenyra, it stays pretty tame. He ends up abandoning the idea of seducing his niece mid-makeout and disappears into the night. Rhaenyra, all horned up with nowhere to go, turns around and seduces her guard, Ser Cole.
While many of "Game of Thrones" sex scenes were filmed at a distance in order to show as much flesh as possible, quite a bit of what happens between Rhaenyra and Ser Cole is just off-screen. It's coy, but draws the focus to what really matters, which is the passion between the two. There's a lot of attention paid to their hands and mouths as they explore one another's bodies, and we even get to see the two of them disrobe and giggle about the awkwardness of taking off armor in order to knock boots. It's sweet, it's sexy, and it's by far the nicest bit of nookie to ever happen in Westeros. 
Some seriously sensual sex on the beach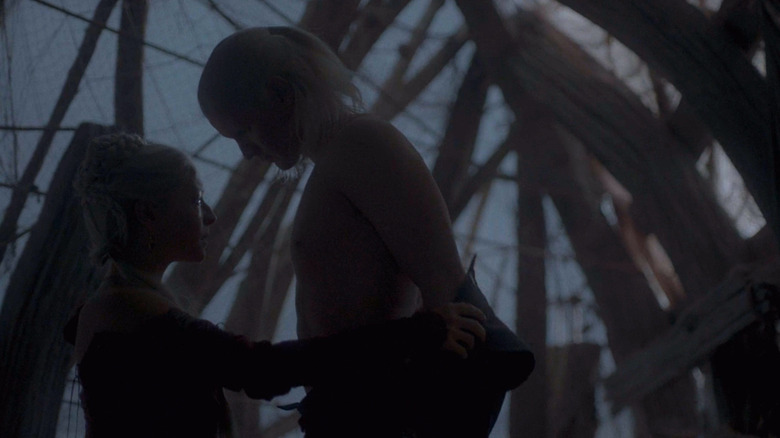 HBO
10 years after Daemon and Rhaenyra's nasty little night in King's Landing, they reunite at the funeral of Daemon's wife, Laena. Rhaenyra (now played by Emma D'Arcy) takes a long walk on the beach with her uncle, and the two discuss the past, present, and future, all before getting it on in what looks like a fishing camp. While this episode was directed by Miguel Sapochnik and not Kilner, the sex scene is also very sensual and heavily focused on what the characters hear, smell, taste, and feel. Most of the scene is shot in extreme close-up, holding lips or hands in frame as they seek purchase on the other person's body. If you can completely set the icky incestuous nature of the relationship aside, the scene is pretty darn hot. It's a little hard to see, but that's an entirely different ball of wax. Once more, there are shots of them undressing one another, and there's mutual pleasure there, something sorely missing from most of the sex in "Game of Thrones."
While some of the greatness of these scenes comes down to camera choices and writing, a lot of it comes down to the actors truly feeling comfortable enough to be in the moment. Condal told Variety that he made sure to check in with the cast throughout the process, and that the most important thing was that they felt safe and taken care of. That care allowed them to be free onscreen, and translates to steamier and smarter sex scenes. 
New episodes of "House of the Dragon" debut Sundays on HBO and HBO Max.