Fabien Frankel Spent An Absurd Amount Of Time Preparing For This House Of The Dragon Scene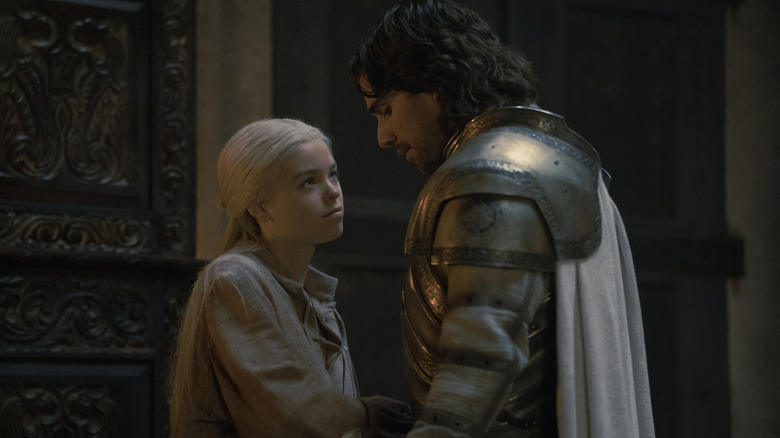 HBO
HBO and "Game of Thrones" in particular are known for many things, but handling consensual sex scenes with tact and good taste hasn't always been one of them. Of the many challenges that the prequel series "House of the Dragon" faced upon its premiere earlier this year, one of the most pressing concerns focused on the idea of how the new creators would handle potentially exploitative content.
The very first episode dealt with such material head-on, depicting a gruesome and unflinchingly traumatic C-section sequence that most definitely wasn't for the squeamish. But as genuinely triggering as that moment was for many, others found it to be an unexpected source of healing, as well. Subsequent episodes haven't shied away from exploring incest, arranged marriages, and other uncomfortable topics that the original series built its reputation on, but early returns suggest a more mature handling of scenes that drove no shortage of controversy back when "Game of Thrones" was the only game in town.
All of which is to say that the budding and rather sweet romance between Princess Rhaenyra (Milly Alcock) and her Sworn Protector, Ser Criston Cole (Fabien Frankel) provided a welcome respite from the dark and tension-filled events that viewers expected from this series. But such a dynamic doesn't come fully-formed out of nowhere, as the cast and crew spent far longer than fans may have realized to craft the sex scene between the two with as much care and sensitivity as possible.
According to Frankel, that process meant preparing for this sequence for a whopping seven months.
'How do we make this human?'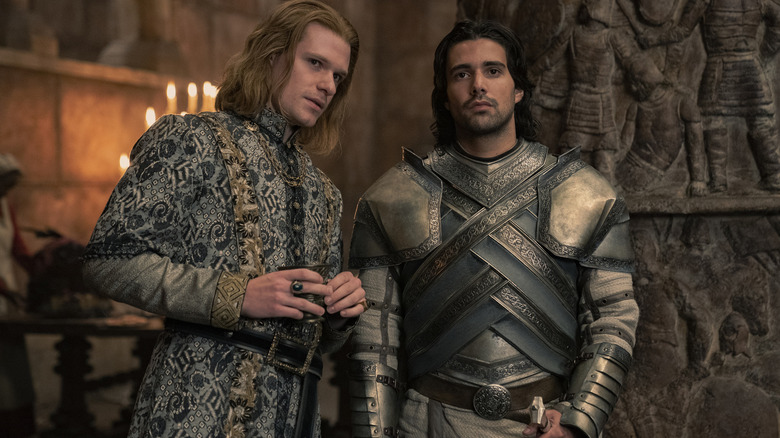 HBO
Death, taxes, and gratuitous nudity. There are some certainties in life that you could all but set your watch by, but "House of the Dragon" is attempting to right previous wrongs, at the very least. In episode four of the series, Rhaenyra rebounds from a fraught encounter with her leering uncle Daemon (Matt Smith) by seeking solace in the arms of Ser Criston. Despite being sworn by oath to chastity, the Kingsguard knight needs little convincing to give in to their mutual desire.
In a new interview with Entertainment Weekly, actor Fabian Frankel opened up about the preparation that went into this one sequence:
"It was something we talked about over seven months. It was one of the first things I was very keen to talk about. We were incredibly fortunate that episode 4 was directed by Clare Kilner, who I think is one of the great TV directors working today. The big thing for me was about it not feeling like another gratuitous, sweat-glistening-off-their-back sex scene, 'cause it's just not like that."
Taking care to praise the efforts of the intimacy coordinator along with co-star Milly Alcock, Frankel goes on to describe the chief question at the forefront of their minds. "I just remember back-and-forth texts, back-and-forth phone calls, back-and-forth meetings between Clare, myself, Milly, and our intimacy coordinator. But particularly me, Clare, and Milly going, 'How do we make this human?'" That meant including a particular focus on stripping Ser Criston's armor off and the inner battle waging inside him as he weighs his duty against his desires for Rhaenyra.
After last episode's wedding fiasco, fans can expect more drama to come as "House of the Dragon" airs new episodes every Sunday on HBO.