Deep Water Review: A Return To Thrilling, Trashy Erotica
Hulu
"Deep Water" is a genuine instance where the old adage "They don't make 'em like they used to" applies all too well. Based on the novel of the same name by Patricia Highsmith, best known for her stories about the sociopathic Tom Ripley, "Deep Water" is a blend of internal character study and trashy erotica that hasn't been a common type of adult drama since the mid-1990s. And who better to direct the film than perhaps the directorial master of such films as "Fatal Attraction," "Indecent Proposal," and "9 1/2 Weeks," Adrian Lyne? Returning behind the camera for the first time in nearly two decades, Lyne has at his disposal two attractive, charming leads in the form of Ben Affleck and Ana de Armas, as they bring to life a story of a married couple on the verge of a nervous breakdown in part because they basically hate each other. "Deep Water" is both intensely low-key and fascinatingly, gleefully goofy. And because it's the kind of film studios don't make much anymore, it's going straight to Hulu.
It's arguably no surprise that "Deep Water" has no place in a multiplex, because ... well, after the week Disney leadership had, they're probably hoping people don't pay too much attention to a Fox release that earns its R rating with frontal nudity, sexual situations, violence, and even a scene where Affleck's tech-genius character Vic Van Allen pours his young daughter a glass of wine and they toast to life. But that, of course, is part of the ridiculous, overheated fun of "Deep Water." When the film begins, Vic and his wife Melinda (de Armas) have less of a happy marriage and more of a détente, in which she flaunts her various romantic hookups in front of everyone in their Louisiana home and Vic ... just about nods and bears it, even though he is passionately in love with her. As much as Melinda seems to relish cuckolding Vic, and as weirdly willing as the men sleeping with her are to chat with Vic and commend him for being so cool, Vic laughingly pretends to have offed a former lover of Melinda's who's gone missing, and then ... well, the idea starts to sound like more than a joke, as so many more men wend their way into his life and her bed.
Whatever else is true of "Deep Water," it's often as removed from its audience as Vic is from his wife. Affleck is well-cast here, riffing a bit on his lead role in David Fincher's "Gone Girl" as someone who is surface-level charming but also seems to hold a vast reserve of fury that is barely left contained. It's not hard to wonder why other people in town, even some of Vic's friends (played by Dash Mihok and Lil Rel Howery), act like Vic's initial "joke" sounds an awful lot like the real thing. But "Deep Water" is fully locked into Vic's own sociopathic and detached mindset — he's weirdly compelling, but it also means that while we understand why he would care so much for Melinda (and why so many other men all but fall over themselves for a moment with her), it's hard to see why Melinda ever cared for him.
A throwback to overheated nonsense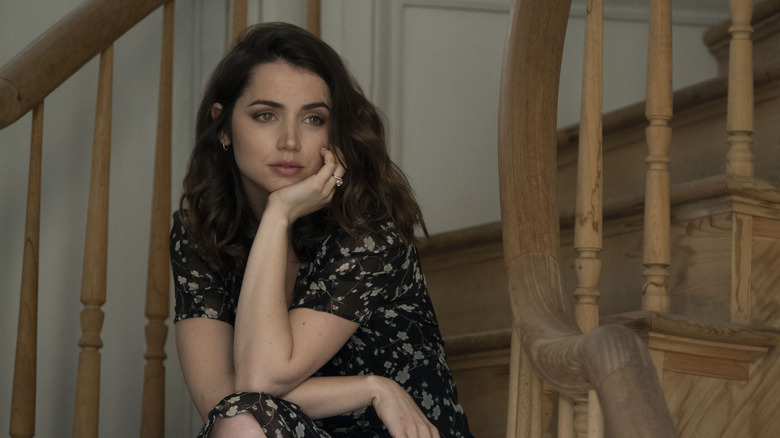 Hulu
There are touches throughout "Deep Water," primarily via its script written by Zach Helm and Sam Levinson, that hint at a desire to be a full-on throwback to the overheated nonsense that lined erotic thrillers of the 1980s and 1990s. And frankly, some of what makes "Deep Water" enjoyable is the fact that those touches and hints exist at all. The coy manner with which Vic teases Melinda's various squeezes, his threats as playful as they are scary; the way that nighttime Big Easy parties turn into desperate attempts to save a person's life all while a torrential downpour drops upon them; and the idea that a relative newcomer to the town, portrayed by Tracy Letts, is scoffed at by his younger wife (Kristen Connolly) for daring to take Vic's murderous threats as real all feel like dashes of the same sweaty intensity that you can find in everything from "Basic Instinct" to "Wild Things."
It's difficult not to allow real-life relationships to sneak in at the periphery here, as Affleck and de Armas were tabloid fodder during the filming of "Deep Water" as they connected in a romance that has since concluded. While they do have chemistry — as Affleck proves when he shows that Vic can be a doting father (if in a warped way), he can have charisma with just about anyone — so much of the story being driven from Vic's point of view means that we only ever get to see Melinda through his eyes, and sometimes at such a remove that de Armas' naturally vivacious charm feels muted and distant. It's honestly a shame that she's not able to be a true equal to Affleck, at least in terms of dramatic weight.
That said, "Deep Water" has its pleasures, some of which are of the inexplicably daffy variety, as when two characters end up racing each other out of a forest and one of them tries to drive while texting to disastrous effect. And when you compare "Deep Water" to ... well, just about every other movie available right now, either in theaters or streaming, it really does feel like a singular sensation. (Even in the era of Netflix barraging you with so-called "original" films one after the other, there aren't a ton of movies in this subgenre of adult drama.) The fact that this movie exists — and the fact that the Walt Disney Company stuck with it even via Hulu — is almost more laudatory than the film itself. The desire it has to hearken back to the era of Adrian Lyne's earlier triumphs (at least at the box office) is admirable, yet "Deep Water" has pleasures that stick to the surface.
/Film Rating: 6 out of 10