Pedro Pascal Had To Get Permission From The Mandalorian Crew To Join The Last Of Us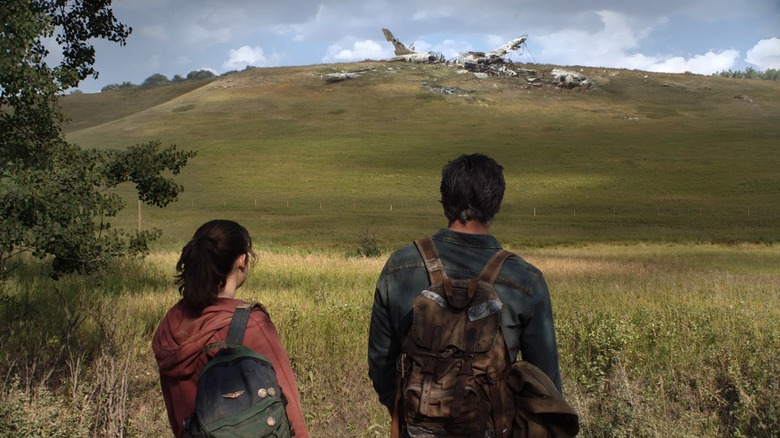 HBO
The concept of an older protector safeguarding a child through a dangerous landscape is nothing new. Comparisons to the manga series "Lone Wolf and Cub" and the subsequent six-film series from Toho are inevitable and all-too-common. More people probably know the general "Lone Wolf and Cub" setup based on all the times it's been copied and paid homage to, rather than actually reading the manga or seeing the film series for themselves. There are countless versions of the classic story, from "A Boy and His Dog" starring Don Johnson to "The Mandalorian" featuring a masked Din Jarin shepherding little Grogu across the galaxy. Similarly, the "Obi-Wan Kenobi" Disney+ series uses a young Leia as an excuse to get Kenobi off of Tatooine. Even the upcoming Sam Raimi-produced sci-fi actioner "65" starring Adam Driver has his character protecting a young girl from dinosaurs. In other words: this is nothing new! 
It's worth bringing up the upcoming movie "65" since Sam Raimi was originally set to produce a live-action adaptation of the hugely successful video game "The Last of Us," and both properties have a similar story structure. Raimi's version never got off the ground, leaving game creator Neil Druckman and showrunner Craig Mazin ("Chernobyl") to develop the highly anticipated HBO series that's set to premiere on January 15, 2023.
 "The Last of Us" follows Joel (Pedro Pascal) and Ellie (Bella Ramsey) through a dangerous wasteland after a deadly infection has wiped out most of humanity and turned the rest into mutated monsters. The older Joel initially serves as a protector to the young woman, guiding her through a number of deadly situations. Again, the similarities between "The Last of Us" and "The Mandalorian" are obvious, so much so that Pascal wanted to make sure that the overlap wouldn't cause any problems with Disney and "Mandalorian" producers Jon Favreau and Dave Filoni.  
'It's the best double-dipping I could possibly imagine'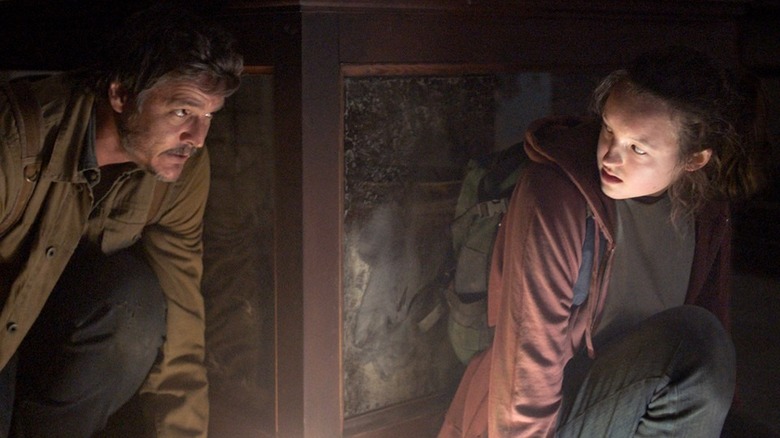 HBO
In a feature article in The Hollywood Reporter about the lofty expectations for "The Last of Us," Pascal was quick to point out the connective tissue between Disney's "The Mandalorian" and HBO's new zombie-adjacent horror show. "It definitely came to mind," he admitted. "I noticed there are so many things I've seen that visually or thematically reference 'The Last of Us'. Like 'Logan.'" 
That's right! "Logan" follows an aging Wolverine trying to protect a young feral girl deemed a mutant weapon named X-23 — yet another version of the same story. Pascal went on to reference "Lone Wolf and Cub" and the "Papermoon" anime as well. Still, if Pascal was going to be in two separate TV shows sharing so much in common, it might as well be a hugely popular "Star Wars" show and a series based on one of the best reviewed video games ever. He continued: 
"But as far as 'Mandalorian' and 'The Last of Us' existing in close proximity, for me, it's the best double-dipping I could possibly imagine."
A double dose of Pascal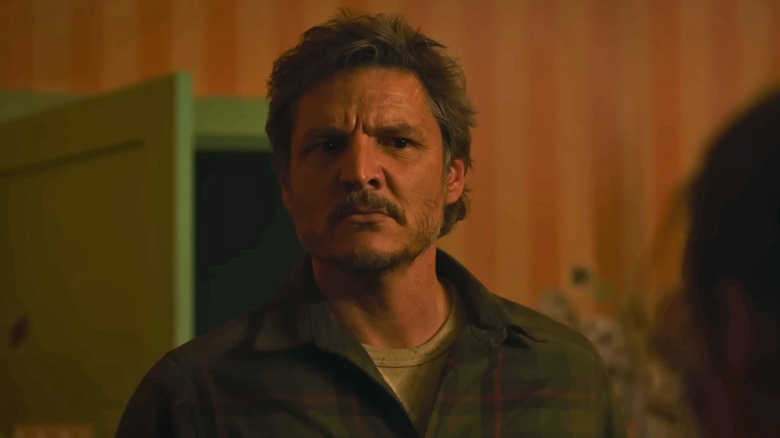 HBO
Since Mando, aka Din Jarin, is rarely ever without his helmet, Pascal's availability was much easier to work out, allowing him to be able to crossover and star on a series with a rival network. Pascal is definitely a class act, making sure to get the green light from the "Mandalorian" producers who "very generously" agreed to allow the in-demand actor to try his hand at survivalist horror with "The Last of Us." "Jon Favreau and Dave Filoni are creatively not limiting themselves to the way things are normally done," Pascal explained. "We've improvised making myself available for whatever they need. I hesitate revealing anything because I don't want any plot surprises to be spoiled."
That statement carefully alludes to the fact that Pascal doesn't always have to be physically on set for "The Mandalorian," and Pascal is probably making sure he doesn't offer any clues to when and where Din Jarin may appear without his helmet in the upcoming season 3 of the hit Disney+ series.
With "The Last of Us" premiering on HBO Max on January 15, 2023 and season 3 of "The Mandalorian" debuting on March 1, 2023, fans of Pedro Pascal have their plates full. I'm not sure which series I'm more excited for, but the trailer for "The Last of Us" is certainly pulling me in that direction for now.