Harrison Ford Handled 1923's 'Nightmare' Weather A Bit Better Than Timothy Dalton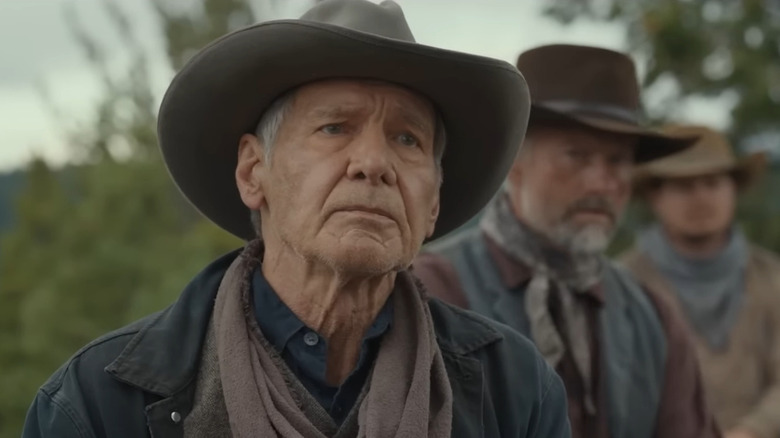 Paramount+
The Taylor Sheridan series "1923" was just renewed by Paramount+ for a second season, bringing us the further adventures of the Dutton family. We began following their journey in "Yellowstone," which is set in the present day, then got the prequel series "1883." In "1923" we meet Jacob Dutton (Harrison Ford), the brother of James Dutton (Tim McGraw) from "1883" who has since passed. Jacob and his wife Cara (Helen Mirren) are running the Yellowstone ranch in his place. They are battling it out with sheepherders who have enlisted mining tycoon Donald Whitfield (Timothy Dalton) to try to take the land from the Duttons. 
The series shoots in Montana, which is not the easiest environment to work in. Sheridan famously puts his actors through cowboy camp training, and there is a lot of physical work from riding to fight scenes. Not only that, but the weather is pretty brutal. It's something Dalton ("License to Kill," "Penny Dreadful") says he had a rough time dealing with in an interview with The New York Times. It's also something that co-star Harrison Ford apparently handled better than he did.
'It was a nightmare'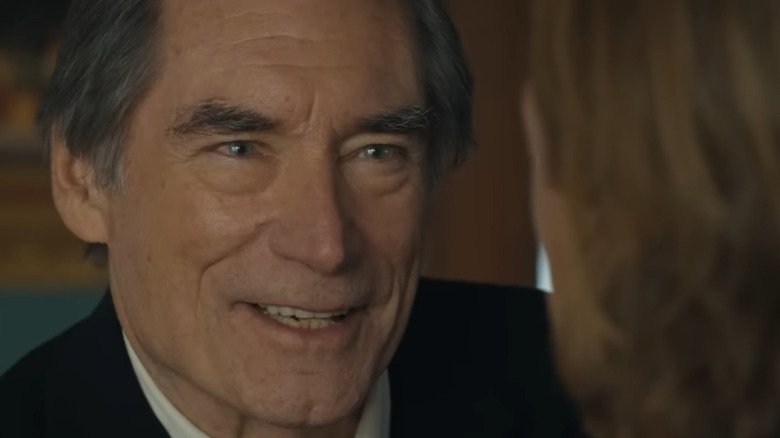 Paramount+
According to the story, the shooting conditions included blizzards and incredibly cold 10-hour shoot days, which were all outside. Dalton says, "It was a nightmare. We are on top of a hill with a blasting wind coming at us. The cameras freeze up. Your toes freeze up." Though I'm sure it's all good-natured, one person who apparently doesn't complain about any of the conditions is Harrison Ford. 
Director and cinematographer Ben Richardson ("1883," "Mayor of Kingstown," "Tulsa King"), who directed most of the "1923" episodes, tells the publication that Ford was a great sport. He explains: 
"I've never had a complaint from him. I can't express how much of a team player he is — to the point that it's shocking. He's Harrison Ford. He could be doing anything. I'm sure there are people who would prefer to have a double standing in. He did not." 
That's a lovely thing to hear, and Richardson isn't the first person to say it. Before the series premiere, I spoke to Brian Geraghty, who plays the Dutton's ranch foreman Zane. Geraghty says that Ford was great at riding in cowboy camp, and they all had to work hard to keep up with him. He echoed Richardson's thoughts about Ford being a team player. He says: 
"It's not that Harrison's down, and we're freezing — we're all in a van together, trying to get warm. He's very inclusive. He's very funny. And Helen's just a dream to work with, really, and to watch act. So you just try to hang in there with them. That's my best hope."
There are two episodes left in season 1 of "1923," which airs on Paramount+.