The First Chapter Of James Gunn And Peter Safran's DC Universe Is Called 'Gods And Monsters'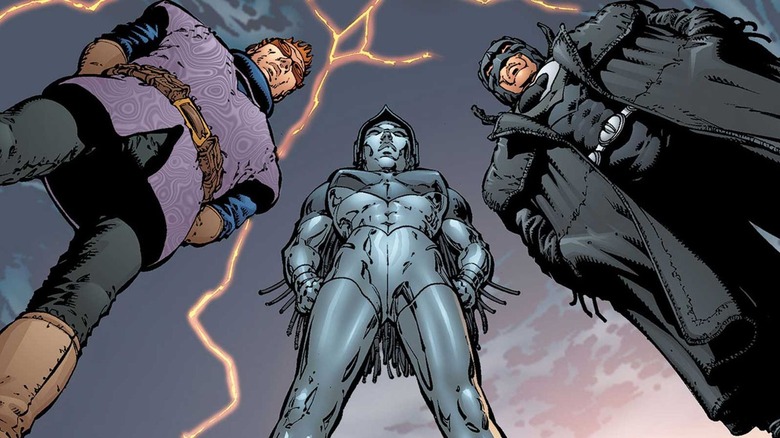 Wildstorm
With the DC Universe, DC Studios co-chairs and co-CEOs James Gunn and Peter Safran are taking a cue from Marvel Studios and breaking their 8-to-10-year plan up into chapters, and now we know the name of the first one: "Gods and Monsters." Yet Gunn, who directed two "Guardians of the Galaxy" movies at Marvel before crossing over to DC with "The Suicide Squad," is quick to point out that the DC Universe will differ from the Marvel Cinematic Universe in that much of it is being planned out well beforehand by the same group of writers.
At a recent press event, attended by /Film's Jenna Busch, Gunn and Safran laid out their ambitious DC Universe plans, with Gunn acknowledging that "a lot of people think it's gonna be Marvel 2.0," but "we're a lot more planned out than Marvel from the beginning because we've gotten a group of writers together to work that story out completely."
Marvel is already headed into its fifth chapter, or "phase," with the upcoming "Ant-Man and the Wasp: Quantumania" continuing the current Multiverse Saga. However, Gunn and Safran are rebooting the DC Universe, almost biblically, as "the Biggest Story Ever Told" (as Gunn previously described it in a series of tweets). And they're starting it off with an appropriately weighty title that salutes, in part, the more mythic, Greek-god-like nature of some DC heroes. Safran explained:
"The first part of the first chapter of our story that we're telling of our universe, that first chapter is called 'Gods and Monsters.' Many of the following projects are already being worked on, but we're remaining flexible and we're going to adjust because we're never going to put a project into production before the script is right. So this is a general timeline, but there will be flexibility."
Who are these gods and monsters?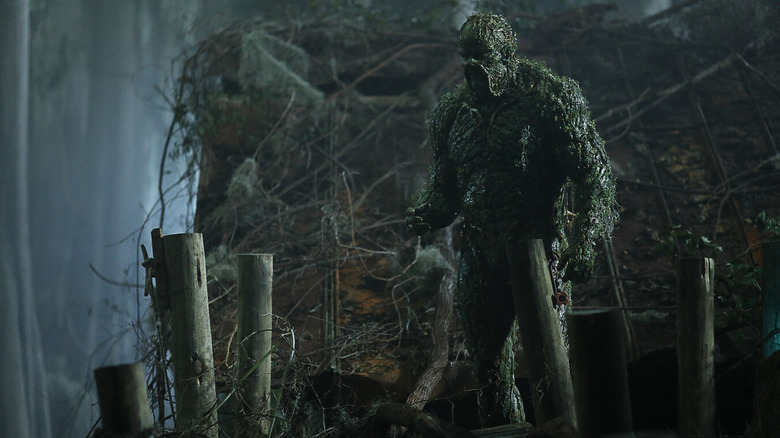 Warner Bros. Television
Of the DC Universe projects announced so far at the press event, the new Superman and Swamp Thing are two obvious examples of characters who could fit the "Gods and Monsters" bill, with the latter having starred in a canceled TV series. However, Gunn's description of a "much harsher and more f***** up Supergirl," who "watched everyone around her die," would seem to position Superman's Kryptonian cousin as someone potentially monstrous as well (keeping in mind that he already produced a horror-movie version of the Superman story with "Brightburn.")
There's also Batman's ornery son, Damian, in "The Brave and The Bold," whose comic book history portrays him as a kid who grew up learning how to kill while being raised by the League of Assassins. "The Authority" likewise centers on an anti-Justice League, whose methods, as Gunn characterized them, include "killing people, destroying heads of state, changing governments." 
If it sounds like there are already more than enough monsters planned for "Gods and Monsters," there may be even more of them (and gods) on the way. Safran noted that "we haven't announced everything in chapter one. There's some stuff that comes beyond."
"This is half of it," Gunn added. He stressed that they're not approaching the DC Universe "like some TV shows, making it up as we go along." He also revealed that the 8-to-10-year plan he, Safran, and their writers' group are conceiving will be "two chapters, and there's an ending to our basic story that we tell there, but it's not the ending of the universe."
It sounds like Gunn and Safran are developing a very clear blueprint for this thing, and we'll just have to wait and see what other characters might be getting in on the "Gods and Monsters" party.