The 2023 Oscars Did RRR Dirty, And Yes, We're Mad About It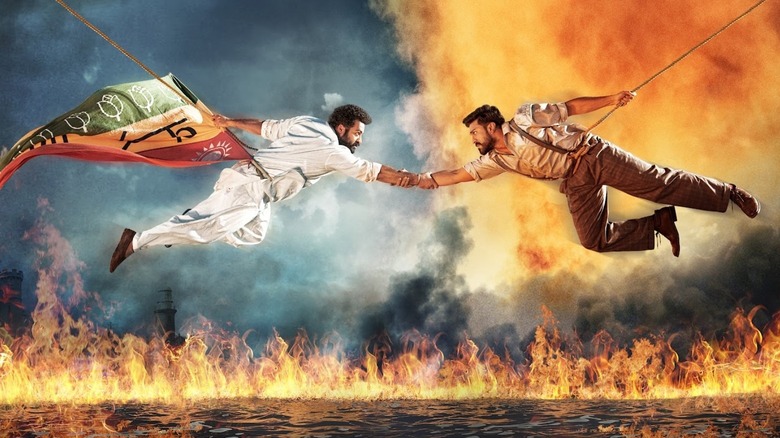 DVV Entertainment
This morning, "RRR" made Oscar history, becoming the first Telugu-language film, and the first Indian film, to be nominated for Best Original Song at the Academy Awards ("Naatu Naatu"). Sure, a song by an Indian composer had already won once: A.R. Rahman's "Jai Ho," from "Slumdog Millionaire" in 2009, but that movie was produced in the U.K.
This nomination is a triumph for a film that essentially had a grassroots awards campaign in the U.S., which spread like wildfire across the world, conquering hearts as much as it conquered the box office — even selling out a screening in the Chinese Theater in under 100 seconds.
And yet, the 2023 Oscars did "RRR" dirty. It betrayed movies and movie fans the same way Ram betrayed his comrades and kin at the start of the movie. Sure, we got one nod, but if there's one movie that should have swept the nominations, it's this one. The fact that it didn't is yet another embarrassment for an institution that excels at embarrassing itself year by year.
Celebrating cinema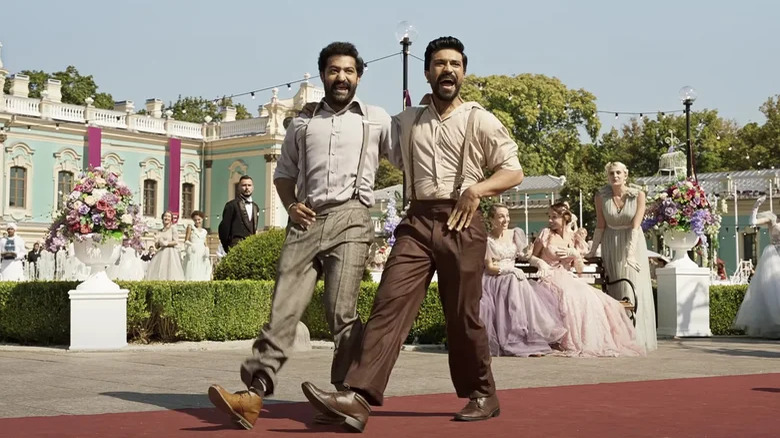 DVV Entertainment
This year's nominations were mostly as expected and predicted for the past few months. From "The Banshees of Inisherin," to Brendan Fraser, to "Guillermo del Toro's Pinocchio" and "The Fabelmans." Granted, there are some surprises, for as safe a bet as "Everything Everywhere All at Once" became in the past few weeks, it is still astounding that such a weird little movie would get such awards recognition.
Though not a huge surprise, it is still pleasant to see this year's nominations go not only to critical darling dramas and indie films, but even to giant blockbusters that delighted both audiences and critics, like "Top Gun: Maverick" and "Elvis." Even "Avatar: The Way of Water" managed to squeeze in a nomination despite coming out in theaters just a month ago.
But if we're awarding giant blockbusters because of how they capture the cinema-going experience, for how they provide escapism, fantastic visuals, and larger-than-life stories, for welcoming us back into movie theaters in the biggest possible way, then explain how in hell "RRR" was overlooked. S.S. Rajamouli's latest film does everything "Top Gun: Maverick" does, but bigger and without the whole cult thing. Bombastic action? Check. Stunning camera work and VFX? Check. Impossible stunts? Oh, you know it. Over-the-top characters, an epic romance, a killer soundtrack, and tons of great shots about the male body? Quadruple check.
This being the year we give a weird little movie about the multiverse, sausage fingers, and Raccacoonie nominations is great, but why does the Academy seemingly have a quota in weird or big movies? Why is "RRR" being relegated to having a single nomination (granted, for its most culturally relevant aspect, but still) rather than actually evaluating the film on the same level as American or English movies?
A full package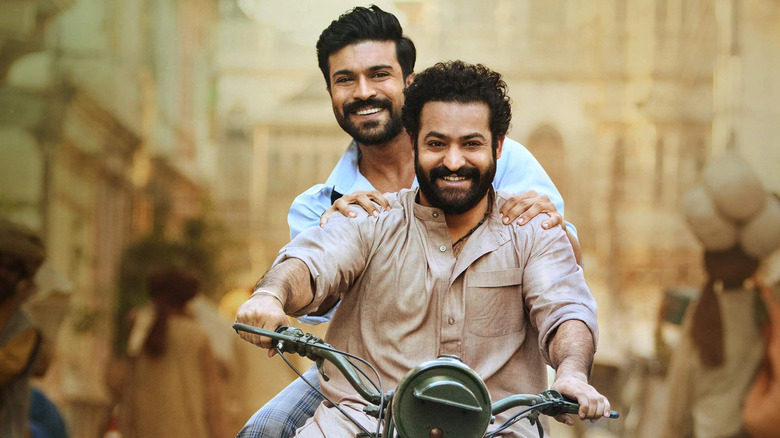 DVV Entertainment
"RRR" became a global phenomenon not just because of its songs, but because it is a full cinematic experience that fires on all cylinders and is satisfying on every possible level. It has stunning action like the best blockbusters. It has a gripping story of rebellion and fighting imperialism. It has deep themes — like all the best independent dramas. It even has a touching romance and bromance, while, yes, also delivering a kickass musical with some of the best songs of the decade.
Audiences all over the world loved "RRR," and for good reason. The film is a pure celebration of the magic of cinema, and it is discouraging to see the Academy ignore that. Best Picture, Director, Editing, Cinematography, Visual Effects — "RRR" could easily have been slotted into several other categories. While giving it a nomination for Best Song is great, it diminishes the accomplishments of the film and what makes it special.