Jason Momoa Confirms Drumming Octopus Is Back In Aquaman 2, Also Maybe 'A Couple Different Batmans'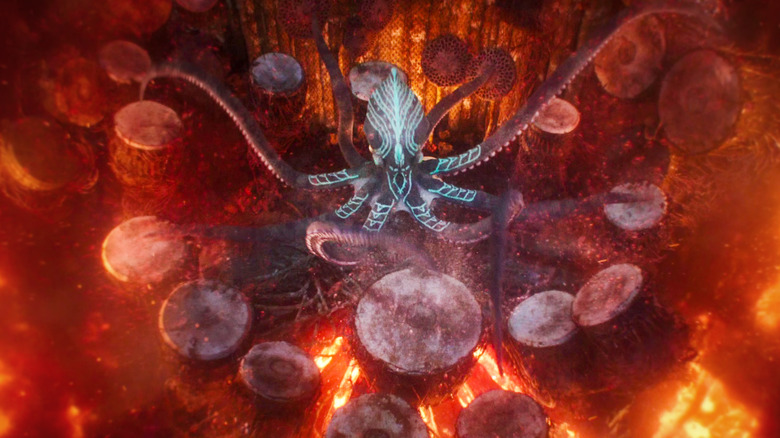 Warner Bros.
Now that we know for sure that Jason Momoa's Aquaman isn't going anywhere, it's time to make room for the real breaking news: Topo the drumming octopus will be making a comeback in "Aquaman and the Lost Kingdom," according to The Wrap. Oh, and we still might get a glimpse of a Batman or two in there, too.
The updates come from Momoa himself, who spoke with the outlet at Sundance and teased that he "shot with a couple different Batmans." The actor is quick to note that he's not certain the Batman scenes will end up in the final cut of the film, though, adding, "you just don't know what's going on and we'll see what the end product is."
Last summer, reports surfaced that a cameo that was initially meant to include Michael Keaton's Batman may have been swapped out for Ben Affleck's version of the character. Both Batmen have technically hung up their cowls — Robert Pattinson played the Dark Knight in Matt Reeves' 2022 take on the superhero — but both are set for a reintroduction in the upcoming multiversal film "The Flash." Of course, between calls for accountability in the wake of troubling claims surrounding that film's star, Ezra Miller, and the reshuffling of all things DC in the wake of the Warner Bros. Discovery merger, it seems we won't know what we're going to get until we actually get it.
Topo's comeback is confirmed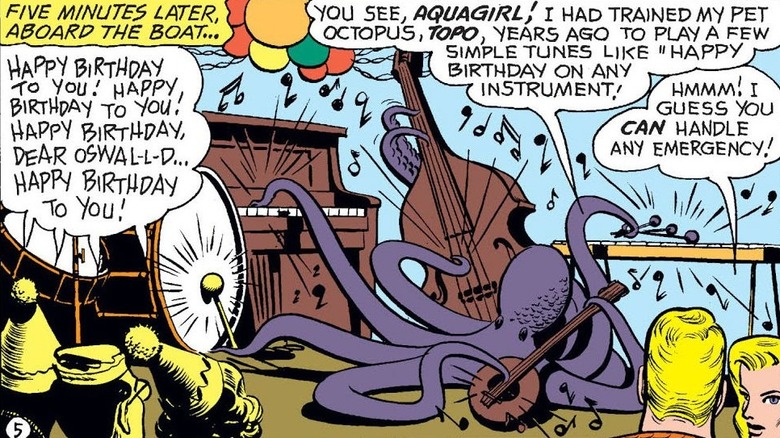 DC Comics
Momoa may not be able to tell us which Batman will appear in "Aquaman and the Lost Kingdom," but he's definitely sure about one triumphant return. Topo, the octopus drummer who popped up for just a few seconds in the first "Aquaman" film to give a rousing eight-armed drum intro, will return for the sequel. 
"Oh yeah. He'll be back alright," Momoa told The Wrap. "It's hilarious. It's wonderful. You're gonna love it." The actor calls the return of the character "one of the funniest moments of the whole movie." The last year has taken a lot from DC fans, but it's good to know that no tax write-off or scandal can take our guy Topo away.
Elsewhere in the same interview, Momoa reaffirmed his statements from a few days earlier about the future of Aquaman, saying "Aquaman's not going anywhere" and adding, "I might be dipping into some other things too." While specifics of what sounds like a potential second DC role have been unconfirmed, one insider report has indicated that Momoa could be taking on the part of the galactic bounty hunter Lobo in a future film.
"Aquaman and the Lost Kingdom" hits theaters on December 23, 2023.