Wolf Pack Trailer: Sarah Michelle Gellar Faces Down Wildfires And Werewolves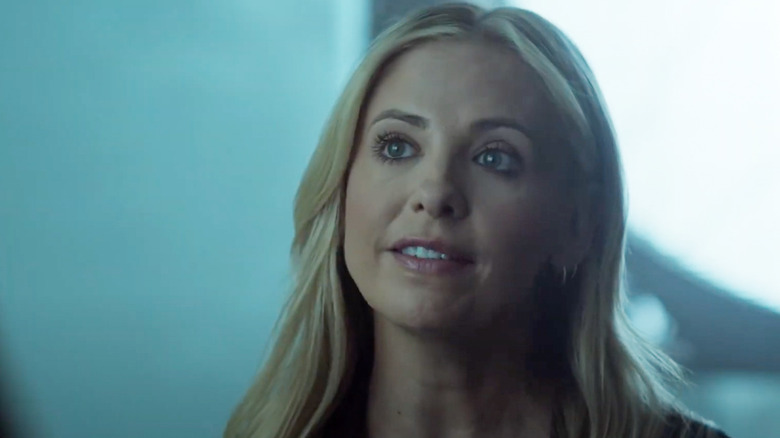 Paramount+
"Teen Wolf" creator Jeff Davis is back with another teen werewolf-centric adaptation, this time in the form of the Paramount+ series "Wolf Pack." The show is based on the book series of the same name by author Edo van Belkom, and will start off by adapting the first novel, also titled "Wolf Pack." When a local teen starts a wildfire, it ends up changing more lives than just their own. Arson investigator Kristin Ramsey (Buffy the Vampire Slayer herself, Sarah Michelle Gellar) is on the hunt, trying to figure out who started the fire and what it might have awakened in the forest. Along the way she will encounter — and likely work with — a group of teens who were changed by that night forever.
Despite loving werewolf stories, I never really got into the "Teen Wolf" TV show, probably because I haven't been a teen in well over a decade. Still, "Wolf Pack" — which Davis says is not an actual "Teen Wolf" spinoff (however much it might appear to be one) — looks kind of amazing. Seeing Gellar return to the supernatural butt-kicking arena feels like something to celebrate, and the trailer makes the show seem like one wildly fun (and surprisingly dark) ride.
Watch the trailer for Wolf Pack
The other grown-up in the trailer is Rodrigo Santoro, who fans may recognize from his time as a sexy killer robot cowboy on "Westworld," and based purely on the trailer, it looks like he and Sarah Michelle Gellar might end up as the surrogate parents to the show's little pack of pups. The teens in this particular teen werewolf series will be played by Armani Jackson ("Chad"), Bella Shephard ("The Wilds"), Chloe Rose Robertson ("Wildflower"), and Tyler Lawrence Gray ("KidCoin"). The original book series centers on a family of werewolves who were raised by a human park ranger, so maybe Santoro is the ranger and the four teens are the werewolves? Here's the official synopsis for the first book:
"After a devastating forest fire, a ranger discovers a litter of wolf cubs. He and his wife soon learn that they are no ordinary wolves. They are both animal and human. Although the young ones try to fit into the human world, their true nature makes the challenges of being teenagers all the more difficult. When one of the pack is kidnapped, the others must draw on both sides of their nature — human and wolf — to find the cunning, the strength, and the courage it takes to rescue her."
The series will premiere on Paramount+ on January 26, 2023, with all-new episodes dropping on Thursdays thereafter. Whether you're a "Teen Wolf" fan, a "Buffy the Vampire Slayer" fan, or you just like a good supernatural story, this one looks to be a howling good time.